In this modern world, people are going cashless, to an extent you've never seen before. If you are not enjoying the benefits of digital payment apps, you're actually falling behind times. Pretty much everyone is using eWallet mobile apps or online payment gateway models for their daily transactions. The reason for this is that these apps provide a secure, easy and fast environment for online payments. But you will need an app equipped with eWallet Security, this article will cover the best practices to ensure eWallet Security.
Looking back just a decade ago, people used to wait in the queue at ATM's to deposit or withdraw their money. But, nowadays, people prefer using e-wallet mobile apps for easy transactions to avoid the advantage of instantaneous transactions with convenience. Not only the users that are adopting e-wallet technology in their droves, but now also the business owners are joining in with plans to integrate gateway payment solutions into their own business offerings.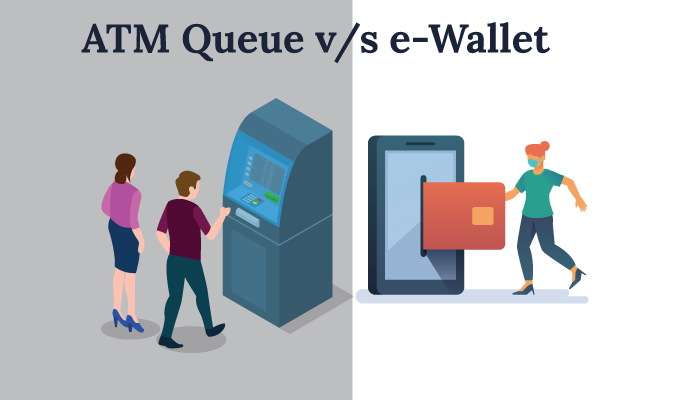 Many are predicting that the concept of Fintech, eWallet and other payment apps influenced by technologies like NFC, blockchain, QR codes and so on, are going to own the market in upcoming years. So read this blog until the end if you want to know more about the top eWallet solutions, along with the features and average cost.
Technologies For eWallet Security
A lot of clients and people ask, is ewallet secure?
Well, they are, that's why billions of people are using it. Let's have a look at technologies used for e wallet security.
There are various powerful technologies or solutions that can be implemented in e-wallet applications. These solutions make it more secure, easy, and reliable for users with eWallet Security. The most common technologies used in eWallet Mobile Apps are mentioned below.

NFC Technology useful for eWallet Security
The NFC or Near Field Communication allows users to transfer funds without sharing the contact details. This technology deals with easy data exchange between closely located devices. NFC allows users to make payments directly with their smartphone – instead of payment cards. Some of the successful examples of NFC are Samsung Pay and Apple Pay. In addition to this, NFC also allows the transferring of funds by simply touching one smartphone to another smartphone.This is one of the trusted e wallet techs.

Bluetooth or Beacon Technology useful for e-wallet Security
Are eWallets safe? Well, when filled with mobile payments application security like bluetooth, yes, they are.
These allow you to identify nearby devices that you can make a payment to. This a very fast and secure technology to use for transferring funds digitally. You can transfer funds to other users who are close to you or who are in the prescribed transfer range. 
Blockchain is a very important Technology for ewallet Security
Digital wallets integrated with blockchain technology are extremely safe, secure and immutable when compared to other solutions. This technology is preferred mostly by financial organizations and government agencies due to the high level of security associated with blockchain. Blockchain is also very enticing to these large organizations due to the extra features that blockchain technology offers, such as decentralization and being able to offer tokens.
QR code currently trusted eWallet Security Technology
QR Codes are generally used for making payments or transferring funds to other members of the public. It is also used to make payments with contacts that are not saved in the user's phone already. For making a payment, users just have to scan the QR code of the receiver. This technology is one of the smoothest and most simplified ways of making payments.

Suggestions for eWallet Security
ewalllet security is the most important concern for fintech companies, and therefore this should not be ignored when developing an eWallet application. Nobody wants to see their money stolen because of using an eWallet application. Using the already mentioned technologies will help you make your eWallet or digital wallet application extremely secure, safe, and trustworthy.
Passwords
A password is the most basic mode of protection, which must be used by every personalized website or app. Adding a rejection feature that activates when the password is too short or easy to guess will make your app more secure and safe. Biometric security can also be added if the smartphone contains a fingerprint sensor. This is a key component of secure wallet app.

P2P Encryption
P2P Encryption is a very robust security tool that helps in protecting the debit or credit card transaction process. As soon as you swipe a card on the PoI (Point of Interaction) terminal, it starts encrypting your debit or credit card data until the final transaction is completed. This is a very useful fraud prevention tool to implement if you are trying to ensure eWallet security with robustness.
Tokenization
With the help of this technology, eWallet security has become a reality. Tokenization disconnects the buyer's sensitive data with the end receiver through the use of mapped tokens, which the receiver uses to process the buyer's credit card payment. As soon as the user enters the card details for making payments, the card details are encrypted and turned into tokens that look similar to a random number.
Areas of Mobile Applications that can Benefit with eWallet Security
A wallet payment app allows you to make or receive payments with the help of just a smartphone. These stores your credit/debit card details, which can be used later for making easy payments.
With the launch of some popular eWallet applications like Google Pay, Apple Pay, and Samsung Pay, the online industry and digital payment systems have taken a huge leap forward. Many industries have been transformed by these applications, resulting in astronomical profits.
These eWallet applications are not only helping financial industries. Some examples of other top industry vertical  that have benefited from the launch of eWallets are defined below.
Telecom Companies
Telecommunication companies can allow their customers to pay post-paid mobile bills, recharge their credit, or sending/receiving the money to other users.
Transport Companies
Leading transportation companies like Uber and Ola allows their customers to pay online using e-wallets such as Paytm and PayPal. In addition to this, some businesses also have their own wallet system integrated into the app, just like Ola money has done.
e-Commerce Business
The e-Commerce business industry is also making good money from wallet applications. They do this by allowing their customers to pay for their purchases using coupons, loyalty cards, and more. If you are planning to start a retail or e-Commerce business, then integrating digital wallets into your app is a perfect idea.
Financial Enterprises
You can avail of or pay for various services using credit or debit cards. For seamless transactions, financial companies are integrating eWallet apps to enable customers to make instant payments.
Unique Features of a state-of-the-art Mobile Application with eWallet Security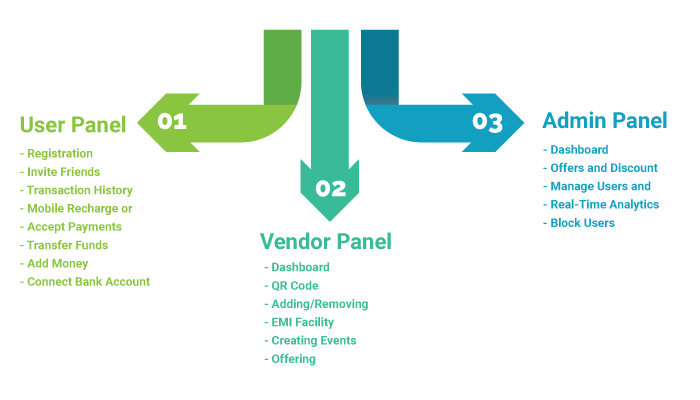 There are two different panels in an eWallet App, the user panel and the admin panel. Each panel has their own useful features. These features enhance the performance of the app for the user as well as helping the admin to manage the app. They also ensures eWallet security.
The User Panel
Registration
Before starting to benefit from the use of the app, the user has to create an account with an email id or social media credentials.
Connect Bank Account
Users can enter their bank details for making transactions. Or in the case of a Banking App, they can even register a bank account on the app to make future payments from their app bank account.
Add Money
Users can add money from their bank into the app as per their needs.
Transfer Funds
Users can transfer a dedicated amount of money by entering the account details of the receiver.
Accept Payments
Users can also receive payments from other users. By sharing their corresponding account details, users can accept payment.
Mobile Recharge or Pay Bills
Users can also recharge their mobile phones or pay bills directly from the app in a convenient way.
Transaction History
The app keeps track of all the past transactions made by the user. Users can search for a particular transaction with some advanced filters.
Invite Friends
Users can also invite their friends to send and receive funds. This helps the user to transfer funds easily, instead of asking for the details of the recipient every time that they need to participate in a transaction with a friend.
Dashboard
The vendor can track the profile of registered users and monitor their product choices to provide the best offers to users on the product.
QR Code
The vendor creates the QR code for various shops and users so that they can carry out the online transaction fast and easily.
Adding/Removing Products
The vendor can add a new product in the app or can delete any product from the app, which has bad reviews or feedback.
EMI Facility
Providing an EMI payment mode will help the users to afford the item they wish to buy.
Creating Events
Vendors can create events and offers to attract users to pay online for orders, by providing various discounts on online payments.
Offering Rewards
Offering rewards and gift cards to regular and active customers will make them excited to shop more.
The Admin Panel
Dashboard
The admin can keep track of all the details and information of users registered with the app.
Offers and Discount
The admin provides the latest offers and discounts to users. He also provides offers related to referrals, rewards, etc.
Manage Users and Contacts
All the users and contacts that are associated with the app are tracked and monitored by the admin.
Real-Time Analytics
The admin keeps a track of all the profits, transactions made, offers availed, app usability, and other details directly from the admin panel.
Block Users
According to the behavior of the user, the admin can block or dismiss the account of the user from the app. Similarly, he can also add new users to the app.

Advanced Features to Make Your App Unique From Competitors
Apart from the above-mentioned features, there are some other advanced or additional features that you must include in your app to make it count.
In-App Camera
The in-app camera feature allows users to make payment by scanning QR codes. In addition to this, users can also send the receipt of transactions and payments to other users.
Integration with Wearable Devices
Integrating your app with wearable will help the users to monitor the payments on the wrist. It makes the app more convenient and defines a new approach for making the payment with an easy approach.
Push Notifications
This helps in keeping more user engagement on your app. They can be kept updated with new features, discounts, and offers via SMS or emails.
Digital Receipts
A digital receipt is generated for all the successful transactions made. Users can share the receipt via email, SMS, or Phone.
Virtual Cards
The eWallet app allows users to create a virtual card that can be used within the app. Unlike debit or credit cards, users don't have to enter their account details. Just with their username and password, users can make transactions or payments.
Growth of Mobile Application Business
Approximately four decades ago, no one imagined that future money transactions could be and would be much more secure and reliable. People used to to wait in long ques at ATM's. The increased eWallet security has changed the whole scenario of money transactions.
Basically, mobile payment refers to any transaction done with the help of mobile payment apps. Since almost 90% of people are using smartphones, several eWallet mobile apps have been developed to make people's lives more safe and comfortable.
Market of e-wallet app users with eWallet Security
The mighty success stories of PayPal, Paytm, TransferWise and Payoneer amongst others, have been sincerely inspirational. Paytm for instance as in May 2019, had 350 million registered customers.
It gets even more interesting when we look at apps in other parts of the world such as China. By opening our eyes to the worldwide environment, it can be seen that WeChat pay is way ahead of other competitors around the world with 600 million worldwide users, which is closely followed by Alipay who has more than 400 million users on-boarded.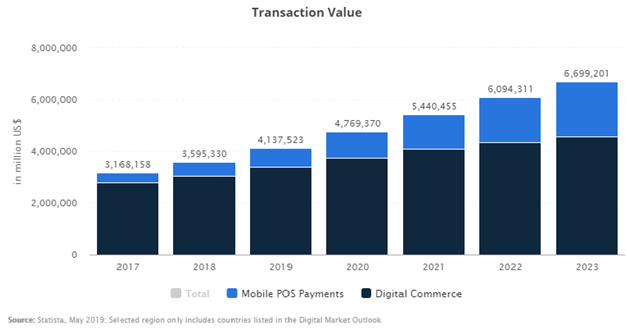 Top 10 Countries, Ranked by Proximity Mobile Payment User Penetration, 2020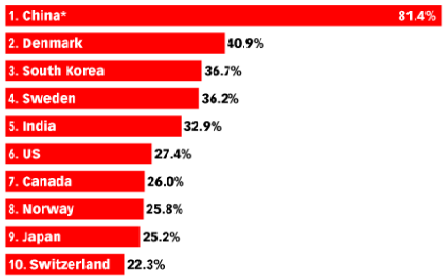 Total Transaction Value in the Digital Payments Till 2023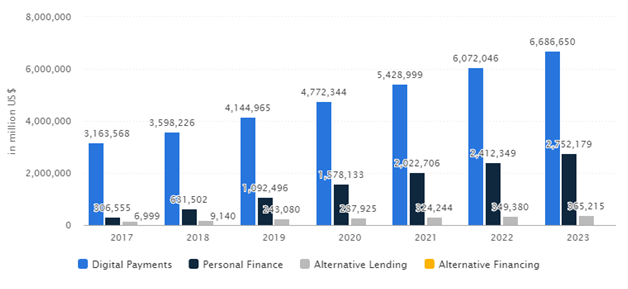 The total number of Digital Payments users, expected by 2023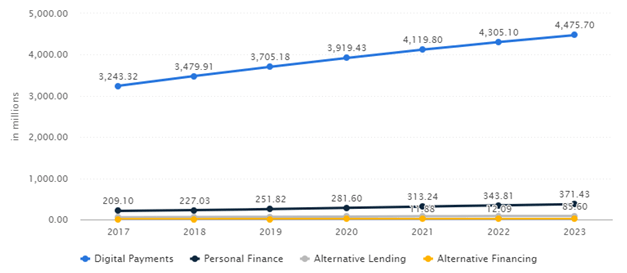 The Average Transaction Value Per User in the Digital Payments till 2023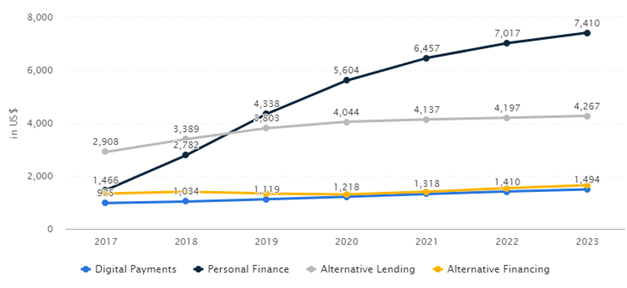 Top Most Prevalent Digital eWallet Trends of 2020
From the last 3000 years of human history, money has been the most important aspect of our life. The concept of money has faced tremendous changes, from the barter system to Bitcoin. Starting from exchanging goods and services, to making payments using fiat currency and then now to using cryptocurrency, a lot of changes have been made. Nowadays, money is available in both digital and physical formats.
With the launch of digital money in the market, our lives have become much more convenient. With the emergence of digital technology, many new payment wallets and gateways have been introduced to make payment experiences easier and more flexible.
One such famous method is the Digital wallet solution. Over the last 5 years, the frequency of use, as well as the number of digital payment users, has increased exponentially. People are loving the benefits these digital payment methods offer. As well as innovative money management features, it is the absolute convenience and easy to use features that set digital wallets apart.
With the continuous advancement in technology, digital wallets are not only limited to storing money. They have grown from being just a basic wallet app, to now every year, new technologies being integrated into these wallet apps to make them more flexible and advanced. This culminated by 2019, shown by the enormous growth figure of wallet app users.
If you are a business and planning to develop a digital payment app, then there are some factors you must keep in mind. These top 5 trends are very likely to dominate digital wallet apps in 2020 and beyond.
Payment Based on Sound Waves
This technology allows users to transfer funds without requiring an active internet connection. The sound wave technology is new in the market, which may be one of the reasons why it is compatible with most of the mobile devices. Many companies are planning to integrate this technology into digital wallet solutions to ensure their business stays innovative.
In sound-wave based digital payment applications, the transactions are done with the help of sound waves that carry the payment information in the form of encrypted data. The sound waves are generated from a terminal which carries the data to the mobile phone. Then the phone converts the data into an analog signal for further processing. Due to its many flexible features, sound wave technology is in great demand. In a sound wave, you need to install software solutions to carry out successful transactions. In addition to this, there is no need for any external hardware. All these features make the app flexible, simple, and cost-efficient.
Smart Speaker Payments
Home assistant devices or smart speakers have seen a huge growth in the last few years. These devices allow users to speak with them. The user can give commands to these devices to perform a particular task like booking a cab or getting information of nearby restaurants.
Big companies like Apple, Google, and Amazon are competing in the smart speaker race. Amazon took lead in the market by launching its first smart speaker in 2014. Later in 2016, Google changed the scenario by then launching its smart speaker, before Apple joined the race of smart speaker technology at last in 2017. According to some reports by Statista, 85% of people have used smart speakers to seek information at least once. While 30% of people bought home care, grocery, and clothing products using smart speakers.
Cryptocurrency Wallets
Despite of market ups and downs, there has been a sharp rise in the figures of cryptocurrency wallet users. More than 42 million cryptocurrency wallets have been created up until now. According to facts and figures by Blockchain.com, by 17th July 2019, the total number of cryptocurrency wallet users was 40,519,048. In April 2012 there were 5,800 users only. The difference between these figures shows the hype that cryptocurrency wallets have seen in last few years.
Conclusion
In the modern era, mobile device applications have completely changed the scenario of cash transfers. From electricity invoice charges, money transferring to blockchain, and cryptocurrency, things are being paid with the aid of mobile eWallet app packages. In the current environment, developing a mobile app wallet app is a splendid concept for a start-up or enterprise. But the only concern is eWallet security and to address this issue, you need a safer and reliable approach to eWallet app development.
With a great concept or prototype that brings value to users, you can help change the world environment,  reducing or removing the need for cash-in-hand transactions whilst making people's lives more convenient. eWallets have enhanced the economic and financial sectors of many countries. Paytm, Google Pay, PayPal are some of the examples of how eWallet apps are successfully ruling the market. We believe there is still a lot of space in these industries for more innovation. It could be you that is responsible for making these innovations happen!