Want to Find Out What's the Mobile Banking App Development Cost? Read This Blog Till The End.
With digitalization changing everything, it doesn't come as a surprise that modern banking is digital banking, or shall we say Mobile Banking.
Traditional banks have been around for a long time and so have traditional products. Banking services were often bound to the local branches of the banking, meaning the client had to visit the bank for everything.
But then came the internet and mobile app development.
Today, there are more than two billion people using online banking services and banking apps. 203 million of these are in the United States of America alone. And it is expected with the increasing tech integration and growth; the number will reach $1.8 billion by 2026.
This form of backing is very popular among the younger generations. In fact, People within the age group of 25-34 use banking apps most frequently. More than 97% of millennials use mobile banking applications today
This clearly shows how these apps are amazing for users. But it's even better from a business perspective.
As per reports from, Allied Market Research, the mobile banking market was valued at $715.3 million in 2018 and is expected to reach $1,824.7 million by 2026.
Revenue generation is just amazing. Some of the world's top banks have developed their own mobile banking apps which helped them save and generate more revenue.
Developing a fintech mobile application isn't all that difficult, but the difficult part is, determining the mobile banking app development cost.
If you are looking for that too, this blog is for you.
Here, we shall be discussing everything related to mobile banking app development including cost and features. Therefore, with this being said, let's get right into it, starting with:
What is A Mobile Banking App? Fintech App Development
Everyone has a bank account or even more than one.
Bank accounts are essential like a job, house, income, etc. Now, to operate your account, you had to visit a bank branch. There, with the help of a bank teller, the client can make the necessary changes, submit cash, withdraw it, and so on.
However, with the rise of fintech app development, we have seen cash transactions growing less and less popular. Rather people would just pay with their phones.  Following this, banks also digitalized their banking services.
That's where mobile banking apps come in.
Today, a person doesn't even need to visit a bank branch to open an account. All they need is a mobile phone, a banking app, and the required documents.
Apart from this, they also allow the user to check their balance, transfer money, receive payment, add cards, remove cards, update cards, update information, and so on.
These solutions were an instant hit among the users, as this made everyone's life much easier. Moreover, almost every bank opted for mobile banking app development services to develop their own banking apps.
This helped some of the top banks across the world to reduce their operational cost and focus more on the experience they are delivering to the user. They require fewer physical bank tellers, lesser branches, etc which helps reduce the overall cost of operation.
As such, there are some banks with no physical branch, acting entirely virtually.
Anyhow, if you are looking to build your own mobile banking app, it's a good idea to take inspiration from the best. That's why in the next section of the blog, we shall be going through the top examples of banking apps in the market.
Best Examples of Mobile Banking Apps in the Market
With the trend of fintech Apps, many banks across the United States of America adopted it and built banking apps.
These apps are beneficial for both the users and the banks. The user doesn't have to visit the bank and go through paperwork for basic tasks. And banks on the other hand save a lot of costs in operations. The cost of developing a banking app is negligible compared to what it costs to run several branches.
Well, enough said, let's look at the examples of banking apps. They are:
Ally Bank.
Doesn't ring a bell? Well, if you think you have never walked across a bank called ally bank, that's because you haven't.
There are no physical branches of this bank. Rather, it's entirely virtual and accessible to the user through a mobile banking app.
The app is the absolute pinnacle of app development with many functionalities and features that you won't find anywhere else. For instance, it allows users to check their balance, manage accounts, transfer money, keep transaction history, and even find the nearest ATM.
Apart from the basic features, it also has some special ones like trading and investment app functionality.
That's why Ally mobile banking apps has gathered many awards including the title of Best Online Bank for 2018 ‒ 2020 from MONEY Magazine.
Capital One is a popular bank and an even more popular banking app.
Known for its excellent customer service, this platform takes the mobile banking experience to the next level with an amazing set of features and functionalities.
What makes this stand out from the rest is it's an AI App.
It comes with an AI-based assistant known as ENO. This personal assistant provides 24/7 customer support and keeps the user on right track. For instance, it helps in account management, set reminders for bills, provides useful insight and saving tips, and so on.
Well, well, one of the largest banks in America and pretty much the entire world, Bank of America has its own mobile banking app.
This app has served as an inspiration for many other mobile banking development projects.
It comes with state-of-the-art technology and gapless security that provide absolute protection. The app has everything you expect from a usual mobile banking app including card lock/unlock, change pin/password, set up notifications/alerts, and so on.
These are three of the most popular mobile banking apps. Now, before we discuss mobile banking app development cost, let's look at some features that every one of these solutions should have in the section below:

Must-Have Feature for Mobile Banking App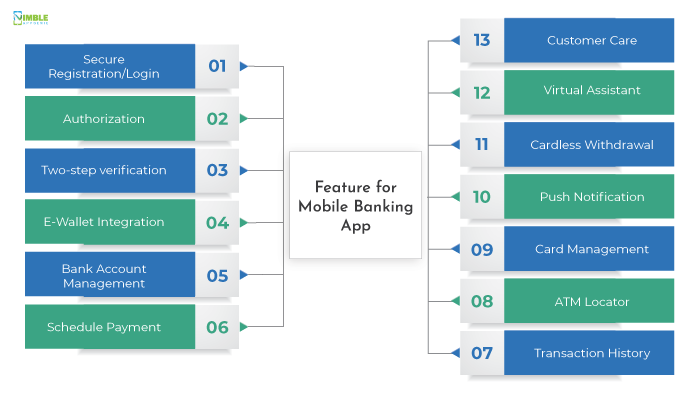 A lot of different attributes combine to create successful mobile banking apps. And features hold a top spot on this list.
To create a mobile banking app that delivers value to the users and keeps them engaged, it's very important to include the right features.
Apart from the performance of the application and user engagement, the features can also highly affect the cost of developing an app for banks.
Solutions with basic features are cheaper to develop while more unique features are expensive. We will be discussing this in detail later down the line, but for now, let's look at the features. These are, as mentioned below:
Secure Registration/Login
The first and probably the most important feature of this platform is providing the user with a safe passage.
The reason why it's most important is that a lot of malware, hackers, and other unwanted elements will try to enter the platform in this way. With the secure log-in and registration, it won't only be easy for the user to log in but a safety net for the entire platform.
Well, phones have all kinds of sensors today including fingerprint, eye scan, face scan, and so on. The app can use these features to take security up a notch via authorization.
Almost everyone's phone has these sensors and integrating them into the app will add to the overall user experience.
Every bank account is connected to a mobile number and/or email.
So, what two-step verification does is, add another layer of security while making important transactions. When users are making a big amount of payment or transfer, they need to verify to get through the second layer via an OTP.
Well, well, eWallet app Development  on its own is very popular.
While everyone is using eWallet apps of their own, it will be a good idea to integrate it with banking apps to give in a one-stop solution to the users.
This is something that a lot of brands are doing lately. Therefore, you should definitely integrate it into your app.
Bank account management is an essential feature.
This allows the users to edit, add, or remove information from their bank accounts. For instance, they can update their address, and numbers, add beneficiaries, and so on.
Everyone has a bill to pay, but some of us forget the date.
Well, with the mobile banking app's this feature, the user doesn't need to worry about that anymore. It allows users to schedule or with a better choice of word, "automate" payments.
This saves a lot of time, fines, and headaches.
Can't remember where all of the money went? Well, with the transaction history feature, users can have a detailed record of how much they paid, to who, and when.
This is yet another essential feature of banking application development.
While the cashless world of fintech development is growing very fast, cash is still not totally replaceable.
So, if the user needs to withdraw some cash, all they need to do is open this feature. This will help locate the nearest ATM, all within the mobile app.
Cards are an important part of the financial ecosystem.
In case, the user losses or want to cancel one of their cards, they can do just that with the mobile app. It allows them to set limits, report lost card, enable it, disable it, and so on.
This is a very important feature considering the fact that people lose their cards quite often.
To keep users engaged with the platform and alert them to new transactions, the push notification feature is absolutely essential.
This way, they can be reminded of any transaction, withdrawal, card updates, and so on
Well, well, well. Cardless withdrawal is a new concept but a welcomed one.
Through the app, you can generate an ID and Pin which anyone can put inside the ATM machine to withdraw cash, just like how you would do with an ATM card.
As we all know, AI makes everything better.
And with an AI-based virtual assistant, you can make the mobile banking app that much better for the users.
AI assistant provides true 24/7 support to customers while also boosting engagement by a long shot.
There are some things that virtual assistants can't solve. That's why including the customer care features is very important.
Therefore, it is one of the must-have features in any mobile banking application.
These are some features that should be included in every banking app. Now, this begs the question, how much does all of this cost? Well, we shall be discussing the mobile banking app development cost in the next section of the blog.
Average Mobile Banking App Development Cost
How Much Does It Cost To Develop A Banking App?
The average mobile banking app development cost ranges from $10,000 to $1,000,000+.
Now, some of you might be wondering, which is there such a large range and there is a good reason behind it.
You see, as with any other fintech app development cost, Mobile banking projects have various factors which can affect the total cost.
Now, to predict the accurate cost, you need to consult a mobile app development company with all the project specifications and they will be able to give your insight.
Nevertheless, we shall be discussing factors that affect the total cost of development in the section of the blog.
Factors That Affect Mobile Banking App Development Cost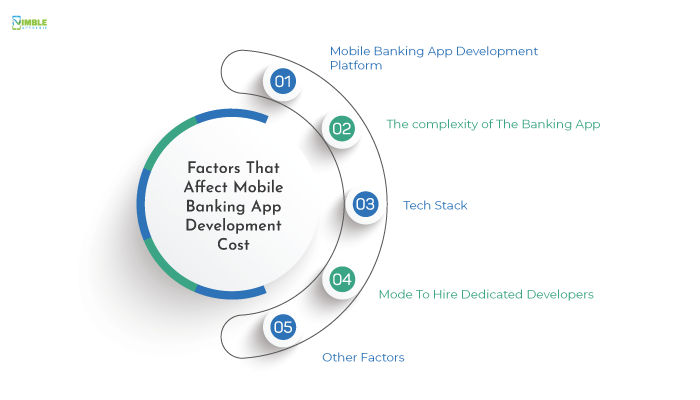 The process to build mobile banking app is a complex one. And thus, it contains various elements that become that factors affect total cost.
Now, the total mobile banking app development cost highly depends on these factors and their combination. Therefore, to better understand the total cost, it's important to first understand the factors.
In this section of the mobile banking app blog, we shall be going through just that. Therefore, with this being said, let's get right into it, starting with:
Mobile Banking App Development Platform
The very first factor is the mobile app development platform.
As such, you can choose between iOS and android app development. Both of these platforms are amazing in their own right and being native, they deliver exceptional performance.
Apart from android and iPhone app development, there is also an option to go with a hybrid. At the end of the day, the choice depends on the client, project, and business requirements.
In any case, the choice also affects the total cost. For instance, when you compare android and iOS costs, iOS is cheaper.
Moreover, when you compare custom iPhone App Development to hybrid, the latter comes as a cheaper option.
The complexity of The Banking App
The more complex an app is, the more expensive it is going to be to develop.
The reason is that the apps that are more complex require much more effort, higher experience and experience, a larger team, and more resources.
A simple depiction of how much a simple, medium, and complex platform costs is, as mentioned below:
| | |
| --- | --- |
| Simple Mobile Banking App Development | $11,000-$50,000 |
| Medium Mobile Banking App Development | $50,000 – $90,000 |
| Complex Mobile Banking App Development | $90,000-$150,000 |
Before you hire dedicated developers you have to choose a tech stack. Now, the tech stack highly depends on the platform you choose, still, you will have decent options.
For those who don't know what tech stack is, it refers to the set of technologies used for app development. It includes a programming language, frameworks, toolkits, and so on.
It goes without saying that the tech stack highly affects the development process as well as the perfect
Now, while some tech stack is relatively cheaper, there are others that are very expensive. Therefore, when determining the cost to develop a mobile app, this is a factor that you should keep in mind.
Mode To Hire Dedicated Developers
With all said and done, it's time to hire web developers. A company can use different methods to acquire development partners.
The cost associated with each of them is different. It is shown in the table below:
| | |
| --- | --- |
| Hire Freelancers | $60 to $100 per hour |
| Outsource to Fintech Development Company | $25-$45 per hour |
| Assemble In-House Team | $50,000 – $120,000 |
Apart from the ones that we discussed above, there are other factors that can affect the total Mobile Banking App Development Cost of development but we won't be discussing them in detail, they are, as mentioned below:
UI/UX Design of the app
Security level
Experience of the developer
Hosting
API/Third-party Integration
Mobile App Maintenance Cost
Team size and expertise of developers
Size of the app
Type of app
Developer's location
These are the other factors that can affect the total cost of mobile app development services.
Conclusion
Mobile Banking Apps are very popular. These apps help users access their bank accounts and other financial products.
In this blog, we went through everything related to Mobile Banking App Development Costs and more.
Now, if you are someone who wants to develop your own mobile banking apps, all you need to do is reach out to a Mobile Banking App Development Company. 
With the right idea and development partner, you can make the next best apps that help your business grow and also make a lot of revenue.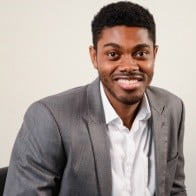 Jermaine Trotman is the co-founder of Nimble AppGenie, a company renowned for its bespoke mobile app development and web development in e-wallet app development and fintech development.