There is no doubt that the future of FinTech is bright. Looking back in 2018, the investments of this industry reached the figure of around $112 billion. With the continuous growth of the finTech app and its features, the financial technology market is hot and the competition is cutthroat the fintech app development cost depends on the feature that you want to incorporate in your app and many other variables.
During fintech app development for your business, you must focus on features that will shine the success of fintech apps in 2021. Typically the fintech app development cost ranges between $20,000 to $1,00,000. Depending on the variables, it can go beyond hundred thousand. There is no straightforward answer to what is the fintech app development cost. The cost to build fintech app depends on many variables.
This article will cover all the aspects that directly impacts the  fintech app development cost. So, don't bounce back till the end.

Curical Fintech App Features
Innovative UI/UX
While developing a FinTech app you must keep in mind that the user experience plays a crucial role to the success of your app. A well thought fintech app design ensures that your users easily find what they wish for within the app. The design of your app must be seamless and hassle-free so that the collection and management of user data become easy.
Integrating advanced features in your app during UI/UX designing makes your app easy to use and enjoyable for the user. Some examples of this include choosing the correct font style and size, using white space to focus on important information, and using selective color codes for important buttons.
AI for Personalization
Artificial Intelligence is in the trend to fintech apps more personalized for the user. Using complicated arithmetic processes like artificial intelligence and machine learning helps firms and start-ups to provide the best smart services and suggestions to users according to their needs. The integration of AI also helps in the marketing of the app according to user preferences.
However, AI and ML technologies are still in their early stage and the future holds significant potential to unfold the hidden their benefits. An example of AI in fintech is the Alpaca Forecast AI Prediction Matrix. Alpha AI is a price forecasting solution that is capable of processing and analysing millions of financial dealing records such as recording demand movements, identifying patterns, and predicting the price elasticity for the future.
The correct app development process includes customization of products that can be easily delivered to users with the help of analytics and AI. So it is a must to choose a company that has knowledge about AI development, so users can receive improved customer service.

Data Security
The most important aspects that must not be ignored during app development are data privacy and data security. Every user wants their personal data, and information to remain safe and be treated with care. Fintech companies can assure users that their data is safe and protected, as these companies have various measures and protection against cyber threats and attacks.
To ensure this protection, companies can hire highly qualified experts and developers that have well-versed knowledge in developing safe and secure apps. Another thing that must not be ignored is the importance of designing the authentication process with the highest security. Some of the things that can be followed is displaying only the last three digits of a payment card or requiring user verification for changing a password.
Data Analytics
The fintech app should carefully analyze all the user's financial transaction data and provide them with insights. It should also allow the user to easily access and track all the financial activities directly from the app.
If your fintech app focuses on asset management, then the analytics should be based on investment returns and suggestions on it. Understanding the data analytics will become more easy for users if your app provides a graphical representation for the data. Moreover, it can also help the users to get insights about spending, savings, and investments.
Integration with Other FinTech Apps
As the fintech technology focuses on various industries like digital payments, insurance technology, asset management, and many more, your app should be designed in a way that it can easily get integrated with various other platforms.
The major advantage of integrating with other fintech apps is that the apps can easily interact with each other to share information. Moreover, if the app is cross-platform compatible and also supports wide functionality, then the integration will be more easy and hassle-free.
Seamless Customer Onboarding
The initial registration process in the how much does fintech cost requires the user to fill a lot of personal information. This is necessary because financial companies have to follow various rules and regulations, including KYC and anti-money laundering laws.
You must design the app in a way that the user gets a positive experience whilst registering on the app. For example, the design of the registration form should be in a way that it generates maximum details with minimum input from the user. The app should also convince the user for its reliability and value. So you should design your app in a way that the registration form is enough to fulfil the compliances.

Why You Should Integrate Robo-Advisor in your FinTech App?
What is Robo-Advisor?
It is a class of financial advisors that helps in providing financial advice. But it does not require human efforts, as it offers online investment management and financial advice powered by AI. Robo-advisor can be integrated in your fintech app easily just by implementing some robust algorithms that can read and analyze human nature to provide the best services.
The Robo-advisory market is set to expend in the upcoming years. It is estimated to stand at USD 1 trillion in 2020 and the projection by 2023 is USD 1.5 trillion.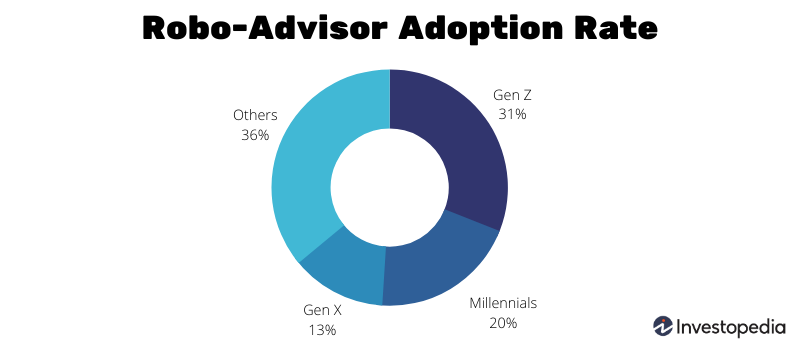 Due to Big Data Tools and AI Technologies, various FinTech firms are planning to integrate Robo-advisers into their apps. The concept of Robo-advisers helps these start-ups to easily manage customer data, loans, and wealth. The following reasons explain how your business can benefit from Robo-advisor.
Personalized User Experience
The Robo-advisers follow algorithms that read and analyses the various factors like customer's needs and interest before providing any type of financial services. This feature of personalized user experience keeps your users engaged in the app and surely results in increased revenue and profits.
Set up and Forget it
After integrating Robo-advisers in your FinTech app, there is no need for any kind of user involvement later. Whereas if you are hiring a human advisor for your app and later training him with the latest market trends and business aspects, then you need to spend a monthly budget on them.
How Much Does It Cost to Build A Fintech App?
If you are planning to start a FinTech business, then consulting an experienced fintech app development company is the best option to build your fintech app. Having a team of professional fintech developers onboard is also a better choice but it will increase your fintech app development cost significantly, leaving you with low ROI. If your business decides to outsource multiple business processes of the FinTech start-up, then it could end up costing less, but the cost will remain significant.
Factors That Affect Fintech App Development
App Platform Development
Technologies
Feature Set
UI/UX Design
Mode of hiring
Developers Location
Size of  the app
Type of App
But if we talk about the Robo-advisor for the industry, Wealth-front will cost only around $500. The major benefit of integrating Robo-advisor is that it works with the highest accuracy rate and around the clock. Moreover, if you can build your own Robo-advisor for integrating into your FinTech app, it will be more cost-effective for you. Here at Nimble AppGenie, our developers can develop dedicated Robo-advisor for your FinTech app.
The Fintech App Development Cost Depends On:
Mobile app platforms (iPhone or Android or both) you want to opt for

Features and functionality you want to develop

Number of integration you want to cover

Hourly rates of

app developers

you are going to hire

Top 5 FinTech Apps of 2022 in the Market
Before discussing the features and benefits of the FinTech app, let have a look at the top 5 Fintech apps 2021 in the market that are generating high ROI for their investors.
1. MoneyLion

The US-based financial app provides financial advice to its users and also allows them to access the details about the loan. MoneyLion is basically a personal finance app that works as a part of wealth management, part lending, and part savings app. According to the latest news, this fintech start-up is on the way to becoming a "unicorn" for the finance industries. Till now, the current value of the start-up is just under$1 billion.
2. Robinhood

This is a US-based stock trading app that allows users to invest money in public companies. The app charges no commission fees in stocks, cryptocurrencies, and EFTs. Moreover, the app has its own clearing system and also allows the user to exchange-traded funds. Currently, the app is valued at $7.6 billion.
3. Chime

The app is growing in the USA at a rapid pace as a mobile-only bank. Without any extra or hidden charges, it allows users to easily manage their saving account and spendings. Its unique features like automatic savings option and large free ATM networking makes it an extremely convenient banking app.
4. Nubank Rewards

The Brazil-based fintech app is one of the best FinTech apps as it provides access to spending, and also allows users to track spending by category. Moreover, the app also provides real-time information about Nubank rewards, saving balance, and Credit cards. According to surveys, the current value of this app is over $10 million.
5. Mint

When it comes to collecting information about the user's transactions, cards, and transactions, Mint is the most successful fintech app in the USA. The app alerts users through notifications about pending bills, and also offers advice on spending patterns. 

Must-Have Advanced Features of Fintech App Development
The arrival of FinTech has not affected the basic need of humans. So, the applications must respond to the client's request appropriately. Adding new features and new system improvements are a must. This will help in controlling expenses, saving money and taking loans will also become easier. You must provide an intuitive interface  from the users' point.  It is also important to add new features that can expand or improve on the old ones. Bringing new features and updates in the market is the key to success. AI used by FinTech is the best example of this.
Blockchain for New Business Models
 A blockchain is a set or series of a block that store data in the form of hash functions and timestamps so that the data cannot change later.
For the financial supplying proxies (banks, custodians, money marketers) from the ordinary fintech or economic world. Blockchain offers close to costless automatic algorithms and protocols secured by cryptography as opposed to the pricey or subjective regulatory bodies.
Blockchain allows Peer to Peer micropayments directly between users and coverage or mortgage products provided without delay. Between retail customers that pass rating organizations and other proxies is handiest a beginning. Innovation in the shape of important financial institutions' virtual currencies is also coming into authorities' levels. 
Voice-Assisted Banking
With smart speakers like Amazon Echo and Google Home, and virtual assistants like Cortana Google assistant, and Siri.  Artificial Intelligence for voice recognition is growing exponentially. Currently, voice banking is gaining popularity, and soon we will be using virtual assistants for banking. This will help customers in ignoring annoying bank calls. Users will be able to get solutions to all their problems through online bots.  
Biometric Security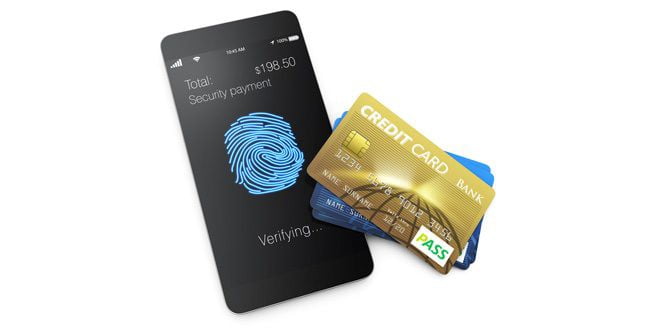 Security is one of the most essential aspects of FinTech apps. Cyber-attacks and threats can destroy the user's confidence in using online payment services. FinTech companies are planning to replace the unreliable password or pattern-based security systems with fingerprint or biometric input.
Along with a facial recognition system, biometric systems that identify users with their heartbeat is also in the developing phase. In the future, you will be able to login to banking apps by the measurement of your heartbeat through a smartwatch or a smart wrist band. Moreover, palm-vein biometrics are also in their development phase. With this feature, you will be able to authorize the payment just by simply scanning your palm or hand over the reader.
Fingerprint Input

Facial Recognition

Measuring Heartbeats

Palm-vein Biometrics
API Integration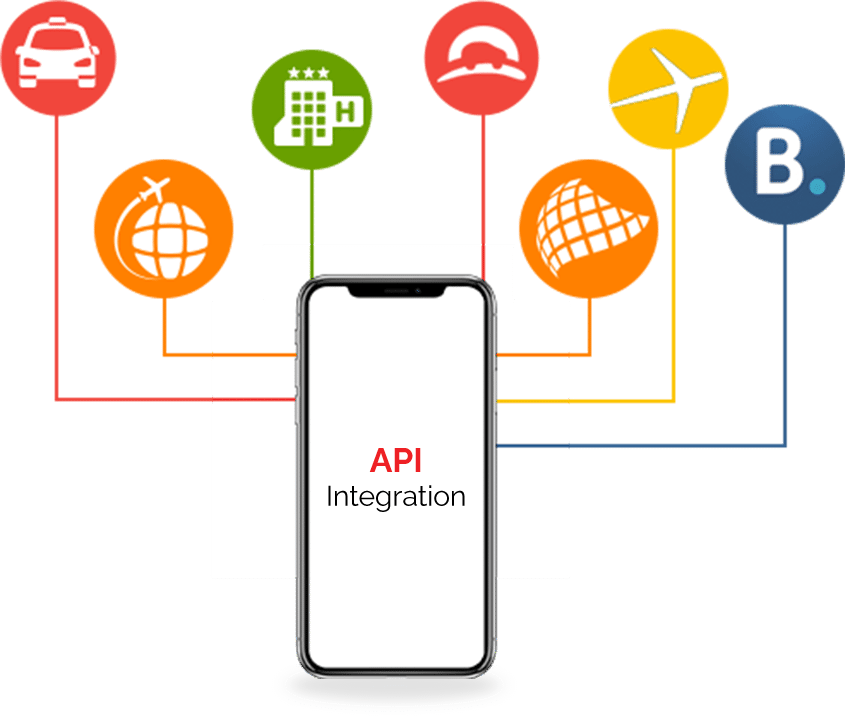 To define rules of interaction, expected results, list of commands, and also for interaction with each other, Application Programming Interfaces are used by software applications. With the help of APIs, developers can build large application programs without re-building particular functionalities for each and every application. In terms of fintech, APIs are already closely used to offer partly computerized due diligence and KYC/AML strategies.  
Third-party Apps for Authentication
In order to secure your digital accounts, two-factor authentication is probably the best option. SMS verification is the most commonly used. But third-party apps can also be used for fintech app protection like QR codes and tokens to authorize users are used by Google Authenticator, LastPass Authenticator, Microsoft Authenticator, and Authy. Moreover, there are various other apps that depend on the network. The mobile operator components to provide secure authentication to the users.
Automation
To automate repetitive and manual tasks, AI will help developers to How much does it cost to build a Fintech app. With the help of Artificial Intelligence, users will be able to make decisions about their money. These decisions may be where to put their money, approving interest rates and loans. How to manage overdrawn accounts and so on. Artificial Intelligence will also take over notification management.
so you will be notified only with the notifications that require your intervention.
Summing Up
Fintech is already revolutionizing the marketplace, but many of the standout benefits and attractive capabilities are just starting to emerge. Synthetic intelligence will make an extensive impact on the development of fintech. It will have an effect on personalization, automation, and security, improving apps for the better. If you are seeking to make a Fintech App Development cost let's have a chat to brainstorm what we can do collectively.
More information

Niketan Sharma is the CTO of Nimble AppGenie, a prominent website and mobile app development company in the USA that is delivering excellence with a commitment to boosting business growth & maximizing customer satisfaction. He is a highly motivated individual who helps SMEs and startups grow in this dynamic market with the latest technology and innovation.