You're here to know the latest trends for E-Wallet Design in 2021. So, I won't overwhelm you with the e-wallet app development trends or the cost of e-wallet development or the development process. If you want to know more about these aspects of e-wallet app development, you can click on the links that I've put on the above text.
It is true that designing FinTech apps is challenging. But the challenge comes with an opportunity for innovation. I spend a lot of time with our designers at Nimble AppGenie. As we've developed many FinTech apps including several e-wallets, I've obtained considerable wallet system design experience in terms of e-wallets.
So, here I'm putting in my thoughts about how you should design your e-wallet app.

The E-Wallet Design Process
The quality of payment wallet system design is proportional to the rightness of the designing process.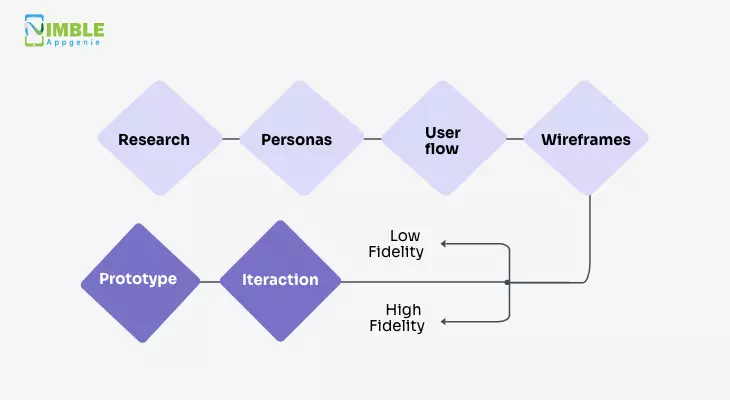 1. Research the Market
There are already several e-wallets like G-Pay and Samsung Pay available in the market that have acquired a significant amount of market share and user base. Before you jump straight into designing your e-wallet app from scratch, be mindful to have a look at the existing market players.
In addition to going through their every mobile page design, I would also recommend you to read their customer reviews regarding user experience. It will allow you to avoid all the issues that your potential customers are facing with your competitors.
2. Understand User Personas
Most users don't want to be overwhelmed with several navigation options or buttons. Hence, I recommend the e-wallet designers to minimize the user interaction (via buttons) to a bearable minimum.
Also, it is essential for you to study the demographics of your potential customers. The general user demographics for an e-wallet users are:
Educated individuals like young working professionals, students, and senior executives.
The banked/unbanked population.
Some with a very least understanding of technology.
Different user personas have different preferences/needs from your e-wallet app. For example someone may be saving for a specific cause, while others will use your app just to make instant payments.
3. Create a User Flow
User journey/flow is the sequence of steps that users would take to perform a specific task in your e-wallet app. Although the user journey will vary depending on the user type, be mindful to consider the majority user type while building the user journeys for your e-wallet.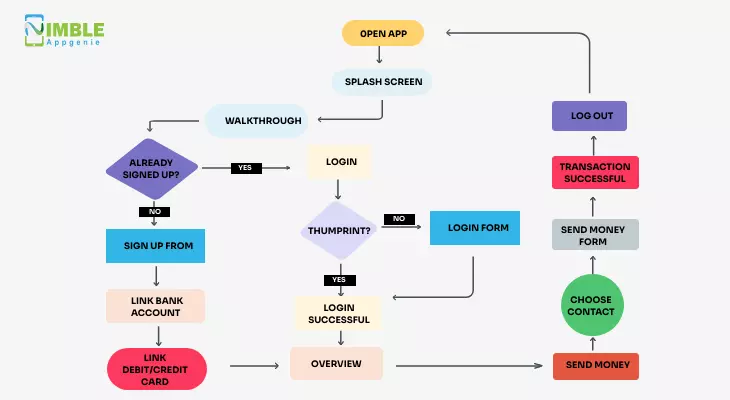 4. Wireframing and Designing
Wireframes
Wireframes are of two types – low fidelity and high fidelity. I always recommend for our designers at Nimble AppGenie to draw the low fidelity designs first, so that we can make sure that the core objectives of every screen are fulfilled. The aim should be to simplify the user journey as much as possible.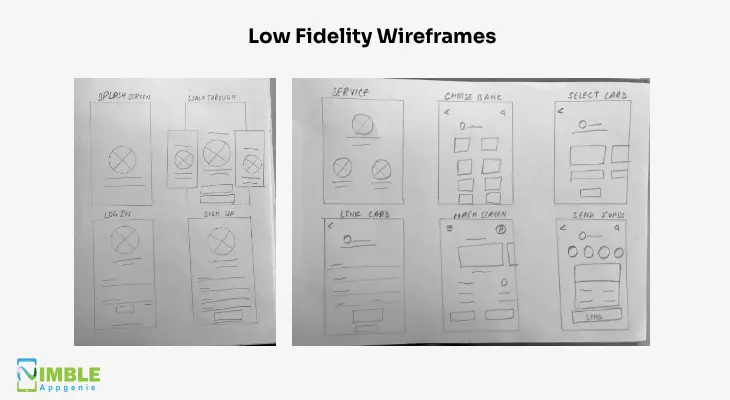 Low Fidelity Wireframes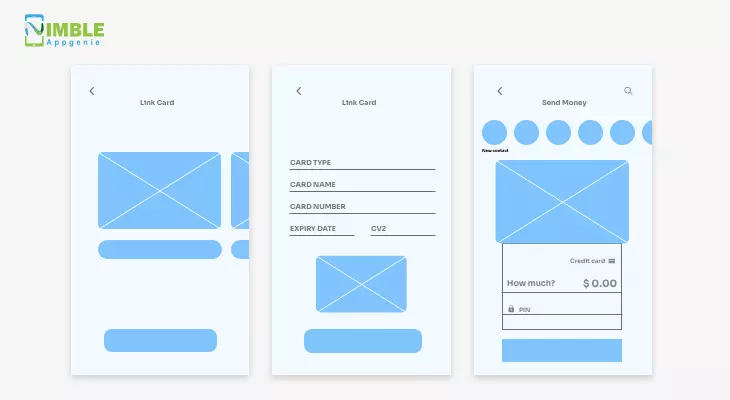 Mid Fidelity Wireframes
Visualization
The visualization part of the e-wallet app wireframing and designing process is an aesthetically pleasing yet simple step. You should focus on minimalistic designing, using muted colour pallets. It is needless to mention that you should use simple fonts and typography.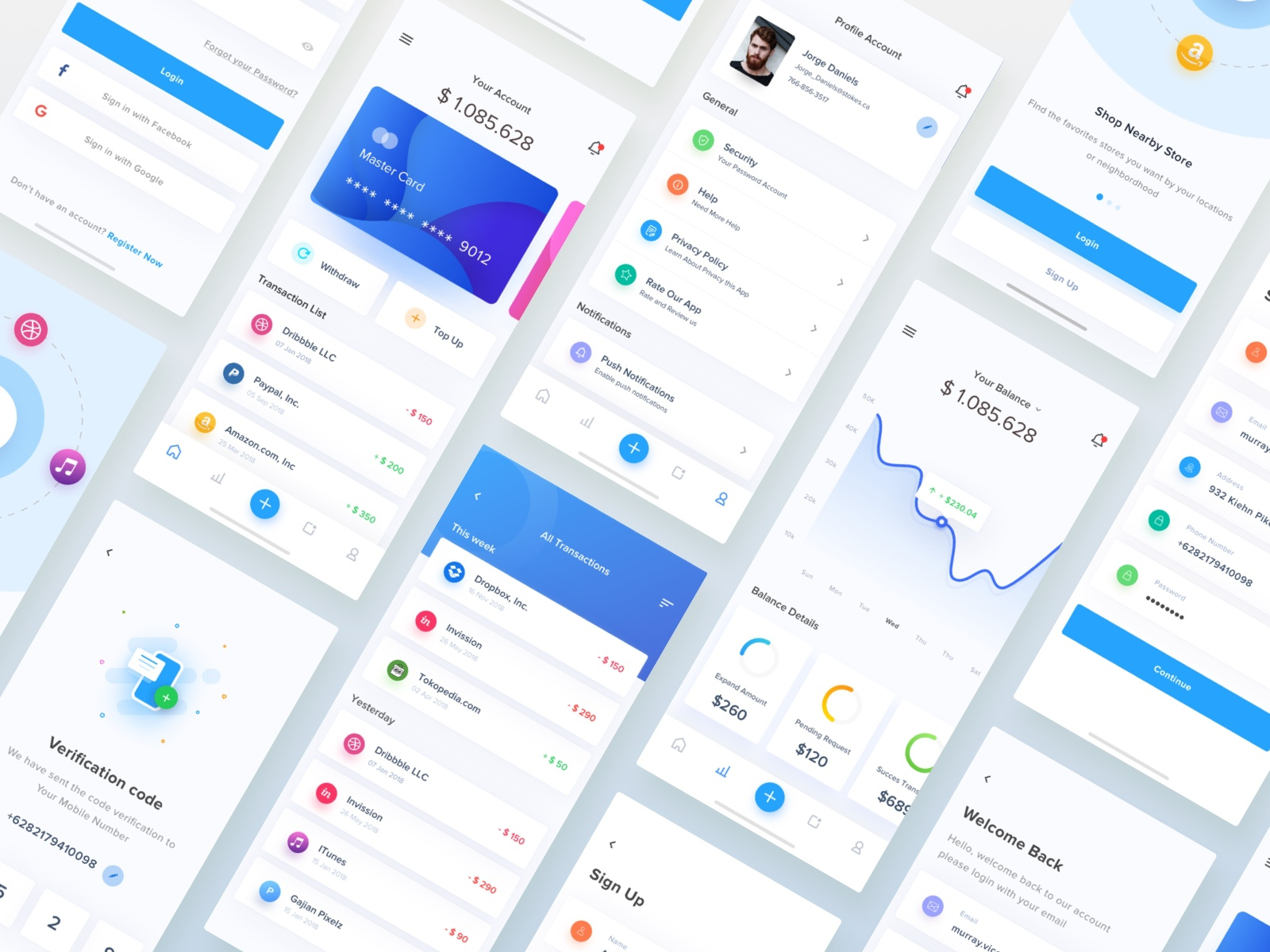 Source: Dribble
Elements of the Dashboard/Overview Screen
Send Money Option
Wallet Balance
Linked Card Balance
Financial Transaction Summary
Receive Money Option
Pay Bills Functionality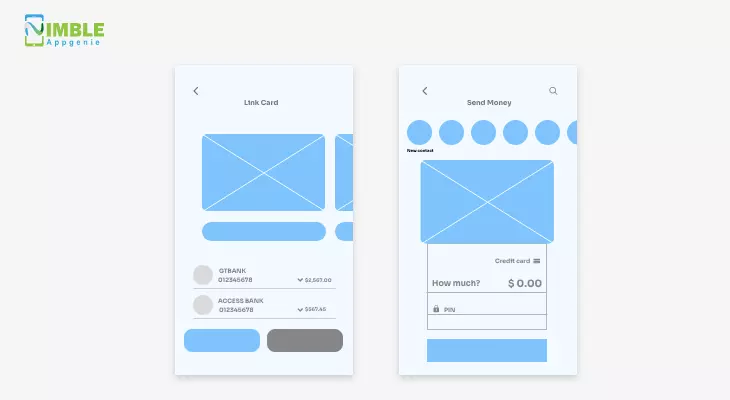 A Mid Level Mockup Screens
Things to Consider While Designing an E-Wallet App
Mastercard's Guidelines on How to Display Their Brand
Mastercard has their own guidelines for digital payments UI. In order to get your e-wallet rolling in the market, you first should check it against these guidelines. Although within your e-wallet app, the Mastercard's logo will most likely appear in the debit/credit cards image and document acceptance flow (as standalone symbol).
The following are the key things that you should be aware of:
The exact digital replica of the bank's physical card that contains the Mastercard's symbol must be at least 15mm in width.
The standalone symbol should not be smaller than 7mm in width.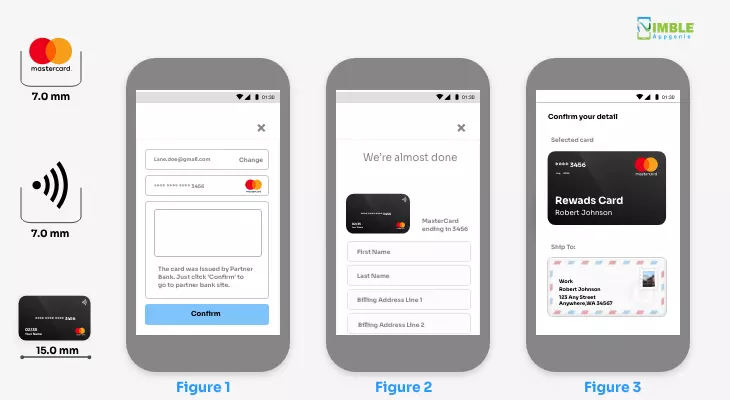 Moreover, it is compulsory to show Mastercard's brand mark when:
User activate their account;
Select account/credentials for payment;
Access account details;
Complete the use of account/credentials during a payment/transaction.
However, Mastercard keeps changing these requirements, so be mindful to occasionally cross-verify if they've changed something.
Use Transparency, Iconography, or Text for Card Status
Visualizing the card with a greyed out style isn't a good practice to make the users aware about their card status – inactive, blocked, active card. I would recommend that you use transparency, which is a good indicator to distinguish active or inactive cards. Not only this, using icons and text will also make it easier for users to identify the card status.
Communicate Clearly and in Real-Time
Let's talk real. Although e-wallets claim to transfer funds immediately, there are situations when the transaction can take weeks to complete. Hence, your e-wallet UI design should reflect the real-time status of payments. The immediate response from the e-wallet system design becomes more crucial when splitting bills or making merchant transfers.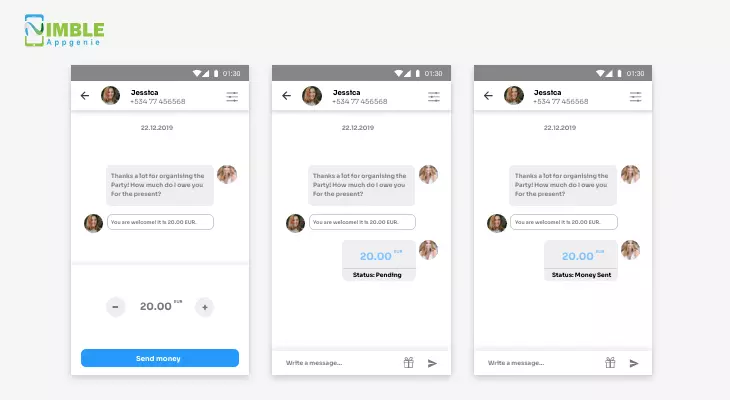 E-Wallet Mobile App Design Components
Your e-wallet UI design should incorporate the following elements to offer an astonishing experience to the users.
Background: The e-wallet app background needs to directly relate to the brand identity. The background should flawlessly incorporate several different elements of UI design, including icons and third-party logos.
Animation: This is a standard digital wallet system design element for e-wallets that prioritise high quality user interaction through several app screens or features. But don't think of animation as a prominent design element, they're just to support the overall design.
Colour Pallets: Colour pallets have more use than just making the app visually appealing. Studies have shown that more than 60% of the individuals get attracted to an app based on it's colour theme.
Colour Gradients: Since 2017, gradients have been the graphic designing trend. However, I'm not personally a fan of gradients. But according to studies, a subtle mix of colours is pleasing to the eye for users.
Isometric Designs: The reason behind keeping the design elements isometric is that with e-wallet apps, there are several things (information/content) that you need to incorporate into a single screen. For example, the home screen will have to reside payment icons, balance icons, transaction history graphs, third-party bills, utility services, offers, and more. For this much information, you have to keep your system design digital wallet isometric.

Conclusion
Although for many designers it gets cumbersome to design an e-wallet, FinTech designing experts find the challenge very interesting. You could argue that as there are already many e-wallets in the market, we can just copy their design, tweak it a little bit and launch our app. Well the Chinese way of doing business might work, but there are a lot of aspects where your e-wallet app should be distinguished from your competitors. This is where you should find the largest opportunity to do business in this market.
Always remember, not every e-wallet is successful. Hence, you need to make sure that the product you deliver to your customers is built with perfection, in relation to their specific needs. This perfection begins with an astonishing UI/UX design.
If you're looking for an e-wallet development company that can help you with the designing and development of your e-wallet, your hunt is over. We, at Nimble AppGenie specialize in FinTech app development, especially, the e wallet system. Reach out to us at contact@nimbleappgenie.com Feel free to drop your thoughts on Fintech design in the comment box below.