The banking and finance industry is actively adopting conversational technology, and AI-powered fintech chatbots are among the hottest conversational technology trends. The trend is supported by customers who are surrounded by gadgets and apps that can listen, understand, and respond to people. Financial companies are now able to derive insights, as the customers are ready to share information that they used to keep private.
Conversational technology is forcing the next wave of digital transformation in the banking and finance industry. AI-powered fintech chatbots are being popular and becoming a vital part of financial services. The technology behind fintech chatbots is the NLP (Natural Language Processing) and speech recognition. 
However, many fintech companies are going beyond the obvious scope of natural language processing technology. For example, HSBC utilizes AI-powered robots to identify and reveal frauds, money laundering, and terrorist funding; JPMorgan to execute trades; Morgan Stanly to recognize frauds.
Business Insider Intelligence expects by 2023, AI integration to the front (conversational banking) and middle (fraud detection) businesses operations can save banks up to $416 billion.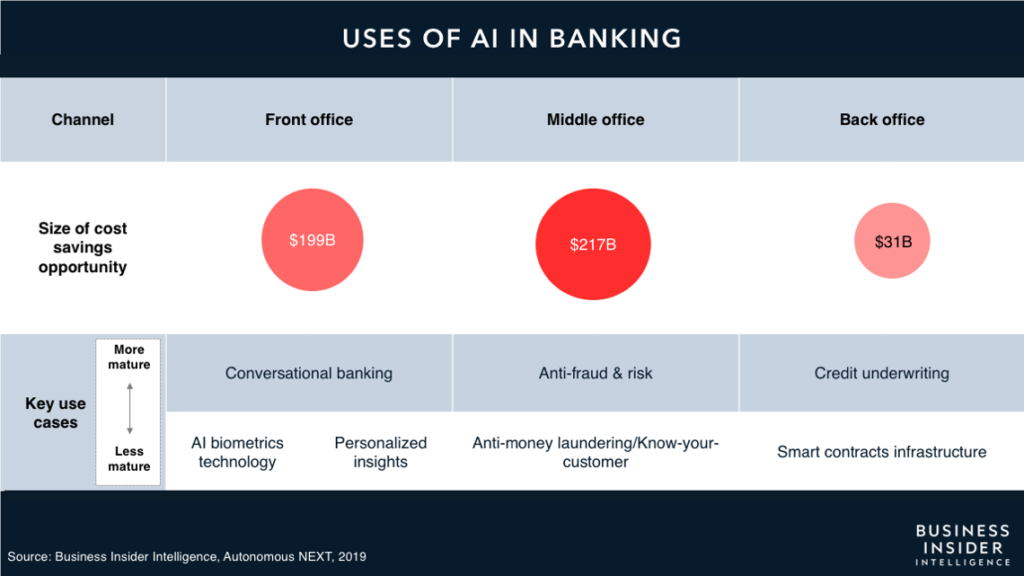 Wtth the current financial technology advancements, the umbrella term for voice-activated and text-based chatbots is 'conversational interface'. The voice-enabled chatbots interact with the customers through both voice commands and written text. Whereas the text-based chatbots appept customer instructions in the written format and respond in text only.
A recent survey by Capgemini Research Institute revealed that voice-enabled chatbots are about to skyrocket, as around 70% of customers expect voicebots to replace banking and financial services interactions and retail purchases in the next three years.
Redefining the Game With AI-powered Chatbot For Fintechs
Although, the conversational technologies for fintech are still in their infancy, fintech businesses have started reaping the benefits of it. Their customers are very pleased with the instant customer service that provides personalized experiences. The growing demand of the customers have mandated  mobile developers to deliver sophisticated AI-powered solutions. Subsequently, chatbots have evolved from simple online tools into virtual assistants, whilst the fintech services adoption has increased to 64% in 2019 from 16% in 2015.
A report by the State of Chatbots, stated that customers are expected to enjoy the following features associated with fintech chatbot adoption: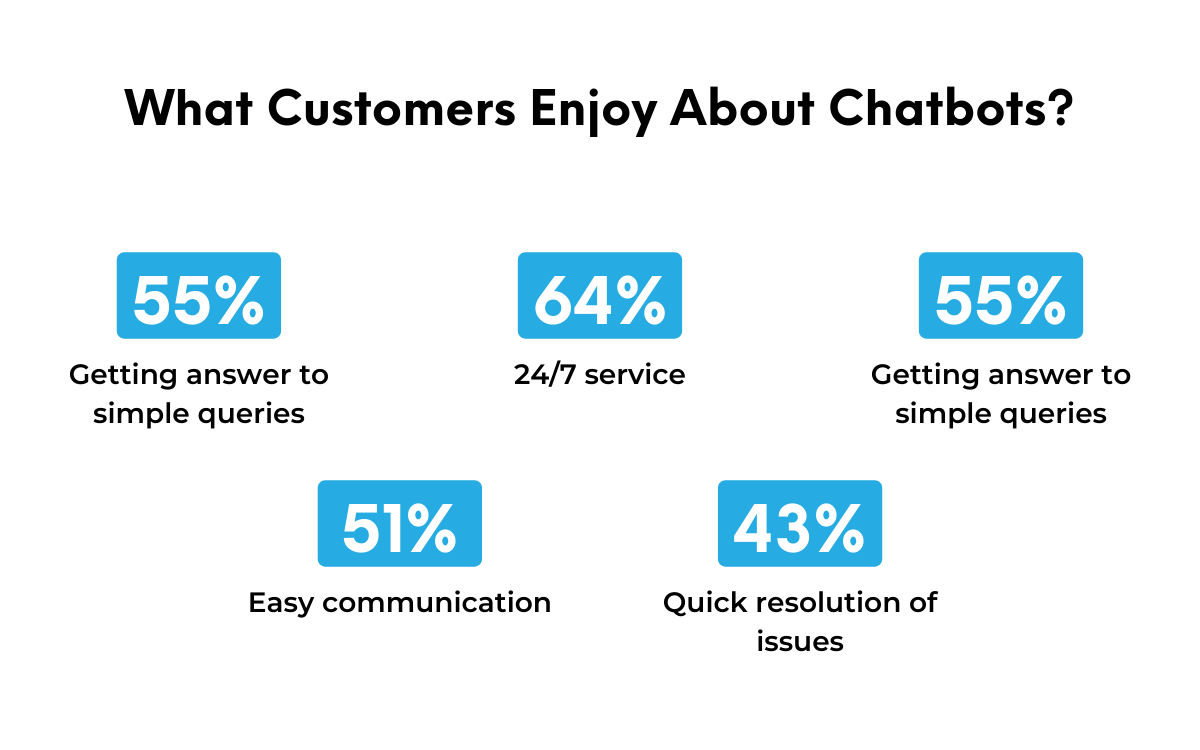 The fintechs have evolved from startups to a broad ecosystem that encourages collaboration, all while the technological impact on the banking and finance sector is still gaining its traction. Fintechs are nurturing the financial market by introducing the emerging technologies' use cases that ensure advanced customer service and efficiency.
The fintech companies are finding new ways to implement innovative technologies. These efforts have resulted in advanced modern chatbots, biometric security, and natural language searches. It is not just the customer experience that fintechs are focusing on, the safety and efficiency of operations is also one of the areas of implementation. 
PWC DeNovo notes that fintechs are utilizing AI technology to streamline financial services. These innovations are supported more by investors, with there being an average of $1 billion in funding over recent years.
What are the types of chatbots Fintechs are using?
Based on the technologies, chatbots can be built in a variety of ways. However, it all comes down to the same goal of optimizing the operations by reducing the need for human input. On a higher level, there are three types of chatbots fintech companies are using:
1. Rules-Based Chatbots
Rule-based chatbots are designed to follow pre-set rules. These are built using a GUI (Graphical User Interface), where the chatbot developer design uses decision trees to design paths.

2. AI-Based Chatbots
At the beginning, AI chatbots are fed with data for initial training. The bot developer will then implement AI technology to enable the chatbot to learn automatically. 
3. Live chat
Primarily the sales and marketing team use these types of chatbots. Some customer support organisations also use them to provide their customers with an option to chat live, which is a very simplistic option to find support.
Different use cases of chatbots in Fintech
1.

Customer Support
Since chatbots are always available and can resolve a customer complaint quickly, fintechs have started adopting them for customer support. Fintech chatbots are faster than humans in understanding the customer queries and responding to them.
A report by Drift states that 24-hour service is what customers appreciate the most about conversational bots.
Moreover, chatbots are scalable and can handle numerous queries from different users at a time, which is impossible to expect from manual processes. The customer support fintech chatbots can be easily integrated to several customer touch points, such as a messaging platform, website or a mobile app.
2. Money t/f and payments
Assisting customers in peer to peer payments is another application of fintech chatbots. An AI-powered chatbot can make different kinds of payments and money transfers on the customer's request. Moreover, by linking their mobile wallet to the bot, customers can pay bills, shop online, or check account balances faster.
Such fintech chatbots don't require making a separate app; they can easily be integrated with existing popular messaging apps. Customers find it convenient to use a familiar app interface, and hence it is better to integrate the payment bot with existing apps. Also, as mobile app fatigue is widespread, users prefer messaging platforms because of the ease of usability.
3. Finance Management
Chatbot can also assist users with the management of their personal finance. It allows customers to check transaction history, check balance, track expenses, and get expense reports. The customers receive insights, as if they are consulting a personal finance manager. Moreover, users can set spend limits or create budgets, and based on these, the AI-enabled assistant bot will help them stick to these limits.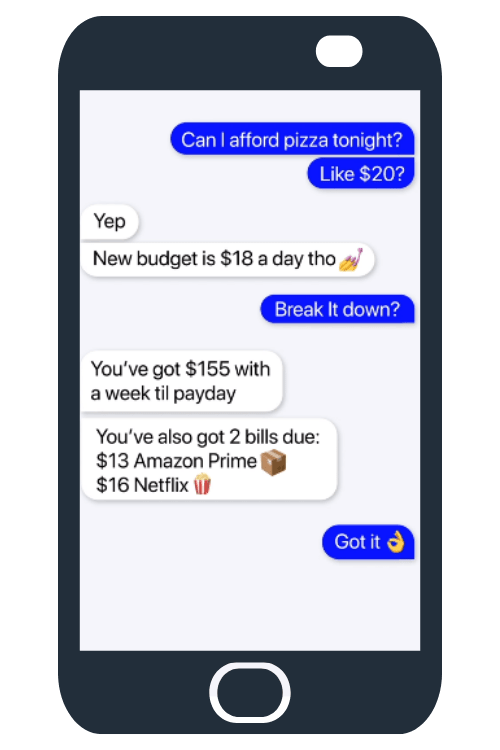 A very popular example of a finance assistant bot is Celo, an AI-powered chatbot that integrates with Facebook Messenger. Celo provides users with spending insights and graphs that come handy for the users. Users can chat to the virtual assistant in real time, making it easy for them to stay on top of their financial plan.
Along with helping users stick to their financial goals, AI-powered fintech chatbots can predict the user's future financial spendings. These virtual assistants learn spending behaviour by analyzing the individual' transactional history. It allows the fintech conversational bots to make expense recommendations beforehand. 
4. Smart Savings
Taking the personal finance management a step further, fintech chatbots can enable smart savings for the users. What it means is that a chatbot automatically calculates how much a user can save on a daily basis by analysing the user income and spending data.
Fintech chatbots like Digit can directly transfer the anticipated savings to the user's saving accounts. Of course, the user can withdraw the saved money anytime, anywhere. Beyond this, the users can choose from different saving goals that the virtual assistant can follow.
5. Micro Investments
It must be noted that the fintech conversational bots can not only smartly save money for customers, but also can help to earn money. Similar to Robo-Advisors, fintech chatbots can offer micro-investment opportunities, such as creating and managing portfolios.
For instance, Plum, a facebook messenger bot, helps users save money. Additionally, it allows users to invest based on different company themes and three risk levels.
Taking Conversational AI to the Next Level
The benefits of conversational technology for banking and finance are already evident. With technological advancement, fintechs will potentially explore more ways to implement chatbots in financial operations.
However, it is important to adopt the right business concepts and engineering approach to reap the best out of conversational technology.
Form up a diverse team. With the accelerated evolution of AI tools, it isn't essential to find natural language processing, conversational interface, and machine learning competencies in your team. Fintechs should seek for emerging skills and talent, including fintech app developers, AI experts, conversational UI designers, neuro linguists, and others. Hiring and managing these IT experts is a time-consuming and expensive process. Hence, it is always recommended to have a reliable technology partner who has the required skills and expertise to develop fintech chatbots. 
Choose the optimum AI and financial technologies. Conversational user interfaces can drive desired results only if backed by the right set of technologies and software architecture. You should pick the technologies based on the maturity, self-learning capabilities, accountability, and industry specific regulatory requirements. Your technology service provider will also help you adopt the right combination of APIs (Application Programming Interfaces) that will bring nimbleness to meet the ever-changing customer needs and lead the industry.
Begin with a hybrid approach. AI-powered conversational bots require time to mature and this is the reason why it is recommended to begin with humans and let AI operate in tandem. It will be a bad choice to leave the customer service upto a new AI-powered fintech chatbot. First, train and supervise your chatbots while it works in the background. When it's ready, you're all set to full-fledgedly launch it.
Challenges with Fintech Chatbot Implementation
1. Consumer Expectations
Since, money is the most liquid and precious commodity, banking and financial services consumers expect consistent, personalized, and flawless customer service from their service providers. However, it is difficult to serve the customers' high expectations without utilizing technological advancement and instead relying only on manual assistance. Well-trained fintech chatbots are the answer to such challenges of fintech chatbot implementation.
2. Strict Rules and Regulations
As the banking and financial services industry is going through digital transformation, industry regulators across the world are introducing strict guidelines for financial technology services. Strict industry regulations is one of the primary reasons why fintech institutions invest heavily in implementing technology into their operations. It is also the reason behind a slow pace of technology adoption in banking and financial services.
3. Unpredictable ROI
Conventional banking and finance infrastructure is heavily dependent on the human workforce, which drastically increases their spend on matters  such as operational expenses. Technology, on the other hand, comes with a hope of making banking and financial operations cost-efficient. But, the issue here is that the return on investment (ROI) for technological implementation such as fintech chatbots is not predictable. Moreover, fintech chatbot implementation needs a concrete strategy and defined requirements for success.

Conclusion
Fintech chatbots have finally started getting the recognition that they deserve. In fact, a research study claims that 46% of financial companies are already using conversational bots. Fintech chatbots are faster in performing tasks than humans. Also, they can provide the customers with personalized conversational experiences.
Conversational bots have several advantages and use cases in the financial space. They provide real-time customer support, assist in payments and money transfers. Also, there are some advanced fintech chatbots that provide customers with personal finance management and advisory services. There are also some fintech chatbots that can help users save money and adopt healthy financial habits.
If you're planning to implement fintech chatbots into your existing IT infrastructure or you are planning to launch a separate chatbot that integrates with communication tools such as facebook messenger or whats app, I recommend that you consult an experienced fintech development company.
We here at Nimble AppGenie, excel in fintech app development. Nimble AppGenie is a leading IT service provider for financial services. You can reach us at – contact@nimbleappgenie.com