The visual learning experience has become the new normal for the students across the world. Due to high flexibility, low cost of procurement, and astonishing learning experience, e-learning apps have become a trend in the education sector. In your quest to develop an online learning portal, you might want to identify the essential features of online learning websites. Well, your curiosity is over. In this article, I'll explain all the necessary features for online learning portals/websites.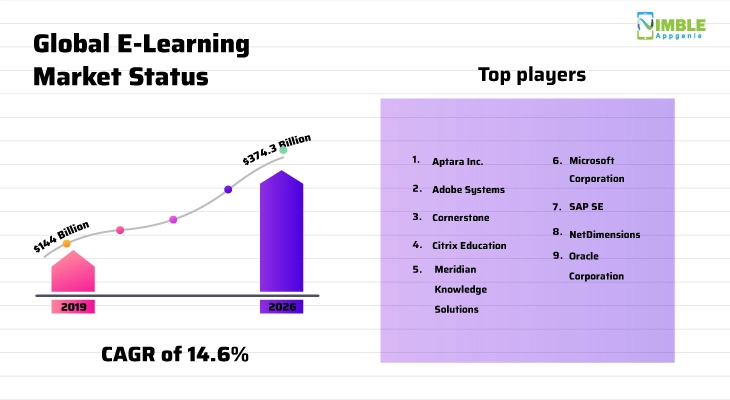 Data Source: Global News Wire
Features of Online Learning Websites
1. Course Creation
For tutors, online education is all about streamlining the process of teaching. They may have some unique courses or educational content that should be imported to your online learning portal. Hence, your course creation module should be ready to incorporate a variety of study materials, which may include graphics or AR/VR content.
2. Skills and Certifications Management
This feature is solely for the students. While learning online, students acquire several skills and certifications. For example, online learning portals like Rosetta Stone and Babbel allow students to obtain several certifications, which are affiliated by renowned universities around the world. If your online learning portal is supposed to have similar functionality, you need to have a management feature for the same.
Also, as the learners/students pass through the curriculum, they acquire skills. It is reasonable for you to motivate them by allowing them to share those skills with their peer students or family members.

3. Payment Gateway
We all are aware about the popularity of online payments. Ofcourse, none of your online learning portal users will be sending you a cheque for the payment of course fees, it has to be online. However, you can make it more convenient by integrating international payment gateways like Paypal and Stripe.
For domestic payments, you can integrate popular e-wallets and UPI payment apps. This will certainly increase your sales and customer retention. Also, allowing users to save the payment method information within the app is another way to deliver payment convenience. Hence, this becomes one of the must have features of online learning websites.
4. Communication
Learning requires collaboration and there is no substitute for effective communication to enforce collaboration. Features like forums, instant messaging, and audio/video conferencing, not only help learners with their problems, they also improve their soft skills which are essential too. The following are the ways that you can implement effective communication into your online learning website: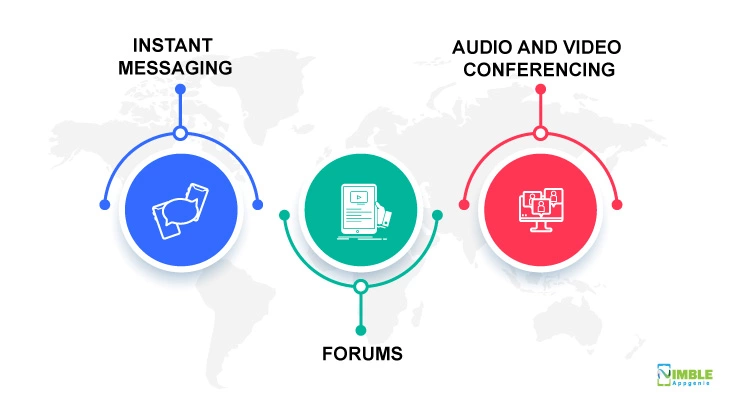 Instant Messaging:
Students at your online learning portal can benefit from instant messages by interacting with the tutors in real-time. This will save time for them and make educators more accessible.
Forums:
These act as a platform, where students can connect with each other and the tutors. Students and teachers can discuss various topics or issues that can be visible to everyone in the group or portal. However, I would recommend you to enable the Admins to manage the participant list.
Audio and Video Conferencing:
This feature is ubiquitous in education mobile apps and web portals worldwide. However, you should make sure that your portal has audio-only features along with the video conferencing feature.
5. Personal Notes and Sharing
Taking notes during classes is the most common and effective way for students to memorize things. However, many online learning apps lack this feature, which leaves only the option to take their notes in hard copy. Whereas, if you allow students to write their notes within the portal or take and manage screenshots, the notes will be more accessible to them and they'll also be able to share their notes with other students.
6. Gamification
Although gamification was considered superficial for the education industry a few years ago, it is a must-have feature of online learning websites/apps nowadays. Students find it motivating, which is essential for a self-learning portal like yours. In order to implement Gamification into your online learning portal, you will need to introduce a series of achievement badges, which will be awarded to students at the completion of a related module.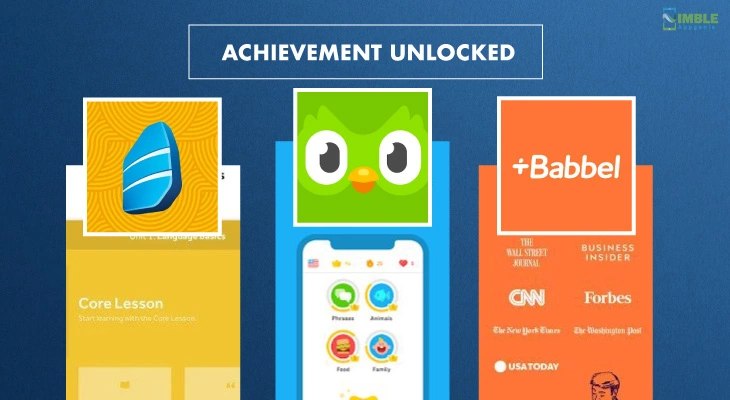 You can also reward students with premium content that can only be unlocked by obtaining specific achievements. If your target audience are adult learners, this approach to Gamification will certainly increase your student's attention span and dedication towards the curriculum.
7. A Search Engine
Yes, you heard me right. A search engine, maybe not advanced as Google. But you'll need one to feed the curiosity of learners. You would not want your learners to search for their answers on Google, as it can lead to app abandonment. It also affects their attention.
You should make sure that the learners can get answers to most of their questions related to the subjects. I recommend you to include the educational content as well as the forum database into your search engine to make it more effective.
8. Personalized Mock Test and Practice Sets
Learning cannot take place without tests. Hence, for every learning app, tests and practice sets are a must. However, the mock and practice sets will be more effective if you personalize them for every user. However, the frequency of mock tests will vary as per the courses you offer.
Recently, at Nimble AppGenie, we worked with a EdTech company to build their education software. In the app, we implemented a personalization feature for the practice sets. To make it happen, we allowed every student to mark every question with a certain difficulty level during the learning phase. The student's inputs were then used by our algorithm to personalize practice sets and mock tests for every student.

9. Friends to Compete
Although this feature is primarily preferred for self-learning apps like Duolingo, your online learning website can also make use of this. The reason behind this is that the learners on these platforms go through passive learning experience; hence, it becomes essential for you to motivate them.
The sense of competition triggered by this feature will motivate your users to use your website more frequently.
Features of a University or School Website
In terms of purpose and features, websites for schools or universities are very much different from online learning websites. Schools or universities' websites serve the purpose of branding, getting new enrolment, and providing curriculum updates to the students, faculty, and mentors.
The following are the must have features for university or school websites:
Intuitive Headers
Although the header is the smallest part of a school/university website, it is one of the most crucial elements. The header can incorporate information like social media icons, contact number, or daily updates.
About Section/Page
Be it a separate page or a section in the homepage, there has to be a place where you can tell your website visitors about your educational institution. The description can include a small history about your school/university, facilities' brief, achievements, etc. Having real images in this section will also help.
Admission and Academic Information
You must showcase the courses you offer and admission details on your website homepage. This is one of the crucial features of a university website. In addition to providing students with latest admission and academic updates on the homepage, you should also have a seperate page for all the information. Including recent archives.
Events and Notices
This university/school event website feature will keep your existing students in tune with all your calendar events. There are times when an educational institution has to announce an urgent notice. This element is very helpful in such scenarios.
Forums
Pardon me if you think that I'm being redundant with this feature. But, it is very important for schools/universities websites. There has to be several forms where students or faculties can interact with each other. Forums can be used for doubt solving, quizzes, suggestions etc.
Faculty Showcase
Believe me or not, your educational institution is made of your faculties, not the bricks. Faculties are the unique selling proposition (USP) of your educational institution. Students or parents visiting your institution's website will surely find it useful to know the tutors.
Optimize Your Website for Search Engines
You found this article via Google, right? Don't you want your prospect students or mentors to find you in the same manner? If yes, SEO (Search Engine Optimization) is the key to your marketing success. Only having a website will not give you a vast audience. You will have to make your website SEO-friendly in order to obtain more reach. The first step to SEO optimization is to optimize your content. You can use Yoast SEO for wordpress and for other platforms, SEMrush is the best choice.
Last, but not the least, SIS Integration
Although handling the log of students' admission and curriculum data seems burdensome for you, it is the heart of your educational institution. However, manually managing all this paperwork will be a costly affair for you. Hence, a School Information System (SIS) is the way to operational efficiency for you.
Why 2021 is the Right Year to Invest in EdTech?
Last year was all about remote learning and seemingly this year too will keep the shift upwards. The reason why you should invest in EdTech in 2021 is that there is a huge demand for online education this year. The recent surge of investments in EdTech space is the witness of this growth.
Recently, a learning management system, named Illumnus, raised $100,000 via seed funding. Another EdTech company, based out of Amsterdam, raised 3 million euros.
Moreover, more and more EdTech startups are entering into the education industry with a motive to obtain their due share.
Conclusion
Don't forget, effective educational content should be your foremost priority for your online learning website. If you fail to deliver it, not even the best technologies can save you from failure. I've recently written a guide that will help you formulate the best online educational content. Read it here – Best Practices for eLearning Development to Ensure Faster ROI
Also, if you're looking for an education app development company, feel free to reach out to us at contact@nimbleappgenie.com We're featured as the top education app development company by Clutch.co