So, What are benefits of educational apps for students for  why is everyone behind them?
EdTech mobile apps are continuing to gain popularity during and after the pandemic. In fact, during the first thirty days of the Covid-19 outbreak, Coursera realized 10.3 million new enrollments, which is a 644% increase as compared to the same period in 2019. The rise of education mobile apps like Coursera has been triggered by the worldwide lockdowns and the promising Benefits of education apps. in this blog we will talk to about how can educational apps help students.

The importance of educational apps became evident when the educational facilities were shut down, and the global education infrastructure was at risk. Crunchbase found that the global investment in EdTech companies reached $4.1 billion during the first two quarters of 2020. As compared to the same period in 2019, the investment got hiked by $1.5 billion.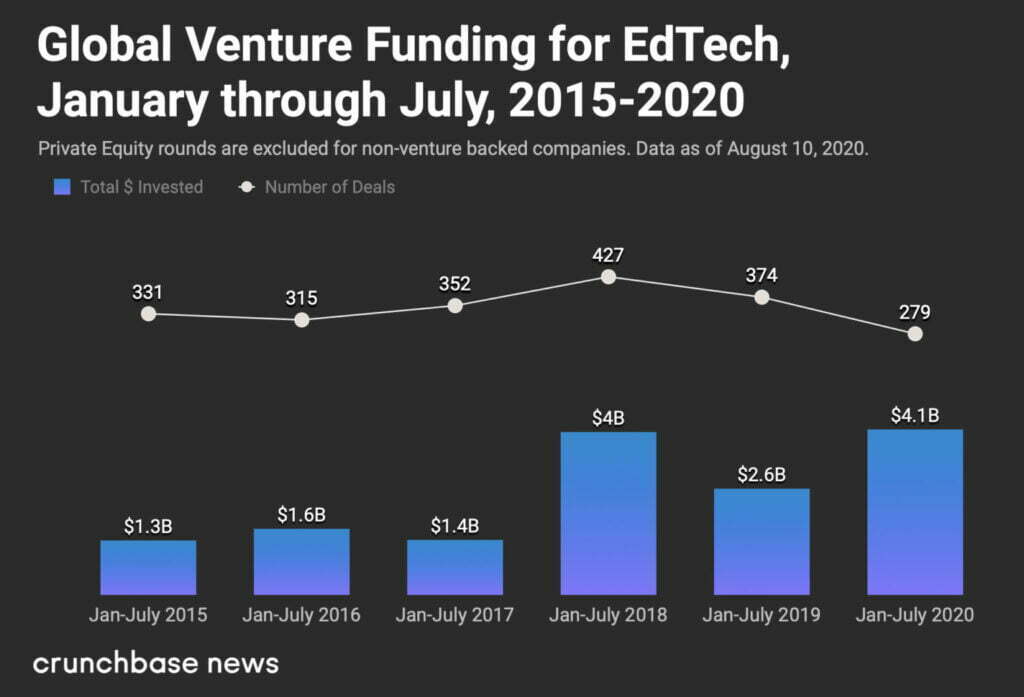 Source: Crunchbase
Although the number of deals has gone down, the deal sizes are going big. In 2018, 427 deals raised $4 billion whereas, for 2020, the number of deals stood at 279 for $4.1 billion.
What are Education Apps
What are Eductional Apps?
Apps that are designed to democratize education are considered to be education apps. Technologies such as artificial intelligence, machine learning, data science, extended reality, 5G, are making it possible for EdTech solution providers to deliver education to every corner of the world.
Corporate giants like Google and Apple are taking EdTech one step further by introducing laptops and tablets specifically for schools and universities. For instance, Apple recently released a new iPad designed for educational purposes, and offers special discounts for schools so that these tablet computers are accessible to everyone.
As for 2018, there were more than 200,000 education apps available on the AppStore. There are dozens of ways through which people can learn via mobile apps. The types of educational apps include online courses apps, self-learning apps, exam preparation apps, online dictionaries, note-taking apps, and many others.
Moreover benefits of educational apps for students are innumerable, as we will see in the next section.
Benefits of

Education

Apps for Students  
How can education apps help students is the primary question behind the existence of education mobile apps. Mobile application in education aren't only for students, education mobile apps have several other beneficiaries, including educators and educational institutions. The following are some of the lucrative benefits of education apps.
An Abundance of Study Material
Learning shouldn't be limited due to a lack of resources. Learners should be able to access a plethora of information that can help them learn effectively. With the presence of the internet almost across the globe, it is feasible to make educational materials available online. With educational content being accessible online, everything from botanical science to the ancient American renaissance can be available for everyone. 
Personalized and Interactive Learning
It is almost impossible for teachers to guide every student in classrooms personally. On the other hand, learning via mobile apps for every particular subject can eliminate the communication gap between tutors and students. 
For example, the self-learning app Duolingo has incorporated a very different method of learning. It has implemented AI-powered chatbots that can instantly solve learners' doubts. The learners just have to type in their queries to get assistance from the chatbots. Furthermore, if the learners aren't satisfied with the chatbot assistance, they can talk straight to a tutor.
Less Paper for More Enrollment
It's ubiquitously known how paper harms the environment. The increasing demand for paper is matched by cutting millions of trees. The shift to digital learning will indeed result in a considerable reduction of paper use. The e-books, notes, and online exams can easily replace the paper.
Mobility to Learn Everywhere
This benefit of educational apps is the game-changer. Learning via mobile devices makes learning much more convenient in terms of portability and accessibility. Students no longer have to carry books everywhere that they go. They can learn simply by going online as the study material is accessible via the cloud.
No Time Bounds
Everyone has different preferences when it comes to studying time and duration. Sometimes we just don't want to study because maybe your favourite show is about to be telecast or perhaps you're just not in the mood. While learning via an education app, the advantage is that the learners can study anytime that they want.
Systematic Way of Learning
Well, it has become a cliche phrase – Don't work hard, work smart. Well, smart learning is not only effective if you are preparing for your exams; it is effective when you are learning casually. There are education apps for both types of purposes. Exam preparation apps allow learners to study in a systematic way, whereas apps like Duolingo prepare learners for daily interactions.
Recommended Features of Education Apps
Okay, there are a lot of benefits of education apps. But how would you bring those benefits into action? By integrating extraordinary features into your education mobile app, here are some of the recommended e-learning app features that you can have in your app:
1. Assignment and Assessment
It is best if you can carry forward the core attributes of classroom education to make e-learning as effective as possible. In this scenario, the educators would be required to create and allocate assignments for their students within the app.
Plus to the creation and allocation of assignments, the educators also require the ability to assess them. In other words, your education app should facilitate seamless collaboration among students and educators. While implementing this feature, you should consider the following functionalities: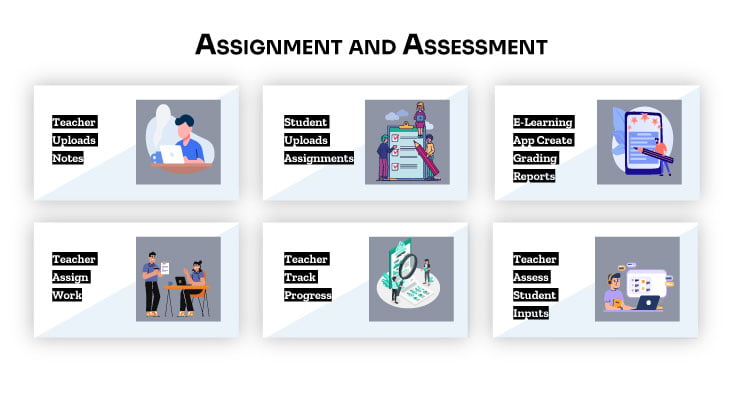 Work Assigning: Provide teachers with a management system that allows them to assign work to the students.
Progress Tracking: For higher education and self-learning, both the teachers and students are required to track the performance. Moreover, for apps built for school education, not only the teachers, but also the mentors would be required to track the progress of their children. 
File-Sharing: Your app should allow users to upload files in multiple formats.
Reports Creation: Implement functionality that allows your app to generate grading reports automatically.
2. LMS and SIS Integration
Technology implementation in education isn't new. Educational institutions have already been using Learning Management Systems (LMS) and School Information Systems (SIS) for a while. Hence, your learning app will only support the existing educational technology infrastructure.
When I say it will support the existing infrastructure, I mean to say that it is crucial for your education app to be able to integrate with the existing flagship EdTech software solutions seamlessly. Some software solutions that are popular in the education ecosystem are Moodle and Blackboard. 
3. Communication
There is no substitute for collaboration when it comes to learning. The collaboration feature can be implemented depending on the EdTech app that you develop. In addition to bridging the communication gap between learner and educator, this feature will also help learners improve soft skills. There are several ways that you can enable effective communication in your education app.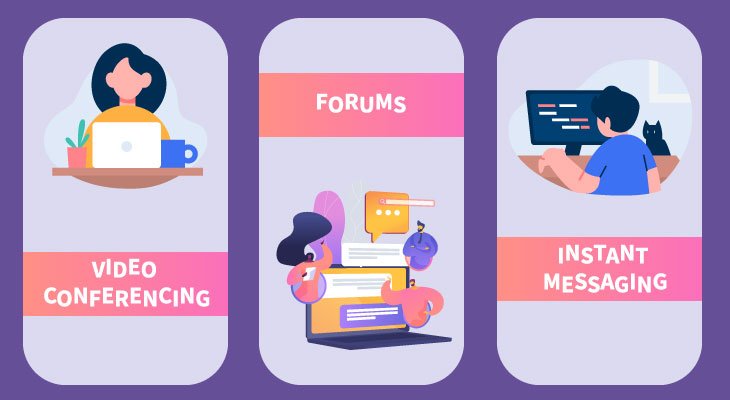 Instant Messaging: Similar to professionals communicating via Skype or Slack, students should have a place within your app where they can send instant messages. 
Video Conferencing: Video interaction among students and teachers have become popular during the pandemic. 
Forums: Forums act as a platform, where discussions among teachers and students can happen at a greater scale. It is best if you allow admins to manage new and existing forums, as well as also allowing the participants.
4. Personal Notes and Achievement Sharing
Notes are the most effective way to memorize. They can be in written form or screenshots. The learners should have an option to take notes irrespective of the app screen they are on. They should also be able to share their notes with their peer students.
When the learners achieve a milestone, they may want to share it with their friends or family on social networks. Do note that the sharing should be able to be done within a few clicks. Not only this will motivate the learners, but it will also provide you with free branding.
5. Gamification
While the importance of mobile apps in Education is growing day by day, it's also important to make them fun.
Gamification has been there in education technology for a very long time. The purpose behind this feature is to infuse motivation into the learning process. To implement the gamification feature into your education mobile app, you can include a series of achievement badges that can be allocated when the learner completes a module. This is what ads to benefits of education apps.
There is another technique to reward the learners; it's called unlockable content. With this in place, the learners get access to exclusive content that can only be accessed after the completion of particular badges. For EdTech apps like Duolingo that are targeted at adult learners, gamification improves their attention span and dedication.
6. Mock Tests and Practice Sets
Learning can't take place without personal assessment. Hence, practice sets and mock tests are a must-have for every type of education app. You can make the practice sets and mock tests enjoyable by animating them with graphical presentations.
At Nimble AppGenie, we recently developed a medical education mobile app in which we implemented the practice set functionality. The feature allowed students to create their own practice sets, depending on their level of learning. On top of this, the app will enable students to mark every question with the difficulty level, so that our algorithm can personalize the practice sets for future use.
7. Mentor Integration
One of the big advantages of educational apps is that they allow teachers to focus on individual student. But you need to include right feature to accommadate the same.
Mentors want to be in tune with their children's performance. Therefore, your education app should have different functionalities for mentors. You can develop a separate app for mentors as their app won't require many functionalities, and will be quick and easy to develop.
However, this feature is more relevant to education apps for schools and universities. Without this feature, the collaboration between all parties will remain fragmented. If you are on a tight budget and cannot afford a separate mentor app, you can at least alert mentors via email or text. This way, the mentors will be in tune with their children's performance.
8. Competition with Friends
This feature is essential for self-learning apps. It is because self-learners don't get motivated themselves and can abandon their learning. Introducing healthy competition will enable them to learn with their peers from social media. Your app should alert the learners about their friend's progress and achievements. Duolingo has a similar feature where it alerts language learners about their friend's accomplishments.

Why is it the Right Time to Build Your EdTech App?
The current market trends in the education technology sector answer the 'Why' very clearly. Illumnus recently raised $100,000 through seed funding. Another education app development company from Amsterdam raised 3 million euros. The technology trend in the education sector continues even to the developing countries where EdTech platforms like Unacademy and BYJU's raised $100 million and $400 million, respectively. Moreover, several other EdTech startups that are new to the technology market want to enjoy their piece of cake.
Reasons to Develop Educational App
Modern Approach
Better individual Focus
Online Everything
Efficiency
Always at hand
Cost Effective
Conclusion
 So, these were the benefits of education apps . Undoubtedly, online learning via mobile apps and the importance of mobile application in education has the potential to provide better learning opportunities for students. With almost every industry vertical being attracted to the digital spectrum, education innovators are finding it worthy of bringing education online. However, it is essential to invest in an educational mobile app wisely.
If you're among those educational innovators, you will have to make several business decisions, from choosing an Education Mobile App Development Company to marketing your app. Hence, I would recommend you find the right app development partner for your EdTech mobile app development project.
At the beginning of 2021, almost 4.66 billion people (roughly 60%) across the world are using the internet. Internet penetration is continuously growing. The data from Data Reportal also showed that 2020 registered 319 million new online users.
As more and more people are using the internet, there certainly will be an increase in the demand for education app development, and now is the time to hire education mobile app developer roll out your education app.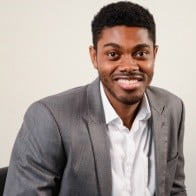 Jermaine Trotman is the co-founder of Nimble AppGenie, a company renowned for its bespoke mobile app development and web development in e-wallet app development and fintech development.