During the Covid-19 pandemic, education has come out of the cemented boundaries. The pandemic made us learn that education isn't only limited to the study hall; actually, it can be accessed from anywhere, anytime. Due to internet availability and massive demand for remote education, education technology development is on the rise. Education technology (EdTech) has changed the way the world thinks about conventional methods of education.
Education technology mobile apps have gained massive popularity during the pandemic. During the first thirty days of the Covid-19 outbreak, Coursera, an open online course provider, recorded 10.3 million new enrollments, a 644% percent hike compared to the same period the previous year.
The global EdTech investment grew by 15% in 2020. A recent report by London & Partners and Dealroom revealed that London attracts most of the EdTech investment in Europe with $630 million invested in London-based EdTech companies.
Based on data provided by Crunchbase, the worldwide investment in EdTech companies reached $4.1 billion between January and July 2020. This is a $1.5 billion hike as compared to the same period in 2019. While the number of deals has gone down, the deal sizes are getting bigger. In 2018 the $4 billion that the EdTech startups raised was across 427 deals (the highest in the five years) whilst in 2020 the total number of deals stood at 279 for $4.1 billion investment.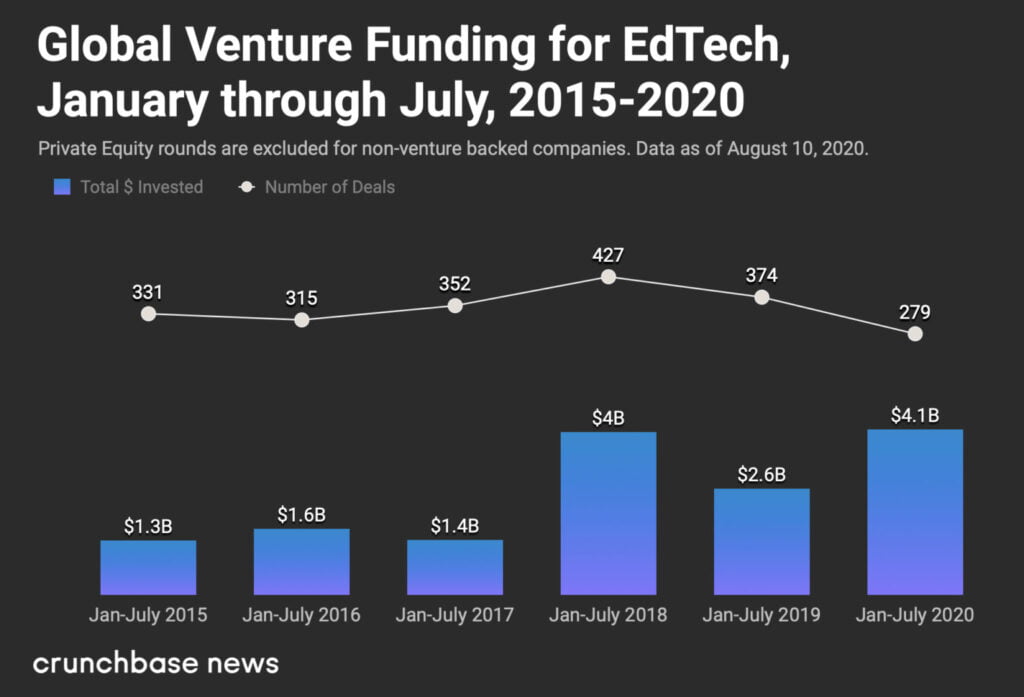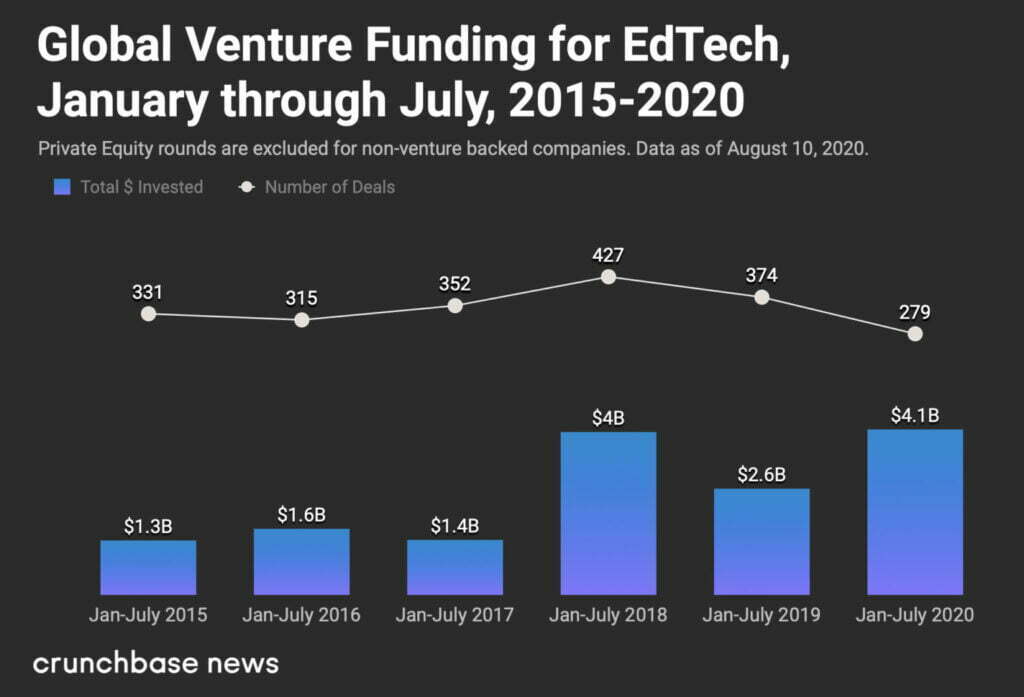 Source: Crunchbase
These data indicate that EdTech is proliferating, and we're about to witness breakthroughs in education technology development. Therefore, if you're building your next big EdTech app or updating the existing learning app, you have to make sure that your app is the complete solution. 
Implementing a trending and useful assortment of features is the only way to ensure your next education technology development is a success. But how do you begin with this? If you are not sure, here is the list of crucial features that you should include in your next education technology development.
1. Assignment and Assessment
To make the EdTech app effective, the core attributes of classroom education have to be carried forward. Educators would require the ability to assign work to their students within the app itself. Also, the assessment and insights based on the assignment is necessary. In simple terms, your EdTech app should facilitate collaboration between educators and students. The following are the things you should consider when implementing assignment and assessment in your education technology development:
Assigning work: Implement a management system with a to-do list, which will help teachers assign work to their students.
Progress tracking: For all the parties involved (teachers, mentors, students), it is essential to know the progress students have made. It would be best if you implemented progress tracking in your education technology development project.
File sharing: There should be a file-sharing feature in your EdTech application. It will allow educators to upload assignments in .pdf or some other format.
Grading reports: Students and the mentors will also want to keep track of grades. To implement this, you will need to implement reporting and flexible data storage options in your education technology development.
With all these features, optimising your EdTech app's user flow and experience can be tricky. Learning from the competition is one of the best methods of overcoming such issues. You'll at least find a couple of EdTech apps in the market that will somewhere match your app type and idea.
2. Integration with LMS and SIS
Technology in education isn't new. Schools have already been using School Information Systems (SIS) and Learning Management System (LMS) for a while. Your EdTech app will most probably be only a part of the tech stack that will support the education system.
Every new technological adoption should support the existing infrastructure. Hence, it is very crucial for your EdTech app to be seamlessly integrated with the existing flagship softwares. Moodle and Blackboard are among the most commonly used LMS options, so make sure that your app seamlessly works with them.
3. Communication
Learning requires collaboration; there is no substitute for this. Depending on the type of your EdTech app, you can implement collaboration features in many ways. Enabling effective communication will surely help learners learn fast. In addition to helping learners with their problems, communication in your EdTech app will also improve learners' soft skills during the learning process. Here are some of the standard communication features that you can implement in your education technology development:
Instant messaging: Like professionals sending quick emails or skype messages, students should have the ability to ask questions to their teachers quickly. Instant messaging saves time and makes teachers more accessible to their students.
Audio and video conferencing: Many online learning platforms allow students to have video conferencing with their teachers. Make sure that you also implement an audio-only feature along with video conferencing.
Forums: Forums help learners to connect with other students. It acts as a platform where discussion among the learners and teachers takes place on a larger scale. Forums can have several usages, be it a place for guided discussion or merely a platform to check in with one another. You can implement features such as creating and operating multiple forums, managing the participant list, etc.
4. Subscription for advanced features
Monetising an app is always challenging, and the same issue is for EdTech apps. There are numerous monetisation options available: download charges, monthly/annual subscription, or pay-per-user subscription model. However, you'll have to incentivise your users to spend money on the app for any monetisation method.
One of the most popular and effective ways to monetise an EdTech app is to put up a paywall on certain advanced features. For instance, you can allow educators to put courses on your platform for free or with a specific commission on earnings. For additional earning, you can offer them a report on user interactions for a paid subscription.
5. Make use of advanced technologies
Learner engagement is essential for apps that facilitate self-learning. Even with in-person learning, holding the learner's attention is tough. Keeping learners engaged for a long period of time with self-learning seems nearly impossible. Self-learning apps like Duolingo have to be interactive and intuitive enough to hold self-learners' interest.
You can consider using advanced AI techniques to personalise learning for every individual learner. Another surefire way to keep learners engaged is making the learning content entertaining using extended technologies. AR (Augmented Reality) technology can make learning fun even if the learners' attention span is short or the subject they're learning has a lower engagement rate most often.
For instance, the learner can point their camera at an animal, and the app will pop information about the animal on the live screen itself. Such functionality provides a fantastic learning experience that holds the interest of learners for a more extended period.
6. Take personal notes and sharing features
Taking notes during learning sessions is a ubiquitous and effective way to memorise things. The notes can be in written form, or it can also be a screenshot. Therefore, in your learning app, you should always give the learner the option to save screenshots, write notes by hand, etc. You can also allow them to share their notes with other students.
Often when a learner achieves a milestone, they want to share this news with their friends on social media, etc. They should be able to do this with just a few taps on their screen. The reason behind this is that it will result in improvement of the learners' engagement with your app, and help in your app's branding.
7. Gamification
It has been very long since learning gamification or game-based learning has existed in education technology development. However, a few years ago, it was considered superficial for the EdTech industry. But now, gamification is considered to be motivating for student learning.
To implement gamification in your next education technology development, you can introduce a series of achievement badges for completed modules. It is a very motivating method to reward students for completing their courses. The students can also share their badges with their friends.
Another rewarding technique is to offer unlockable content. The learners can get access to very exclusive content after earning the right set of achievement badges. For EdTech apps that focus on adult learners, this method helps to increase their attention span and dedication towards learning.
8. Flexible Search
Learning triggers curiosity, and every learner searches for an answer to their curiosity. The learner can indeed search for answers to most of their queries on Google, but we don't recommend letting them switch to another app. It negatively affects their attention and learning. Hence, it would be best if you implemented a search functionality in your education technology development. It will allow learners to search for any query related to their curriculum.
9. Mock test and practice sets
Be it any kind of EdTech app, mock tests and practice sets are a must-have feature. Learning isn't complete without tests, and you can make the tests fun by introducing animated or graphical questions. However, the frequency for tests differs as per the type of app. For example, language learning apps like Duolingo need to have frequent mock and practice tests so that the learner understands the practicability of their learning. Therefore mock tests and practice sets are very crucial for your education technology mobile app development.
We recently developed an education technology mobile app. In this education app we implemented practice set functionality, through which the students can themselves create practice sets as per their level of learning. To implement the personalised practice set functionality, we allowed students to mark every question's difficulty level at the time of practicing/learning. Those input from students are then used to personalise the practice sets.
10. Mentor Integration
Mentors have to be in tune with the performance of their children/students, and thus, many learning management systems create a separate dashboard for the mentors. This feature is primarily for apps relating to schools and universities, and without this feature, the collaboration between all parties involved in the education process will remain fragmented.
You can create a separate sign-in for the mentors, where they can look at their student's performance and accordingly help educators to guide the student. If creating a separate sign-in is not your preferred way to go, I recommend you at least implement "alerts via an email or text" feature. Through this, the app will automatically send the student reports to their mentors.
11. Friends to Compete
This feature is a must for self-learning apps. The idea behind implementing this feature is to keep the learner motivated by introducing healthy competition. The learners can add friends via either social media or a friend's username. The feature you implement should alert the learners about their friend's achievements and progress. This will motivate them to learn via your app regularly.
Why is it the right time to invest in EdTech?
The answer to the "Why" lies in the current investment trends in the EdTech space. Recently, illumnus, a learning management system raised USD 100 thousand from angel investors. Another EdTech platform Tribe, based out of Amsterdam, raised 3 million euros. The trend continues even in the developing countries where BYJU's and Unacademy raised USD 400 million and USD 100 million respectively. Moreover, many other startups are entering the education technology market with the help from education technology development service providers.
Also Read: Education App Development Cost Estimation With Key Features 
Conclusion
Forced by the coronavirus pandemic, the remote trend is completely transforming the education industry. The demand for education technology solutions is at an all-time high, and taking advantage of such demand can result in a very lucrative venture. But this money will not be generated without a meaningful EdTech app that is loaded with the right set of features.
The guide that you've just read is a great starting point. But, EdTech development trends will keep evolving. We are continuously working on projects related to education technology development, and we therefore have great experience in this industry domain. If there is an EdTech project that you are interested in bringing to the market, get in contact with us. We will point you in the right direction about what needs to be done to make your project an overwhelming success.
You can follow us on LinkedIn to stay tuned with the latest technology trends in the education industry; we regularly post about EdTech, FinTech, HealthTech, and other emerging technologies such as AI and ML.
Madhukar is marketing communication specialist at Nimble AppGenie. A writer by day and reader by night, he specializes in technical blogging. Throughout the time, he has been helping businesses by writing valuable business guides and articles. Nimble AppGenie is a renounced fintech and healthtech development service provider that is helping small-large scale enterprises.