Do you want to Develop and Learn Cost To Build OTT App?
Well, you aren't the only one. With OTT users expected to cross the 4,216.3m mark by 2027, this industry has attracted everyone's attention. And considering the fact that market revenue will be $210 billion by 2026 makes it even more attractive.
But there is more to it. As one might expect, all of this revenue and so many users aren't coming from internet browsers as people expect, rather 65% of the time it's done on mobile and TV apps.
And this is much better for businesses as there are 6.64 billion smartphones capable of running apps, with 83.72% of the world's population owning one. User penetration is also improving. As it was 42.9% in 2022 and is expected to hit 53.0% by 2027.
It goes without saying that this is the reason why a lot of top businesses as well as start-ups to be want to enter OTT App industry. And this is when they ask, how much does it cost to develop OTT app?
But why is this question at all? Can't you just Google it? The answer is NO!
Estimating OTT App Development cost isn't all that simple. There are variables, factors, and a lot of other things that can affect the cost. If you want to learn more about this and how to find a closer cost estimation, this blog is for you.
Here, we shall be discussing everything you need to know about OTT app development costs and other things related. Therefore, with this said, let's get started with …
What is OTT Platform? OTT App Development
What is OTT Platform? The term OTT stands for "Over The Top".
These platforms allow users to stream various forms of video content through their devices. You can use mobile phones, tablets, Smart TVs, Laptops, and PCs.
On the surface, it is similar to traditional TV services; however, there are some major differences. For instance, there is no need for cable subscription or satellite involvement of any kind.
In fact, all you need is a mobile phone and an internet conception. You can download the OTT app on your device and binge watches your favorite series or movie.  It goes without saying many of us are already familiar with these platforms.
Some of the most popular OTT apps are, as mentioned below:
Netflix
Disney+
Hulu
HBO Max
Amazon Prime Video
Hulu
Peacoc 
Video streaming apps like Netflix are particularly popular. Now, if you are someone who has been using one of them, you know exactly what we are talking about.
While video streaming is a popular OTT solution, Music Streaming App Development is also a part of the same.
Moving on, now that you know what a music streaming platform is, it is time to look at the working of video streaming OTT apps, in the next section of the blog.
How Does OTT App Work?
If you want to build OTT App that takes over the market and helps your business grow, you must first understand how these platforms work. And in this section of the blog, we shall be discussing exactly that.
The process is, as mentioned below:
Download The App: The first thing you need to do is download the application through the iOS app store or Google's Play store.
Create A Profile: Now that you have the OTT application on your device, it is time to register yourself on the platform. This can be done via number, e-mail, social media, or with Apple ID and Google Account.
Choose a Plan: now, different OTT apps are based on different business models. They can be premium ones, freemium ones, or free with ads. There are some that require a subscription to access the content, this is why you need to choose and pay for a Plan.
Pay via Preferred Method: the platform if requires payment allows different methods to do that. This includes eWallet, Credit Cards, Debit cards, and so on.
Access Content: now that you are subscribed to the platform, you can start exploring content including movies, series, shows, and so on.
Download For Later Viewing: you can download the content which can be viewed later.
This is the basic working process of an OTT app. With this out of the way, it is time to discuss the features that you should include in the OTT app in the next section of the blog.
Feature to Include in Video-Streaming OTT App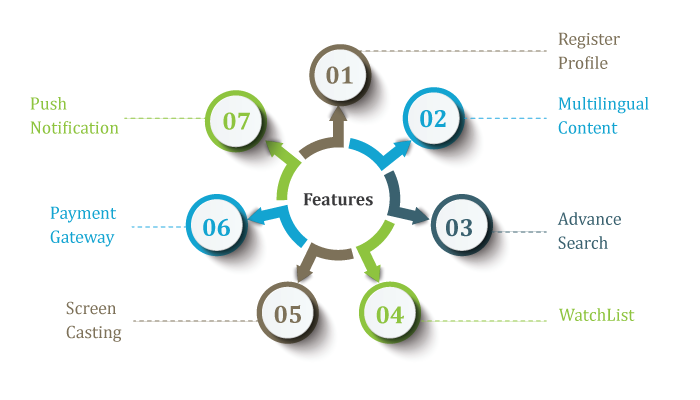 Features are the soul of any platform. Just like how top OTT platforms like Netflix, Hulu, etc have amazing features, if you want to create a similar platform, you need to consider features as an important part of the app.
So, let's go through some top features you should include in OTT App Development.
1) Register profile
Well, it goes without saying that this is the most important feature of an OTT platform. The reason is that without a good login panel and smooth process, user's either won't be able to log in or they will find it extremely difficult.
This is the reason you need to include this feature in your OTT app.
2) Multilingual content
We live in a global world. What we mean by it is, the entire world is connected and if you are creating an OTT app, you need to consider this.
Larger platforms like Netflix have multilingual content including languages like Spanish, Italian, Hindi, Russian, French, and so on.
This is the reason why they have the largest user base in the market. This is something you should take inspiration from and include the same in your own app.
3) Advance Search
OTT video streaming applications have a vast amount of content. Thousands of movies, shows, series, documentaries, and so on.
Now, if you users want to find something they want to watch, they need an advanced search. Therefore, this is a must-have feature.
4) Watch list
When you hire dedicated developers ask them to include this specific feature. This is one of the most popular features and also one of the most useful one.
With this feature, you can attract and engage users at a larger rate.
5) Screen Casting
Screen casting is one of the most popular features included in any OTT app. Thus, allowing mobile users to cast their screen to other devices.
Recently this feature has been added to the top application. Being a complex feature, it also affects the cost to build an OTT app.
6) Payment gateway
Since users need to pay for the subscription, you need to include multiple payment gateways.
Here, you should allow them to pay via eWallet integration, Credit cards, Debit cards, etc. This is something that is seen in every major platform today.
7) Push notification
Push notification is something that every mobile application should have.
Through this feature, the platform alerts the user on new shows, new episodes, and so on.
These are some of the major factors that you should include in your OTT app. And for those of you wondering how much all of this will cost you, we shall discuss that in the next section.
Average Cost To Build OTT App
So, what is the average cost of OTT App Development Services?
Just as we discussed, the cost to develop OTT app depends on a lot of different factors. In addition to this, each project is unique in its own right, which makes everything and making cost estimation that much more difficult.
While it is not possible to predict the proper cost without learning about specifications, you can expect OTT App Development Cost to be anywhere between $25,000 and $75,000.
Again, if you are looking for closer cost estimation, it is recommended that you consult a Mobile App or Web App Development Company that can give you insight into the same. With this said, we shall be looking at the different factors that affect OTT app development costs.
Factors That Affect OTT App Development Cost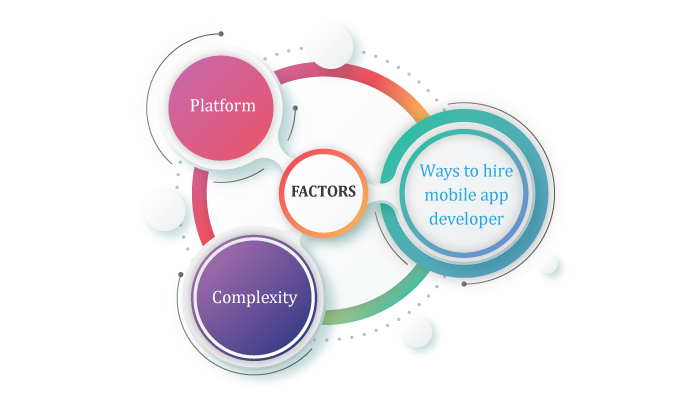 On demand app development services cost highly depend on the various factors involved in the process. Therefore, if you want to better estimate development costs, you need to understand the different factors.
That is why in this section of the blog we shall be discussing just that. Therefore, with this being said, let's explore these different factors.
The very first factor that you need to take care of is the platform. This is one of the most important factors which can highly affect the development cost.
As such, you can choose between android app development services and iOS app development services.
Both of these are a great platforms. And if you are someone who is looking for cross-platform development services, react native is a good option.
Coming to the cost part, well, contrary to popular belief, android app development is much more expensive than iOS. One of the reasons behind it is that the android platform is largely fragmented which leads developers to spend more time creating different versions.
While it is true there is some fragmentation in iOS too, it is negligible compared to Android since the platform is highly regulated.
For more detail on the same, you can contact a mobile app development company.
The complexity of the OTT app you are developing is yet another big factor that can highly affect development cost.
Let us tell you how. The more complex solution is, the more expensive it is going to be. The reason is that larger and more complex projects required much more attention, time, effort, resources, and so on.
With all of this going into a project, the on demand app development company will be forced to charge higher.  On the other hand, there are some simpler projects which are much cheaper to develop.
This is how this factor affects the development cost. Now, let's move to the next one.
Ways to Hire Mobile App Developer
Well, if you want to develop an OTT App you need to hire mobile app developers.  Now, there are a few different ways you can do this.
Depending on which one you choose, the cost of the total project can highly vary. Therefore, we shall be discussing the same in thing to gain a little insight on the same.
OTT App Development Company
There are a lot of OTT app development companies across the world. You can outsource the work to them and expect best results.
This is an option that even companies like Nike, Apple, IBM, Gucci, etc resort to. So, there is no reason why you should consider this.
All you need to do is reach out to an OTT App Development Company.
If you think you don't want to hire a whole company, this option just might work for you. Now, there are a lot of development teams that offer flexible services.
In addition to this, this is also a very economical option. So, you can hire OTT App Developers and create a market leading OTT App.
These are the different ways you can take when developing the next best OTT App like Netflix. And with this we have come to the end of this blog.

Create Your Own OTT App (AFFORDABLY!)
OTT Apps and platforms have grown quite popular in fact the  most popular form of Media App Development.
Today, platforms like Netflix, Amazon Prime Videos, Hulu etc, are generating millions and even billions in revenue via these solutions. And if this is something you want to do. All you need to do is reach out OTT app Development Company.
FAQ
OTT platforms are on-demand a platform that provides content as a service. Netflix, Spotify, Amazon Prime are a popular examples of the same.
If you want to create an OTT app, all you need to do is reach out to an OTT app development company like Nimble AppGenie, who can help you with the same.
How Much Does It Cost To Build OTT Platform?
One can expect OTT App Development Cost to be anywhere between $25,000 and $75,000.