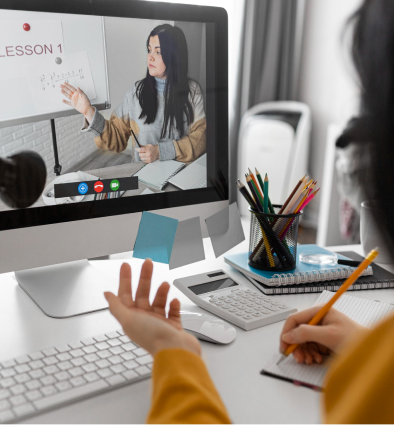 E-Learning
Create Better Learning, E-Learning, With Education App Development Company
With modern technology, education has changed forever. And educational revolution is innovating at a never-before-seen rate with Edtech app development. Students and educators are already interacting with Edtech apps like Blackboard, Coursera, Kahoot, and Microsoft Teams to make education more accessible and scalable.
You can be part of this change with your own Elearning Applications. Nimble AppGenie, an innovative education mobile app development company is leading change in the eLearning realm. And we can help you bring your education app idea to reality.
Dare To Be Great, We'll Help The Process.
E-learning Solutions
Complete Educational App Development Services
Break the four-walled classrooms with innovative educational app development services. Nimble AppGenie, being a top Edtech app development company, offers a range of diverse Edtech solutions that let you tap into billion dollar industry, generating millions in profit and delivering the right education.
Learning Management Systems
As a leading education app development company, we deliver very resourceful, insightful, and highly intuitive LMS (Learning Management Systems) solutions. Plus, we build a custom LMS software solution capable of helping you with the administration, documentation, tracking, and delivery of training programs, educational courses, and development programs. Our understanding of your company's specific needs is what sets us apart as an educational app development service provider.
Self-Learning Apps
Self-Learning applications are trending. Educational apps like Duolingo, Babbel, Rosetta Stone, and many more help students learn independently. Creating a self-learning app isn't simple due to research and the promise of delivering value. To achieve this within self-learning apps, we often implement features such as competing with friends and other types of gamification.
School Information System
We are an Elearning app development company that develops school information systems that comprise an administrative panel, and apps for teachers, students, and parents/mentors. The most crucial aspect of creating a school management system is keeping the education mobile app development cost low while integrating system data security, infrastructure availability, and robustness.
Corporate Training Apps
eLearning exceeds schools and universities, expanding to the domain of 9-5 workers and corporates. Companies often use corporate training apps to help their staff develop valuable skills. With our Edtech app development, you can create a corporate training app for your business, creating a more experienced, skilled, and motivated workforce.
On-Demand Elearning Apps
Entering the domain of on-demand app development, these Edtech apps deliver educational content and services to students based on their demands. With Nimble AppGenie, you can create on-demand elearning apps like edx, Duolingo, and khan academy of your own and generate millions in revenue.
Virtual Classroom & Conferencing Apps
One of the most popular Education app development solutions, virtual classroom, and conferencing apps allow students and teachers to interact with each other via devices like mobile phones, laptops, and PCs. Teachers can schedule classes, share study material with students, and conduct online tests via Edtech apps.
Tuitions Education Apps
As a leading education app development company, we have a team of experienced and professional Edtech app developers who can deliver market-leading tuition education applications. These solutions allow tutors and students to interact with each other freely, enabling better virtual education.
Elearning Apps For Disabled
Create more learning opportunities for disabled and challenged people via innovative learning app development for android and iOS. Elearning app developers at Nimble AppGenie can deliver industry-leading learning apps for the disabled. If you want to develop an Edtech solution for the disabled, reach out to us today.
Elearning Apps For Learners
EdTech apps are intended to make learning fun for the students. Thus in our educational app development process, we can implement a separate set of educational app features for every different type of Elearning app. The educational apps for students include many features like language learning apps, exam preparation apps, online courses, adult learning, and apps for kids.
Elearning Apps For Educators
Education app development results in the teaching process being more convenient and practical. Educators use Elearning apps to track students' progress and share grades with the student's parents or mentors. We also develop educational apps for educators to help them, schedule classes, share study material with students, and conduct online tests.