Mobile payment app development solutions are helping us realize a cashless, contactless, and card-free universe. These apps make our lives convenient by optimizing our payment processes. Modern mobile payment apps allow users to split bills, send remittances, book trips, and manage expenditures. 
An array of fintech companies are creating an environment where there is no need for physical currency. Fintechs transform our lives with mobile payment platforms, cryptocurrency platforms, P2P payment apps, mCommerce platforms, and more! It is clear that one day, we'll wake up to a Completely Cashless World.
Even the UK has slowly been distancing itself from using cash over the last decade. While London is the fintech capital of the world, we're seeing an increased proportion of residents being comfortable with digital payments. From NFC enabled cards to contactless payment rings, physical wallets are becoming a thing of the past, even before the global pandemic.
However, the lockdown across the world has fueled the growth of cashless transactions. The use of ATMs has significantly dropped for the first time by nearly 80% in many countries, and the UK is no different. There has also been an unprecedented reduction of cash usage in the 'grey' and 'black' markets. Perks of a cashless society are many, including transparent taxation, crime reduction, hygiene, and convenience. 
As the cashless world is a nearby reality, the demand for peer-to-peer mobile payment app development is rising. Let's now go down the rabbit hole of mobile payment system development:
What is a P2P mobile Payment App, anyway?
A P2P mobile payment solution is the app that people use to make electronic payments to their friends, relatives, employees, contractors, shopkeepers and so on. Often, P2P mobile payment apps have various common characteristics.
These apps are designed for personal use. Hence, there is less concern for transaction protection as compared to commercial payment apps, where transactions are more large and frequent. Depending on the method used, the time taken to complete a transaction can last from several seconds to days. Also, the users can link their bank accounts and credit/debit cards to the payment app. The user should also be able to create a dedicated in-app account.
How does mobile Payment App Development empower users?
Modern P2P mobile payment apps are capable of doing much more than just transferring money between two people. They are also able to do the following:
Payment to merchants for commodities

Seamless payment to cab services

Setting borrowing limits (in terms of amount or number of transactions) for children or friends

Sending and receiving payment requests

Allow money borrowing request from friends and money transfer

Restaurant/utility bill split with friends or any contact

Cross-country remittance transfer to families

Utilities / internet / mobile bill payment
Some P2P mobile payment apps even allow users to make international money transfers and bill payments. However, these payment apps are specifically designed for such purposes. One such app is Paypal.
Type of P2P Mobile Payment Apps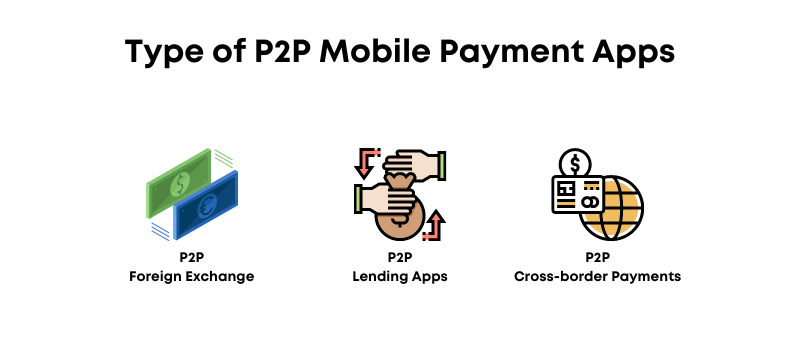 P2P foreign exchange: these mobile payment apps cut out the middlemen – brokers or banks – and save the users up to 90% on international money transfers.
P2P lending apps: these apps provide users with microloans at comparatively lower interest rates than banks. These apps are lucrative for small-scale investors who want to monetize their funds.
P2P cross-border payments: these money transfer apps allow workers in foreign countries to send money to their families at a meager cost. Once considered insecure, cross-border payment apps are now possible due to technological advancement. 
The type of P2P mobile payment which you create depends on the market that you want to cater for. Fintech businesses are continuously evolving, and the market is ready to adopt P2P mobile payment apps that support multiple functions. 
4 Business Models for P2P Mobile Payment Applications
Fintech businesses that are researching how to create an e-wallet mobile app will discover the following four type of business models:
Bank- centric mobile payment solutions like Zelle, Dwolla, clearXchange. Many banking institutions provide mobile payment solutions such as apps or platforms or POS devices to the customers and merchants to ensure a smooth flow of payments. Instead of storing currency within the apps, these apps can draw and deposit money directly into the user's bank accounts.
Standalone payment service providers like PayPal, Ant financial, Venmo, Vodafone M-Pesa, Square Cash, Airfox. Most countries worldwide now allow independent service providers (ISPs) to officially mediate in financial services and offer both online and in-person P2P or C2B payments. These ISPs can accommodate payment services with or without checking the user's bank accounts or credit/debit cards. These payment apps often have a digital wallet that allows users to store money and make payments, without requiring linking of bank accounts. Considering the feeble reach of banking institutions in developing countries like Myanmar, having a digital wallet will bank the unbanked. The current trend of the rise of mobile wallets in Myanmar shows the shining future that these fintech businesses have in developing countries.
Social/messaging/web platforms like Square Cash, G Pay Send, Snapchat, Kik, WeChat, Facebook Messenger. The social media platforms have figured that a considerable amount of P2P monetary transactions happen between people in contacts. So, why not allow the existing social media users to transfer money directly from the messaging/social app? App fatigue is one of the biggest concerns nowadays, and people find it comfortable to use a similar user interface. For instance, Facebook has chosen the UK to launch its messenger payment service outside the US. WhatsApp, on the other hand, is trialing its instant bank-to-bank transfer payment service in India. This will allow more than 200 million users to make monetary transactions while texting/chatting.
Mobile device manufacturers or OS developers like Samsung Pay and Apple Pay. 'Pay' here is more like a device feature rather than an app in the app stores. These services are only available for customers that are inside the service provider's ecosystem. This model is successful in developed countries where payment infrastructure is already in place, and customers are loyal to their mobile manufacturer's brand. This model of P2P mobile payments uses device-based biometric authentication, and card tokenization to provide the customers with the best possible security and ease of payment.
With so many fintech businesses tapping into the payment industry, you might find it intimidating to jump in yourself. You might be wondering how you can develop your own payment application. Developing an e-wallet app isn't straightforward, and the development team may encounter many challenges whilst designing the app infrastructure and coding. I've created a separate guide for how to develop mobile payment apps. You can read it here – Create an e-wallet that your customers love. Now, let's understand 'why' is it the right time to get your e-wallet app?
Why is it the right time to roll-out your Mobile Payment App?
According to a recent study by money-transferring mobile app Zelle, three out of four Millennials have made an online P2P mobile payment at least once. Generation X stands close at 69%, while Baby Boomers are at 51%. The respondents cited payment convenience as the main reason for P2P mobile payment adoption.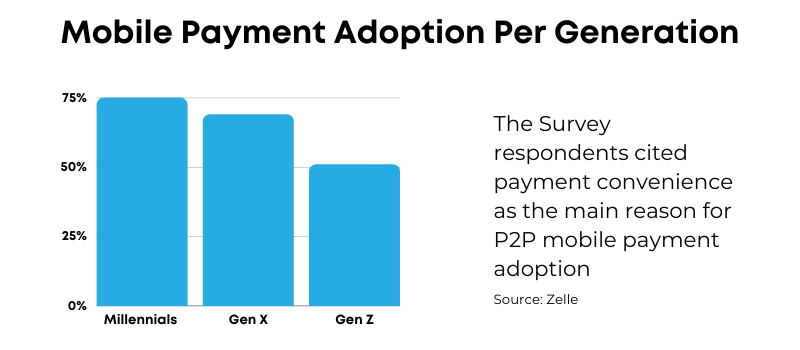 Undoubtedly, modern generations love sending money with a few taps and swipes, which indicates that now is the right time to get into P2P mobile payment app development. Moreover, the fintech market is filled with investment gold. The market is expected to reach $336 billion in 2021. In the first half of 2020, 'payments and transactions' startups reserved half of the top fintech investments.

Source: Forbes top 50
Technologies that make Mobile Payments Possible
Technological advancement has now made it possible to provide customers with an infrastructure that can provide payment convenience, while ensuring security. Fintech innovations like biometrics and Near-field Communication (NFC) help financial institutions make the concept of a 'cashless society' a reality. Some of the highlights are:
Real-time payments. The concept of a cashless society requires customers to be able to pay merchants immediately. If you want customers to think of your payment app as a reliable payment option, it has to transfer funds directly, even in low-bandwidth networks.
Blockchain. The distributed ledger technology makes P2P mobile payments secure.
Conversational interfaces. Technology such as natural language processing and image recognition are taking fintech possibilities to the next level. Payments methods are migrating from physical interfaces to digital interfaces. However, the advent of AI in fintech is rendering traditional UI obsolete. Solutions such as fintech chatbots are ready to lead the market and provide customers with an option to enjoy more convenient payment methods.
However, the financial sector is amid a significant digital disruption. Both banking and non-banking institutions enjoy different success across the world. The global scenario leaves fintech businesses wondering why Alipay in China and Kenya's M-Pesa took off. The same business model has faced difficulties in other parts of the world, with Kakao in South Korea and Paylah! In Singapore being comparative failures.
It's equally important to discuss why some mobile payment solutions such as Venmo and Snapcash shut down while others prosper. What are the success factors for a P2P mobile payment solution? Let's discuss the success stories of two market-leading P2P mobile payment service providers:
What made them Successful? – PayPal, Alipay, and Airfox
PayPal – the innovator and #1 in P2P Payments
PayPal's co-founder Elon Musk was quick to foresee the potential of money transfer via the internet. When the company he founded X.com bought PayPal, he also gained intelligent partners who led the new online payment industry. PayPal's timely acquisitions of Braintree, Xoom, Venmo, VeriSign, Modest, and Paydiant, and tieing-up with MasterCard, are just some of the smart moves Paybal made to establish their successful online market entrance. 
The critical success factors that paved success for Paypal are:
| | | | |
| --- | --- | --- | --- |
| Blue ocean business strategy | Harnessed network intelligence | Developed a viable business model | Focus on gaining international credibility. |
| Intelligent partnerships in the ecosystem | Timely acquisition | Smart expansion of services like POS terminals in retail sector | Always technology agnostic |
Paypal's new card line named Secured Card Service, provided its customers with a convenient way to make payments on websites or online stores that didn't support PayPal payments directly. For this, PayPal generated a unique MasterCard number for every checkout. This move alone brought revenue of nearly $1.8 billion.
Since 2010, PayPal's active registered users are growing at an annual rate of 15% and have now almost tripled.
Alipay: Chinese PayPal… only better
The recent biggest news in the global fintech market was Alipay's parent company Ant Group's canceled IPO, which, if it happened, would have been the world's biggest IPO with a potential of $34.5 billion.
The USA may boast of its fintech businesses success, but China has already become a giant in the P2P mobile payment market. Last year from January to October, China's mobile payment transactions reached a record $12.8 trillion, which dwarfs the $49.3 billion estimations of transactions in the USA. 
The success factors of the Chinese way of doing business:
Good artists copy: Alipay has been flourishing in the Ant Group's financial core and Alibaba's ecosystem. It was launched in 2004 to offer online payment and escrow services. Initially, Alipay was considered China's PayPal, but the latest version of the Alipay mobile app in 2015 expanded its services into a one-stop solution for online payments.
Eliminated intermediaries: With its escrow services, Alipay eliminated the need for several middlemen like banks and card networks that foreign merchants have to pay to. This service is also nearly free for users. As a result, Alipay wielded billions of dollars, which offered credit and money-market funds to earn interest for the users. Also, Alipay had a financial ecosystem of its sister firms, including Ant Credit pay and Ant Cash Now.
P2P Mobile Payment App Development Recommendations
The development process for a P2P mobile payment app is no different than any other fintech app. I recommend using an Agile development methodology for the development of your native mobile app.
P2P Payment App user journey
A P2P payment app's core purpose is to enable users to make monetary payments via the mobile app.
Transfer money into the app: The app draws money in from the user's bank account, card, Paypal or other payment gateway. The cash is then transferred into the app's bank account. This amount is registered into the app's system.
Manage funds into the system: The app's system easily transfers money between the registered users in your network. However, the money transfer must be instant, as it only requires value changes in the high level app database.
Money withdrawal: Money in the system is just digits. If the user wants it in cash or in a bank, they would have to withdraw money to their bank account or cards. Most money withdrawals to banks are free of cost but some mobile payment apps charge fees for pay-outs.
A P2P mobile payment application doesn't often directly integrate with banking systems; it instead uses a financial services provider's API.
Specific features for P2P Mobile Payment App
The app functionality is never the best area to experiment with. Thus, it is advisable to focus on delivering a quality user experience on the payment app features that have stood the test of time.
Payment authentication: the user should have a unique PIN, password, OTP, or a unique ID to authenticate every transaction. It can also be done by adding an extra layer of security using biometric authentication. However, it becomes tricky for P2P mobile payment app developers to provide two-factor authentication while keeping it comfortable.
Digital Wallet: this is where the user finds information related to current wallet balance, discounts, coupons, special offers.
Push notifications: the app should notify the users of payment initiation and completion. The notification feature can also be used to inform users about account activities, bill due dates, special offers, etc.
Request/send money: this is an expansion of the core feature for the P2P mobile payment app development process. The users should be able to request payments, even to set payment reminders.
Pay bills: features like this make a P2P mobile payment app the one-stop solution for the users. Similar to what Alipay did, you can enable users to pay utility, restaurant, and prepaid/postpaid bills.
Transaction history: the users should have a place within the app to see their payment history.
Bank to bank transfers: some users don't find it convenient to add money into their wallet first and then make a payment. Sometimes, they want to send money directly through their bank account. Hence, this feature will build the user's trust and comfort with your app.
Chat: as discussed earlier in the article, many messaging apps are introducing the payment feature. It is a great learning opportunity for payment service providers to add chat features within their P2P mobile payment app. The chat window should also allow users to make payments while chatting.

Conclusion 
The mobile payment market is booming, and until society isn't entirely cashless, it will continue to grow. In this technologically advanced world, people seek convenience, and being able to pay anytime and anywhere, is something everyone aspires for.
At Nimble AppGenie, we are into mobile payment app development since the early days of the cashless society concept. Till now, we've created several fintech apps that are helping economies across the globe. Reach us for mobile payment app development services – contact us here.
Also read: USSD Enabled E-Wallets App Development Will Realize A Cashless Africa