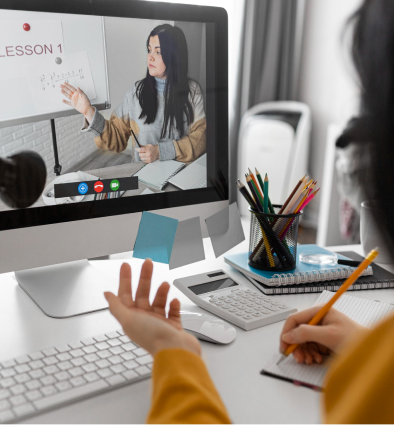 Mobile Banking
Automate Banking With Banking Mobile App Development
Mobile Banking is the new way of handling your accounts and finances. Some of the world's largest financial institutions like Bank of America, AmericanExpress, and Citi, have their own mobile banking application, making it easier for users to access and manage financial services.
If you want to develop a mobile banking app, Nimble AppGenie can help you. As a leading mobile banking app development company, we have worked on some of the most well-known mobile banking solutions in the fintech world. With our mobile banking app development, you can build the app that you want.
Dare To Be Great, We'll Help The Process.
Mobile Banking App
We implement disruptive mobile technologies to enhance CX
Deloitte believes that in 2023, North American banks will spend half of their entire IT budget on emerging technologies, whereas European banks are said to spend one-third. The predicted share is much higher than the current at 27%, meaning that digital banking is the future. And With Mobile Banking Development Services, you can be the driving force behind this change.
Account Management
Your banking apps would provide customers with ease of account management. The customers can manage account information, and cards, and check account balances and transactions via the app only. This is the core feature of mobile banking app development.
Transaction Swiftness
Modern customers want their banking mobile apps to allow them to make payments and transfer money. Payments via QR codes, NFC, and UPI have become mainstream in digital payments. However, it is crucial for your app to instantly transfer funds.
24/7 Customer Service
Conversation technology coupled with AI & ML allows banks to offer 24/7 customer service that doesn't require continuous human efforts. The advent of banking chatbots has made customer service cost-efficient for banks.
Mobile Banking App
Mobile Banking App Features
Many mobile banking application development companies will overwhelm you by offering dozens of features that might be unnecessary for your app. We suggest you the right set of features that your banking app should have. You can pick among the following features.
Account Management
The users should be able to manage their account information along with the capability to block/activate cards.
Scheduling Payments
Allowing users to schedule automatic payments for future dates or times. This is a core part of banking application development solutions.
Bill Payments
The users would be able to pay their mobile or utility bills via the banking app. This is an important functionality of mobile banking app development.
Customizable Alerts
Self-personalization of alerts increases user retention and reduces app abandonment. Being a leading mobile banking app development company, this is a feature we always include.
Seamless Customer Onboarding
Customers often find it difficult to associate with a new bank. Starting from filling out an application form to KYC, creating a bank account online isn't so easy. We build applications that enable users to create their bank accounts in minutes.
Secure Authentication
Due to KYC and AML regulations, user authentication has become a crucial step for banking app development. Although user authentication is necessary, it improves the chances of app abandonment. Hence, banking app developers should also keep UX into consideration while implementing user authentication.
Push Notification
The most crucial feature that helps in marketing the banking services as well as enhancing security. We mostly implement all three types (Transactional, app-based, and promotional) of push notifications in the banking apps.
Mobile payments
We'll implement QR-code, NFC, and UPI payment technology to allow your users to make instant payments directly from their bank accounts. It can be easily done by integrating your app with the bank's server. Our team of mobile banking app software providers makes it simple and easy to use.
Chatbots
Having AI-powered chatbots will allow you to be available for customer queries 24/7. The good news is that the advancement of AI and ML has made it possible for banking app development companies like us to implement this feature at a lesser cost.
ATM or Branch Locator
Finding your physical bank branch should be easy for your customers. Having the map locations within the app will enable them to easily find the nearby ATM or bank branch. We integrate Google and Apple maps for this feature.
Multi-factor Authentication
Giving access to the bank account with a single password will only compromise digital-banking security. Therefore we implement multi-factor authentication to ensure security.
Real-time Alerts
Real-time alerts powered by AI & ML allow you to alert users about any suspicious activities. As a banking software development company, we include this in the solution.
TLS, RSA SSL
We use several encryption algorithms to ensure maximum security for the banking application. We recommend TLS protocol for computer networks.
Biometrics
To ease out the authentication and improve security, we prefer using biometrics due to their heavy popularity. Our experience mobile banking app developers have mastery over such features.
Banking app Development
We Help You Achieve Digital Transformation
We're a mobile banking application development company that is specialized in developing secure banking portals facing end customers. Our exceptionally skilled team has delivered several banking applications that are helping banks offer innovative services at lower costs. We concentrate on building software solutions that provide value to the end user.
Channel Agnostic CX
A transformation commenced on a desktop can be carried to mobile devices, and vice-versa. We help you build mobile banking strategies that augment core banking platforms with the "Agile Edge". This allows you to be nimble and act on changing customer demands within months instead of years.
Transformation On the Go
Big industries on which several other industries rely face a slow pace of transformation due to strict regulations. However, the end customer-facing applications can be taken to the market much faster. We use Agile methodologies that support lean requirements and deliver results to your banking business in less than six months.
Performance-oriented microservice architecture
By leveraging an intermediary messaging layer and abstracting away from a batch-oriented core platform model, banks can speed up service delivery. We mostly recommend a microservice architecture that scales and personalize itself. We've extensive experience in integrating into most of the common banking platforms, such as Finserv, FIS, etc.
End-to-End Encryption
Digital banking transactions are the hotspot for cyber criminals. In June 2020, the FBI warned that financial cybercrimes may rise due to the rise of digital banking. To help banks overcome security challenges, we implement end-to-end data encryption in the banking software that we develop. We recommend SSL chain verification to ensure the encrypted connection between the Upload Filer and the web server.