Nowadays, AI-powered apps are taking over the digital market very well and quickly. People are welcoming and using the technology with full excitement. In the past, many used to dream of this era, where the work would be done immediately after we requested it. Now with the help of Develop an AI Mobile App, that dream has come true. We don't have to write or learn things that our mobile phones can easily manage. Instead, users only have to remind or command their mobile phones, and the task is done. Artificial Intelligence mobile apps have many rich features which have made it so in demand amongst owners and app developers.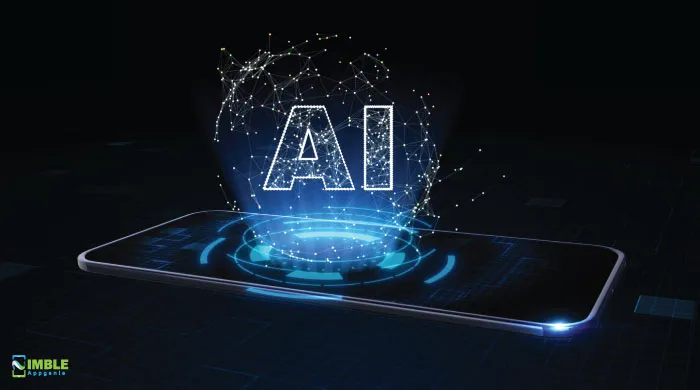 Mobile app development is one of the leading markets in various industries in this digital era. Furthermore, if you want to stay ahead in the competition, you must plan your business strategy. It requires more than just a mobile-friendly interface and a user-friendly experience to stay ahead in the competition. Since mobile development continuously emerges due to advanced and innovative technologies, you must have a vision for your business for the upcoming years. AI made this difficult task much easier  via technology. This is one of the advantages of integrating artificial intelligence in mobile apps.
To provide you with more knowledge, I have discussed AI mobile apps, their features, and how you can use them for your mobile app developing business in this blog.
Stats of AI-Powered Mobile Apps

Why should you Integrate AI into Mobile Apps?

1. Personalization
Any AI algorithm attached to your mobile application can analyze several sources of information, from social media activities to credit ratings, and also provide recommendations to every user device. Through machine learning application development, you can know who your customers are, what they like, what they can afford, and what words they are using when they talk about different products.
You can classify your customer behaviors based on this information and use that classification for target marketing. To put it simply, ML will enable you to provide your potential customers with more relevant content and put up an impression that your mobile app technologies with AI are customized.
Let's look at a few (AI) Artificial Intelligence examples of big brands setting standards on implementing AI in apps.
Taco Bell as a TacBot, answer all questions, take orders, and recommend menu items based on your preferences.
A sports app named Optimize Fitness includes genetic data and an available sensor to customize a highly personalized workout program.
2. Advanced Search
Through AI, the app development process becomes flexible. Therefore, you will get an app that lets you optimize search options in your mobile applications. In addition, AI makes the search results more contextual and intuitive for its users. The algorithms learn from the different queries asked by customers and prioritize the results accordingly. Modern mobile applications and search algorithms enable you to collect all the user data, including typical actions and search histories. This data can be used with behavioural data and search requests to rank your products and services and show the best applicable outcomes.
3. Predicting User Behavior
The significant advantage for marketers of AI-based machine learning iOS app development and android app development, is that they understand the preferences of the user and behavior patterns. Marketers can understand all these things via inspecting several types of data, including location, gender, age, search histories, app usage frequency, and many more. This entire data is the key that improves the marketing efforts and effectiveness of the application.
Netflix's recommendation and Amazon's suggestion mechanism works on the same principle that ML aids in developing customized recommendations for each person.
With Amazon and Netflix, mobile apps like JJ food service, Qloo entertainment, and Youbox also adopted ML to predict the user preferences and create the user profile accordingly.

4. Improved Security Level
Artificial Intelligence can make a very effective marketing tool for mobile apps to secure app authentication and streamline the process. Features like audio recognition and image recognition permit users to set up their biometric data as a security authentication step in their smartphones. Machine Learning (ML) also aids you in establishing access rights for your users also.
With many big apps, BioID and ZoOm Login have invested in AI application development to facilitate users to use their face IDs and biometric authentication (fingerprints) to set up security locks to several applications and websites. In fact, for partially visible faces, BioID offers periocular eye recognition.
5. More Relevant Ads
Many industry experts have said that if you want to move forward in this never-ending consumer market, it can only be achieved by personalizing every experience for every customer. By integrating artificial intelligence and machine learning in mobile apps, you can avoid weakening your customer loyalty by offering them products and services that they have no interest in. Rather you can use all your energy on generating relevant and attractive ads that cater to each user's unique preferences and notions.
Nowadays, mobile app development companies can easily incorporate data intelligently via technologies like AI and ML, which will save time and money for inappropriate advertising. In addition, these advanced technologies can improve the brand reputation of any company. This proves that Artificial Intelligence app development is very beneficial.
Coca-Cola is the best example of this. They are known for customizing its ads as per the demographic of their users. They can do this by having information about what situations prompt customers to talk about the brand.
6. User Engagement
The Artificial Intelligence (AI) development services and solutions engage companies to offer a span of features and balanced customer support. Nowadays, so many apps are available that provide small rewards to the customers to utilize the application consistently. In addition, for entertainment purposes, chatty AI assistants help the users and discuss at any hour.

Three Primary Ways to Implement AI

1. Reasoning
AI is a very proficient technology that absorbs the power of reasoning for solving queries. For example, applications like Google Maps, Zomato, Uber, and many more individuals travel to different areas often change the course or route according to traffic conditions. AI works by harnessing its thinking capacities. Furthermore, this facility makes AI very powerful that beats a human at chess. In addition, Uber uses automated reasoning for optimizing routes to get the users to reach their destination faster without any hassle. Hence, presently quick real-time decisions are being controlled by AI to provide the best customer service.
2. Recommendation
Nowadays, everyone is familiar with OTT (over-the-top) platforms like Netflix, Amazon Prime Video, Disney+, Hulu, CuriosityStream, Pluto TV, and many more. The streaming features of these platforms acquire many customers with high rates of user trust and retention. In all these OTT platforms, Amazon and Netflix have implemented AI into their applications to analyze customer decisions based on different criteria like age, location, gender, and preferences.
The technology based on the customer's preferences then suggests the most popular options in their watch playlist or that individuals with similar tastes have watched. Giving the users penetration into what they would require next has turned out to be the secret of success of many top brands globally. Netflix, Amazon, Flipkart have been using Artificial Intelligence for a very long time. This is an amazingly popular technology for streaming services and is currently being executed into various applications.
3. Behavioral
Every time someone tries to impersonate an online transaction and takes your data via fraudulent activities without your knowledge, the AI system can track the uncommon behavior and stop the transaction then and there only.
These three methods are the best ways to incorporate Artificial Intelligence (AI) in application development. In the world of security, Artificial Intelligence can set a new boundary by understanding the user behavior and their preferences in the app. Also, it can be used in multiple capacities to enable your app to offer a far better customer experience.
Guide How to Start Implementation of AI into Apps?
Implementation of (AI) Artificial Intelligence or (ML) Machine Learning in an application calls for an enormous transformation in an application that works with intelligence. This transformation that AI asks for demands looking at pointers that are very different from what is needed at the time of investment in the usual mobile app development process.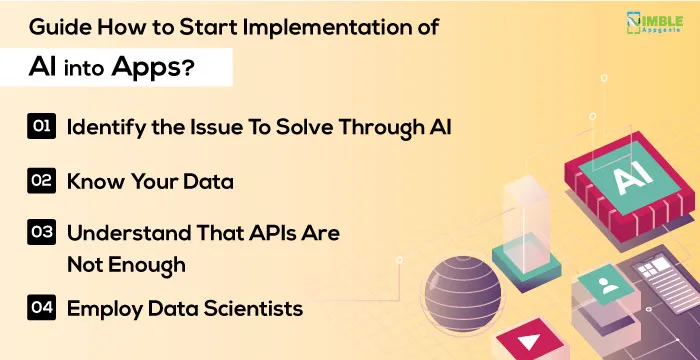 1. Identify the Issue To Solve Through AI
What works in applying AI in a mobile app is applying the technology in one process instead of multiple. When AI technology is applied to a single feature of the application, it becomes very easy to manage and utilize to the best extent. So, it is essential to identify which part of your application would benefit from intelligence like:
Is it a recommendation?
Would the technology help give a better (Estimated Time of Arrival) ETA?
Then only collect data specifically from that field.
2. Know Your Data
Before moving forward towards the AI app development process, it is important first to understand where the data would come from. It would be best to identify the platforms where the information would come from in the first place, at the step of data fetching and refinement. After completing the identification process, you will have to look at the refinement of the data by ensuring that the data you are planning to feed in your AI module is non-duplicated and truly informative.
3. Understand That APIs Are Not Enough
When it comes to implementing AI in a mobile application, the next big thing is understanding that the more extensively you use it, the more unsound Application Programming Interfaces (APIs) would prove to be. Indeed, APIs are required when you talk about the conversion of the app into the AI app. However, they are not enough to support a safe, heavy, and full-fledged AI solution. If you want your model to be intelligent, you will definitely have to work towards data modeling, which APIs cannot solve solely.
4. Employ Data Scientists
The most important point is to consider employing data scientists on either your payroll or investing in a professional mobile app development company with data experts in their team. In general terms, everything is needed on a must-have level to stand and shine in your Artificial Intelligence game. So, data scientists will help you with all your data refining and management needs.
This is the phase where you can integrate and implement the intelligence in your existing mobile application. In our third point, I have already talked about data a lot, and surely that data is an inherent part of Artificial Intelligence.
Top 5 AI-Integrated Apps

1. Siri
As Siri is very popular, I don't think it needs any introduction. Indeed, it is a virtual voice assistant app by Apple.It is available on all iOS devices. Siri can perform several functions like making calls, sending messages, and giving relevant answers when you ask something. Siri also gives proper recommendations as per what users search most and has shown interest again. It has the ability to adapt the user's preferred language, likes/dislikes, and searches. Moreover, In America, most people use Siri as their virtual voice assistant on their mobile phones.
2. Cortana
Cortana is another innovative and best AI-powered app launched by Microsoft, and it is also a virtual voice assistant AI mobile app. This is available on multiple platforms like Microsoft band, Android, iOS, Xbox, and many more. Cortana AI mobile app offers hand-free help to users. You can get access to your mobile without even touching it. It also works similarly to Siri by answering your questions.
Cortana provides you the leverage of putting reminders for later events and gatherings; keep the notes of you so that you can refer to them when needed. It also takes care of your tasks and manages the important dates and events. Cortana uses different search engines and information from the user's mobile to provide recommendations. In addition, it uses an API that allows Cortana to work on third-party applications also.
3. Google Assistant
Google Assistant is the most advanced and used virtual voice assistant AI mobile app launched by Google. It was made available to users in 2016. But, nowadays, Google Assistant is available on different mobiles and devices. Google assistant enables both voice and text responses. It uses NLP (natural language processing) and offers voice searching, voice command, and voice-activated device command.
Google Assistant helps find relevant information from the internet, manages calendars, sends reminders, and makes appointments. The best thing is it translates in every language you want, making it different from other digital AI-powered mobile apps.
4. Alexa
Alexa is commonly known as Amazon Alexa because it is an AI-powered app launched by Amazon. When they launched, they were introduced to be compatible with Echo dot smart speakers and Amazon echo—but later made available for several devices such as Android and iOS. Through Alexa, you can set alarms, reminders, make a to-do list, play audios, and many more. It also offers voice queries, processes in natural language and provides information like traffic updates, weather forecasts, news, etc.
5. Elsa
Elsa is an AI-powered app that helps users to learn how to speak English. Through this app, users can learn the pronunciation and meaning of the words. Elsa gives instant feedback; therefore, users make quick and easy progress. They also provide you a trial for seven days, and later, for further use, users need to buy the Elsa pro. Elsa is also available on different platforms like Android and iOS but writing no PCs or Mac versions.
Wrapping Up
I hope now it's clear to you how to implement mobile apps, and it is time to apply the top-notch performance and quality for AI to bring out the best in the application. AI is becoming the future of the advancement of mobile app development.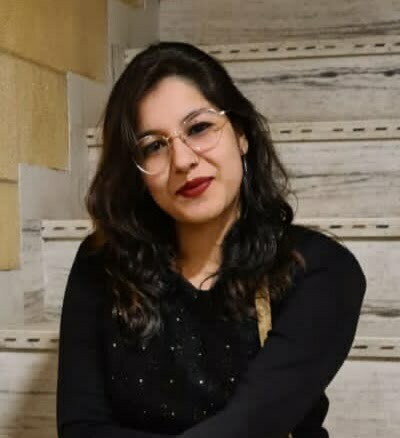 Divya is an outstanding writer at Nimble AppGenie. She is very innovative with her creative ideas. She is very passionate with technology implementation in several industry verticals and always keen to learn new opportunities that brings business efficiency and profitability. Whereas, Nimble AppGenie is an expert in developing solutions for Healthcare, FinTech, and EdTech. Nimble AppGenie is helping small-large scale enterprises by providing innovative solutions that excel in the market.