Recruitment portals have been a popular mode of job/talent hunt for over a decade now. Almost everyone must have been through job portals like Indeed or Monster to look for new opportunities. Although the market already has giants like Indeed, Monster, and Glassdoor, there is still room for innovative solutions. Especially when mobile penetration keeps increasing, the upcoming years will see more and more people getting hired via online job portal apps. If you are a recruitment technology company that wants to know the best practices for online job portal app development, keep reading this blog post till the end.

Characteristics That Make Indeed Awesome
Do you know what distinguishes Indeed from other job portals like Monster and Glassdoor? Indeed offers a plethora of features like Budget Control and Online Support that makes it a reliable choice for the recruiters.
Indeed is a combined form of a job aggregator and job board. As a job aggregator, it crawls through thousands of sites to find job listings, and display them in results. The portal makes use of advanced algorithms to determine which job listings should appear on the first page.

As a job board, Indeed allows recruiters to sign up for premium memberships and post their job listings. Having a variety of job sources, Indeed holds a huge number of job listings, thus making it the most favoured job portal among job seekers. Consequently, the recruiters love it too.
Employers Portal
1. Personal Profile Management
Indeed provides a detailed profile opportunity for the recruiters, where they can list their business and feed in information that generates potential candidates. Recruiters can specify their main activity spheres, list KPIs and long and short term goals to build their profile. On the other hand, employees can review their employers, based on several factors like work life balance, compensation and benefits, job security and advancement, work culture, etc.
The following is the profile of Samsung on Indeed.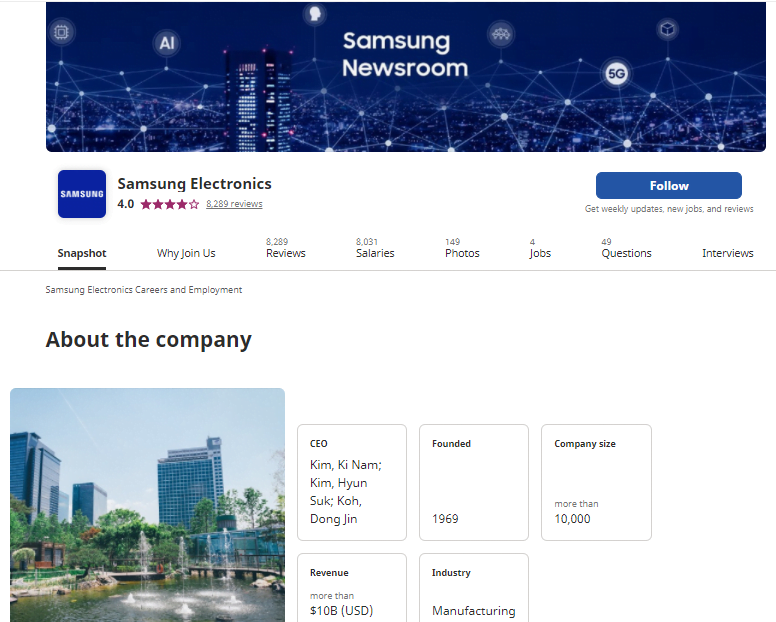 2. Job Listings
Employers are allowed to post vacancies by specifying the job details such as the job requirements, working conditions, responsibilities, remuneration etc. Job listings posted on Indeed job boards tend to attract much more applicants as compared to jobs posted on companies own sites and portals. The reason behind this is that the candidates that have their Indeed profile in place, can apply to the job board listings with just a tap.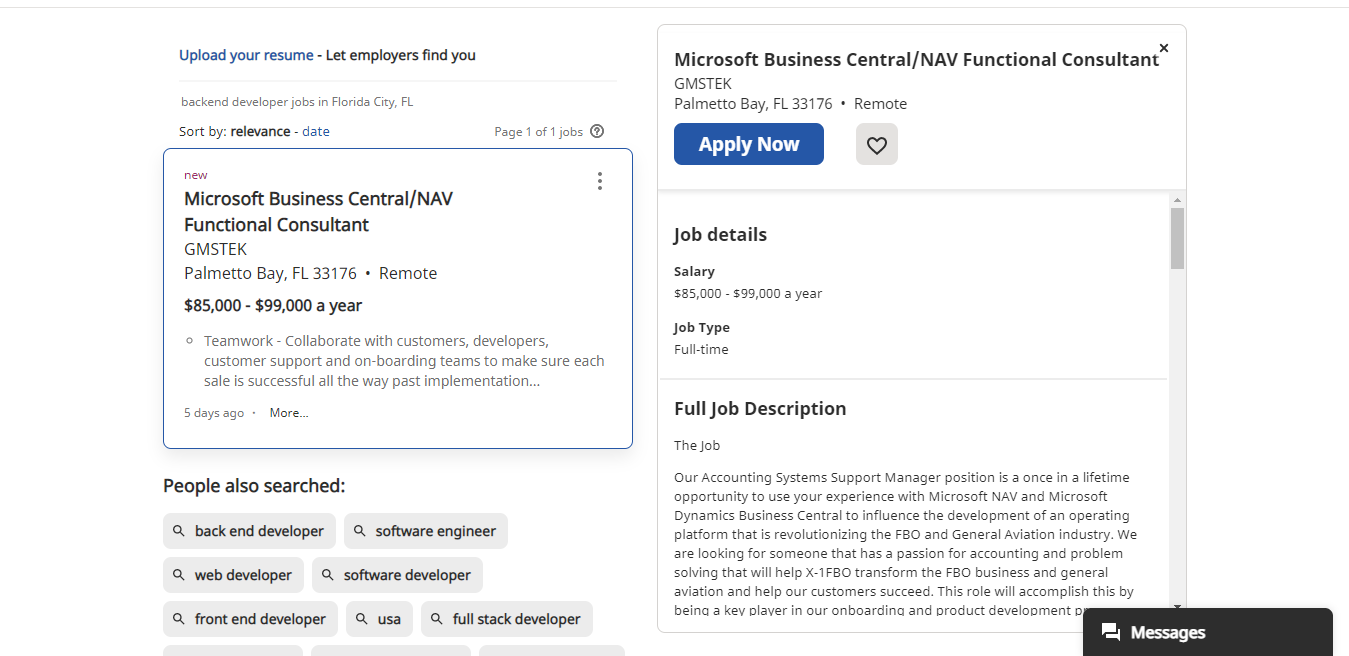 3. Candidate Search
Indeed has a pool of candidate data which employers can leverage, but, of course this requires paying a premium. Recruiters can utilize advanced filters to quickly find the best candidates. Filter options like job title, city, salary expectations, education level and professional skills, allows recruiters to identify the most suitable candidates.
Job Seeker Portal
1. Candidate Profile
Job seekers can feed in personal and professional details to create their profile on Indeed. They are also able to upload or create resumes on the platform itself. Indeed uses the profile details to suggest jobs to the candidates.
2. Salary Comparison
This feature empowers candidates by providing them with insights into the compensation trend for a particular job role within their city or state. This allows job seekers to negotiate their salaries with the employers.
3. CV Builder
It is the perfect solution for the fresher-level job seekers. CV builders help the candidates to build professional resumes that they can use while applying for jobs on Indeed. Candidates are also allowed to set different levels of privacy for their resumes.
4. Customizable Job Alerts
Statistics indicate that around 75% of job seekers are passive candidates. Passive candidates are less likely to frequently use the job portals to seek new opportunities. Hence, it is essential for a job portal like Indeed to alert the candidates about relevant job openings.
How Does Indeed Make Money?
Indeed make use of several monetization methods such as pay-per-click advertising, banner ads, subscription fees, and hiring events. For job seekers and recruiters, searching for jobs and posting job openings is free of charge. However, Indeed also offers premium features to encourage employers to buy subscriptions.
Considering the popularity, Indeed gets thousands of job postings listed in a day, which can make a job posting get lost easily. This is among the foremost reasons why employers pay a premium.
Let's go through every monetization method of Indeed.
1. Sponsored Post
As stated previously, job seekers would find hundreds of job postings for a particular job query. This makes the likeliness of an unsponsored post being found/noticed quite slim. This is why free job posts are less likely to bring in quality candidates.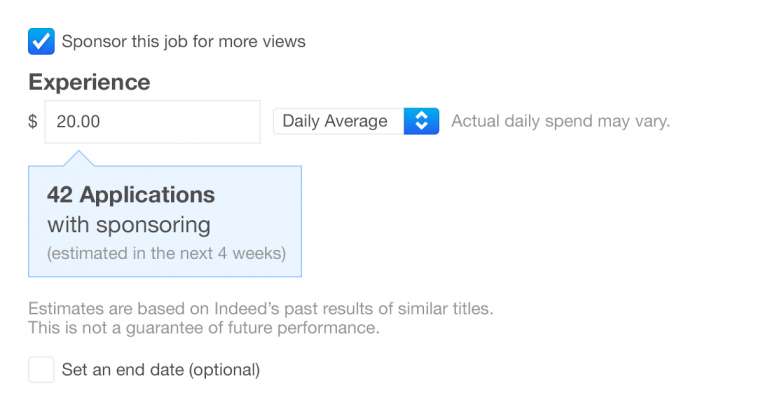 In the quest to be listed on the top for job search queries, employers can opt for pay per click (PPC) sponsored jobs that work similar to Google Ads. Employers can set up their PPC budget beforehand. The price for every particular bid depends on the search volume or popularity of every query.
Indeed claims that sponsored job posts are 3.5 times more effective when compared to the free posts. The lowest budget for a sponsored post starts from $5 a day.
2. Resume Database
In order to increase their profile visibility and get hired quickly, candidates upload their resume on the Indeed database. The 'CV builder' functionality makes it even more convenient for job seekers to share their professional and personal information.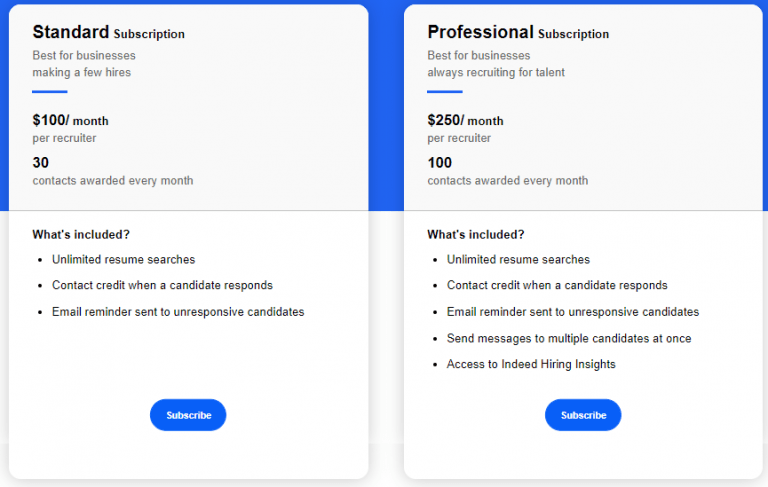 Indeed make use of all this candidate data to make money by offering recruiters premium access to candidate profiles and resumes. Indeed charge monthly subscription fee to recruiters. It has different subscription plans for different business needs.
3. Targeted Ads
Targeted ads show up on various spots within the platform. They are advertising snippets that are mostly placed on the mobile homepage, view jobs page, job search results, etc. However, the employers have more control over these ads, as they can narrow down the visibility based on candidates' search history, location, or preferences.
How to Build a Job Portal like Indeed?
You should have understood the core characteristics of Indeed till now. If you want to launch a job portal app like Indeed, you will probably need to build it with a smaller cost of development than Indeed, and make it more functional in terms of bridging the gap between job seekers and recruiters.
The best foot forward to building an ROI focused job portal app like Indeed is to outsource the development process to recruitment app development experts. It will allow you to shift your focus towards business strategy, whilst your app will be built on time using the best development practices. Also, the cost of outsourcing software development is relatively low as compared to developing in-house.
The following are the best practices that your development company should follow for online job portal app development.
Use Agile Development Methodology
In 2021, when Agile and DevOps methodologies are widely adopted to make the development process more iterative and faster. With agile development, you'll be building and launching your recruitment app MVP (Minimum Viable Product) to validate your idea. Although your idea is to build an app like Indeed, there will still be several differentiating factors that might affect your app performance. Hence, it is always advisable to launch an MVP to get feedback from the stakeholders and then build the fully-featured app accordingly.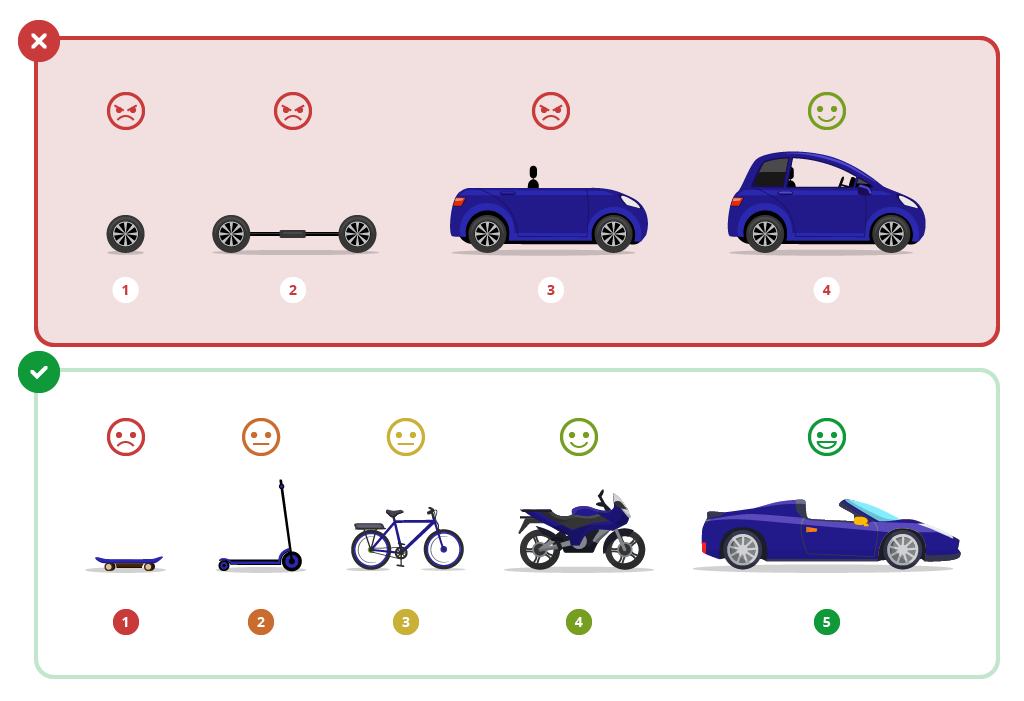 Consider Off-Shore Development
The outsourcing software development model has two options – on-shore and off-shore development. Although the on-shore development will seem more comfortable to you as the development company will be located within your city or your proximity, it is a costly affair as compared to off-shore.
In the past, companies used to face several issues while outsourcing their development process to offshore development companies. Such issues with off-shore development like lack of transparency, low-quality deliverables, unjustified cost can easily be mitigated using modern software development and collaboration tools like Jira and Slack.
The following are the hourly rates for different regions across the world.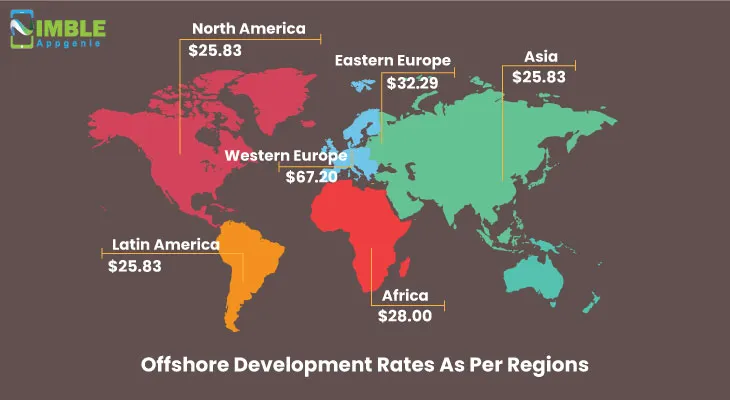 Off-shore development is relatively inexpensive and has proved to be the best approach to software development. The reason behind lower cost is that the offshore development companies situated in countries and continents like Ukraine, Western Europe, and Asia charge lower hourly rates for developers compared to the USA standards.
The Cost for Online Job Portal App Development
There are several factors that influence the cost of online job portal app development. However, the location of your development partner and the features you want to incorporate hold the most weight among all the factors.
I've divided the cost of job portal app development into several features. The following list compiles them all.
Considering the $50 hourly rate of Nimble AppGenie, the total cost of fully-featured online job portal app development will lie around $54,500 given the features that are required to be integrated. Of course, the total cost for development of recruitment apps like Indeed solely depends on the specific requirements.
What Process Nimble AppGenie Follow For Recruitment App Development?
We, at Nimble AppGenie, have years of experience in developing recruitment software applications like job boards and job aggregator portals. Our developers know how to overcome the challenges associated with recruitment app development.
To engage users more, an intuitive user interface and experience design is essential for a recruitment app. Even if you want to build an exact replica of Indeed, you should consider some tweaks in the UI design or you should build a complete new design based on your target market.
The following is the process we at Nimble AppGenie follow for online job portal app development.
1. Requirement Gathering and Analysis
It is always best if our client comes up with the detailed requirements upfront, as it helps us to quickly jump on the development process. However, there have been incidents when our clients didn't have a clear understanding of what exactly they want as a holistic solution. For such incidents, our Agile development approach helps us accommodate the changes the clients introduce at a later stage of development.
If you haven't put together your requirements in a document. Here is a guide for you to create a detailed requirement document. How to Write The Product Requirement Document?
Based on the requirements, we come up with a project estimate in terms of development time and cost.
2. Design Wireframes and UI/UX
Our designers at Nimble AppGenie keep track of the latest trends in the web and mobile app design niche. Although they can directly create mid-high fidelity designs, they always prefer drawing wireframes. The reason behind this is that wireframes don't require much time and can help designers as well as the client to quickly visualize the app idea.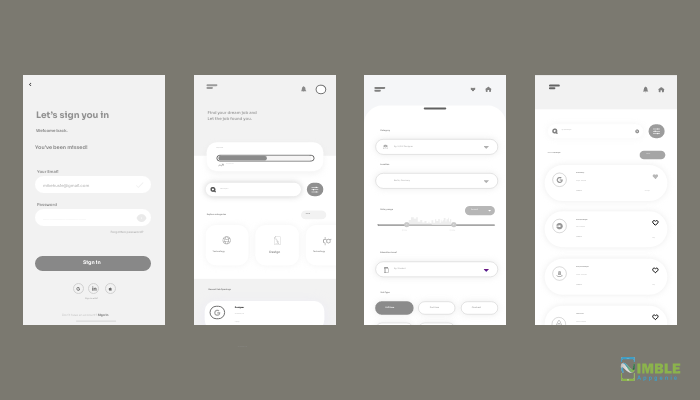 3. Build MVP
We know what features and functionalities a recruitment app MVP requires. Within a few weeks, we can build an MVP for an app like Indeed. The MVP will be a part of the development process. After a successful MVP launch, based on the stakeholders' feedback, we will keep adding more functionalities and features to make it a fully-functional app.
4. Iterative Approach to Development and Testing
As with the Agile approach, the online job portal app development happens in several sprints, where every sprint holds specific features and functionalities. Our quality assurance team tests the code at the end of each sprint. The deliverables for every sprint are shared with the client, for which we expect his feedback. Ideally, the time-frame for every sprint is a week.
5. Deploy, Monitor, and Support
Once the job portal is launched, our support team helps our client with monitoring and updating the platform frequently. When the customers use the job portal, they'll share their feedback and based on that, the portal will be updated.
Conclusion
The popularity of job portals is evident in 2021. Definitely, developing a job portal app like Indeed will result in a thoughtful investment. But it is only the case when you follow the best practices for online job portal app development. Outsourcing the development process to a recruitment app development company that makes use of a mix of Agile and DevOps is among the best ways to move forward with the job portal app development.

Madhukar is marketing communication specialist at Nimble AppGenie. A writer by day and reader by night, he specializes in technical blogging. Throughout the time, he has been helping businesses by writing valuable business guides and articles. Nimble AppGenie is a renounced fintech and healthtech development service provider that is helping small-large scale enterprises.