Many crowdfunding software solutions built with technologies like Joomla or WordPress, claim to be the best platform out there. These platforms are ideal to create a Crowdfunding Website for local communities or companies. Mid to large-scale organizations needs to obtain serious tech foundations that can be implemented for:
Investment Management

Payment Processing

Performance Monitoring

Data Security
Crowdfunding Business Models
Before you dive into the details of how to create a crowdfunding website, you should know the different methods of earning returns (most of the time, money) from the business. This will allow you to understand your requirements for success more accurately.
You must perform the business model analysis before you write your project requirement or reach-out to web-development companies. This way, you'll know which model suits your business idea and earning methods. The Following are the most popular business models for crowdfunding websites:
Peer to peer lending

Donation-based earning

Royalty-based earning

Equity-based earning

Hybrid model
P2P lending is the most popular business model since it allows the lending and borrowing of money, bypassing any financial institutions that usually act as a middleman. As reported by Massolution, it's estimated that the fundraising volume in 2015 stood at $25 billion, and the demand continues to grow.
Among all of these, the most popular and high-ROI-focused business model is a peer to peer lending. 
How P2P loan lending works?
Peer-to-peer lending websites bring together the borrowers and lenders. It eliminates borrowers' need to visit a bank to get a P2P loan Development and go through several financial checks. On the other hand, investors get widespread investment opportunities, although associated with higher risk.
The P2P lending platform doesn't bear any risk. In fact, these platforms go to a scale that wasn't possible with conventional ways of lending. They literally democratize the investment. Although, some P2P lending companies do invest their own funds alongside retail investors. But the presence of P2P lending companies  only adds to the trustworthiness of the platform for the everyday investor.
P2P lending websites determine the borrowers' credit rating, perform credit risk assessment, and, based on this, apply an interest rate to the borrowers' profiles. The platforms also allow borrowers to repay the loans through the platform itself. This way, borrowers and investors can access credit history data and credit ratings, respectively.
The borrower pays an upfront initiation fee, usually ranging from 1 to 5%. This is one of the ways in which p2p crowdfunding platforms earn their revenue.
Crucial Features for a Crowdfunding Website
Minimalistic Design and Quick Signup
From the beginning of a user's journey on your website, users start judging the usability, worth, and popularity of your crowdfunding platform. You won't want to confuse the potential loan and potential investment prospects, when they land on your crowdfunding website: your website and app must-have a sleek look, intuitive navigation, and a minimalistic design.
You must also reveal your terms and conditions at the beginning of the user journey. Always remember that transparency is a crucial parameter that contributes to the success of a crowdfunding website. It builds your potential customer's trust, which is the key to customer retention and advocacy.
An example of intellectual property investing made simple is CapitalRise: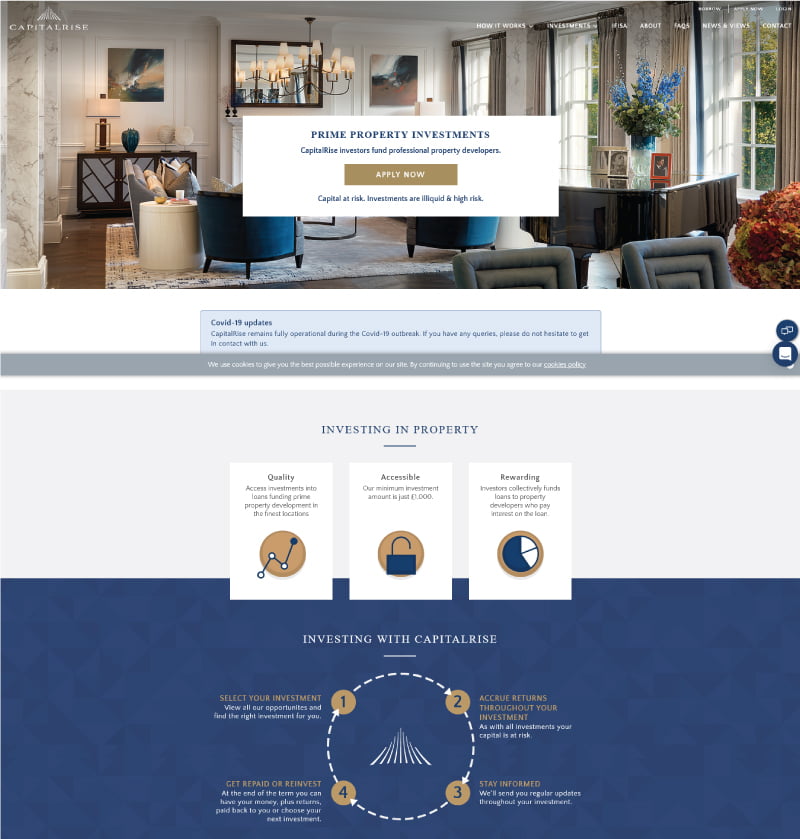 Image: CapitalRise UI
Crowdfunding websites incorporate lots of information that they have to display to the users. Starting from how to get started when the application is submitted, CapitalRise has framed the minimalist designing principles to make the user experience simple yet useful.
Another accountable aspect is the proper exhibition of the content across all the devices. Visual consistency and usability is as important as web functionality, especially when you are operating in a blue strategy ocean. Loan applications and listings will require extra vibrance in the tone, to ensure they appeal to both the borrowers and investors.
Powerful Account Management
Along with investment charts, transactional records recharges, and withdrawals in the account management section, reports and dashboards are great tools to convey the numbers and present raw data in a good light.
The account management dashboards should include transactional records, deposited and withdrawn money, investment charts, and reports that give the user an overview of their interest. Always remember, don't overwhelm the design with several graphs or charts. There has to be a proper balance between text and charts.
Think about your borrowers – once they create their crowdfunding campaign, they would have to monitor and control it. The father of modern management, Peter Drucker, once said, and I quote, "If you cannot measure it, you cannot manage it."
The same principle applies here. To monitor and control their crowdfunding campaigns, the borrowers would need to be informed. Hence, you should present the relevant information in a manner that they can quickly understand about the campaign.
The investors would also be required to have their finger on the pulse, to keep themselves updated with their investment performance – no one would want to put their money in the drain.
Thoughtful Backend and Admin Panel
As a crowdfunding platform owner, there needs to be a sufficient reward for managing the entire portal. The things you are likely to most care about are the investor summary, rewards, commissions, and total revenue generated. A powerful report generation capability will help you better manage the crowdfunding website.
For platforms like Kickstarter, it is important to carefully manage the whole crowd of investors, know the money flowing in, funding timelines, and more. The most obvious layout for the backend of your crowdfunding website should feature a useful set of management tools:
Dashboard containing pending users, investors, and projects;

List of users with their total credit requirement;

Ongoing projects and the accessibility to edit and modify;

Payment logs with corresponding gateways;

Message section
And also, statistics related to the number of investors and borrowers and commission info.

High-end security
The worst nightmare for a crowdfunding website owner will be when their security is compromised. To prevent this occurring, it would help if you always adopted the most effective way to verify your customer identity. There are several scalable customer identity verification solutions available in the market that will help you battle money-laundering.
The main reason behind such security measures is to detect fraudulent or terrorist activity like financing through terrorism money. The Know Your Customer (KYC) norms aim to collect and examine the customer information, to identify if anyone is stealing someone's identity. 
The KYC checks give the admin sufficient information about the users' transactional behavior, so that they can compare it to the actual behaviour over time. If the AI-powered algorithms find any anomalies, they'll instantly report to the respective customer as well as the admin.
Also, make sure that your FAQs are clear to the users. With so many non-profit fundraising and crowdfunding scams happening, it's essential for you to be transparent with your terms.
Trust and Safety
The banking and finance industry has come a long way to ensure financial inclusion across the world. As the industry went digital, the safety and trust factor became more important for the digital-savvy banking and financial institutions. For a crowdfunding website, compliance monitoring is crucial, as many compliances come into force.
For instance, in the UK, we have the FCA that protects consumer data and ensures market integrity. They do this  by using several compliances which are applied to the different crowdfunding platforms.
Several associations like the Bundesverband Crowdfunding Association, encourage crowdfunding websites to adopt best practices for security.
America has a regulatory body named Securities and Exchange Commission, who enforce transparency to crowdfunding platforms and broadcasts relevant information to the investors, borrowers, and crowdfunding platform owners.
Considerations to Create Crowdfunding Websites
Before you create your crowdfunding website, you need to understand several aspects that decide your platform's success. 
Many platforms allow borrowers to create their crowdfunding campaigns, whereas others require a manual process for borrower qualification. It all depends on your business model and the nature of your target audience. 
When borrowers create their own crowdfunding campaign, they'll put in their details, assign dates, and set funding goals and manage the money flowing in. In the case of a manual process of financial checks, the borrowers would have to contact the crowdfunding specialists first for guidance.
There are other considerations too. Let's know them in detail:
United Registration Flow
Given your familiarity with crowdfunding regulations in your region, it's time to go technical. Typically, a crowdfunding platform asks for registration for both the investors and borrowers. Both of these registration forms will differ from each other in some parameters. However, they should be united into one onboarding flow to reduce the development costs.
For example, Seedrs has made the onboarding process very easy for the investors (although with a massive KYC questionnaire). In contrast, many other crowdfunding companies wish to make borrowers and investors fill a derailed signup form.
Right after the registration, the investors should quickly access available crowdfunding offerings, add funds to their wallets, invest and manage the investments. You should also provide investors with intuitive graphs and analysis, so they can use the dashboards to frequently evaluate their investments.
Ensure Investors' Credibility
While from the user perspective, it doesn't seem very difficult to optimize the onboarding. But actually, a lot is happening under the hood.
Investor credibility is an area where most crowdfunding platforms don't put much focus on. But it is essential to perform it well. Although it can be done manually, this process will eat up a large chunk of resources in terms of money and time. Hence, it's thoughtful to automate this process.
Many third-party services offer API services that you can integrate into your crowdfunding website to streamline KYC and AML checks. It is a good idea to ensure that your platform has high-level fraud protection.
Some payment gateways provide KYC services along with instant checks that are often powered by optical character recognition.
Summing up the points raised so far, the list of features that you should incorporate into your crowdfunding website are:
Credit score generation and management

Seamless KYC and AML authentication

Relevant financial analysis reports

Finance management on a personal level

Multiple account support

Absolute data security

Resourceful admin panel
Always keep in consideration that the user experience should not only be safe but smooth and straightforward. Do several user acceptance tests for both investors and borrowers to make sure that they understand where they can find their specific piece of information. Lastly, structure your navigation plan, and ensure that it works perfectly for all popular devices.
Two Ideal Examples of Crowdfunding Websites
Kickstarter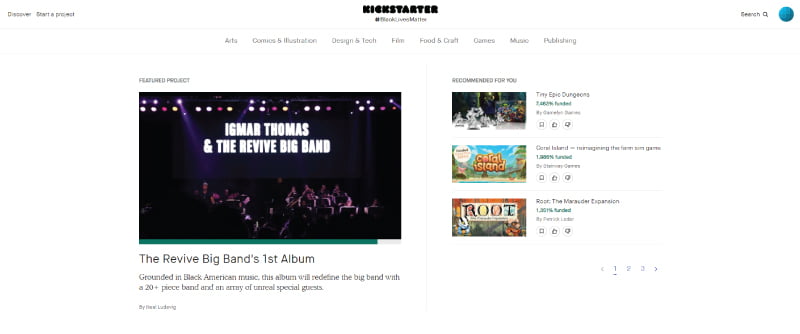 If you know even just a little bit about crowdfunding, you probably have heard about Kickstarter. It is a leading name in the field of the peer-to-peer reward crowdfunding market. Crowdfunding platforms are often judged based on their success rate. Kickstarter's success rate is 37.92% for all their campaigns. Although the platform helps entrepreneurs raise funds for creative projects in 15 categories, the most popular types are Film & Video, Music, and Games.
To be noted that Kickstarter offers an all-or-nothing funding system. This funding system asks the campaign creators to set a goal and a deadline for fundraising. Once a project reaches its goal amount before the deadline, the campaign backers are charged, and the creator receives the funds. However, if the campaign fails to reach the goal, no one will be charged, and the creator receives no funding.
Indiegogo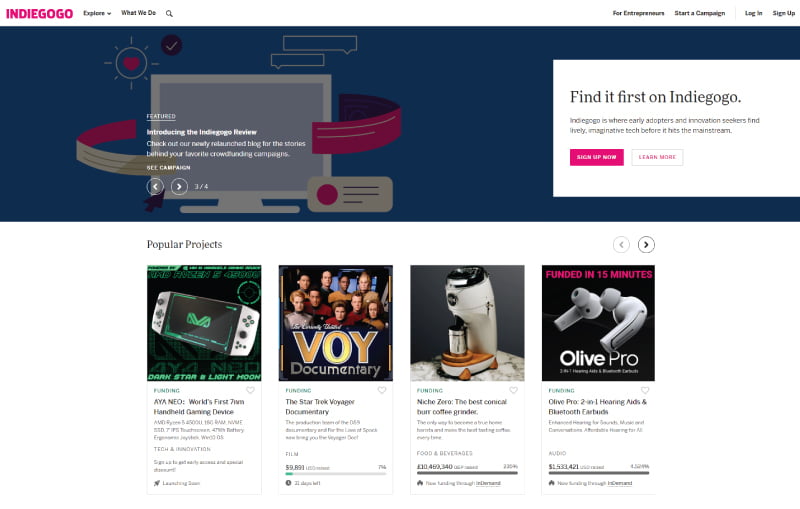 Similar to Kickstarter, Indiegogo acts as a platform where startups, NGOs, and individuals with creative ideas can raise funds through crowdfunding. However, in contrast to Kickstarter, Indiegogo allows creators to produce flexible campaigns, where borrowers can keep as much money as they've raised, even if they fail to reach the goal. The platform also facilitates fixed campaigns (similar to Kickstarter). The success rate for all the Indiegogo campaigns is 9.8%, whereas, for fixed funding campaigns, the success rate is 17.1%.
Conclusion
Things we've discussed in this article were the straightforward answer to your question – how to create a crowdfunding website. However, if you want to create a crowdfunding platform, I would recommend you go with a FinTech development company with extensive experience in developing FinTech solutions.