With each passing day, SaaS companies are launching innovative Gym management software solutions. According to Technavio, the Gym management software cost market is poised to grow by $127.31 million during 2020-2024, with a CAGR (Compound Annual Growth Rate) of 11%. The report also stated that the North American region would contribute 35% of the total market share. 
With this increasing trend of Gym management softwares, companies who are looking forward to launching SaaS software solutions for the health and fitness industry wonder what the Gym management software cost will be? In this article, we'll go through all the aspects you should know about Gym management software features, cost, and benefits.
But first, let's discuss how the global pandemic has affected the Gym management software market.
The Covid Impact on Gym Management Software Market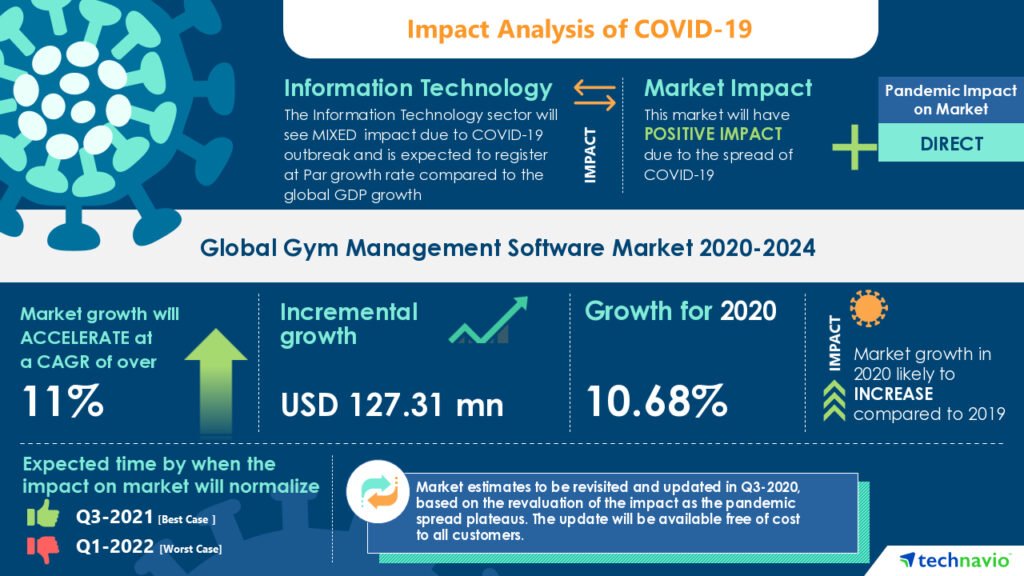 Image Source: Business Wire
The report by Technavio also stated that the pandemic has directly affected the Gym management software market and as a result, the market growth in 2020 is likely to increase as compared to 2019.
How much does developing a Gym Management Software Cost?
The gym management software development cost depends on various factors, including features, technologies, platforms, and scale. For example, if you want to integrate biometric or advanced customer management capabilities into your Gym management software, it will inevitably cost more.
A huge proportion of the Gym management software cost is associated with development hours and hourly rate of developers in simple terms. For instance, the software developer hourly rate in the UK is between $60 to $80. Based on this, the Gym management software costs between $45,000-$60,000.
Gym Management Software Features
Gym management softwares in the market incorporates several features, some of which are necessary, while others might not be for your customers. Thus, you should know what features that you must consider for your Gym management software. Keep reading this article to find out the list of necessary features for your Gym management software solution.
Biometric Integration
Gyms can use Biometric technology to enhance security and authorization within their premises. There can be multiple biometric devices integrated with the Gym management software solution, and these can be installed at the centers too. Biometric integration will allow Gym administrators to limit the passage of any customer or individual.
Biometric integration will allow Gym administrators to know the footfall in the Gym centre and ensure security accordingly. Additionally, the Gym centres can forestall access to the customers that haven't paid their subscription fees.
In addition to access management, Biometrics will allow Gym staff to become acquainted with the customers that are or aren't regular. Also, the workers' compensation (Gym instructors and other staff members) can be determined based on the attendance of the worker and the worker's clients, which will be marked through the biometric system. 
Customer Management
The Gym management software solution should have a feature for customer management. This will give the Gym administrators control over several things. For instance, they can feed the software solution with the customer's personal information, such as age, birthdays, anniversaries, address, etc. These can be utilized for constant communication with the customers.
In addition to communication, the database can also use the customer's body measurement, fitness indexes, and progress throughout the training. This data can be utilized to create workout and diet plans.
Also, the customer management feature will include information about their subscription plans and workout schedules. What makes this feature more compelling is that the Gym instructors don't have to go through a massive stack of files to find information about any particular customer. They can just type the customer's name in the software to access the report.
Marketing Tools
Although almost every Gym uses some kind of marketing tool, a Gym management software needs to have one too. Integrating marketing tools within a Gym management software system, will allow Gyms to utilize their customer information and create marketing campaigns based on this data.
Marketing is essential to grow and flourish a business. Some Gym software services even provide their customers with more than ten marketing and promotion tools. These tools are intended to help Gym owners improve their customer retention and encourage word of mouth marketing. 
Gym management software marketing tools include automated SMS and emails, which offer lucrative discounts and coupons, social media integration and more. All of these tools can be utilized to enhance brand visibility and image. However, these are just tools; the Gym owners will have to develop their strategy to use these marketing tools. It is clear that the integration of marketing tools within Gym management software features helps Gym owners to streamline their marketing efforts.
Reports and Analysis
Without reporting and analysis, there is little value to an ordinary person of having a considerable amount of data. The report and analysis feature utilizes advanced data analytics capabilities to generate reports and visualize data. The information can be about customers, employees, appointments, stock, revenue, expenditure and more. All of these reports will help Gym owners formulate the right strategy for their business.
However, the report from the Gym software should be precise and based on real-time data. This will allow Gym owners to make arrangements that are sensible and adaptable to the footfall. Therefore, reporting and analysis is a critical component of growing a fitness center. 
Online Appointment Booking
This is another popular feature for Gym management software solutions. Most of the products available in the market already have this feature. Since most individuals like to complete their things through mobile devices or the web, it is convenient for the customers. Customers can make online bookings for the available slots. The bookings are immediately updated in the software database, which eliminates the chances of two bookings being made simultaneously. 
The majority of the organisations from a variety of industries, including healthcare, use this feature to manage their customers' appointments. Customers are more likely to book appointments using this feature, as it assures them about the timings.
Employee Management
It is expensive for the Gym centres to buy dedicated ERP (Enterprise Resource Planning) solutions to manage their business. It is an opportunity for your Gym management software solution to provide these gyms with the feature of employee management. Using your Gym management solution, the Gym owners should be able to manage their employees appropriately.
To enable this feature, you can incorporate employee attendance, salary calculation, leave management, and many other such features to your Gym management software. Some advanced applications of this feature can be tracking employees' performance and providing increments or appraisals based on their performance. 
Different Access Control
It is not only the admin that will use the Gym management software; the trainers and management staff will also use it. Hence, your Gym management software should have access control based on the level of staff or designations. However, the admin/owner will have access to all the information.
For instance, the employees should be able to generate bills, view the trainees' attendance, check progress reports and so on. The edit access can be limited to the admin.
These are the crucial features for every Gym management software solution. However, other standard features such as a trainee access portal and national ID integration need to be incorporated into your Gym management software solution.
The features we've discussed here are the ones that will distinguish your solution from the existing Gym management solutions that are available in the market.
Benefits of Gym Management Software
Greater power brings more significant efficiency. Technology implementation into Gym management brings operational transparency and improves customer satisfaction. Studies have revealed that Gym and fitness management softwares can increase revenue by 33% and customer retention by 25%. The software solutions can also save almost 2 hours of admin time a day.
Let's discuss the benefits of Gym management software in detail:
Billing Automation
The integrated billing system is one of the significant benefits of Gym management software solutions. Gym owners won't have to worry about generating and managing bills; the software solution will automatically do it when they pay for their subscription. Also, Gym management solutions eliminate duplicates and other such manual errors. 
The Gym management system can be combined with several accounting systems, which automate the accounting operations of gyms.
24*7 Gym Control
By having a cloud-based Gym management software solution, the Gym owners can manage their Gym centres from anywhere in the world. Having access to the entire business operations, the owners can increase their Gym member retention, and even generate new customers by providing discounts and coupons.
Gym owners feel insecure when they're away from their centres, and this problem gets worse when the Gym owners have more than one centre. The Gym management software will provide these owners with 24*7 access to their business operations, and allow them to operate it remotely. 
Customers Can Book Online
When the customers have the option to renew their memberships online, they are more likely to do it. It provides them with a more significant experience of service quality. Even the existing Gym members can book for personal training and classes. However, you should ensure that the booking experience is straightforward.
Manage The customers Better
With an extensive membership dashboard, the Gym management software allows Gym admins to manage the customer membership conveniently. Based on the relationship between the customer and the Gym centre, the software can automatically offer discounts or coupons. 
The software automates customer sign-ups, which ultimately enhances the number of new customers. A member would check new plans, packages, and services to gain confidence. The Gym admin/owner will check their customer accounts status, payment history, and upcoming bookings. 
The Gym software will make customer communication and renewals easy. Also, it will allow the Gym owners to communicate with their customers via email or SMS frequently.
Promote Personal Training
The Gym owners can use Gym software solutions to manage the demand and supply for personal training. The demand curve for personal training sessions is very steep, making it difficult for the Gym owners to manage it. When the customers are booking advance personal training sessions using the software solution, the admin will know the exact demand, and hire new resources accordingly.
Digital Signatures
The Gym management software will allow customers to sign for their membership digitally. The customers can read the terms and conditions online and sign as per their convenience. It will provide them with greater security, authenticity, integrity, and traceability.
Access to Business Insights
With advanced data analytics, the Gym owners will have access to valuable business insights, which will allow them to manage their Gym centres effectively. They will check every detail about customer payments, memberships, attendance, progress, etc. 
The Gym management software solution will also provide Gym owners with reports about expenses, payment dues, employee attendance, salary dues, etc. The owners can also send reminder notifications to the customers about their pending or upcoming membership payments. 
Track Customer's Activities
The Gym centres will also be able to track the trainee's activities. They can check their exercise desires, and use this to figure out the requirement of human resources (trainers). This reduces the occurrence of surplus training instructors. The Gym management solutions can use RFID (Radio-frequency identification) technology to assist Gym centres with the trainee's activities. 
Conclusion
Building all in one gym management software system that drives ROI (Return on Investment) is only possible when you plan for it in a smart way. I recommend you to create a detailed requirement document for your Gym management software solution development. If you are unsure how to create a requirement document, you can read the following guide that I've written to help you – How to Write The Product Requirement Document For Your Mobile App? 
If you're looking for a software development partner that can assist you with your Gym software development, feel free to reach us at contact@nimbleappgenie.com. We have extensive experience in developing software solutions and mobile apps for the healthcare and fitness industry.