Seeking an answer to how to create an online learning portal? You're at the right place. In this article, I've covered several aspects of custom e-learning development, so don't bounce back.
Let's first talk about a few market updates and current trends in education technology.
LinkedIn recently announced that they've utilized the acquisition of online learning company Lynda.com to build a new learning portal named LinkedIn Learning Hub. The company stated that their e-learning portal will focus on offering working professionals with training materials and videos that ranges from subjects like management strategy to machine learning.
Professional learning is just a small part of the e-learning market. The real treasure lies in K-12 and higher education. Although during the pandemic, many students resisted moving classrooms to a digital platform, schools and faculties largely embraced e-learning.
Well, we shall be discussing all about how to create an online learning platform, but first let's look into the market.
Global E-Learning Market Status
A research by Global News Wire found that the global e-learning market which was estimated at $ 281 billion in 2022, will reach $374.3 Billion by 2026. The market is expected to grow at a CAGR of 14.6% during the forecast period.
The report also stated that the top players in the global e-learning market are Aptara Inc., Adobe Systems, Cornerstone, Citrix Education, Meridian Knowledge Solutions, Microsoft Corporation, SAP SE, NetDimensions., Oracle Corporation, and many others.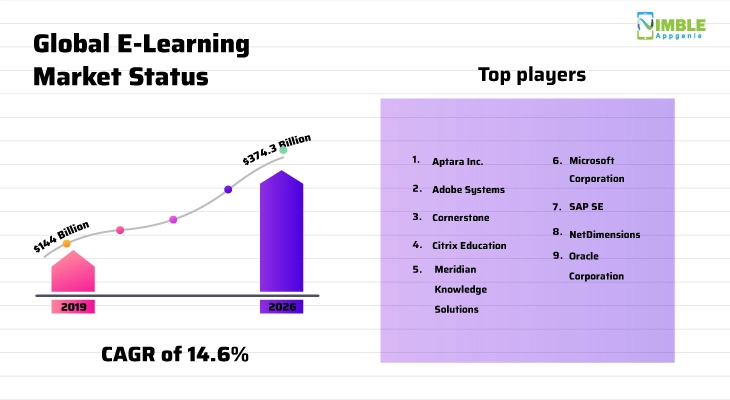 What Are E-Learning Portals? And Why are they Popular in 2023?
An Online Educational portal or E-Learning portal is a website or a web application that allows learners to access educational content in an interactive way. As the pandemic continues, mastering new skills and learning online will remain the trend among individuals around the world. The popularity of e-learning portals can be seen with the following statistics.
60% of the internet users accept that they're comfortable with the online learning format.
Zion Market Research found that virtual reality investments will increase in the e-learning sector where the market is expected to reach around $1,478 Million by 2027.
42% of companies around the world state that they've increased their revenues via online training for their employees.
65% of the global faculties support the use of open educational resources including online learning portals.
How to Create an Online Learning Portal?
Let's get straight to the point. Custom eLearning development can be easily performed by following the steps mentioned below. However, I don't recommend that you perform all of these by yourself. There are business consultants like us (Nimble AppGenie) that can help you with your custom eLearning portal development.
Moving on, the stesp for education portal development are, as mentioned below:
1. Know Your Audience and Competition
Every innovative software solution development process starts with market research. Within the market research process, the first and foremost thing to analyze, is to identify the target audience and understand their problems. This will then enable you to understand howa software solution can help them solve these problems.
The same goes with custom eLearning development. As there is a serious need for remote learning, it is essential for you to identify where the opportunity lies in terms of your target audience. Here are some of the target audience demographics that you can explore:
Education Level
Age
Spending Capability or Disposable Income
When you're done analysing your target audience, think about how you can personalize the learning experience for them. Also, your monetization strategy will directly align to these demographics.
Finally, you should analyse the existing players in the e-learning market. I would recommend you to perform a SWOT (Strengths, Weaknesses, Opportunities, and Threats) analysis, which will help you identify how you can excel over them.
2. Create a Clear Content Strategy
Once you're done with the market analysis, you should focus on the core of your online learning portal. Don't forget it will be a website; hence, you'll have to formulate a strategy on how you'll deliver the educational content and how your target audience will perceive it. This is an important step on how to create an e learning platform.
You should engage with good educators that have experience in developing educational content for online learning portals. After all the projects that we've worked on at Nimble AppGenie, we understand that there are some characteristics of educational content that needs to be addressed while developing the content. Here are some of the recommendations:
Avoid Controversial Images
It is true that images and graphics are amazing tools for learning. But, what I'm pointing at here is the images that are related to controversies. Controversial images can distract learners from the topic they're learning and instead distract learners into focusing on the controversy.
Although GIFs and memes are trending, they don't belong to education. Such content is more likely to hamper the professionalism of your online learning portal. Thus, I would recommend you to avoid them.
This recommendation is more inclined towards video lessons. Similar to the background sound that you hear in movies, ambient audio won't distract the learners. In fact, it will shape the learners' mood.
3. Find the Right Development Partner
In 2021, when even the tech giants like Google and Adobe are outsourcing part of their software development work, it is mindful for you to get your online learning portal developed by education app development experts.
The following are the top educational app development companies rated by clutch:
Dev Centre House
Nimble AppGenie
Professional Soft-Tech
Quodisys Development Services
Kin + Carta
Appville Software's
But, how will you evaluate the development companies? Following are the things you need to ask the development companies before you outsource your project to them:
Ask the technology service provider about their previous work in the EdTech development.
Ask them to explain their collaboration methodologies.
Understand their development approach.
Ask them about their project management methodologies.
Before you share your business idea with the development companies, don't forget to sign an NDA which will safeguard your intellectual property. I would recommend you to ask proposals from a few education app developers and analyze the proposals to choose the right development partner.
What is the Cost of Developing an Online Learning Portal?
The cost to develop an online learning portal depends on several factors including required features and content elements, interactivity levels, technologies, platform you're developing your app for, and location of your development team/partner.
The overall cost of developing an online learning portal can vary greatly from $30,000 to $100,000.
As the cost to develop an online learning platform greatly depends on the features. Here I'm mentioning the must have features for every online learning portal. If you want more details on the same, it is highly recommended that you consult an e-learning portal development firm
Features of Education Portal Software
Let's look at some of the main features that you should include in education portal software in detail. These are, as mentioned below:
Seamless Onboarding
With every education app, both students and teachers have to go through the onboarding process. Considering a high rate of app abandonment during the onboarding process, it is crucial for your online learning portal to deliver a super-easy onboarding experience.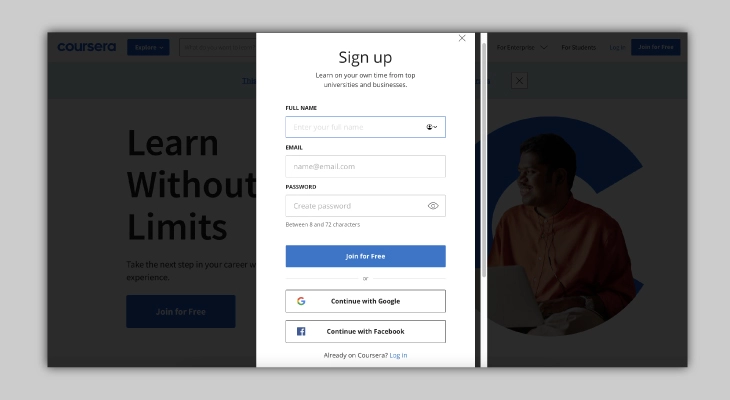 The most common and effective way to a hassle-free onboarding experience is using phone/email address, OTP, and password combination for sign up. Using social network accounts is also a fast and convenient way to sign up.
Advanced Search and Filters
Every online learning portal is about the catalog of courses it can offer. Considering your online learning portal will be having hundreds of courses, the users will require a tool to search through all the courses. Every e-learning system must have the following search tools.
Elastic Search Bar
Content Category on the Home Page
Search Filters (by price, language, level, rates, subject, etc.)
Course Recommendations as per student preferences and past purchases.
Dashboards
Both the students and tutors require a place where they can track their progress or get useful insights about the curriculum. For example, your online learning platform can enable students to see the courses they've enrolled in and all the other relevant information, such as completion status.
On the other hand, the tutors' dashboard will show the courses they've added and the number of students who have enrolled, ratings, course traffic, and earnings. As the dashboards will show a lot of information, your development partner must make sure that the content is deliberately managed and is well presented.
Notifications and Reminders
The learners need to be informed about the latest courses, events, and recommendations. You can notify the users for all these by implementing personalized notifications. Don't forget that your users will stop trusting your notifications if you send them irrelevant alerts. Hence, personalization becomes necessary.
Some additional features that you should consider are:
Admin Panel
Course Page
Course Creation and Edit Page
International Payment Methods

Conclusion
I hope you've got your answer to how to create an online learning portal. The recommendations I've mentioned in the article are those that we deal with very frequently. With dozens of apps launched for the education sector, we at Nimble AppGenie are one of the top custom eLearning development companies in the world.

Niketan Sharma is the CTO of Nimble AppGenie, a prominent website and mobile app development company in the USA that is delivering excellence with a commitment to boosting business growth & maximizing customer satisfaction. He is a highly motivated individual who helps SMEs and startups grow in this dynamic market with the latest technology and innovation.