Looking at the statistics, with more than 2 billion smartphone users and 27.6 downloaded mobile apps, mobile app development is one of the biggest and leading markets in the industry. If you want to stay ahead in the competition, then you must plan a strategy for your business. It requires more than just a user-friendly interface and a mobile-friendly website to stay ahead in the competition. Since mobile development in continuously emerging due to new technologies, you must have a vision for your business for upcoming years. One of the growth strategies for mobile application development is Artificial Intelligence development. Looking back in 2018, only larger companies and enterprises were able to afford mobile application development based on AI, but later the coin flipped and everything is changed now.
With the increasing demand for Artificial Intelligence development, various industries have started developing mobile apps with Artificial Intelligence Development. Whether its financial sector (money transfer, virtual assistants), or sectors that develop the app for the user's personal experience, developers are adopting AI for mobile app development.
Machine Learning is a part of AI, is also the future of mobile app development. Some of the companies like Netflix and Tinder have already started using Machine Learning algorithms in their mobile apps for adapting user's behavior to provide them a better-personalized experience. Google Maps is also planning to provide a new feature of finding a parking place with the help of the map, all thanks to Machine Learning.
Why Choose

Artificial Intelligence Development

?
Mobile apps are the most valuable tool for navigating our everyday lives. Being a business, your app may be doing the same, but is there anything extra you are implementing in your app to make it fir according to future apps. Without AI implementation, there are chances that your app will be discarded in the future very easily by the app that offers more flexibility and ease to users.
It doesn't matter where your app stands in the market, or where you are in mobile app development it will be surely affected by AI in the future. More than 72% of industries have already started using it as its impact on mobile technology will be huge in the future. Apart from increasing user-interactions and building mobile apps, there are some other key features of using Artificial Intelligence development in mobile app development.
Enhanced User Experience
By the year 2025, more than 90% of all user interaction will be guided by AI. The user experience is also improving and enhancing by using AI bots in the app to interact with them whenever they face any issue in the app. According to some researches, it is proved that AI bots are doing better than standard customer service.
In addition to this, Artificial Intelligence development is also improving user engagement on the apps according to their behavior and response. Machine learning algorithms are helping to track user behavior on the app to provide them better results and options. Location-based services are also improving users' experience on the apps.
Code Creatively
Developers who have keen knowledge in AI knows and understands how to advantage AI in developing the app by deploying more creative and unique code with more flexible settings. Ai is making changes in the app development by boosting-up development time and reducing some manual coding practices.
Automation in Apps
People think that AI completely replaces the need for human designs and analysis from app development. Comparatively, it allows developers to build an app with better options and features. AI establishes automation in apps for resolving problems. Taking an example of cab booking apps, the app uses automation to provide total fare and the best route for your ride directly in the app.
Personalization Enabled
The most critical factor in mobile app development is personalized user experience. AI enhances the personal user experience according to their needs, taking it to a new level. Apps developed using AI gives the user a better-personalized experience with recommendations based on past searches and activities.
This is how a machine learns. The prediction-based algorithms help the machine to recognize user behavior and what they do or want next. So Machine Learning is an important factor in making lives more flexible and easier.

Advantages of AI for Mobile Application Development
AI usually makes the app more intuitive and flexible for the users and lets. The app stand out from the millions of apps already running in the Play Store and iOS App Store. Below are some advantages of using AI in mobile application development.
AI Completes Tedious Task Easily
Apart from many applications offered by AI, this is one of them. AI can be used to finish long and exhaustive tasks which takes time and require tedious processing. AI machines can work continuously for long periods without zero decreases in productivity.
Automatic Debugging
AI helps developers in identifying and fixing errors in the code.  Eventually, AI will be able to fix those errors by learning from human actions. This will save a lot of time for developers while debugging the program. This helps and developers support by developing and deploying the app in the market in a shorter time.
Voice Interface for IoT
Developers can bring out most of the AI by integrating it with IoT devices. IoT itself is a wonderful idea when used with mobile phones, home appliances, security systems, etc. Developers can integrate IoT voice automation in mobile apps to command or control these devices.
App with Analytical Capabilities
With the increasing demands of mobile applications in the market. Hopes and innovations in the area of AI apps are also increasing. Developers are creating apps with more AI features, enabling organizations and enterprises to explore more of their business. AI can help you by fetching valuable and important data, services, and real-time industry practices of your competitors. Apart from this, you can also ask AI apps to prepare a comparison chart for your services.
Increased Revenue
Generally, customers receive notification about the latest offers and deals on the product from the app. The AI's predictive algorithm observes the behavior and actions of the user on the app to provide the best custom options. This helps in engaging more customers for shopping and generating higher business revenue.
Conclusion
Recently, Amazon launched Alexa AI app for enhancing human lives and user experience. Also according to some reports, Ford has collaborated with Amazon to integrate Alexa in their cars to make driving more flexible for users. Currently, big companies like Google, IBM, Apple, and Microsoft are also planning to integrate AI in their systems and apps.
  In the future AI apps will be transforming customer and brand interaction.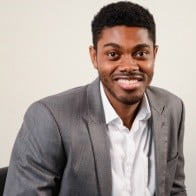 Jermaine Trotman is the co-founder of Nimble AppGenie, a company renowned for its bespoke mobile app development and web development in e-wallet app development and fintech development.