E-Learning Platforms Like Udemy have grown quite popular following the pandemic.
While e-learning or as some like to call it, edtech was still a thing before covid hit us, its need was realized until our world was pandemically stricken. Since no one could leave their house for the most basic of tasks, let alone attending schools and colleges, people had to resort to other methods.
This alternative came in form of the e-learning platform. And consequently, the edtech market exploded with growth.
According to Research and Markets report, the tech development industry will be valued at $325 billion. While another one from Global Market Insights, says by the end of 2026, the market will be valued at $375 billion. You get the gist of it.
Apart from coved, increasing expensiveness of the traditional learning methods (as per reports) is also a factor which has added to the growth.
Nevertheless, e-learning has become the new normal now. And it goes without saying it hasn't only attracted billions of users from across the globe but also thousands of businesses who want to develop their own e-learning app like coursera.
Now, if you are someone who is curious about e-learning app development, who doesn't actually know all that much about it but still want to re-create Udemy's success, you don't need to worry. This blog is all you need.
Here, you will learning everything you need to know about e-learning app development. By the end, you will be ready to develop your own app like Udemy.
Therefore, with this being said, let's get right into it:
What is Udemy? E-Learning App Development
If you are living in the 21st century, it is impossible not to have heard about the e-learning platform, Udemy.
This is a e-learning giant that provide video-based online courses that are mainly aimed at students and professionals of all fields, but not limited to that.
If you are someone who wants to develop e-learning platform, there is no other app that serves as a better example of how elearning app development should be done but Udemy.
Launched back in the year 2010, by Eren Bali, Gagan Biyani, and Oktay Caglar, this platform has gathered quite a following over the past decade.
As of 2018, eight years after its official launch, the platform recorded 20 million active users at the start of the year. And by the end, they had 10 million more making it a total 30 million users across the internet.
But this doesn't end here, in next year, Udemy had a whopping 50 million strong active users. Consequently, this e-learning company generated billions in revenue. Now, it goes without saying that it tells you something about the platform. It is this success that has inspired other businesses to start their own e-learning app project.
With this said, let's see what are some other market-leading eLearning platforms, in the next section of the blog.
Different Types of eLearning Platforms with Examples
Udemy is a widely popular e-learning platform that mainly resorts to video as the primary method of teaching. However, there are some other platforms that use various reactive and innovative way. And some of these might even make be better than this.
Therefore, with this being said, let's see what these are:
| | |
| --- | --- |
| Type | Example |
| Video-Based Learning | Udemy, Masterclass |
| One-on-One Online Learning | Verbling, Lessonface |
| Online Group Learning | Take lessons |
| Proposal/Bidding Based Online Learning | Studypool, Solutio |
| eLearning Platform for Teachers | Teachers pay Teachers |
| Online Employee Training | Kitaboo insight, SAP litmos |
| Online Consulting | FlexingIt,  QuikConsult |
These are few popular types of e-learning platform.
In case, you want to develop something different from Udemy, you can explore these options and find the best option for your website.
So, with this out of the way, let's look at some reasons to develop an e-learning platform, then we shall be discussing the feature, development process, as well as education app development cost in the USA, in the sections below.

Reasons to Develop e-Learning App Like Udemy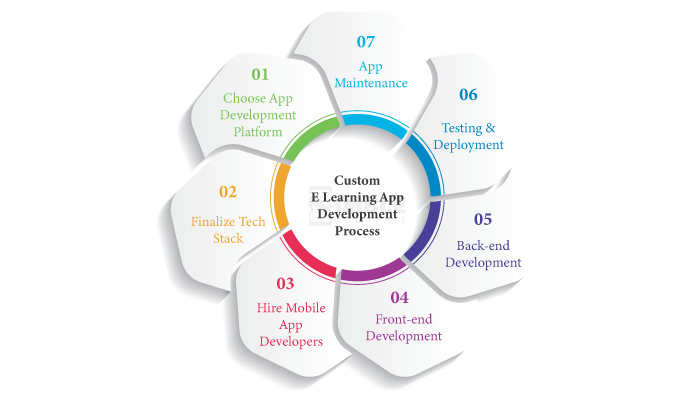 Now, there are some people who might not be that sure about developing an e-learning platform. Well, we have only one thing to say, there are more reasons to develop an e-learning app than not to do so. And in this section of the blog, shall be discussing some reasons to why you create an e-learning platform like Udemy.
As we have already discussed once in this blog, schools and colleges, especially quality ones, are quite expensive. While calling them expensive is quite an understatement, you get the gist of it.
Consequently, not everyone can afford it.
However, e-learning possesses no such barrier, as e-learning app like Duolingo, courser, as well as Udemy, offer online video-based courses at quite an affordable rate.
Thus, anyone can take advantage of these services without hurting their pocket.

Appealing to Wider User Base
As most of you already know, colleges and schools are associated with a specific age group. And people who join them in later stages of their life, either think of dropping the idea altogether or feel left out.
Now, the solution to this problem is very simple, e-learning.
You see, when your school is online, anyone and everyone can join it, regardless of their age group or interest. In fact, edtech have made it possible for professional employees to acquire new skills without actually taking off from their work.
Therefore, it is quite clear that the e-learning platforms appeal to a much wider audience than traditional educational institutions did.
And you can take advantage of this fact, to generate billions in the market.
One of the best advantages that educational apps offers are, self-paced learning.
You see most of the professional and school courses are self-paced. This means you can learn them on your terms as there are no fixed dates, times, or strict schedules.
While this might not seem like a big deal for students, this is one of the big reasons that you should consider and look for mobile app development services to create your own e-learning app.
One of the biggest problems, those professional workers face when they are attending classes or school to acquire new skills is, that they don't have that much free time.
Since users can access the e-learning platforms from anywhere and everywhere, it gives them much more space to attend classes and courses.
Generate Million ( or Even Billions)
Last but the best, is revenue generation opportunity.
It goes without saying that goal of every business is to make money. And goal behind creating an e-learning platform like Udemy is also the same.
An industry like that of edtech, offers you the opportunity to generate, not thousands but millions of dollars in profile. If done right, you may also make billions.
These are some of the reasons to consult a custom mobile app development company and make your own e-learning application. And if you are doing just that, it would be a good idea to discuss some feature that you should include in this app.
Feature to Include in an App Like Udemy
Features are driving force of any platform including e‑Learning Platform like Udemy. And if you want to learn how to build an edtech platform that takes over the market, this is an important step to it.
So, with this being said, let's look at some features of e learning app are, as mentioned below:
| | | |
| --- | --- | --- |
| Pay Fee Online – eWallet Integration | Video – Based Content | In – App Chatting for student – to – student communication |
| Notification Alert | Save Course Material Offline | Ai and ML |
| Gamification | Account Management Dashboard | Receive and submit assignment online |
From e-Wallet to AI and ML technology integration, these were some of the top features that you should consider adding in your application.
And with this out of the way, we can finally start preparing for Udemy-like app development.
Things to Do Before Udemy-Clone App Development
Before we get into education cum video streaming app development to make an e‑Learning Platform like Udemy, there are some things that you need to do on your own.
Here, we shall be looking at the same.
1. Find An Idea
The first step of the process is to find an idea.
Now, there aren't any hard rules to it, but it is highly recommended that you start by conducting market research. This way, you will be able to base your idea on facts rather than assumptions.
Moreover, it will give you very crucial information that will be utilized later down the line. And it is also advised that you gather more than one idea so you can have options when finalizing.
2. Cross-Check It
Once you have an idea, you need to prepare it for e learning website project.
For this, you need to cross-check it. You need to see, whether it is valid, if there is user demand supporting the same, is the product or service is viable, and if you will get ROI, among many other things.
Once you are done with this, we can move to the next step which is one of the most important ones.
3. Monetization
Like we discussed in reasons to make an app like Udemy, the goal of creating an app is to generate revenue. And in order to do this, you need a monetization strategy.
While it sounds easy, most of people don't know do so. You see, these strategies help platform generate revenue through various methods. So, do you want to know how to develop an app that makes millions?
All preparations done, we can move to the technical side of things in the section below:
Custom E Learning App Development Process: Creating eLearning Platform like Udemy
In this section of the blog, we shall be teaching you how to choose right education app developer and create a market leading educational mobile application.
1. Choose App Development Platform
The very first thing you need to do is come up with choose a mobile app development platform.
You see, since we are talking about mobile app development, it is required to choose a platform first.
As one might guess, here, you can either hire android app developers or iOS ones.  While the actual hiring process shall take place later down the line, right now this is what we will be focus on.
2. Finalize Tech Stack
Tech stack refers to the set of technologies used by mobile app developers to create a, well, mobile application.
This includes programming language, frameworks, tech stacks, and so on. For those who are unfamiliar with the concept, MEAN Stack Development  is a popular example of the same.
3. Hire Mobile App Developers
This is the step where you hire mobile app developers.
There are some things you need keep in mind when hiring developers. Let's see what these are:
Portfolio
Past experience
Team size
Tech stack they use
Expertise
Communication
Deadline
These are some of things to keep in mind. Nevertheless, once you have a development partner, we can start working on actual development process.
4. Front-end Development
Front – end development mainly deals with the UI/UX Design.
Anyhow, this is one of the most important step as a good design can lead you into market, while bad ones can destroy your user  base.
5. Back-end Development
This is the process where education app developers will be writing the e learning app source code of your website.
Nevertheless, all of the documents and contracts have been signed already this, protecting the privacy and uniqueness of your project.
6. Testing & Deployment
Once the educational app development services finish with developing, it has to be tested. And this is what happens here.
Following the testing the mobile app can be launched in the market.
7. App Maintenance
While you might think that the work is done with deployment, you still have some things to take care of.
If you don't want your app to fail like majority of others, it is highly recommended that you consider mobile app maintenance and support services.
Cost to Develop e-Learning Platform Like Udemy
e learning app development cost actually depends on a lot of factors. Now, if you want to know how much all of it costs, you need to gather all the specifications.
While each project might have some different factors, let's look at some common ones:
| | | |
| --- | --- | --- |
| App Development Platform | Tech Stack | Features and Design |
| API integration | Hosting | Complexity |
| Type of App | Size of the App | Team Size of Developer |
This is the E learning app develop cost, if you are get a closer estimate, it is highly recommended that you consult a educational app development company in USA who can help you with the same.
Conclusion
E-learning app development has been growing quite popular in recent years. And with the recent success of e-learning platform like Udemy, everyone wants to know how to create a website like Udemy. And if this is something that you want to do, it is highly recommended that you consult a market leading education app development company who can help you with the same.