If You Want To Build Car Pooling App Like Uber, This Blog is For YOU!
Carpooling, also known as the ride-sharing industry is one of the largest. Just like its sister, taxi booking, and carpooling have grown to become people's favorite.
Today, as many as 36% of Americans have used rideshare services. Consequently, the global ride-sharing market is currently worth approximately $61 billion. And it is expected much more in future.
For instance, it is projected that just fewer than 45 million vehicles will be in global carpooling programs by 2025.
Uber & Lyft are the two best examples of how ridesharing can help companies grow, as they are largest two companies in the U.S. ridesharing market. In just 2019 alone, they had net revenue of 14.1 billion U.S. dollars and 3.62 billion U.S. dollars respectively.
It goes without saying that the growth of companies in the ride-sharing market and the market itself has attracted a lot of attention from businesses across the United States of America. After all, who doesn't want to generate skyrocketing revenue?
Well, if you do, but don't know all that much about ridesharing app development, this blog is for you. Here, we shall be discussing everything you need to know about carpooling apps and their development process along with the cost to do so, features to include, popular examples, and so on.
Therefore, with this being said, let's get right into it:
Car Pooling App Development: Everything You Need To Know
Carpooling is a very simple concept.
In recent decades or so, the idea of taxi booking apps like Uber has become a household thing. While you had to look for taxis on the roads, now all you need is your mobile to book a ride which will be waiting for you at your doorstep.
Now, carpooling or ride-sharing app isn't all that different from taxi booking. The only thing different here is that, while a taxi is exclusive to you, the space or more appropriately the car has to be shared in carpooling. That is why it is also known as a ride-sharing app.
This is what carpooling app is. And the process through which such apps are developed is known as the car pooling app development.
There are various reasons why people love carpooling apps. And the best part is, it is much more economical and eco-friendly. This is what leads many businesses to develop their own version of carpooling apps which helps them generate healthy revenue.
Speaking of which, there are some who still aren't familiar with the working of carpooling apps and we shall be discussing the same in the next section of the blog.

How Does Car Pooling App Works?
So, how does a car pool app works? Well, it is quite a simple process. It is, as mentioned below:
Download the app from Google Play Store or iOS App Store.
Register on the platform via the phone number, email, or social media.
Provide user information like name, location, etc.
Add payment details.
Request a ride by sharing your current location, destination, type of ride, and so on.
Upon ride confirmation, the user gets ETA and Cost Estimation.
The user can track the live location of the ride via the app.
For emergencies, the ride details can be shared with friends or family.
After accepting the ride, the user will be dropped at their destination.
Once there, the user can use various payment methods including eWallet integration to pay for service.
You can also leave a Rating & Review.
This is the working process of any major carpooling app. And with this out of the way, we shall be exploring some of the most popular carpooling apps in the market, in the next section of the blog.
Popular Car Pooling App Examples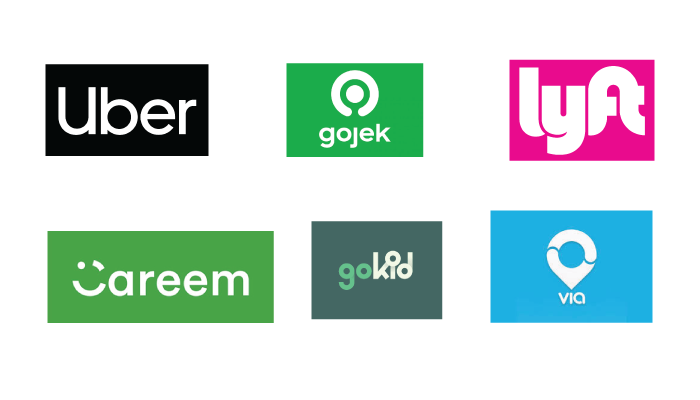 Ride-sharing is a market worth $61 billion with the number of active vehicles reaching 45 million by 2025. So, it goes without saying that various companies have based their business on or developed their own ride-sharing or car pool apps.
Now, if you are someone who wants to develop ride sharing app of your own, it is a good idea to take inspiration from solutions that are already doing good.
Therefore, some of the most popular carpooling apps are, as mentioned below:
| | | |
| --- | --- | --- |
| Uber | GoJek | Via |
| LYFT | Careem | GoKid |
Now that you know what carpooling apps are, how they work, and what some of the most popular carpooling apps are, you might be wondering whether or not to develop a carpooling app. Well, we will be giving you enough reasons to do so in the next section of the blog.
Why Develop A Car Pooling App?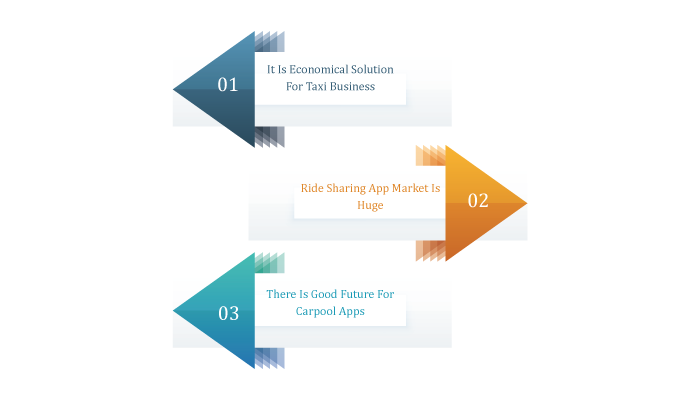 To Develop A Mobile App can be a big investment for a business. So before you go into it, you must be made sure that it is worth it.
In other words, if you are someone who is looking for some reasons to develop a ride-sharing app, we shall be discussing the same in this blog. Let's get right into it:
It Is Economical Solution For Taxi Business
It goes without saying that in recent year's taxi businesses has been hit by one after another tragedy, including worldwide corona pandemic. And this has lead the profits to good down considerably.
If you have a taxi business of your own and looking for economical ways to rejuvenate it, carpooling apps are a good solution. Via this app, you can create a lot of revenue with a minimum initial investment.
Ride Sharing App Market Is Huge
Well, well, everyone has seen the ride sharing app market statistics and there is no doubting the absolute massiveness of it.
There are billions of dollars in revenue and much more in valuation. And when done right, a ride sharing app can help your business grow, becoming a market leader in no time. This is one of the big reasons to develop a car pooling app.
There Is Good Future For Carpool Apps
One of the most important factors to consider when investing in anything is, does it have a good future?
Well, in case of car pooling app, yes it does. In fact, this is the industry with one of the most potential right now. And those who establish themselves into the market right now can be market leaders soon.
These are some of the reasons to develop your own car pooling app. And with this out of the way, let's look at the essential features to include in it.
Essential Features for Car Pooling App Development
Features are one of the first things that happen to affect user experience. This is the reason why features are an essential part when creating a successful carpooling app like uber.
So, if you want to develop a successful car pooling app that helps your business, consider including these features in your on demand app development.
Before we get into that, it should be understood that the app is divided into three parts. Features for each panel are different. Let's get right into it:
| | | |
| --- | --- | --- |
| User panel | Driver Panel | Admin Panel |
| Login/Register | Login/Register | Profile Management |
| Request A Ride | Accept or Reject Ride Request | Revenue Management |
| Pay via App | Route Optimization | Fleet Management |
| Leave Rating & Review | User Location | Customer Support |
| Cost Estimation | Rating & Review Management | Admin Dashboard |
| Live Tracking | Communicate with User | Live Location Tracking |
| Add Stops | Accept Payment | Sign Up Walk-through |

Easiest Way to Develop Car Pooling App: Step by Step Car Pooling App Development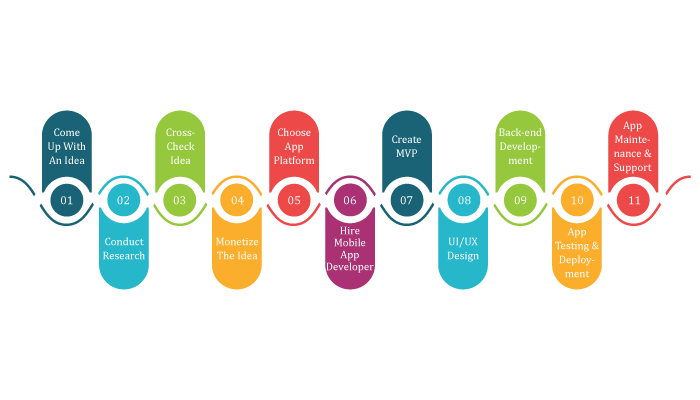 It can be a bit difficult to build car pooling app. Mobile app development is complex on its own and when creating a complex app like the one we are discussing can be confusing for clients.
That is why in this blog, we shall be going through the entire step-by-step car pooling app development process.
This will give you an added perspective on how to build car pooling app. Therefore, with this being said, let's get right into it:
1) Come Up With An Idea
Contrary to popular belief, the first step isn't looking for mobile app developers for hire. Rather, you have to come up with an idea. The idea you have will become the base and the soul of the entire mobile app project.
There is no method to this and you can do whatever is necessary. Nevertheless, it is highly recommended that you work with more than one idea as it will give you backup options.
Once you are done with this, it is time to…..
2) Conduct Research
Once you have an idea, you need to conduct research. In this process, all of the important information related to the app, idea, business needs, competition, market opening, user base, and so on.
All of the information and data are very useful for various reasons, as you will see in the next step.
3) Cross-Check The Idea
With both an idea and concept at your hand, it is time to cross-check the idea with information. This is one of the most important steps as this is where you learn about the viability of the concept.
Here, you need to confirm if your app will be solving a real-world problem, whether will it be able to deliver value to customers, and so on. Once all of this is confirmed, we are ready to move further.
4) Monetize The Idea
It goes without saying that any business builds car pooling app to generate revenue. And in order to do just that, it is important to implement monetization strategies.
Some of the most popular monetization strategies are, as mentioned below:
Service fee
Partnership commission
In app purchases
Freemium model
Driver commission
These are some of the basic monetization strategies.
5) Choose App Platform | iOS vs Android
It is time to choose an app development platform. As we all know, there are two major mobile app platforms, iOS, and Android.
Therefore, you can either go with iOS or android app development services. Both of these platforms are amazing. Depending on your business, you can choose the one that best fits your business.
If you are not looking for a native option, hybrid app development is yet another good option.
6) Hire Mobile App Developers
With a platform at your hand, it is time to hire mobile app developers.
There are various things that one should keep in mind when hiring developers. These are, as mentioned below:
Always check their experience and expertise
The location of the developer is a big factor
Look at their past projects.
Interview the developers individually.
Tech stack they use
These are some things that you should keep in while hiring developers. And with this said, let's move to the next step where we shall be creating MVP.
7) Create MVP
Why create a minimum viable product?
Well, there are various reasons to create an MVP but most importantly, it lets you create a bare-bone prototype with all the design aspects.
This way, you can see and make changes before any hard work is done.
8) UI/UX Design Process
UI/UX Design is one of the most important components of the car pooling app.
In this process, designers will create the front end based on your needs and preferences. But it should be made sure that the design is easy to navigate yet captured.
Good designs highly affect customer retention and also the performance of the app in the market. This makes it something worthy of your attention during the development process.
9) Back-End Development Process
This is the part where on demand app development company will be writing the car pooling app source code.
All of the heavy liftings are done here. And that is why in this process a lot of time, as well as resources, are consumed.
10) App Testing & Deployment
Once the developers are done with their app development, it is time to test the app.
Testing is a key part of on demand app development services.
Here, various tools and techniques are used by the QA team to check the solution. It is made sure no bugs or errors are left and the solution is up to the market standards.
Following testing, the app will be pushed to deployment after which is online and ready to roll.
11) App Maintenance & Support Services
If you want to make sure your car pooling application is successful, it is time to start app maintenance & support services.
This is the 11-step car pooling app development process used to build car pooling app that helps business grow and generate endless revenue.
Cost to Develop A Car Pooling App
Whether it is custom android app development or cross-platform app development, the cost to build car pooling app can be very different.
Reason being that, there are various different factors that can affect the cost. Some of these factors are, as mentioned below:
| | | |
| --- | --- | --- |
| App Platform | Tech Stack | Location of Developer |
| Size | Maintenance | Feature Set |
| Complexity | Security | Design |
Due to these factors, it is not possible to predict accurate app development costs without learning about project specifications. For more details on the same, it is recommended that you consult a mobile app development company.
Develop A Successful Car Pooling App At Affordable Cost
Car pooling apps are growing more and more popular day by day.
Businesses and start-ups alike want to build car pooling apps of their own. But why? Well, this is one of the most profitable industries right now.
But developing a successful car pooling app can be difficult. If you want to ensure the success of your solution, work with the best car pooling app development company that can help you bring your idea to reality.
FAQ
How big is the ride-sharing industry?
With global ride-sharing industry is worth approximately $61 billion dollars, it is one of the largest industries out there. In addition to this, the market is set to grow at a healthy rate and is projected to be around $220 billion by 2025.
How do I Build Car Pooling App?
If you want to build car pooling app, all you need to do is reach out the Nimble AppGenie a market-leading mobile app Development Company with years' worth of experience.
What is the best ride-sharing app?
Some of the popular rides sharing apps are, as mentioned below:
Uber
GoJek
Via
LYFT
Careem
GoKid