Nowadays, business and personal worlds rely massively on mobile applications. As a result, companies try to create more creative technologies to provide their consumers with better services, while people use intelligent mobile apps to meet their requirements via using AI mobile app development.
In this digital era, on the front-line of mobile app development, we see a mobile phone almost in every single hand. People spend their significant time browsing or downloading smart mobile apps according to their personal requirements. Users, however, change their choice for using applications based on the mobile application functionality. If an updated version of the existing app is released on the market, they will attempt to download and use it.
Introduction to Artificial Intelligence Technology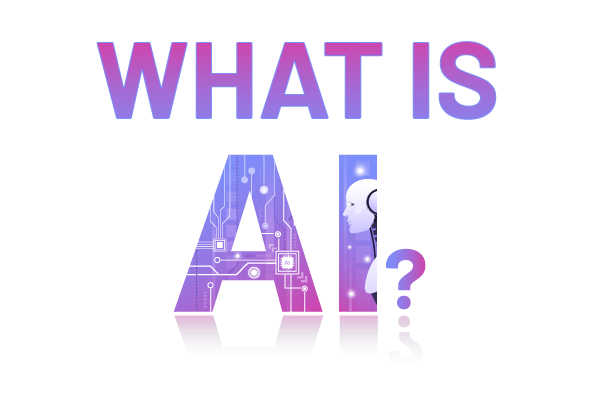 This blog discusses different types of AI (Artificial Intelligence) technology, and how they are a core technology for modifying every industry, like finance, manufacturing, logistics, healthcare, marketing, and advertising. Previously, mobile app development companies are also widely adopting technology to provide more personalized Artificial Intelligence services.
As a result, the smart mobile apps with intelligent features will ensure strong revenues for the Artificial Intelligence App Development Companies. In this blog, I've put together a few AI app development companies that are developing AI-based mobile applications to stay competitive in this digital market and win over the competition.
Artificial Intelligence Market Size Globally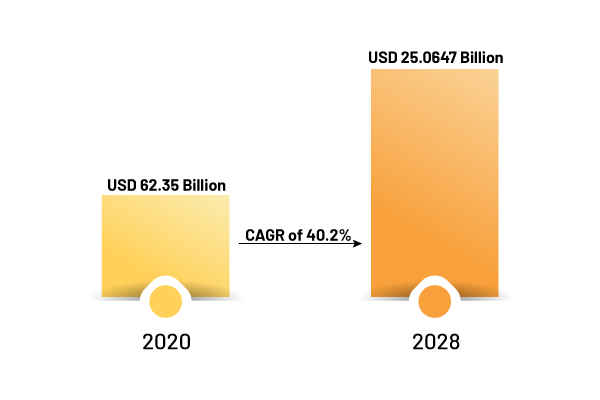 In 2020, the artificial intelligence market size globally was valued at USD 62.35 billion. Moreover, it is anticipated to grow to USD 25.0647 billion with a CAGR (compound annual growth rate) of 40.2% from 2021 to 2028 according to Grand View Research.
Top AI Application Development Companies
1. Nimble AppGenie
Nimble AppGenie is one of the fastest-growing Artificial intelligence app development companies in the United Kingdom. It was founded in 2015, and since its inception, the company has been helping several organizations strengthen their IT infrastructure. The company has a team of fifty plus (50+) experienced developers devoted to creating great web and mobile applications with agility in their core, to ensure timely and efficient delivery of all projects. As a result, they lead their industries and provide excellent value to their users.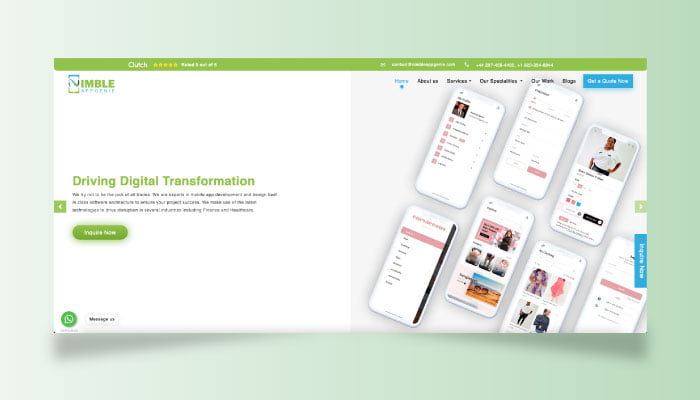 As we can see, AI is ruling worldwide, and we can also say that the effect of AI on nearly every industry is set to increase exponentially over the next five years. Nimble AppGenie's expertise helps businesses to be at the forefront of this transformation. Moreover, the company has been rated 5 out of 5 by its customers on Clutch.
In addition to Artificial Intelligence, the company has also fueled tech transmutation in various other industries, including Healthcare, Food, Recruitment, Education, Transportation, Logistics, and many more. The Digital Bank of Africa (Dafri), Medu4, CUT Wallet, Pearl Cab, Curvacious, and DRT are among the top clients of Nimble AppGenie. Thus, their portfolio indicates that they help many startups. Furthermore, they've also helped established traditional banks and financial institutions achieve digital transformation.
2. Miquido
Miquido is a software development company that excels in the creation of data-driven applications and Web services. They enable a smooth and reliable digital transformation by providing comprehensive services that embed technology into business. As a result, they have delivered 100+ digital products in the market related to m-commerce, FinTech, streaming music & video, and many more sectors. Their experienced developers provide many services including, R&D, UX / UI Design, Web and Mobile Development, Artificial Intelligence, Business Data Science, Digital Transformation, and many more.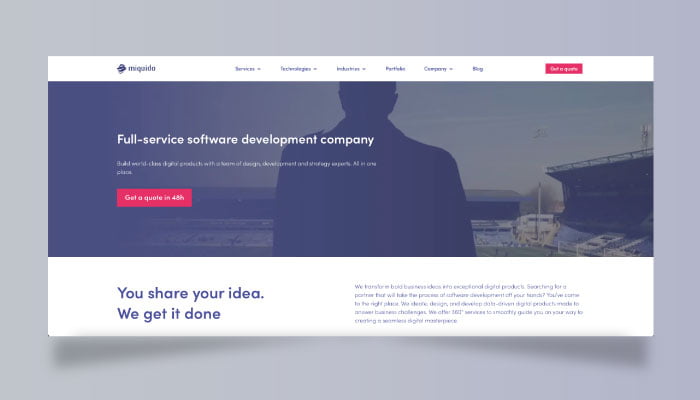 For example, to stay competitive and win over the tough competition, an exciting global travel company needed to improve its mobile applications. So Miquido helped the travel firm develop a mobile app to improve the experience of their customers. Moreover, they seek out and utilize the latest technology to create better, more effective solutions to provide their clients an unparalleled competitive advantage.
3. MobiDev
MobiDev was established in 2009. It is a software development company with headquarters in Atlanta, Georgia. They have a 200 + employee team that offers custom software development, mobile apps, the development of things on the internet, and web development. They have set their goal as working software that brings returns and further profits to the Customer. The stable core of the MobiDev team gathers experience and involves new resources to reveal their potential and creativity in software development. Moreover, they have completed over 100 challenging and successful projects for their clients from 12 countries globally including many long-term clients in the USA, Europe, and Australia.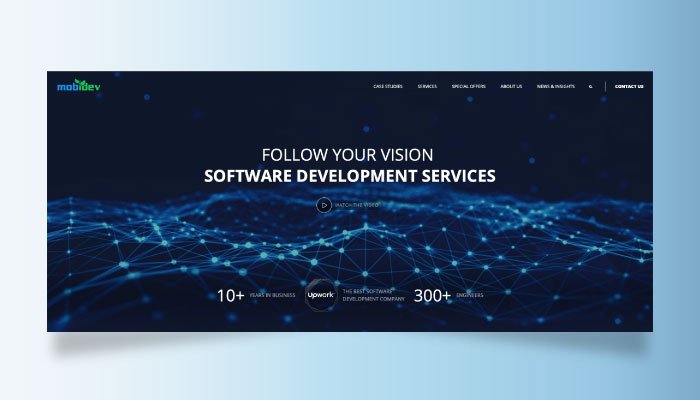 For example, MobiDev provided outsourced development for a company using the dating app. Their expert team developed the front-end and back-end of the app using PhoneGap for iOS and Android. As a result, the app quickly became one of the top 100 apps on the Google Play Store.
4. NMG Technologies
NMG is a software development company building advanced websites, software, and mobile apps using the latest technologies since 2008. They are proud to develop strategies and processes that help their clients in achieving their goals. Moreover, they work with 300+ entrepreneurs and business owners looking to take their businesses to the next level. Their prime mission is to help business owners drive measurable growth by using online application solutions that autonomously build a seamless process for internal employees into actionable insights, which then power end customer interactions at scale.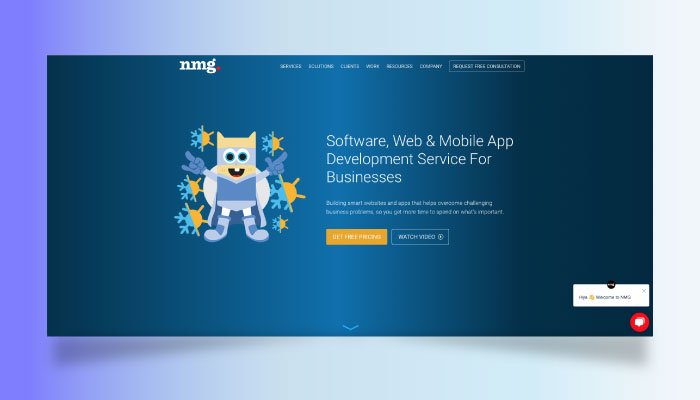 Furthermore, they have a very passionate and innovative team of 100 people, including nerds, engineers, consultants, and creative types from many diverse backgrounds. Their experienced developers love working and learning.
5. Master of Code Global
Master of Code Global company was established in 2004. It is headquartered in Redwood City, Calif., practices in designing and developing web, mobile, chatbot, and AI-Powered conversational solutions. Moreover, they also have offices in Seattle, Denver, San Francisco, Canada, Winnipeg, Cherkasy, and Ukraine. Their whole team is very passionate about mastering interactions. They thrive every day on making each conversation impactful and powerful. To do this, they develop Artificial Intelligence-powered conversational solutions that have been recognized globally.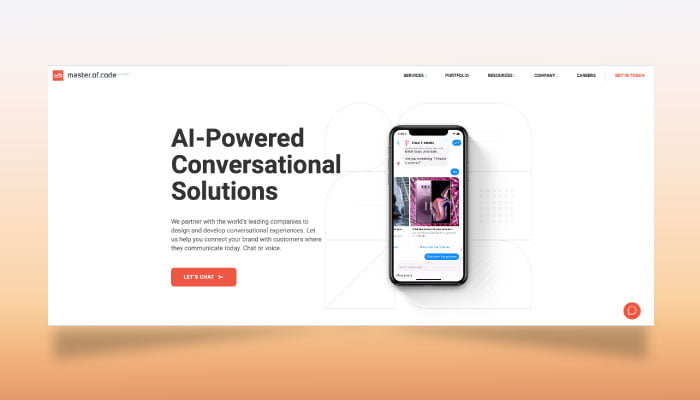 Furthermore, they have delivered 350+ projects and have 15+ million users engaged by their chatbots. Also, 94% of their customers recommend them in the market. For example, a Master of Code Global has helped an electronics manufacturer by developing an Android app and backend of the website. They have also tested existing products for the customer. The work of Master of Code Global helped the electronics firm to sell 6,000 product units.
6. Hatchworks Technologies
Hatchworks Technologies was established in 2016. It is a digital technology services company based in Atlanta. They provide custom software creation, business intelligence & big data consulting & system integration, cloud consulting and mobile apps, AI (artificial intelligence), and IoT (internet of things) development. From the very first meeting through project imagination, development, and launch, to support and beyond, their business is predicated on them being accountable for the entirety of your solution. That's why their approach is so different. At HatchWorks, they are ready to invest in you as much as you are here to invest in them. As a result, they are 100% committed to their clients, promising to ignite vision, accelerate time-to-market and time-to-value, and enable them to succeed now and in the future.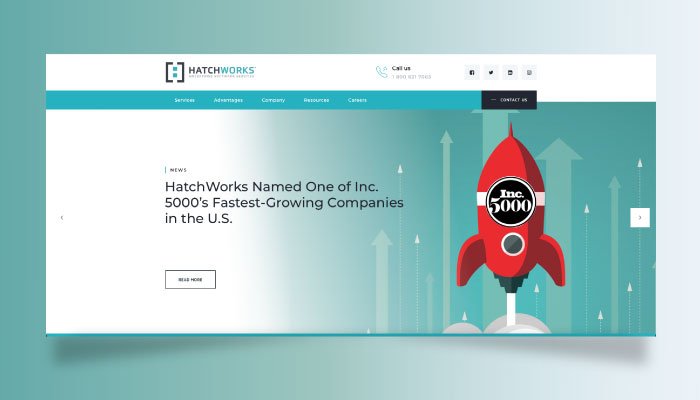 For instance, A consultancy firm wanted to break off part of the company and wanted to transform itself into a startup for the healthcare industry. To create the best prototype, Hatchworks Technologies conducted thorough market research. Conclusively, the team completed all of the final site development in PHP and node.js, hosted on AWS.
7. Smith
Smith.ai was established in 2015. It is a virtual receptionist and lead services company based in Palo Alto, Calif. They have 100+ staff specializing in live calls and website chat for small and medium-sized businesses, typically in hospitality, finance, banking, e-commerce, legal, healthcare, and real estate. In addition, they provide various services including AI chatbots, live chat, optimizing conversions and virtual receptionists. Also, to meet client expectations of 24/7 live chat, they utilize a highly-skilled global workforce backed by their sophisticated AI technology, ensuring that high standards are met no matter what time of day or night.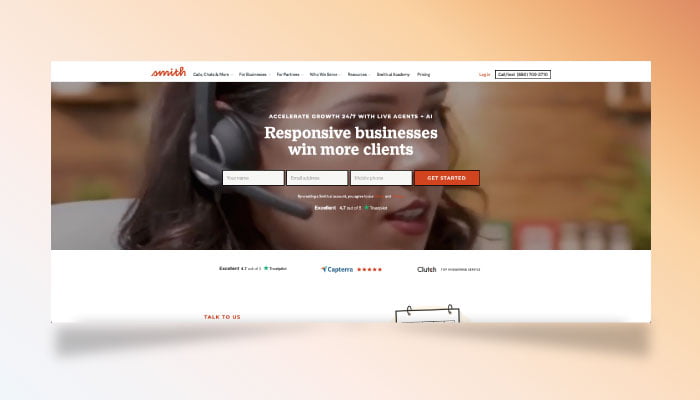 Smith builds and develops their technology in-house, based on feedback and requests from customers. This means when clients need something, they can do it — unlike other services without their engineering teams. For example, Smith.ai provided a law firm with ongoing calling services that handled Inbound and outbound calls, website chats, and any scheduled consultations or calls. Working with Smith.ai allowed the client to scale their customer base and revenue.
8. VAO
VAO (Virtual Activities Organization) was established in 2004. It is a software house-based company operating in the Polish, European and American markets. They have an office in Poznan, Poland, and have an additional London office. They offer a wide range of IT solutions. First, they design and implement advanced web applications (PHP – Drupal, Magento, Laravel, ZF, Java, Node.js, ReactJS, iOS, Android). Secondly, they create and implement specialized applications for internal use in companies.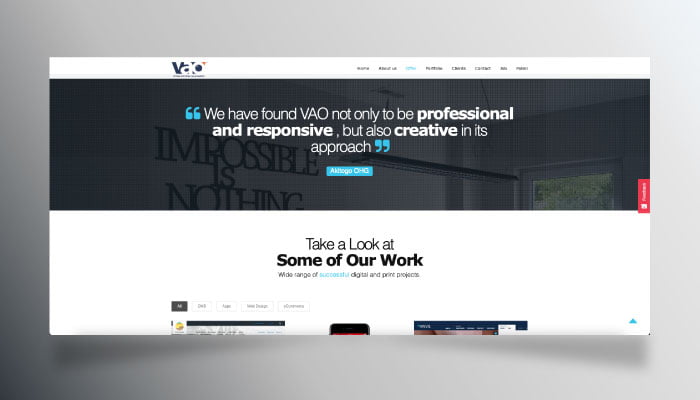 In addition to that, they deliver different DTP (Desktop Publishing) services. Finally, they provide comprehensive IT outsourcing and IT consulting. Their main goal is to fully use the most effective solutions to meet the targets defined by their client.
9. Rose Digital
Rose Digital was founded in 2014. It is a New York City-based technology consulting company. They specialize in mobile app development, web development, and AI-powered solutions. Moreover, they work with mid-market businesses and small businesses, focusing on business services, arts, entertainment, advertising and marketing, business services, arts, music, and many more. They focus on innovation, which sets them apart from other digital agencies is their expertise in augmented reality and digital transformation.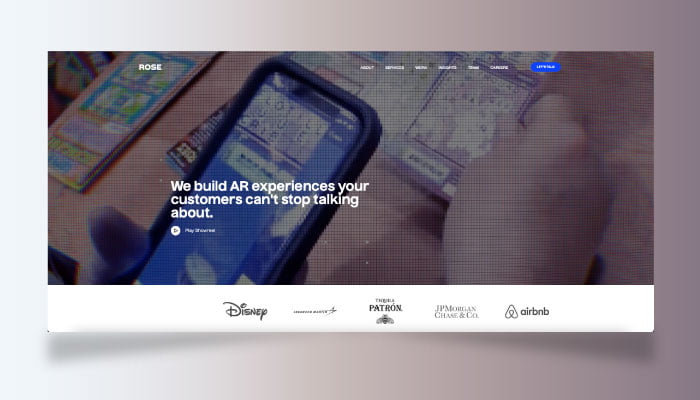 Furthermore, they know how to tackle augmented reality, virtual reality, machine learning, and artificial intelligence to bring digital experiences for the customers. They also know how to create game-changing web and mobile experiences using UX/UI design, digital strategy, best-in-class technical execution, and thorough quality assurance. Their goal is always to use innovative strategy, design, and technical expertise to reduce the risk of duplicacy.
For instance, Rose Digital has worked with a digital business to develop AR web and mobile applications. As a result, they built a web-based AR experience that enabled users to interact with animations of 3D products.
10. SoluLab
SoluLabs is a mobile application and custom development company based in Ahmedabad, India, with additional California and New York offices. It was founded in 2013. They have a team of 60+ developers with various specialities – from developing mobile apps to Blockchain and Artificial Intelligence to developing IoT (Internet of Things) to SaaS (Software as a service) products. Their clients bring complex challenges that need a problem-solving approach. They take the time to fully understand their business goals and competition to design an innovative solution to their challenges. As a result, their solutions have made their clients more productive and successful.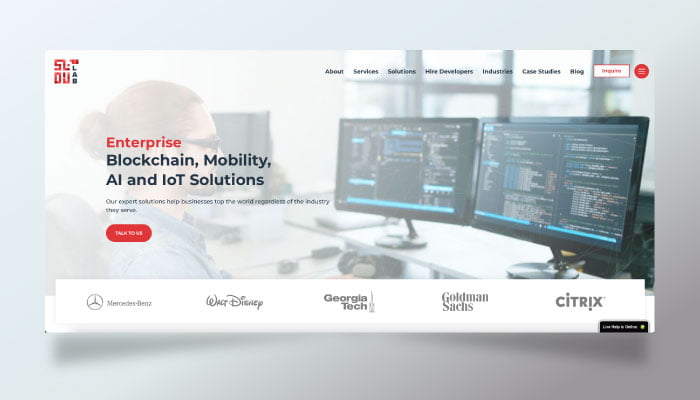 For example, A social fitness startup hires SoluLabs to develop a mobile app from scratch. The product was recognized for its user experience by Inc. magazine and used geofencing to connect people to fitness venues at different locations. They developed the Android and iOS apps that have enabled the startup to gain more recognition and funding after their release.
Benefits of Artificial Intelligence
1. Reduction in Human Error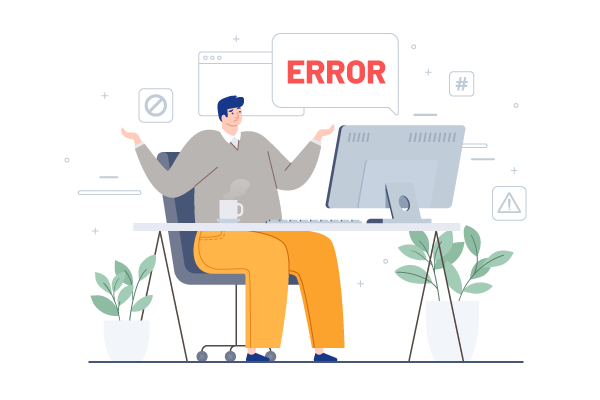 We all know human error means humans make mistakes. But in the case of Computers, if they are programmed properly, they do not make these mistakes. The decisions are taken from the earlier accumulated information applying a certain set of algorithms with artificial intelligence. As a result, the chance of reaching accuracy with a greater degree of precision is possible, and errors are reduced.
2. Takes Risks Instead of Humans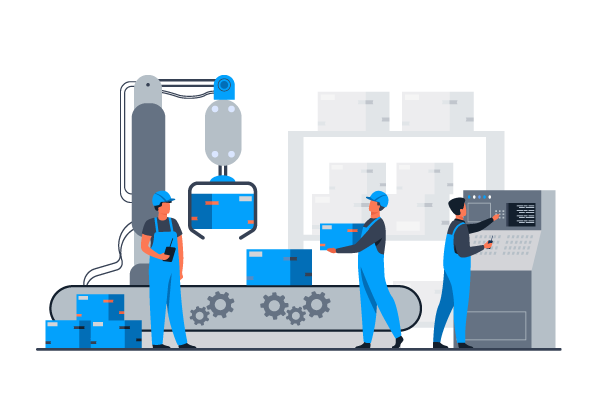 Businesses can overcome many risky limitations of humans by developing an AI Robot, which can then be given risky and dangerous tasks. Let it be going to mars, mining for coal and oil, defusing a bomb, exploring the deepest parts of oceans. Therefore, it can be used effectively in any natural or man-made disaster.
Wrapping Up
The demand for smart applications is exponentially increasing. This can be seen especially with the rapid development and advancement of technologies like IoT (Internet of Things), Artificial Intelligence (AI), Cloud, Augmented reality (AR) and Virtual reality (VR) technologies.
AI-driven tools have shown significant success in businesses, but to receive these benefits, it is important to hire expert AI development companies.
To provide you with the best results, I've mentioned a list of the top ten artificial intelligence application development companies and the benefits of AI. I hope everything is clear now, but if you still have any doubts, please contact us.
We, at NimbleAppgenie, have our conventional practice to build robust, faster, secure, and more efficient AI products. In addition, we are an extremely professional artificial intelligence application development company, which provides innovative development services to companies globally.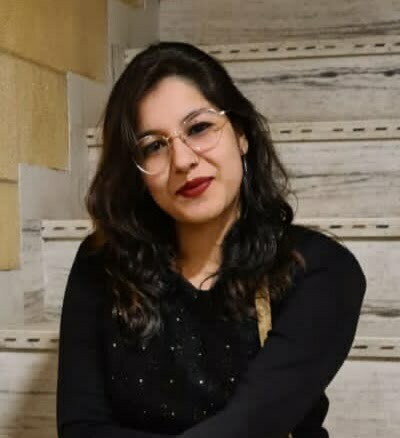 Divya is an outstanding writer at Nimble AppGenie. She is very innovative with her creative ideas. She is very passionate with technology implementation in several industry verticals and always keen to learn new opportunities that brings business efficiency and profitability. Whereas, Nimble AppGenie is an expert in developing solutions for Healthcare, FinTech, and EdTech. Nimble AppGenie is helping small-large scale enterprises by providing innovative solutions that excel in the market.