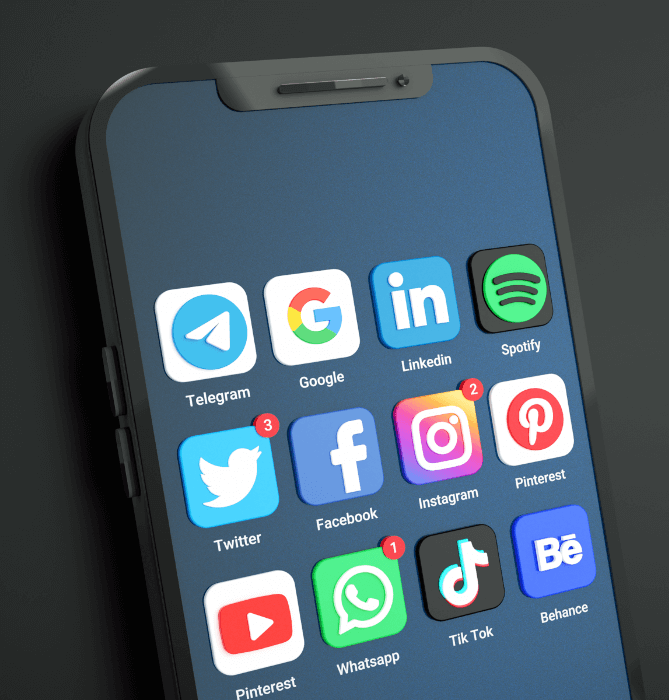 Create A Social Media App From Scratch
Social networking apps like LinkedIn, Facebook, etc are one of the megatrends on this age. This is the new normal and quite fittingly, this industry is valued at $223.11 billion in 2022. Nothing screams business opportunity like social development app.
If you want a piece of this cake, you can create a social media app of your own. Nimble AppGenie being a social network app development company with an experienced team of the developer can help you do just that.
Social Media
Data-Driven Social Media App Development Solution
Our social media app development solutions are made with business goals and market needs in mind. We integrate the app with the best features that help you get the most out of the app.

Easy Signup
The user can easily join by registering on the social development app through their mobile number or e-mail ID. This is just a few-step process.

Social Sharing
Social sharing allows the users to create and share a post on social networking mobile apps including photos, videos, and music.
Privacy Management
With privacy management, the user can manage which data they want to be shared and which one is to be kept private in regards to the social network.

In-App Chatting
In-app chatting or messaging feature is a basis of social media app. It allows you to connect with your network via messaging through the app.

Social Networking
Social app development also includes featuresthat will allow you to add friends, manage your network, and send a request to join other's networks.

Instant Notification
Instant notification sends alerts to the user about new posts, likes, comments, new network requests, and all the activities within the social media app.

User Base Management
User base management in the admin panel included in social networking app development, enable effective supervision of the social network user base.

Activity Analytics
The app also enables the admin to supervise and analyze various activities on social media app for valuable insight and proper functioning.

Shared Content Management
Sometimes people don't follow the guideline and post something that goes against community values. This feature allows the admin to remove these posts.

Ad & Promotional Activities
Through the admin panel, one can also run ads and promotions or control the campaigns ran by adverting agencies on the platform.

Message broadcasting
The admin if need be can broadcast a message throughout the user base of the social networking app with this feature.

Client Support
Social media app development's admin panel also includesa client support feature that is quite useful for both clients and the user base of the app.

Business Account
Social media is home to many modern influences. Thus, our social media application developers also enable you to create a business account.

Post, Likes, Comments
You can like or comment on your friend's post and they can do the same using this feature of social media app development by Nimble AppGenie.
Live Streaming
With live streaming, you can stream your video feed on social media, and users added to your network will be able to see this live stream.

In-App Voice & Video Calling
Along with the in-app chatting feature, you can also call or create video calls with your network of friends through the social media app itself.

Geolocation
Geolocation feature of the social networking mobile app, you tag location to your post or share it on the social media platform for your network to see.

Search Feature
The search feature allows the user to look for their friends who may be available on the social networking app to connect.