PHP is evolving rapidly. The reason for PHP's success is its ability to safely handle complex apps. Language is developing at a faster rate than we think. It is considered and stated by many skilled PHP developers that "the PHP framework is secure, easy to maintain, and scalable." Some examples of web development on PHP Framework 2023.
According to some latest surveys & research, it specifies that 2019 will go to see the transformation in a PHP framework that will build robust web development. In this blog will outline some of the essential PHP frameworks that will rule2019.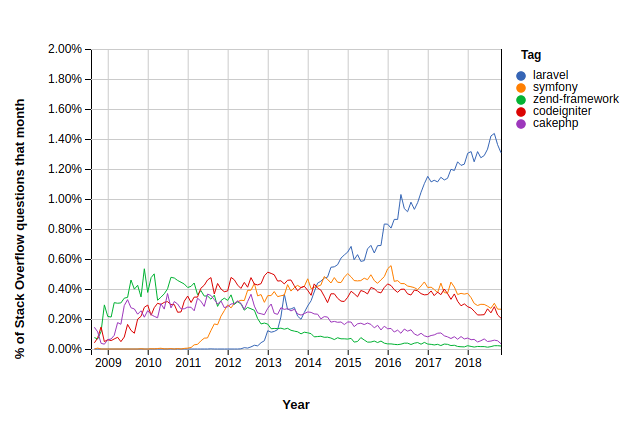 The Top PHP Web Development Framework
In this blog, we shall be looking the best PHP web development framework that you can use for website development. We won't be just looking at one or two but 10 best platforms. These are, as mentioned below:
1. Laravel – The best PHP Development Services
The Laravel is the topmost and open source PHP framework that builds robust web solutions.  Laravel makes the authorization logic simplers and have reliable access to resources — the framework support object-oriented library that comes up with pre-installed features. The Laravel development company is in high demand. Laravel has strong features including robust tools, communicative migration services, and testing maintenance tools. However, the only flaw of Laravel is slow speed, and it's big.
2. YII framework
Features and benefits of this framework- Highly extensible, modern technologies, easy to install and advanced technology, enhanced performance and utilize the themes.
3. Symphony
It is one of the highly common and most consistent PHP framework 2021 among skilled developers. Symphony provides features like – ease of testing, Flexibility, and long-term support. It is highly flexible. Although, the security mechanism is quite hard to use and the framework is used to build superb web and mobile apps.
4. CodeIgniter – Unmatched Web Development 
CodeIgniter is the outstanding framework which is currently available in version 2.6. Naturally, it is an open-source network and possesses the capability to build the most excellent web solutions. The main features include compatibility with standard hosting, no large-scale monolithic libraries. The main benefits of this framework are easy to use, flexible, compatible, secure and user-friendly.
5. Slim
If you are in search of a PHP framework 2021 that works simple yet effective, Then say hello to Slim. Slim is easy to learn, lightweight, secure, HTTP methods, can be used to develop both small and large websites and elaborated documentation.
6. Zend framework – Custom PHP Develoment
The reusability of codes is the biggest perk of the Zend framework.  The Zend framework is written in   PHP 5. The framework is consisting of a large community of developers, full of tools and libraries act as an addition to its richness and usability. Along with this, the Zend framework is safe, flexible and innovative. Over the years, Zend Framework one and two have been used in significant enterprise projects.
7. Aura
Aura will be a good choice if you want a framework that provides higher quality checked.  It is an open-source network, UI Framework that used to build PHP applications that are dynamic and flexible, scalable and extensible.  The key benefits of this framework are – markup and static resources, object-oriented programming behavior, controllers, models, CSS, and performance testing, and responsive web design.
8. CakePHP – Flexible PHP Development
CakePHP is 100% compatible that makes it instantly favorable for developers. It is considered to be the most reliable framework as it offers extensible architecture for building, maintaining, and deploying applications. Although, it doesn't adopt the newer PHP habits.  Some of the most used features comprise – cookies, security and email, and session. The significant advantages you can get from CakePHP Development Company are that the platform is – open source, Easy, Database Administration, cost-effective and superior compatibility.
9. Phalcon
Phalcon framework is written by making use of C & C++ language. Mostly the framework is developed by full-stack developers. The framework is easy to install, highly extensible and built up of using modern technology. The framework can build an advanced web application that also performs well.
10. PHP MVC Frameworks – Growing PHP Framework
The framework is easy to get started for developers. The key benefits are impressive routing systems and the ability to compile fast and HMVC pattern-oriented. This is what makes cakephp web application development services so popular.
Conclusion:
It can get complicated to select the right PHP development framework to create web applications of choice. So far we have mentioned the list of robust PHP framework 2021 for startups that would surely help your business to achieve success in the upcoming years. The success of your project does not rely on the selected technology but on the procedure, which is developed matters as well.
Nimble AppGenie has a team of highly knowledgeable professionals that possess excellent skillsets, and PHP Application Development Company is one of it. We will help you with various things like conversion and review of your code to make your PHP codes ready. Depending on the factor that affects the conversion of codes, we can complete the conversion ranging from a few weeks to a maximum of three weeks. Our developer's team has the capability for any web and app development. So if you want to create your website and application for business purpose at a reasonable price feel free to contact us– at contact@nimbleappgenie.com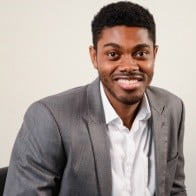 Jermaine Trotman is the co-founder of Nimble AppGenie, a company renowned for its bespoke mobile app development and web development in e-wallet app development and fintech development.