According to the latest reports by Newzoo, it is estimated that by the year 2021, the population of smartphones user will rise to about 3.8 billion. This enormous growth of smartphone users has resulted in a hike in the mobile app development industries. From small-scale start-ups to well-settled businesses, every business owner is looking forward to developing a mobile app that can meet customer requirements, to increase business. If developing an app that is more user-friendly, they must understand the importance of big data companies' analytics to app development.
Impact of big data companies
Gone were the days when mobile phones were used just for calling and messaging. In the era of the smartphone, mobile apps have enhanced the lives of humans. This digital era is helping start-ups, freelancers, and enterprises to manage and run their businesses easily, just with the help of a mobile app.
If we compare the new app era with the traditional business methods, both are just opposite from each other. Since the traditional methods are unnecessary, they resulted in an increase in the competition between various business firms. But now as companies are using mobile apps to offer services, the competition has been reduced to the effectiveness of mobile apps like customer service, product offering or service efficiency, and most important, user experience. The engagement of customers basically depends on the flexibility of your app's user experience.
Since, as the user experience is the most important aspect of mobile app development, many big enterprises and small start-ups are stuck with the question that "how to build an app with the most flexible user experience that can meet the requirements of users across the globe?"
The mobile apps can perform various tasks easily, but to perform these tasks, tremendous use of data is required. To easily manage and analyze all the data, and information tool is required. In this situation, a big data companies analytics tool plays an important role. Most of companies use the data collected by the app to obtain information.
The Rapid Change in Growth of Data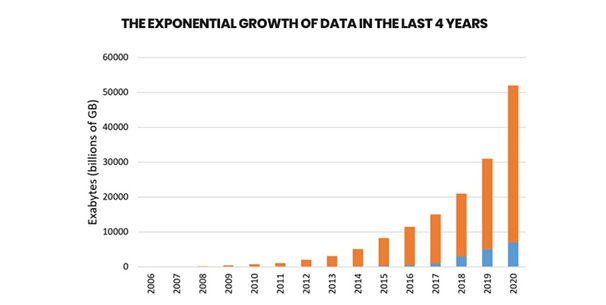 As the figure indicates, in the last 4 years, an enormous amount of data has been produced than the entire previous years. By the year 2020, with around 10 billion MBs of data every second, we will be accumulated with 44 trillion GBs of data. Looking at old figures, approximately more than one trillion photographs were captured using smartphones, in 2017. And around billions of photographs were shared on social media using various mobile phones. In the year 2015, around 1.5 billion mobile devices were sold in China and India's South Asian countries. Now at the end of 2019, there is more than two billion mobile phone user, worldwide.
As the growth of data is directly proportional to the total number of smartphones sold, the increasing number of mobile phone users shows why the data is being increased at this rate. There is no doubt that big data companies analytics has brought efficiency to mobile app development in various ways.
End-to-End Marketing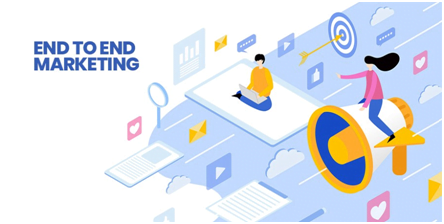 Before developing an app, it is integral to determine the current trends of the market. Big data companies can greatly help to determine the latest market trends, but some businesses are also using big data in the mobile app development process, which is well after they have established the market trends in relation to the project. Big data analytics has also made the process of removing and storing open-source code for developers easy and flexible. Due to streamlining, the coding time has reduced, which has also resulted in reduced cost of production.
With the help of a big data analytics tool, you can easily target a large number of audience and also you can get high traffic on your business app. Big Data targets services like Predictive Analysis, that helps companies to predict the success, long-term use and future of the app. Moreover, this tool also provides service of data mitigation by which app development companies can easily and quickly transfer the data between various apps.
Customer Driven Applications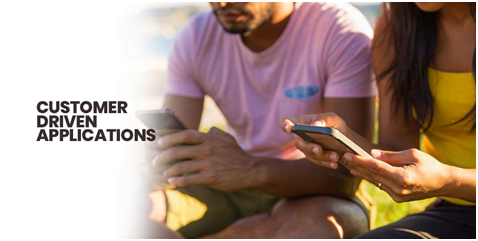 If you want your app to be successful in its initial stage, then you must develop an app that is easy to use, has an eye-catchy look, and is totally bug-free. But if you are planning for an app to survive in the market for a long time, then it must fulfill customer's needs and requirements. Big Data analytics offers a complete report based on the customer's requirements and needs. By targeting customer requirements, app developers can easily develop an app that meets customer needs and provides a flexible user-friendly environment.
The big data analytics tools carefully study and analyze the customer requirements to provide detailed information about customer behavior. App developers can use this information to create solutions with enhanced services for existing applications to attract more customers. While maintaining good relationships with older customers. By developing apps according to the client's needs, companies can generate huge profits and can their business to some new heights.
Real-Time Data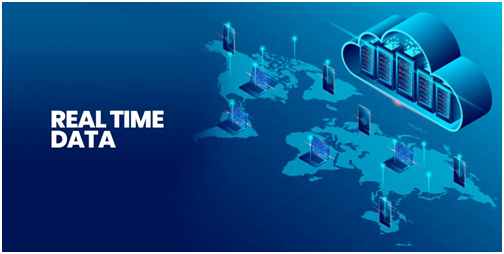 With continuous change in trends at a rapid pace, customer's needs and requirements are also changing. App development companies must be aware of the latest trends and solutions if they want to stay ahead in the competition. With Big Data analytics, companies can get real-time information, and they can make apps with improved and enhanced services. This helps companies to improve sales conversion and also customer contentment.
You can understand this concept more clearly by taking the example of fitness apps. They monitor activity patterns, health, eat, walk, sleep, and overall health. For the fitness app to work correctly, it must collect real-time data and information.
Android App Development with Big Data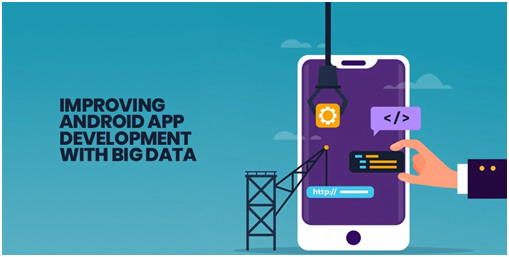 Industries and app developers believe that in the coming years, Java will be affected by data analytics to an amount that it will become the basic need for other app development tools. No doubt, many app development companies, and enterprises have adopted this technology to generate huge profits and revenue. Due to its open-source communities, it has become easy for developers to adopt this technology for app development.
Since most of mobile applications have been developed with programming languages. Like Java, many new young developers are learning and adopting this language for app development. This is due to a lack of learning and discovery of learning that is attracting these you developers for app development. This clears that Java plays an important role and is also the future of big data. The programming language has been in the market for quite a long time. But with the introduction of Big Data Analytics, the language has accelerated in the market at a rapid pace.
Better Sales Conversion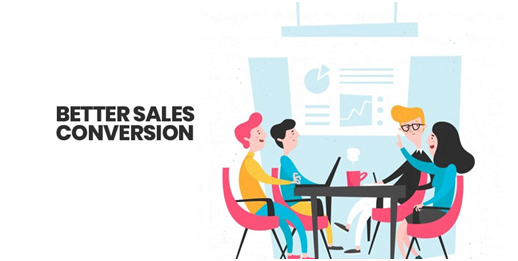 Big Data is not only limited to collecting data and information, but it also helps firms to install products to launch them in other states as well as countries, which will definitely result in increased reach and engagement on your app. Mobile apps are basically developed to improve the reach of the app. Moreover, you can provide an in-app purchase option to monetize your application. But before this, you must understand the purchasing trends of the market if you want to successfully achieve this goal.
Big Data also allows firms to develop individual apps according to the user's needs and requirements. Big data element edge computing helps the firms to study and analyze the information that is closest to the source. This results in reduced latency and cost of development. Undoubtedly, this increases app-performance and also encourages user engagement.
 UX Analytics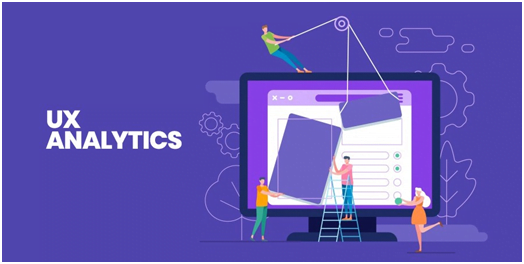 As discussed earlier, it is important to analyze the UX before developing any app. Big Data Analytics deeply studies the critical behavior of customers for enhancing the core functionality of the app. The information analyzed by big data analytics can be collectively used to understand customer needs for developing a mobile app. Moreover, big data analytics also helps the developers to determine. If the customer is facing any problems or issues while using the app. It is also aware the developer is the app that needs any upgrade as per the end-user experience.
Based on the latest buzz about mobile app development cost and time, the moderate time taken to design an app similar to Uber is 6 months. Now in order to run your app smoothly. It is necessary to collect a huge amount of data like customer location, banking information, payment information, app usage, etc. All the data is collected and gathered at a single place and then later accessed by big data which helps in the flexible functioning of the app. In addition to this, companies can develop apps with new features. And more innovative aspects by carefully studying user's responses towards the mobile app.
Understanding Data and it's Future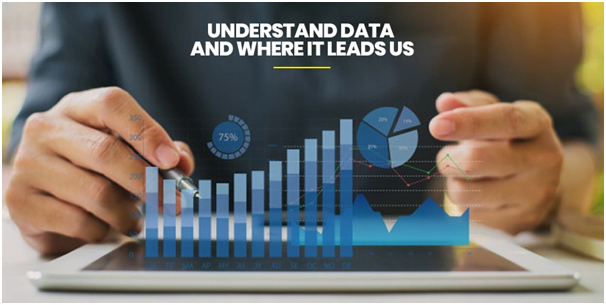 Whenever you create a new account or register on an app, you have to fill basic details like name, location, etc. Some other apps like Amazon or Flipkart also ask for your preferences and interests to serve you better. Since there are thousands of smartphone users in your region and millions are in your state. And billions of people are using smartphones globally And  user data stored by various apps like food delivery, virtual cab, is in huge amount. The data is not of any use until it is processed into a piece of meaningful information.
Data is transformed in the form of meaningful information and later conclusion and results are drawn from that information. In this situation, big data plays an important role. Corporate giants are generating huge revenues and profits with this meaning information. Enterprises are nowadays using this information to develop apps with enhanced user experience. Many other app companies like Amazon and Flipkart social ads, promotional offers, and personal recommendations. Surprisingly only 0.5% of data is used by enterprises for generating information.
Corporate Giants That Use Big Data Analytics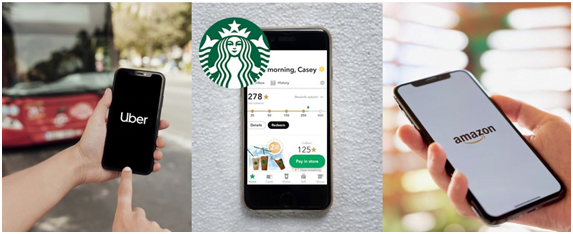 No doubt big data analytics is used by various big corporate enterprises to collect customer-centric data to deliver the best services of their interest, there are some popular corporate giants that are also using these tools.
Starbucks
If you look at the marketing strategy of Starbucks, they have around 3 branches in the same street but still they are generating huge profits from their business. This is all due to Big Data Analytics which they use to determine the success ratio of the business in a particular area, based on traffic, population, and customer behavior.
Amazon
Amazon app displays the recently viewed items or similar items whenever we navigate through the app. This is due to the Big Data Analytics technology used by Amazon for predictive analytics. In this way, they keep the customer's loyalty and also prompt them to place the order. Moreover, they also use Big Data Analytics to analyze various other important things, like the most searched item by the customer and the time period when maximum traffic arrives.
Uber
Big Data Analytics is used by Uber for multiple purposes. Whenever you book a ride, Uber analyses various factors like real-time traffic, availability of rides, nearest drivers, ETA, estimated cost and many more. Other than this, charge pricing is used to charge amount according to waiting time.
Big Data for Future Apps
As a large number of users are adopting smartphones and tablets. It is expected that by the end of the year 2020. The mobile app market will reach approximately up to $189 billion. So if you want your business to be in the app development race in the future. Then you must build a better mobile app with future scope.
If we compare mobile apps with computer software. Mobile apps are much handier and due to their flexibility and advanced features, they are much easier to use. Analyzing the important information before developing an app is a big investment for development companies.
Conclusion
Mobile apps are changing at a rapid pace due to their advanced features and ease of use. If developers want to deliver an app that is more user-friendly and effective. Then they must clearly understand the importance of big data analytics for app development. As the big data analysis provides important information about preferences, location, requirements, etc. If you want to efficiently use the data extracted from data analytics, then it is best that must hire a team of expert developers.