You're here to know how FinTech makes money. But do you know the different types of FinTechs, and the answer to why is FinTech so popular? New business models have emerged in the Finance industry as new entrants (FinTechs), taking over the traditional banking and finance infrastructure. This article will answer all your questions related to FinTechs. 
The world is moving towards a cashless economy with a faster pace of financial innovation. Banking and financial institutions are extensively using data analytics to digitize operational processes. Similarly, the customers are prioritizing digital convenience over traditional financial services.
In 2021, there are several examples of innovative ideas transforming into billion-dollar companies. Some of these financial innovators are Stripe ($95B), SoFi ($8.65B), Chime, Robinhood, Addepar, and many more. These innovative ideas have attracted attention from venture capitalists across the globe.
10 Most Innovative Types of FinTech Business Models
With more and more venture capitalists infusing money into the FinTech ecosystem, "challenger" banking and financial service providers are confident of wiping out institutional behemoths faster than Blackberry and Nokia were taken out of the cellular phone market.
The following are the top ten innovative FinTech business models that are lending the digital transformation into the banking and finance industry.

1. Alternative Credit Rating Sourcing
Despite having the open-banking infrastructure built, banking and financial institutions still face quality credit score assessments. Due to this, many self-employed individuals with a steady income source do not get access to loans.
Companies like Nova Credit are catering to the market with a new approach by consolidating several customer credit score data points, such as social signals and percentile scoring amongst similar browser clusters. By combining these qualitative factors with AI-powered self-learning software algorithms, credit scoring FinTech firms generate better credit scores, to allow loan lenders to make intelligent decisions.
For instance, if the lenders can determine a borrower's credit profile based on social preference, they can avoid lending to such individuals to eliminate the hassle of dealing with loan recovery.
2. Insurance Underwriting
Currently, two individuals with the exact bodily measurements, smoking and alcohol habits will be given the same insurance premium. However, one person can be a fitness freak, while the other might prefer a lethargic lifestyle, which makes them more prone to die of diseases like diabetes.
These inefficient premium calculations result from averaging out (aka Normalization) as risk assessment factors that don't account for unquantifiable factors. Like alternative credit scoring, FinTech companies like Carpe Data are focused on building computing mechanisms that utilize alternative data points such as social signals, medical history, and lifestyle.
When combined with machine learning algorithms, these InsurTech companies can help insurance companies determine insurance premiums and eligibility.
3. Personal Finance Management
The ubiquitous proverb of the modern world, 'Data is the new oil' is the idea behind these types of FinTech companies. These FinTechs in the transactional delivery space focus on creating free software solutions such as expense manager apps.
These apps collect customer data and cross-pollinate the collected data with the rest of the data sets to map the customer's buying potential to invest in real estate, buy financial assets, etc. Most of the FinTechs developed with this business model rely on commission or on selling third-party financial products.
4. P2P and P2B Lending
Peer-to-peer (P2P) lending is the FinTech business model, where individuals fund individuals, whereas the P2B model is about individuals lending money to businesses. These lending platforms are allowing investors to get higher returns on their investments.
Companies like Peerform and Funding Circle are bridging the gap between borrowers and lenders to make peer lending a reality. These platforms charge a commission to the lenders as a form of earning.
5. Small-Scale Loan Lending
Conventional lenders like credit unions and banks usually don't prefer to offer small-scale loans. It is because small-ticket loans bring low margins and have high processing costs associated with loan initiation and recovery. To eliminate this issue from the market, FinTech companies like Affirm are offering impulse buy mechanisms, which allow customers to opt for small overdrafts or loans, without having to fill time-consuming loan applications or forms.
Surprisingly, these loans are generally underwritten at a 0% interest rate and allow borrowers to buy almost anything with an option to pay in installments. You might wonder, how is the money made then.
These lending platforms charge the original equipment manufacturer (OEM) for the sale of their product. For options like no-cost EMIs, the manufacturer will give the discount as a form of interest to the lending institution. As a result, the end customers can buy the product at the market price and pay in installments without having to pay any interest.
6. Payment Gateways
With so many payment methods (id est, credit cards, debit cards, e-wallets, and cryptocurrencies) available in 2021, there is a need for new payment gateways that are cost-efficient and effective.
Payment gateways allow customers to pay for any commodity or make money transfers online. Usually, banks charge high fees to facilitate online transactions via all the aforementioned payment modes. However, many FinTech companies like Stripe, iZettle and Alipay are making it convenient and cost-efficient for online merchants to integrate online payment options to their websites.
7. E-Wallets
E-wallets are a combination of a no-frills bank account and a payment gateway. This business model allows users to pre-load virtual money into their e-wallets and use it to pay for goods or services. E-wallets are in trend, and more and more people have started utilizing the power of digital payments since the beginning of the pandemic.
The digital payment business model provides customers with the convenience to make contactless payments for a small fee that is mainly charged to the merchants as a form of merchant discount rate (MDR). These payment platforms also earn revenue by selling third-party financial services to their customers.
With innovations continuously happening in the e-wallet app development space, the cashless future seems very promising. The existing successful e-wallet apps in the market include Square Cash, Google Wallet, Samsung Pay, Venmo, etc.
8. Investment Platforms
There are online investment platforms that allow investors to buy stocks or mutual funds without asking for commission in return. Companies like Robinhood use the financial asset performance data to high-scale traders who can influence the stock prices.
Investors prefer investing via online investment platforms as they don't have to pay trading fees. Although the price investors pay for stocks are slightly higher than the stocks' actual price, the amount they save is significantly higher than the trading fee they'd pay via conventional means.
9. Neo Banks
You don't necessarily need a physical infrastructure to run a bank. Neo banks (operating entirely online) like N26, are reinventing the banking ecosystem by offering no-frills bank accounts for individuals and businesses. This business model is almost identical to the conventional brick and mortar setups. It is only more cost-efficient and available. The customers can access the banking services anytime and anywhere. These banks can provide higher interest rates for savings and offer loans at much lower interest rates.
10. InsurTech
Similar to neo banks, FinTech companies operating in the insurance sector are transforming conventional methods of offering insurance services. These InsurTech companies can variate their premiums as per the customer profile; hence, they can offer better insurance policies than traditional insurance players.
With the capability of offering personalized insurance plans, these InsurTech companies can create business possibilities that weren't possible with traditional infrastructure. InsurTechs like Lemonade are already utilizing the potential of technology in the insurance sector.
How Do FinTechs Make Money?
Most FinTechs make money through subscriptions, third-party financial services, and advertising. Ironically, most FinTech startups aren't even breaking even. Even Monzo and N26, which have been valued at $1.6 billion and $3.5 billion, respectively, aren't profitable yet.
Although for some FinTechs, ROI is slow, they'll eventually obtain the break-even and soon be profitable. I've researched several FinTech companies, and identified how FinTechs make money:

1. Data and Information
One of the popular reasons why FinTechs are so successful is that they can gather customer data and offer more personalized services. FinTech organizations can easily know where their customers are spending their money, how they receive salaries, and who are their favorite merchants.
More and more FinTechs are taking on this strategy to earn revenue. For example, the budgeting app Yolt has tons of user data pertaining to its budgeting habits. Thus the data can be a goldmine for third-parties, including credit score companies, loan lenders, and others.
2. Subscription Fee and Freemium Packages
With this monetization model, the money comes directly from the end-customer's pocket. Either on a monthly, quarterly, or yearly basis, the FinTech bills the users a certain regular amount as a subscription fee. This app monetization model is very effective for FinTechs, as free trials allow users to try their hands on the product before paying a premium.
Another strategy is 'Freemium,' where the FinTechs provide users with limited feature access to the FinTech apps for an unlimited period. However for features which provide a greater amount of value, the users have to pay a subscription fee.
Some FinTechs have an option to charge a flat fee, also known as the transactional approach. With this approach, the FinTech company earns every time that the user makes a transaction. The charges vary between 1% to 4% per transaction.
3. Advertising
Advertising products and services is one of the simplest forms of app monetization. This model works fine as the users don't have to pay subscription fees to access FinTech's product or services. FinTechs can sell user's attention or data to advertisers to earn revenue.
An example of this revenue model is NerdWallet. NerdWallet is a website that helps individuals make smart financial decisions. The website makes money from ads and also has partnered with third-party service providers to promote its products.
4. Third-Parties
This is among the most lucrative and effective revenue strategies for FinTech companies. With this mode, the FinTech companies partner with other third-party institutions to offer value via other means. For instance, a FinTech solution can also provide health insurance, credit scoring, accounting services, and many more.
The concept is very straightforward. The FinTech directs the customers to third-party services, and in return, the third-party service provider offers a certain percentage to the FinTech.
As per a report by Oliver Wyman, only 26% of FinTechs rely on third-party services. However, 43% of the FinTechs for the mass market use third-parties as revenue streams.
5. APIs
There is a very innovative revenue model that has emerged in recent years – APIs (Application Programming Interfaces). Enabled by an open banking environment, APIs offer FinTech organizations opportunities to partner with other companies in the ecosystem and share relevant data or features. For example, if FinTech A builds a cool feature, it can share that feature with FinTech B via APIs.
A white paper from FIS Global suggests that API sharing is a fertile ground for FinTechs to improve productivity. Since open banking is very new to the FinTech ecosystem, this model is still questionable. However, experts believe that this revenue model is very practical.
6. Robo-Advisors
Last but not least. Robo-advisors are platforms that eliminate the need for investment advisors. The platforms use advanced technologies such as AI and ML, to build algorithms that can effectively manage portfolios. Companies that provide such capabilities to their customers are Robinhood, Betterment, and Moneyfarm.
Although the users don't have to pay large amounts for the robo insurance advisory, they pay a certain percentage of their financial assets as a fee, but the charge is significantly lower. For example, the investment managers charge 1% or more for advisory, whereas Betterment charges only 0.25%.

Conclusion
So, now you know the answers to how does a FinTech work and how FinTechs make money, it's time for you to decide how to develop a FinTech app. If you're looking for a software development partner that has extensive experience in developing FinTech apps, feel free to reach us at contact@nimbleappgenie.com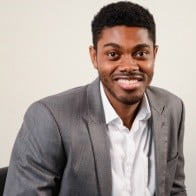 Jermaine Trotman is the co-founder of Nimble AppGenie, a company renowned for its bespoke mobile app development and web development in e-wallet app development and fintech development.