Chrome OS and Android are Google's best-known software projects until now, but the company is working to launch a new operating system in the market. Back in 2017, Google's new OS Fuchsia was popped up only as a single command line. But now a lot more has been revealed about the operating system. Fuchsia is totally different from existing mobile operating systems, including Android. But it is still a mystery surrounding the operating system whether it is aimed to replace existing Android OS or it is just an experiment by Google. Although Fuchsia remains fuzzy in mystery, the company is slowly revealing about it in the market that which devices it will support and what is its purpose. At Google's I/O developer conference the chief of Android and Chrome, Hiroshi Lockheimer shared some insights about its new project Fuchsia.
What is Fuchsia?
Fuchsia is completely different from Android and Chrome OS as it is not based on Kernel. It is an open-source project which is similar to AOSP but it could on all types of devices, from smart home gadgets to phone and laptop. It will be developed on the all-new Google-built kernel Zircon, formerly known as Magenta. According to developers, Zircon is aimed at "future smartphones and future personal computers." So one day, seeing Fuchsia on our personal devices will not be surprising for us. Moreover, Google has also integrated Apple's programming language Swift in this operating system.
Since Fuchsia is created using Flutter SDK, it is easy to run pieces of Fuchsia on an Android device. This version of Fuchsia completely reimagines the home screen, and it is called Armadillo. The screen will contain a big scrolling list with a profile picture, city, date, and battery percentage icon at the center. At the top, there will be a list of recently used apps. Below, there will be a list of suggested apps for you. In addition to this, you can also drag recently apps to drop them when you are organizing and personalizing the home screen. You can also open 3 apps at a time using the app spilled function.
According to Hacker News, Brian Swetland who worked on BeOS and Android, and Travis Geiselbrech, who worked on NewOS, BeOS, Danger, Palm's WebOS, and iOS, are also involved in this project.
Main Purpose of Fuchsia
Although it is still a mystery why Google is building Fuchsia, according to the latest reports by Bloomberg, Fuchsia is a new attempt to integrate the complete ecosphere of Google under a single operating system. The main goal is to run Fuchsia on smartphones, laptops, smart speakers, gadgets or anything that fits under Google's tech umbrella. The plan is to launch Fuchsia running on smart speakers and smart home devices within the next three years and then later move on to larger devices like personal computers, laptops before suspending the largest operating system Android.
The rumors are around for a while that Fuchsia will replace Android in upcoming years. Android was originally built as an operating system for digital cameras. It was launched long before the iPhone made its debut in the market. But after the launch of the iPhone, developers re-created Android for mobile phones. Google is still stuck with the commitments made with Android and the company also faces various struggles like to roll out timely updates across all the devices. Fuchsia will help to resolve these types of issues.
CEO Sundar Pichai and deputy Hiroshi Lockheimer haven't signed any sort of future plan of Fuchsia, so abandoning Android is still a long way off. Such change will be enormous for huge mobile manufacturers like HTC, LG, Samsung and many more. If Fuchsia is launched, then the move will be huge for the smartphone world. Since both iOS and Android apps can be built using Flutter SDK, developers have decided to bind apps with Flutter so that they can run on all mobile OS. There is no more news related to Fuchsia as it is in its early development stages. Google has already testes this new OS in some smartphones, and the testing is also carrying out with the Pixel book and other laptops too. The two major advantages of Fuchsia are mentioned below.
Capability – Based Operating System
Google's new OS Fuchsia is "capability-based," which means it has some set of rights. When a program is considered as capability-based it requires some permissions and privileges to perform certain actions. So, "capability-based" describes a security system for OS to keep the data of users safe and confidential.
 Fuchsia is Not Linux
The Fuchsia operating system is based on a microkernel i.e. Zircon. Currently, AMD CPUs are not supported by Zircon but it supports the arm64 and x64 architectures. Various other file systems like MemFS (in-memory), MinFS (traditional), BlobFS (optimized for write once, then read-only) and ThinFS are also supported by Fuchsia.
Closing Thoughts
The big question that comes in mind is that whether Fuchsia will replace Android and Chrome OS or not. Seeing the popularity of Android worldwide, chances are quite less of Fuchsia overtaking Android.
But if Fuchsia is introduced in the smart-home market and then later on larger devices, chances are there that Fuchsia will be the new future of devices that operate on Android OS. Fuchsia is still in its early developing phase, so chances are very less that it will be pre-installed on any new hardware devices till the end of next year.
Fuchsia is the new OS by Google which is still in its developing phase.

The OS is highly secure and scalable as it is based on Zircon kernel.

Fuchsia will be a "spiritual successor" to Andromeda OS by Microsoft.

When launched, it will be running Android Apps.
For now, there is no need to install Fuchsia until and unless you are curious to use an OS with no apps available and that cannot do much for you. However, it doesn't stop us from speculating more about the new project of Google. What are your thought about this new OS Fuchsia by Google? Share your ideas and let us know in the comments below.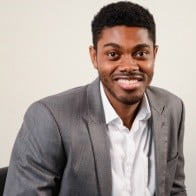 Jermaine Trotman is the co-founder of Nimble AppGenie, a company renowned for its bespoke mobile app development and web development in e-wallet app development and fintech development.