The on-demand industry has made human lives swift and easy.  Now you don't have to stand in long queues or wait outside a pharmacy to buy medicines. On-demand medicine delivery applications are becoming more and more popular day by day. Just a few taps, you can easily order medicines, with the medications being be delivered to your doorstep within no time. These types of applications are quickly gaining popularity, as it has already brought convenience to many lives by saving them from stepping out of their houses to buy medicine.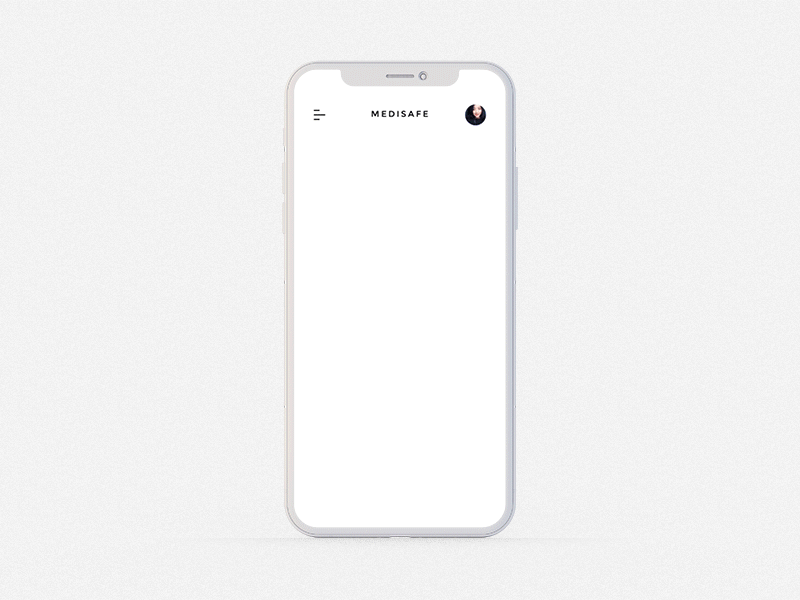 Read this whole article if you would like to know more about the features, requirements, and cost of developing an on-demand medicine delivery app.
Market Size Worldwide
According to the reports by Statista, the market of mHealthapplication will grow up to $100 billion and by 2025 the market will grow around $332.9 billion. This progress shows that the market of mHealthapplication will not settle soon, and instead continue to boom.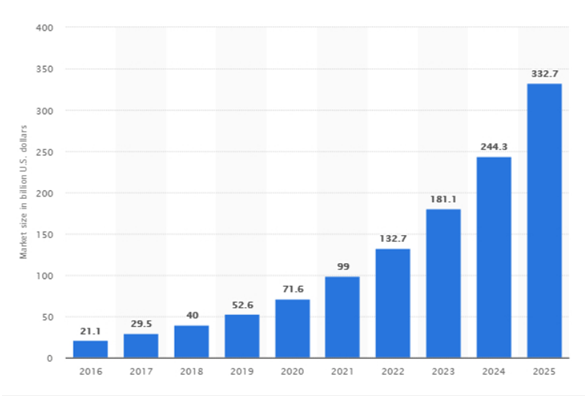 Why Medicine Delivery Apps are Gaining Popularity
The on-demand industries are ruling the market. With the launch of On-Demand Medicine Delivery Apps investors are making huge profits from it. There are some major reasons that these medication delivery applications have become very popular in the market.
Time-Saving
Users can easily order the required medicines with just a few taps directly from the app. This saves time by helping to avoid waiting in queues for a long time within pharmacies and hospitals.
Money-Saving
The user gets attractive offers and discounts whenever they order medicines from Medicine Delivery Apps. This ensures the loyalty of the customers and users can also earn loyalty points and rewards by referring the app to others.
Descriptive
The app contains complete information and detail about each medicine. It helps the user to know about the benefits, side-effects, and the ingredients that the medicine contains. This feature makes the app more flexible and easy to use for the user.
Top Medicine Delivery Apps
Pharmacy2U
Started as an online pharmacy in 2000 by Daniel Lee, the Pharmacy2U app allows you to order and manage your prescriptions whenever you need it. Being one of the most popular medicine delivery apps in UK, it delivers medications to your doors for free of cost. You just have to upload your prescription and the medicine will be delivered to your doorstep extremely quickly.
In addition to this, the app also reminds you when it's time to re-order your medications. You can order from more than 40,000 medicines according to your needs.
 Dr Now
The app offers delivery of medicines and prescriptions from a remote app-based consultation. You can talk to the specialist through a written or video-based consultation. Dr Now connects you with a qualified male or female GP, who will then give you a medical diagnosis whenever you need it. The app uses encrypted to cloud technology to keep patient's data safe and secure from threats.
Although there is a fix delivery charge, the app offers guaranteed next day delivery of medications. Those who live in London are eligible to receive medicines within 2 to 4 hours with special courier service.
Echo
Due to its advanced features, the app is most popular in England. The reason why the app is widely used by the people of England, with the Echo, you can manage the medication of up to 6 people with only your smartphone. You can also easily upload your prescription and details of your GP surgery with the help of a few taps.
The app also allows you to set reminders so that you don't miss your medications. Echo saves you from rushing to medical stores or waiting in long queues by delivering medicines to your doorstep. The app is available only for iOS users.
Features of On Demand Medicine Delivery App
Features define the flexibility and robustness of an On-demand application. The more useful features you integrate in your app, the more user-friendly your application is. Here is a detailed list of some features you can include in your app to make it stand out of the crowd.
User Panel
Registration
Users can create a new account with an email or they can use social media credentials to log in to the app.
Explore Medicines
There are thousands of medicine available in the app stock. Users can search and order the preferred medicines with just few taps on the app.
Upload Prescription
Users can upload the prescription on the app so that they can order medicine in a better and convenient way in the future also.
Add to Shopping Cart
Users can add the required medicines into the cart and can purchase them whenever they need it.
Chat with a Doctor
Users can discuss their health problems with the doctor or an expert directly from the in app communication feature.
News and Blogs
Users can view all the latest blogs and pharmacy-related news, various articles and researches related to fitness trends.
Track Order
Users can track the real-time location of the delivery executive. They can also check the order of status whether it is accepted or out for delivery.
Multiple Payment Options
Users can pay for their order by cash or by various integrated payment gateways like e-Wallet, Credit/Debit Card, etc.
Refund & Return Policy
Users can return the medicine if it is not appropriate for them and they can also ask for a refund.
Push Notification
Users are notified with their order status, trending fitness articles and latest discounts & offers by in-app notifications.
Loyalty Reward
The app allows users to earn loyalty and reward points by referring the app to friends and relatives.
 Rate and Review
Users can rate the services of the pharmacy and the delivery executive for a better future experience.
Pharmacy Panel
Registration
Similarly, like the user, the vendor can also register with an email id or social media credentials.
Maintain Information
The retailer maintains all its information as well as the user's information to provide the best services to them.
Listing Products
The store manager lists the available products according to category and deletes the unavailable items from the list for better user flexibility.
Maintaining Product Details
The vendor manages all the information and details related to the product and its benefits.
Filtering Similar Products
The store displays related items based on the user's search. This allows the user a better experience while shopping.
Managing Orders
The pharmacy manager can manage all the past and ongoing orders with the help of the medicine delivery app panel.
Maintaining Cost
The store owner manages and sets the price of the medicines according to market policies.
Providing Discounts
In order to keep your user engaged on your app, you can provide offers and discounts on medicines from time to time
Reviewing Users
Dealers can keep track of feedback on the customer, on delivery executive and even on the products that the customer has purchased.
Admin Panel
Admin Dashboard
The admin manages all the pending requests, orders, customers, and the store details from the dashboard.
Promotional Tools
The admin controls all the marketing templates, advertisement and campaign activities from this section.
Controlling Payments
All the payments made by the users through COD or by the in-app payment methods are verified by the admin.
Maintaining Users and Dealers
All the registered users, pharmacy dealers, and manufacturers are managed by the admin.
Notifications
The admin notifies the users and the dealers with the latest updates and news related to the app with the notifications being received through SMS or email.
App Analysis
The admin keeps a real-time analysis of the app by maintaining reports about total orders received, user feedbacks and, retention rates for managing the growth of the app.
Advance Features of On-Demand Medicine Delivery App
Apart from the above-mentioned features, there are some other features that you can integrate into your app to make it more interactive and user-friendly. So binding your app with these features is surely beneficial for your business.
 In-App Camera
Using the phone camera to take a picture of a prescription and then later upload it from your phone gallery is a tricky cumbersome task. The in-app camera feature will help users to directly upload the picture of the prescription in an easy manner.
Multilingual
The users of the app will be from every corner of the globe. So you should integrate a multi-language feature in your app, to achieve flexibility. This can be achieved by allowing users to choose their preferred language to use the app.
CMS
Editing or managing the content of the website is quite exhausting. An adaptable CMS or Content Management System will help the admin in maintaining and managing the content of the website and the app.
CRM
In order to keep your app users engaged, it is important to have a good relationship with all your users. A CRM or Customer Relations Management system helps you in keeping a long relationship with users and customers of the app.
Chabot
Sometimes users are not able to understand some features. In this instance, users can get answers for all of their queries and FAQs from the Chabot.
Smart Searching
This feature helps users to search for nearby pharmacies, diagnosis centers, and medical shops easily. Users can also search the preferred medicines by directly entering the name of the medicine.
User-Friendly
Integrating the app with the latest features makes it more flexible and user-friendly. This will help users to easily order their preferred medications.
Lab Aggregation
With this feature, users can easily search the nearby diagnosis centers for various categories such as a blood test, full-body checkups, regular checkups, and many more. The user will also be able to get the approximate fee for a particular checkup.
Reminder
The most beneficial feature of these apps is for aged patients. They can set a reminder in the app and the app will remind them when they have to take their medicine.
Team Structure for On-Demand Medicine Delivery App Development
Selecting an eligible firm for the development of your app is a quite difficult task. You must choose a company that has previously worked on these projects and that can understand your requirements easily. For developing a robust Medicine Delivery Application, choose a company with a team of experienced and skilled developers.
Here is a list of most prominent members required for developing an on-demand medicine delivery app.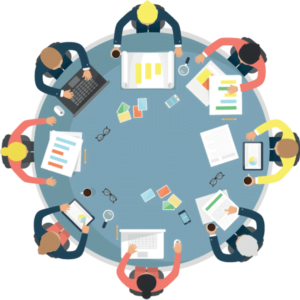 Project Developer

Android Developer

iOS developer

UI/UX Designer

Backend Developer

Tester
On-Demand Medicine Delivery Application Tech Stack
Various technologies have been introduced in the market. So sometimes it's difficult to choose the right technology stack. We have come up with the best technology stack you can use to develop a robust and interactive Medicine Delivery App with the most advanced features.
| | |
| --- | --- |
| Technologies | Features |
| Twilio, Push.io | Push Notifications |
| Nexmo, Twilio | SMS and Phone Verification |
| Braintree, Paypal, e-Wallets | Payments |
| MongoDB, Postgress,  Cassandra | Database |
| AWS, Google, Azure | Cloud |
| Hadoop, Cisco, IBM, Big Data | Real-Time Analytics |
Cost of Developing a Medicine Delivery App
Calculating the exact cost of developing an On-Demand medicine delivery mobile app is not an easy task. As the cost depends on various factors like features, platform, functionality, complexity and many other dependencies, An app with basic features will cost you less, but an app with most advanced features will probably cost you significantly more.
For an on-demand medicine delivery mobile app with the most basic features, it could cost around $15,000. But an app for cross-platform and most advanced features will cost you around $30,000-$50,000.
If you want to kick start your business with an on-demand medicine delivery app, and what to speak to a highly experienced team, we will be able to help you.