Do you want to build a healthcare platform like 1mg? In this blog, we will be telling you how to do just that.
As per Statista, there are over 45,478 iOS healthcare apps and 43, 285 android healthcare apps in the market. Not only this but the market for healthcare apps is huge. Even back in 2019, the market was valued at more than 13 billion USD. And by the end of 2026, it will be worth more than $17 billion.
What makes this such a great opportunity is that people are responding well to the healthcare apps. The Accenture survey revealed that 3/4th of patients recognize the need for healthcare applications.
All in all, this is a "healthy" industry growing at a good rate, with a good user base, and high potential. You can build a healthcare platform like 1mg and generate record-breaking revenue.
But how to create a medical app? Well, if this is the doubt you have come to the right place. In this blog, we shall be teaching you how to develop a medical app along with the cost, feature, and development process.
So, with this being said, let's get right into it:
What is a Healthcare App Development?
The first question most of the clients who want to develop a healthcare app ask is, what is healthcare app development? And this is the first thing we will be answering.
Healthcare mobile app is an umbrella term to start with. You see, there are various types of healthcare apps, more on them later.
Now, a healthcare app is a mobile application that enables patients to avail a number of on-demand healthcare services through their mobile phone.
Following the covid 19 pandemic, the healthcare app really came in handy as people couldn't leave their house or apartment for the most basic of tasks. And as one might guess, people weren't too keen on visiting the hospital either as the virus could spread with so much as breathing in front of someone else.
This is where healthcare mobile applications come in and helped doctors connect with patients, without leaving their own houses. This is how healthcare platforms get into popularity. While covid has somewhat subsided, healthcare mobile applications are here to stay.
So, this is what healthcare mobile apps or healthcare platforms like 1mg are. With all said and done, let's look at some different kinds of healthcare mobile apps in the next section:
Types of Healthcare App Development & Use Cases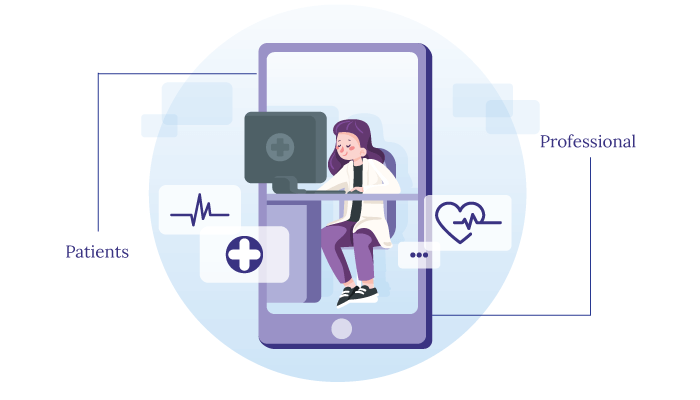 Healthcare is a wide field, and there are various areas that can use a mobile app of their own. And that's why there are various use cases for healthcare app development solutions.
However, we can divide healthcare app development into two parts. These are apps for doctors and apps for patients. Let's look at both of these in detail:
Healthcare Apps for Professionals
The healthcare app for professionals is exactly what the name tells. These types of healthcare mobile apps or platforms are strictly made for use by medical professionals such as doctors, nurses, and so on.
Healthcare Apps For Patients     
On the flip side of the coin, healthcare apps for patients are made for the common public. It's for people like you and me. Thus, it can be downloaded from platforms like App Store and Play Store. These are more common and allow doctors and patients to connect with each other.
These are the two different types of healthcare mobile apps. Now, let's look at some of the use cases of healthcare apps.
Use Cases
Use cases refer to how the different healthcare mobile apps can be used. In other words, we shall be looking at some of the popular applications of healthcare platforms in real life.
Moving on, some popular use cases are, as mentioned below:
The best online medicine app
Prescription delivery app
On demand healthcare app
Doctor appointment booking app
Medicine delivery app
Home nursing mobile app
HIPAA Compliant web app
These are some of the popular use cases for healthcare mobile applications.
Why Build a Healthcare Platform Like 1mg? Benefits
We looked at what healthcare app is and their different types. Now, before you go looking for healthcare app development services for creating a 1mg app, it's a good idea to look at why you should develop one.
That's why in this section of the blog, we will be looking at different reasons to build a healthcare platform like 1mg. These are, as mentioned below:
1. Cost-Effective
Now, you need to understand that 1mg is an online pharmacy platform. While this is a growing field, there is one big advantage to all businesses that are building a similar platform. This is the cost-effective nature of the solution.
As a business, a healthcare platform like 1mg allows you to reduce the cost of operations in various areas. In addition to this, the cost of running an online pharmacy is considerably lower than its physical counterpart.
This combined with the fact that revenue generation is much higher, the businesses are at an advantage.
2. On-demand and Order management
Getting medicine can be a bit of a hassle, especially when the doctor's writing is….. and the pharmacy store is far away. Jokes apart, this can be a grin situation considering there is an emergency.
The solution to all of these problems or better, medicine to all these illnesses is just one, i.e. 1mg store. Online pharmacy store allows the patients to order required meds and deliver them within the day or even within hours if it's an emergency.
Moreover, the customer doesn't need to know how to read the prescription, they can directly upload the image and the platform will deal with it. This is something that you should include in your app like 1mg.
3. Easy to Use
Why does anyone have a fear of new things? Because they won't know how to use it. Like, you can't ask an average person to fly an aeroplane. However, using the 1mg online pharmacy platform isn't exactly rocket science.
Ordering medicine through this platform is as simple as it gets. In fact, in today's time, even a kid can order medicine from their site. This is one of the reasons that took 1mg to success that it gets, and with the same philosophy, you can do it too.
Read also: How to Create a Healthcare App in 2022?
These were a few reasons to develop an app like 1mg and deploy it in the market. When the right concept is combined with the right mobile app development services, you can get yourself an app like 1mg that helps you generate millions of dollars in the market.
Nevertheless, no app is complete without the features, so let's see which ones you should add.
Healthcare App Features That You Should Consider
Healthcare app features play an important role in generating successful solutions. After all, with the right features, you won't be able to cater to customer demand and rise to the destined market positions.
Therefore, let's look at the feature that you should consider adding to your healthcare platform like 1mg.
Feature To Include In Best Healthcare Apps For Patients
Firstly, the user is the driving force of any mobile app. So, the feature that you should include for them is, as mentioned below:
Locate Nearby Pharmacy
Return Product That is No longer required
Upload prescription
Schedule Re-fills
User Registration
Coupons, offers, and cash backs
Rushed Delivery
Feature for Service Providers, Medical Professionals
Service providers or medical professionals are just as important for the working of the app as the users. That's why here are some features that you should include on their side of the application:
Note "pro re nata" medications
In-app communication
Real-time customer support
Stock tracking
Vendor profile registration
Scheduled delivery notification
Admin Panel Features
Admin is responsible for managing the working of the entire platform. Thus, you should include enough satisfactory features in the admin panel. Some of these are, as mentioned below:
Informative dashboard
Revenue analysis
Order management
Security management
Order monitoring
Stock management
Extra Feature to include in an App Like 1mg
Since you want to build a healthcare platform like 1mg, adding some extra features won't hurt the solution. So, some of the features that you should consider adding are, as mentioned below:
CRM Integration
Affiliate marketing
Reviews and ratings
Meal Prep
Supply Chain management
Associate medical store
Advanced search
These are the feature that you should include in your healthcare application project. With the right set of features, you can create an app that leads you to market heights and helps you succeed.
How to Create A Medical App: Healthcare Mobile App Development Process

Creating a healthcare mobile app is a process that can be divided into a few steps. So, in order to better convey to you the development process, we shall be looking at these different steps in detail. With this being said, let's get right into it:
1. Research
If you have healthcare app ideas, it's time you cross-check them with valid information. To obtain this valid information, you need to conduct market research.
In this step, you can analyze the market, looking for openings and recognizing the opportunities. In addition, you can also analyze the competitors, learning about their strategies, weakness, strength, and so on.
Moving on, another important thing that you should do here is, recognize your potential user base. All of these things will give you important information and insight.
2. Health App Business Model
Since you are developing an healthcare mobile app like 1mg, you have to choose a fitting healthcare app business model.
The business model can highly affect the development process as well as aftermarket performance. Therefore, you want to choose a fitting business model.
Nevertheless, when you have selected a business model, we can move to the next step, that is…
3. App Platform
We are talking about developing a mobile app, healthcare or otherwise. That's why it is important to choose a mobile app development platform. Now, you have to select between an iOS or Android app Development Company.
Choosing the right platform is quite important as it can highly affect the look, feeling, working, and every possible aspect of the mobile app.
4. Tech Stack
Tech stacks refer to the different technologies used in mobile app development. MEAN stack development is a popular choice, but you can also explore another stack.
Tech stack is one of the most important aspects that you have to choose in mobile app development.
5. Healthcare App Features
Features are the driving force of mobile applications. We already discussed the healthcare app feature in this blog. However, this is an important step in healthcare mobile app development.
6. Healthcare App Design
Speaking of which, design or UI/UX design is just as important as the feature itself. Creating a fluid, easy-to-navigate design is quite an important part of creating an app successful mobile application.
This way you can create a mobile app that is engaging and capturing, i.e. app that helps your business grow.
7. Create a Healthcare Platform
This is the part where you hire dedicated developers and create a healthcare platform. During this process, the developers will be combining different components to create the app you dreamt of.
Moving on, this is how to build HIPAA-compliant web applications. Once this is done, we can move to the test.
8. Testing
The testing process is an important part of custom android or custom iPhone app development.  During testing, developers will find the bugs and other defects and fix them. Once the necessary changes are made, the app is ready for deployment.

9. Deployment
Based on the platform, iOS or Android platform that you choose, the deployment process will be different. If you can't choose between these two, you can hire react native app developers for cross-platform app development. Moving on, once the solution is deployed you can monitor it.
10. App Maintenance & Support
Technical the development process has come to an end. But there is something important you should know about. To create a successful mobile application, you need App Maintenance & Support services.
This is the 10-step process to build a healthcare platform like 1mg. with this said, let's see what the cost to do so is.            
Medical App Development Cost
Whether you want to create a health application to monitor a user's health or build a healthcare platform like 1mg, you have to pay for it. But the question is how much?
The total cost to develop a healthcare app depends on several different factors. Some of these factors are, as mentioned below:
| | | |
| --- | --- | --- |
| Complexity | Feature list | UI/UX Design |
| Compliance | Types of healthcare app | Developer's location |
| Developer Expertise | Size of the app | Maintenance |
While it is not possible to accurately predict the cost, you can expect anything between $15,000 and $95,000.
Conclusion
To build a healthcare platform like 1mg, there are various things that you have to look after. And this blog did well to clear that all out. Now, if you want to develop a healthcare app of your own, the only thing left to do is consult a leading healthcare app development company and create a healthcare app on your own.