Are you planning to build an app to thrive in your business? If yes, you'll have to make a lot of decisions before you get your app built. These decisions will include whether you'll develop your app by yourself or will you outsource the development process to IT service providers. Both strategies have their pros and cons. To help you with this decision, I'll put a link to my recently published article about "In-house vs Outsourcing" at the end of this article. If you're going to favour outsourcing the development work, you'll want to know what is the software developer hourly rate in UK, USA, Ukraine, and many other countries.
Even if you're new to the IT development domain, you might know that the cost of hiring mobile app developers varies by geographical location. But, it is a tough decision to select the best mobile app developers for your app. Therefore, this article will give you a complete insight into the app developer hourly rate around the globe and the pros and cons of working with freelancers.
Software Developers hourly rate based on location
While hiring a software development partner, the main concerns are the price and quality, both of which mostly vary as per the location of the developer. A list of trustworthy websites states the following IT service destinations good to go:
The USA

The UK

Australia

Germany

The Netherlands

Ukraine
According to Codementor, the software developer hourly rate UK is around $61-80.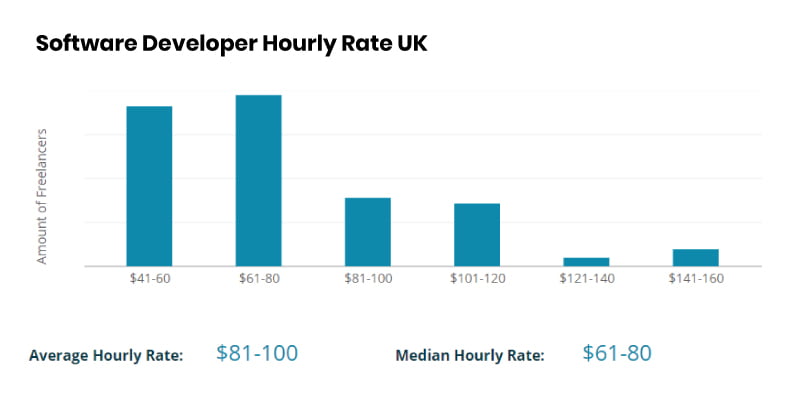 Source: codementor
However, other variables affect the cost of your mobile app development as well as freelance software developer hourly rate uk. These variables include the type of app you want to get developed. So, let's dissect the generally associated tasks and the cost of developing different kinds of mobile app projects.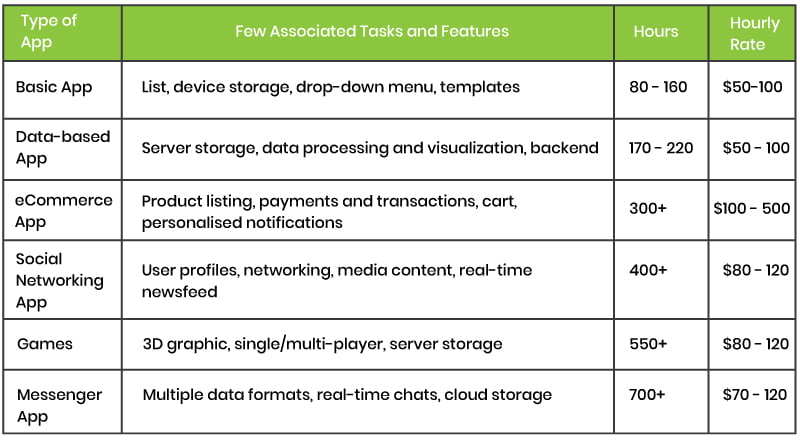 The time required to build the app will also vary depending on whether the app is designed for iOS or Android or both. However, you might already know that a developer's salary isn't the only expenditure associated with hiring a developer. There are several other expenses, such as government taxes, fees, etc. that directly affect the software developer hourly rate uk in a region.

Hiring Developers in the US
As per the Glassdoor data, hiring a full-time developer in the USA will cost between $82k to $180K annually depending on the skill seniority. The cost is calculated as per the following breakdown:
Salary: Starting from $64k for junior developers to $107k and $140k for mid and senior-level developers, respectively.
Supplementary payments: Around $2,000, $3,400, and $4,400 respectively. Calculated as 3.2% of the net salary.
Benefits, required by compliances: $4,800, $8,100, and $10,500 calculated at 7.6% of the net salary.
Annual paid leave: $4,500, $7,600, and $9,900. Calculated as 7.1% of the net salary.
Insurance: $5,100, $8,500, and $11,100 respectively at 8% of the salary.
Retirement and saving fund: $4,500, $7,600, and $9,900 respectively at 7.1% of the salary.
After summing all these employee expenses, we get around $82k, $140k, and $180k annual salary for a junior developer, mid-level engineer, and senior developer respectively. 

Software Developer cost in the UK
The UK gives a tax-free personal allowance of £12,500 or $14,700 to every UK-based worker. This allowance is excluded from the salaries. Furthermore, the employer has to pay the income tax, national insurance, and auto-enrolment pension for their employees.
Average salaries in the UK are lower than in the US, but the taxes are higher. The income tax rate for people earning between £11,800 and £46,300 is 20%, and for people earning above £50,000, the rate is 40%. To be considered that it is calculated differently in Scotland.
It's less expensive to hire app developers in the UK due to the following reasons:
Average salaries: For a junior developer the average salary is $47,000, for a mid-level developer it is $74,000, and nearly $92,000 per year for senior developers.
Taxable money: Total salary minus tax-free personal allowance of £12,500 per year.
Income tax rate: Upto $16,250 per year income level, there is no income tax due to personal allowance exemption. From $16,251 up to $65,000, the rate is 20% and from $65,001 to $195,000 annual income, the rate is 40%. Over $195,000, the income tax rate is 45%.
Auto-enrollment pension: the employee pays 5% whereas the employer pays 3%.
Cost of hiring Software Developers in Australia
According to a research report by Payscale, hiring developers in Australia annually costs $35,500 for junior developers, nearly $50,000, and around $71,000 for senior developers.
Corporates also follow a practice of paying their employees a certain sum of bonuses, ranging from $350 to $7,000. Also, some companies share profits; these payments range from $100 to $7,000 a year.
Hiring Software Developers in the Netherlands
Hiring developers in the Netherlands is quite overpriced, based on the level of talent available. A junior developer is paid $56,000 yearly, middle-level developers get $88,000 per year, whereas the senior developers are paid around $99,000 including taxes. Other things to take into account include a holiday allowance of 8% and pension fund payments 5% of taxable salary.
Hiring Software Developers in Germany
Germany is renowned for its manufacturing technology, machines, and also software development. However, the cost of hiring software developers in Germany is high as companies pay an average of $66,000 a year to the junior developers, $81,500 to a mid-level developer, and $95,000 to senior developers. 
To be mentioned that the German taxation system is among the most complex systems in the world. For instance, the amount of tax-free allowances depend on the geographical location, marital status, and age of the tax-payer. Hence, many German employers prefer working with Ukrainian or Polish outsiders to avoid the nightmare of paperwork required by the German tax system.
Hiring Developers in Ukraine
Hiring software developers from Ukraine come with a range of benefits that aren't always available in other countries that we've talked about so far. One crucial advantage is the cost of living in Ukraine is low, and due to this, the cost of hiring a developer is also very cheap. However there can be a compromise with quality with some of these companies and less understanding of market trends.
In Ukraine, a junior developer is paid an annual net salary of $18,000, the mid-level developer gets around $25,000, whereas the senior developer can be hired for up to $50,000.
The taxation system in Ukraine is very simplified. Most of the software developers in Ukraine belong to the Entrepreneur group no. 3, having to pay either 5% of their earnings or 3% + VAT.
Things to Consider While Hiring Software Developers
Their Portfolio
Past work
Technical Expertise
Experience
Team size

Location
Communication
 Developer's Location
The Development Team Members
The modern approach to software development includes Agile and Scrum methodologies for project management. These methodologies optimise workflow to ensure a quick and reliable app development. The development team consist of the following roles:
Every software development project needs a project manager. The project manager manages the entire development process to deliver on time as planned. He is the one responsible for the success or failure of the project.
For the Agile process, the Scrum Master is very crucial as they are responsible for maintaining the detailed awareness of whatever is happening in the project. In simple words, if the Project Manager is the General, the scrum master is the lieutenant. The scrum master is responsible for assigning tasks for the team members, follows up the team members and troubleshooting low-level problems. In many small projects, the role of project manager and scrum master is played by one person. 
Most often, software laymans use 'designer' and 'developer' interchangeably. But, in a software development team, both of them have different roles and responsibilities. Designers are responsible for the looks and feel of the mobile app. They create all the graphical elements of the design, including animations, sound effects, etc.
Also known as coders, although the term is somewhat diminutive. The development team has the responsibility of working on the ground level to create the app—the developers set up development tools such as a Git management system. Defining coding standards, coding, bug fixing are among the many other responsibilities of developers.
The quality assurance team often has three or more members for big projects. However, it isn't mandatory to have a QA team lead, but while creating a professional product, it should be followed. The QA professional/team is generally responsible for creating a testing environment which can quickly identify bugs and problems. Testers often use a mixture of manual and automated testing methods to ensure quality product delivery. 
Read More: Mobile App Testing – A Complete Guide – nimbleappgenie 
How to hire the best developer as per your requirements?
There isn't a straightforward answer which acts as a magic wand which will get you the best suitable development company. However, selecting the most appropriate software developer hourly rate uk for your project isn't very arduous. You can just follow the following steps to find a suitable software development company:
You can search for the term "software development companies" or "top mobile app developers" at

Clutch

,

GoodFirms

, or Google.

Shortlist the companies which have 8-9 + years of experience. It isn't always necessary to go with the big fishes; sometimes, a newcomer can build your product better than a high-experienced.

See where their expertise lies. If they are proficient in your industry or market niche, check their portfolio and decide.

Create an RFP (Request For Proposal) document and send it to the shortlisted companies. If you don't' know how to create an RFP, here is a guide for you – How to create an RFP?
Receive responses to your RFP and decide which one of the software companies suits you the best. Sign an NDA with the chosen company and discuss the project with them. Create a detailed product requirement document and share it with the development company.

The company will respond to your requirements with a detailed project plan. They'll then start the development work with your consent.

Should you Outsource or do it In-House?
This is off of the most discussed topic in the technology world. Many are in favour of in-house development, while others find it rational to outsource the software development project. However, the answer cannot be very straightforward when companies like Google and Adobe are outsourcing their projects.
The reason behind why business process outsourcing became a new revolution for the global economy causes great interest. The reason is that business process outsourcing narrows down the roles and responsibilities for the higher management. This enables management to focus more on their core expertise. Hence, if you don't have the required technical expertise, it is better to leave it up to the experts. You can contact us for your technology requirements in Finance, Healthcare, and Transportation and Logistics domains. Just send an e-mail to us at contact@nimbleappgenie.com  

Conclusion
The software developer hourly rate in UK, USA, Australia, and Eastern Europe is very diversified and ranges between $25 to $90. Hence, it is tough to decide on which region you should pick for your next IT development project. Although we are based in the UK and USA, we pride ourselves in providing great value for money. This is one of the reasons why our client retention rate is above 95%. To get a quote for your application development, tell us now about your project by clicking here.
Just a section above, I've written a 7 step guide for you to pick the right development partner. There are several factors that you need to analyse before you choose a development partner. These factors include – expertise, experience, development methods, ratings and reviews, and of course the price or hourly rate.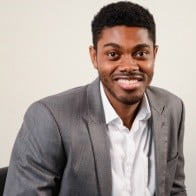 Jermaine Trotman is the co-founder of Nimble AppGenie, a company renowned for its bespoke mobile app development and web development in e-wallet app development and fintech development.