We all experience the period where our experience and knowledge have been required to grow in the modern age. Each dimension of the world has transformed with the introduction of technology. In this digital era, the form of learning also has transformed via using E-Learning apps. Learning and knowledge is something that learners can take from anywhere, from any source, and by anyone. Unfortunately, some individuals cannot improve their expertise in their respective domains because of resources. Indeed, the most extensive innovation that the world has seen is mobile phone technology. It has rendered our lives counter-clockwise, essentially for the better.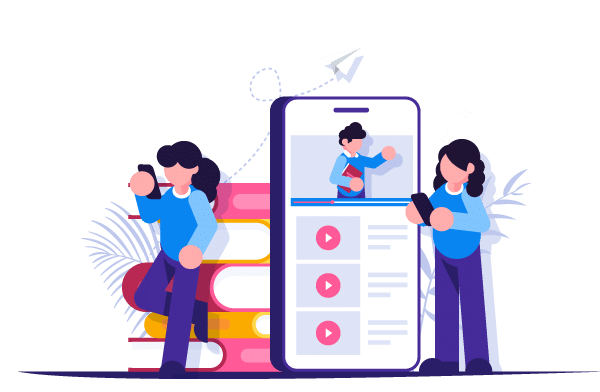 E-Learning platforms deliver learning experiences that enable learners to engage with educational content actively. Professors use digital learning platforms as part of their instruction to make learning more interesting and interactive for learners and to offer lessons that can be personalized for each learner. Depending on the product, an instructor might have learners use the software in the classroom as part of the day's lesson or instruct learners to use it at home for extra practice with the course content.

In addition, a thriving number of platforms include adaptive learning functionality, in which the tool dynamically modifies the lesson based on the individual learner's performance. Many digital online learning portal platforms are targeted toward many educational objectives, including tools designed to help learners develop knowledge around specific subjects like social studies or science and others striving to develop cross-curricular skills like writing or reading. Learners and professors can use these tools at all levels of schooling, ranging from the early grades in K–12 schools up to institutions of higher education.
E-Learning Apps Market Trends 
Indeed, the advancement of several new technologies, like Artificial Intelligence (AI), Augmented Reality (AR) & Virtual Reality (VR), cloud-based LMS, and many more will surely drive the growth of the market. According to Global Market Insights, in 2020, the E-Learning Apps Market size exceeded USD 250 billion. Also, between 2020 and 2027, it is predicted to grow at an exponential CAGR of over 21%, which will reach around USD 302.25 billion. The continued technological advancement is likely to have an impact on education app development cost.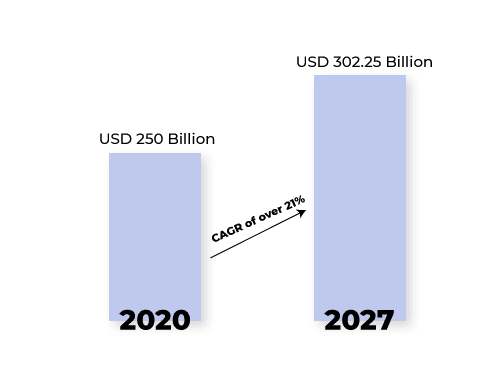 Top 10 E-Learning Apps in 2022
1. Coursera
Coursera was established in 2012, founded by Daphne Koller and Andrew Ng. They started this with a vision of providing life-transforming learning experiences to learners across the globe. Nowadays, Coursera partnered with more than 200 leading universities and companies to bring affordable, flexible, job-relevant online learning websites to people and organizations globally. They also give a range of learning opportunities like hands-on projects, courses to job-ready certificates, degree programs, and many more.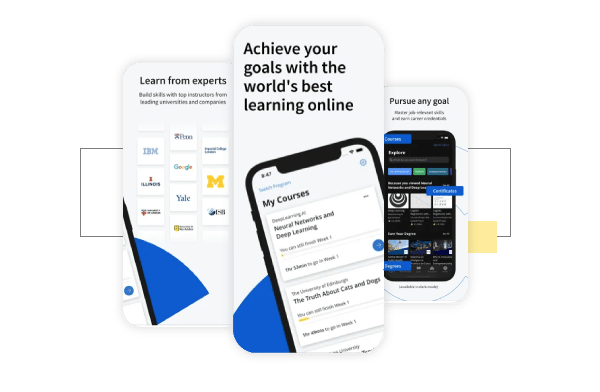 Moreover, Coursera for Business is the transformative skill development solution for empowering your teams with the high-impact skills that drive innovation, competitiveness, and growth. By this, you can also provide transformative learning with expert-curated, AI-driven learning programs. To drive rapid skill acquisition enable hands-on learning and track and measure skill development and benchmark ability against industry companions.
2. Udemy
Udemy was established in 2009 and founded by Eren Bali, Oktay Caglar, Gagan Biyani. Instead of a unified platform, this site is more of a portal or repository where learners can access over 100,000 courses on every topic. On Udemy, users can find lessons on programming and IT, business skills, teaching, graphic designing, UI/UX, and many more. Also, with all these lessons, users can learn other curricular activities like music, art, fitness courses, different languages, and many more.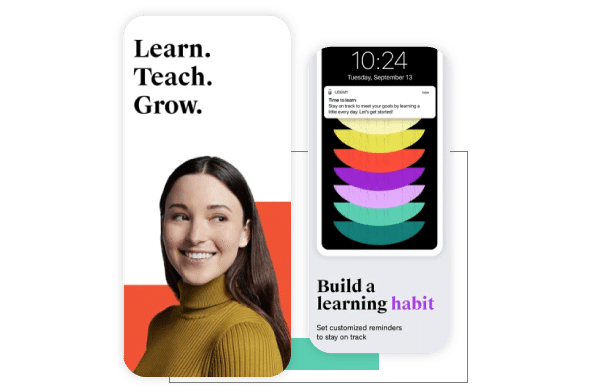 Furthermore, they also have categories for personal development and lifestyle, which cover skills and various techniques. Udemy doesn't follow one standard format for courses – the platform enables teachers to design multimedia lectures with many elements like text, audio, video, plus readings, quizzes, and other different activities. Moreover, it permits learners to preview classes they're interested in, and if you're dissatisfied, it does offer a 30-day refund. They have around 40 million learners with 56 thousand instructors. Also, they have 480 million courses enrolled. This proves that their global community and their course catalog get bigger every day.
3. Skillshare
Skillshare was established in 2010 by Michael Karnjanaprakorn and Malcom Ong. Nowadays, the company has over 12 million registered users. Skillshare is less formal in comparison to other online platforms that provide college-style classes because it is aimed more at improving creative skills. They have business and marketing classes on the platform, but the majority of courses are in creative fields like photography, animation, film, visual arts, writing, interior design, and many more. All these courses are taught by practicing experts in their particular fields.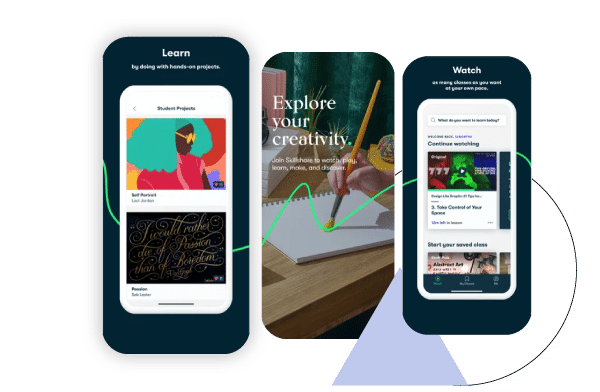 Skillshare's prime focus is on teaching practical skills that learners can then use to create their projects. It is witnessed that most courses involve a series of video lessons combined with assignments for learners to practice their skills. Moreover, they have a subscription model rather than a per-course payment plan. As a result, learners who sign up can take as many or as few courses as they want while they're subscribed or not.
Furthermore, Skillshare follows an excellent way to cover all potentially exciting topics – they offer a set of free classes as well, from short to longer tutorials of an hour or more. They're not as in-depth, but they're unique.
4. Masterclass
Masterclass was established by David Rogier Aaron Rasmussen in 2014. This platform offers more than just creative courses, and its marquee offerings are the ones that put (A-list) actors, artists, musicians, writers, and more in the educator's seat.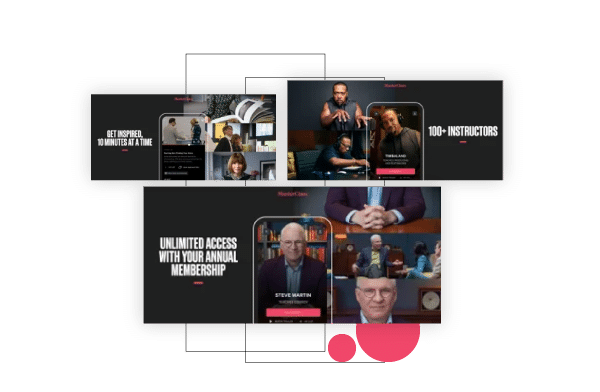 Masterclass's most courses have around 30-40 lessons, just like a traditional one, so students get to dive deep into the topic of choice. If you want to learn about these professions, there's no better way than to hear about it directly from the people who have been successful already. All these courses are video-based, with practical advice and demonstrations mixed in with brief lectures, workbooks, class discussions, and many more.
Indeed, MasterClass is a subscription-based platform, and you can take as many sessions as you want within a monthly subscription. Their instructor roster will exceed the diversity of our society. Also, their platform will consistently represent these voices in each of their subject categories. Their goal is to achieve this representation through the following instructors they bring to the platform.
5. EdX
EdX has a high-end pedigree, and this E-Learning platform was established in 2012 by the Massachusetts Institute of Technology and Harvard University. It has been seen that every individual can create change, whether in their life, their community, or across the globe. Indeed, the transformative power of education unlocks that potential. But, still, for a few people getting high-quality education has been a privilege. Back in 2012, Edx realized it was time for a groundbreaking shift in learning. By opening the classroom through online learning, edX empowers millions of students to unlock their potential and become changemakers.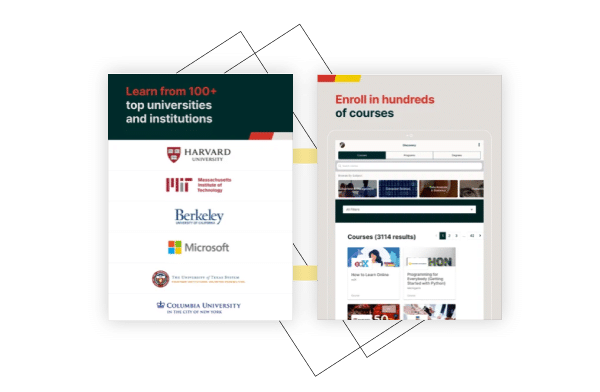 There are three commitments they've made to the world. These have grounded them since day one:
Learning and teaching through detailed research
Increase access to high-quality education
Improve teaching and learning online & on campus
Also, they provide 3000+ courses, and they have 110 million enrollments, 35 million users,  and around 1.4 million verified course certificates issued. The big business point for EdX is that the majority of their courses are free—but there's a catch. If you're taking the class for your own learning experience, the free version will probably work. Still, if you want formal verification for professional reasons, the verified certificate option is also available on the EdX platform.
6. Udacity
Udacity was established in 2011 by Sebastian Thrun, David Stavens, and Mike Sokolsky, and it is a for-profit MOOC platform that gives importance to job training. From artificial intelligence, self-driving cars, and robotics, they offer many courses currently trending in technology. It also offers a micro-credential called Nanodegree that focuses on in-demand technology skills.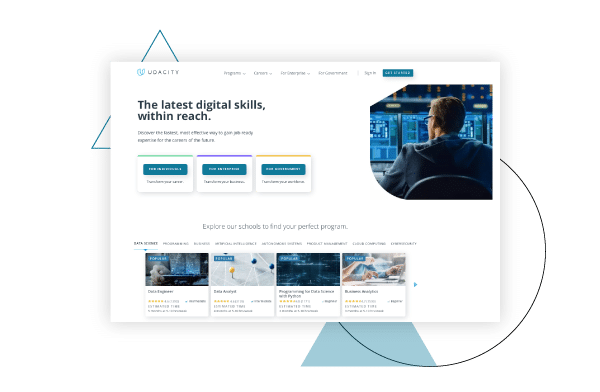 Udacity is where lifelong students come to learn the skills they need, land the jobs they want, and develop the lives they deserve. Their mission is to train the workforce in the careers of the future across the globe. Also, they have a partnership with many leading mobile and web development companies to learn how technology is transforming industries and teach the vital tech skills that companies are looking for in their workforce.
Furthermore, they provide a facility for the busiest students to take on the most in-demand tech roles with their powerful and flexible digital education platform. Accenture, AT&T, Cisco, Mazda, Shell are among the top enterprise customers of Udacity. Their curriculum partners include GitHub, Bosch, BMW, Amazon, Google, Twitter, Mars and many more.
7. Byju's 
Byju's work towards building a community of active learners who have a strong understanding of concepts from their early years. Being a companion for every student and anywhere across the globe is what drives them to deliver, excel, and grow. This platform was founded by Byju Raveendran and Divya Gokulnath in 2011.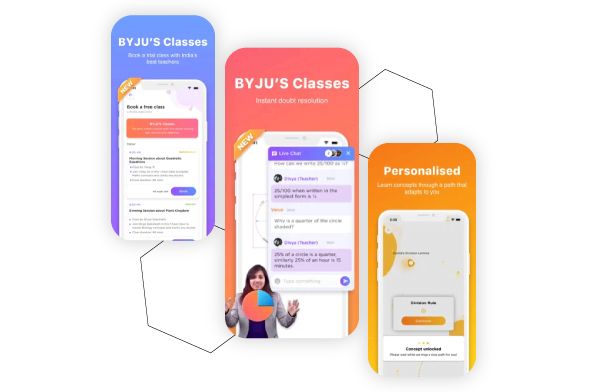 Moreover, they persevere in living up to their reputation as the world's most valuable and loved Ed-Tech company. They believe in revolutionizing education, building a generation of active learners. In that mission, they learn, grow, have immense fun and live to express what is dear to them – make everyone fall in love with learning.
8. Duolingo
Duolingo was established in 2012 by Luis von Ahn, Severin Hacker, and it is the best self-learning app for language learning, with more than 350 million users across the globe. It makes use of media, graphics, and AI-powered algorithms to improve the learning experience for students. Also, it offers different language courses in 40 languages like English, Deutch, Magyar, Italiano, German, or French.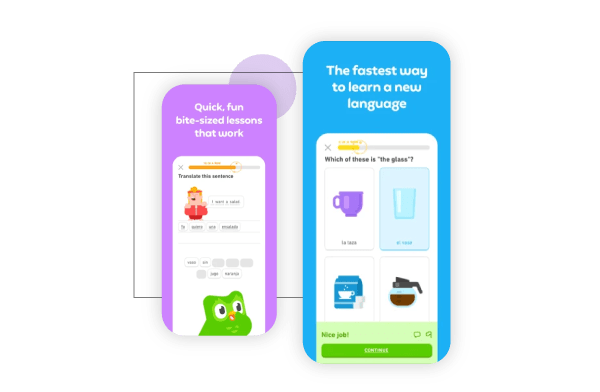 Learning with Duolingo is fun, with quick and bite-sized lessons. Moreover, you'll earn reward points and unlock new levels while gaining real-world communication skills. Its adaptive learning mechanism enables learners to learn at their own pace with amazing features like forum discussion, interactive stories, leaderboards competitions, and many more. Also, all personalized self-learning courses are available for free on this platform. They believe that anyone can learn a language with Duolingo. Their small lessons feel more like a game than a textbook. And that's by design: Learning is more accessible when you're having fun. It is based on a methodology that fosters long-term retention and a curriculum aligned to an international standard.
9. LinkedIn Learning
LinkedIn Learning was established in 1995 by Lynda Weinman, and this platform was previously known as Lynda.com. This mobile E-Learning apps enables learners to grow their skills by providing video courses anytime, anywhere. Moreover, Learners can pick among several best courses like SEO, Communication, Arts, Marketing Classes, Management Training, Graphic Designing, web and interactive design tutorials, IT Programming, and much more. Also, it has the world's largest professional network with 774+ million members in more than 200 countries and territories across the globe.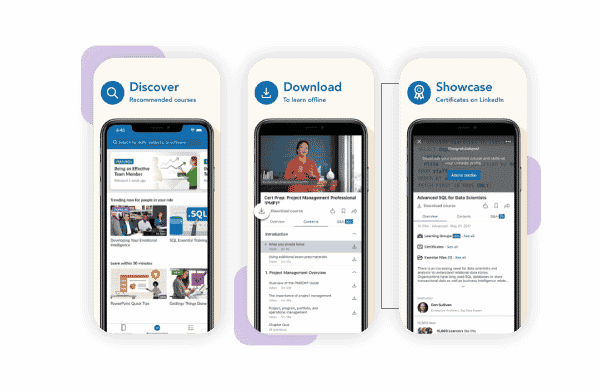 In LinkedIn Learning, learners can access many courses but for a limited time because of a monthly subscription pricing model. Their vision is to create business opportunities for every member of the global workforce. Whereas the mission of LinkedIn is straightforward, they want to connect the professionals to make them more successful and productive.
10. Photomath
In 2014, Damir Sabol launched Photomath, and as the name depicts it, Photomath is all about mathematics. Indeed, mathematics has always been a scary subject and challenging hurdle for most students worldwide. Well, I can say those days are over now because this E-Learning apps uses OCR (Optical Character Recognition) technology and mobile phone cameras to read the equations.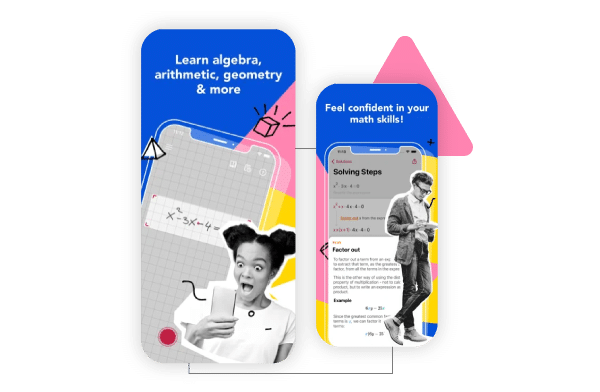 All learners have to do is capture the handwritten or printed equation and upload it to the digital learning app. In response, the app itself teaches learners via step-by-step instructions. As a result, anyone can quickly learn and solve any complex math problem. Moreover, now, with over 220-million downloads, Photomath is the most used math app globally. Their current mission is to help people understand math, one step at a time. They believe that everyone can be good at math by using amazing features of this E-learning app like multiple solving methods, scientific calculators, animated instructions, and many more.
Conclusion
There are thousands of E-learning apps for students available in the market. This is the reason why people get confused about which one is best. So, for that, in this blog, I've mentioned the top ten E-learning that can help you pick the best to improve your self-learning. Undoubtedly, self-learning requires dedication and continuous effort. So, try to make a schedule that helps you in this.

As development should occur in at least two phases – MVP (Minimal Viable Product) and Initial Launch. For MVP, incorporate the features and functionalities associated with your E-learning app's core characteristics. Also, you can integrate advanced features and functionalities once the MVP stage is completed. So, for success in this competitive market, it is essential to approach an expert education app development company that can develop E-learning apps in these two phases.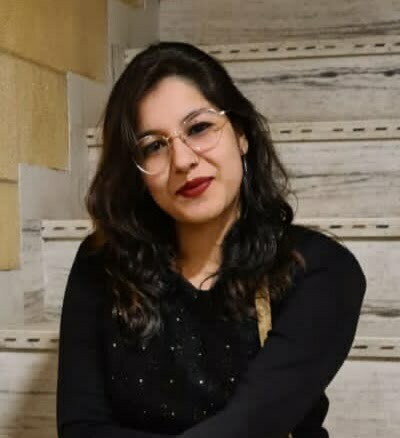 Divya is an outstanding writer at Nimble AppGenie. She is very innovative with her creative ideas. She is very passionate with technology implementation in several industry verticals and always keen to learn new opportunities that brings business efficiency and profitability. Whereas, Nimble AppGenie is an expert in developing solutions for Healthcare, FinTech, and EdTech. Nimble AppGenie is helping small-large scale enterprises by providing innovative solutions that excel in the market.