The blockchain is always a puzzle for commoners. After social media, if there is anything that is showing the path to connect the world is the blockchain technology. The technology is diminishing the trust issue when two-party exchange money.
The technology allows us to exchange money across the globe. If till now you didn't hear about blockchain, then somewhere you might hear about bitcoin. The technology is not just about bitcoin and cryptocurrency and it is the chain technology that allows us to exchange money without any third party. But their area lot of things that people are not aware of the technology. So let's take a look at them.
Game Development
We do realize that there is slightly a risk in the specific game developments with blockchain technology: unbalanced, indistinct tech solutions, bugs in the development system, too integrated, and so on.
The game industry, in particular, is hugely centralized and also a big market. Developers need to understand that there is a requirement to build a game with the blockchain. But for that, they need to provide a simple and seamless all in one SDK.
Soon many features will be enhanced, so as the users grow, the community will grow and the platform will develop along with them. Soon more games will build up with blockchain technology and the game designs and development will definitely improve.
Blockchain Protocol
Bitcoin and blockchain are quite different. First, we need to understand the difference between both of these, then the real problem will be highlighted. Cryptocurrency like bitcoin depends on blockchain technology to conduct transactions process. Moreover, the industry has the power to revamp over the financial system into more eradication fraud and security issues. The current scenario is everyone wants to buy the fastest & cheapest blockchain. The cryptocurrency with more features isn't an issue. It is the tooling that's where they actually lack.
For example- ruby on rails experts made the tools easy to get to. Earlier, no one chooses ruby and rail. Tooling and framework should be user-friendliness and usability. The developer works on the frameworks. The blockchain technology required more regulation, templates, and libraries but everyone is more focused on the protocol.
Blockchain Frameworks
The adoption of new frameworks is always a challenge in the development process. Frameworks update on a daily basis. Companies Hire ruby on rails developers to build a framework for the game developer so that they can build a social game in real-time with an enhanced set of tools. Developers even released demo games. Companies are building a gaming platform where developers can easily develop on. The SDK will help the developer to make the game rather than focus on complex protocol and API. Enterprises are spending their time building a framework. The framework that can be used in decentralized apps with a similar proficiency of traditional web apps. The blockchain technology is coming up n a large volume. The decentralized app and data system that enables the Web 3.0 generation of marketplaces, social media platforms, and future apps to be as fast and performance as their centralized predecessors.
Summary
The future of online money transactions could be overseen by cryptocurrencies. Soon the financial banking system will change globally. Cryptocurrencies will do for online business what email did to communication. The feature of blockchain technology has no limits. The technology is capable enough to transform the world currency within a day. This digital transaction platform has supreme transparency and accuracy will do it all. While many financial experts are saying Bitcoin is a bubble, some specialists claim that cryptocurrencies and the Blockchain will change the perception of the financial sector.
Nimble AppGenie believes in fulfilling client requirements. Our company is a Ruby on rails application Development Company and has many experienced developers who have the capability for any kind of web development. So if you want to create your mobile applications using our service feel free to contact us. You can share your detail information about your business plan through our mail id- contact@nimbleappgenie.com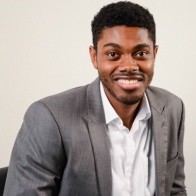 Jermaine Trotman
Jermaine Trotman is the co-founder of Nimble AppGenie, a company renowned for its bespoke mobile app development and web development in e-wallet app development and fintech development.