Droid buzz: Why the android market thrives?
The maximum number of users:
The fact that android has the largest user base yet among all smartphone operating systems and has had the same for quite some time now isn't hidden.
Countless forums for all kinds of apps:
The internet is flooded with support centers and help threads that solve all your queries and problems regarding android software and applications and these vast majority of participants are no technical geniuses but simply users.
Guaranteed feedback:
You can be sure that no matter which platform you'll be making your application available to users, they will most certainly voice their opinions on how you can make your application better, improved and more user-friendly for them and you'd do well to heed their advice.
Flexibility for Developers:
The android developer's forums (XDA for one example) are known for their open-sourcing that is allowing developers the freedom to work on any and all apps of their choice to modify as they may will, usually for improvement and fluidity.
More profits:
All the aforementioned points boost the rate at which android apps are downloaded, which means more space for advertisement which is a way to keep your income as a developer flowing if your app is one of those which gets a higher download rate.
CANdroid: Why the Android Market is the Best Bet?
No license needed: All the software that is needed for developing apps is free thus anyone with a heart for it can dive right in and test their skill.
Unlimited customizations:
Whenever you feel that your applications need a new look or touch up, its possible for you to release as many updates for your users.
Upload anywhere:
Your applications can go right to the Google Play market or even on other internet platforms for varied user bases.
Where Do We Come in?
Suppose, you have a unique idea or business that can be implemented into an application, but you aren't a professional app developer or simply don't want to spend your efforts which are utilized best elsewhere like managing your business and clients…
It is tough enough to learn to build a basic android app from scratch which will require you to learn programming languages like java and need a setup with various software and devices…
These are just a handful of reasons why you wouldn't yourself dive into this world of technicalities unless you are as passionate about app development in which case you wouldn't be reading this blog in the first place…
So, leave it to our team of experienced app developers based in London, sit back and let us take this tedious task off your hands as for our experienced custom mobile app developers it will be a pleasure to make the most uniquely designed interface for your users to connect with and avail the services of your business making you their trusted organization. We will put ours all into making you the top-rated android app in your sphere with our team of professionals skillfully creating a user experience that will be unforgettable.
More Info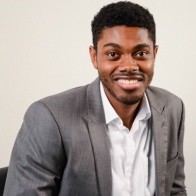 Jermaine Trotman
Jermaine Trotman is the co-founder of Nimble AppGenie, a company renowned for its bespoke mobile app development and web development in e-wallet app development and fintech development.