Over the past few years, banks and FinTechs are building solutions to transform the way banks, customers, and FinTechs can interact with each other. However, these efforts have been accelerated by the regulations imposed by regulatory authorities around the world. And the same goes for Singapore.
Due to early adoption in Europe, especially the UK, the effectiveness of the open-banking environment is notable over there. The Europe's PSD2 regulation requires all financial institutions within the country to share the customer data with third-party financial service providers via API infrastructure. By utilizing the data, third-party financial service providers and industry newcomers can tailor-made services for the customers.
Open Banking in Singapore – The FPDS
The Monetary Authority of Singapore aka MAS, is a leader when it comes to keeping the banking and finance industry upfront in Asia and beyond. MAS is the reason behind the recognition of Singapore's banks getting recognized at the international platforms.
With the introduction of a financial industry API playbook, MAS has been encouraging banks to adopt APIs since 2016. However, it still has to officially release Open Banking Style measures.
Although it is yet to be confirmed, so far it is known that the open banking environment in Singapore will be termed FPDS (Financial Planning Digital Services). This version of Singaporean open banking environment will be focusing on facilitating data mobility through a secure API framework which will give the customers increased access and control over their data.
As a result, the financial market in Singapore is expected to witness innovation and competition among existing financial service providers and new entrants. All over, it is a favourable deal for the customers that will certainly enjoy better financial services.

PFDS will leverage SingPass to facilitate data sharing. SingPass is a single sign-on service used for all the government e-services in Singapore. This will allow customers to grant their data access to financial institutions of their choice.
Unlike Europe's PSD2 regulations which provides FinTechs with access to full transaction details and account information, the initial phase of FPDS will allow data sharing on a monthly basis and will only facilitate high-level data sharing like account details and card balance summary.
Singapore has a strong foundation for open banking. APIX, a n API guidance and collaboration platform that MAS launched in 2018 to pave the way for an open banking environment in Singapore, is encouraging banks to organically open up their data and services.
Banks are supporting open banking in Singapore. By either building their own marketplaces or embedding themselves into third-party ecosystems, banks in Singapore are utilizing open banking APIs. For instance, DBS bank's developer portal has more than 200 APIs that FinTechs like GrabPay and PropertyGuru can utilize for payment and loan innovation.
Current State of the FinTech Landscape in Singapore
For the last five years, the FinTech landscape in Singapore has broadened very rapidly. It is due to the adoption of technologies by the conventional banks and financial institutions and the advent of industry newcomers.
Pandemic Showed an Positive Impact on FinTech Investments
Although the first quarter of 2020 realized a 49% decline in the FinTech investments as compared to Q4 2019, the second quarter of 2020 showed a rebound of thrice the investments of quarter one. It is evident that investors see the opportunity in the Southeast Asian market, especially, Singapore.
Singapore Has More Diversified Market
The investment in the FinTech space will continue to grow into several areas of financial inclusion (id est Payments, Lending, etc.). With this, the FinTech ecosystem is getting more diversified in Singapore with emerging sub-sectors like Data Analytics and RegTech. The key enablers of the Singaporean FinTech market growth are investors, banks, government policies, industry associations, and a close-knit network of corporations.
The Top 12 FinTechs in Singapore
With a strong banking and financial industry foundation, unrivalled physical and digital infrastructure, encouraging government regulations and support, and a pool of favorable investors, Singapore has established itself as the FinTech capital of the world.
An accenture report in 2019 stated that Singaporean FinTechs raised $735 millions of investment during the first nine months of 2019. It was a 69% increase from the same period last year.
Among a pool of 490 FinTech startups, below are the 12 most innovative FinTech startups in Singapore.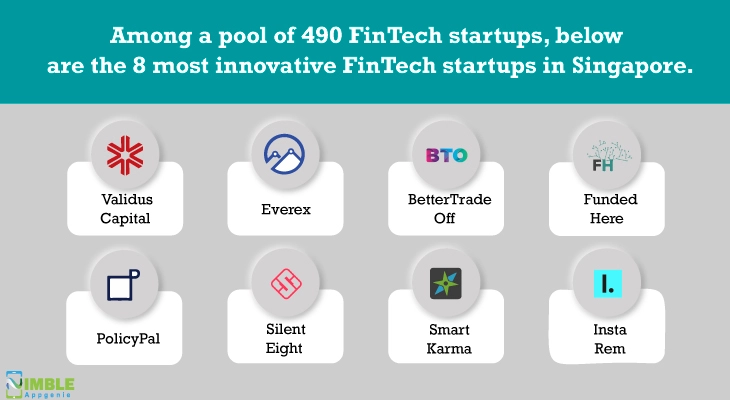 Validus Capital
Recent Funding: $15.2 million in Series B
Founded in 2015, Validus Capital is a peer-to-business lending platform for small and medium enterprises. The Monetary Authority of Singapore (MAS) issued them the licence for capital market services in december 2017.
Recently, the startup announced that they've raised $15.2 million as series B funding from FMO, Netherlands' bank.
Everex
Recent Funding: $26.5 million over 2 funding rounds
Everex is a blockchain-powered cross-border money transfer platform that focuses on serving migrant workers (international remittance), digital nomads, tourists, permanent travelers, and international students that are mostly underbanked.
The platform offers the users with cryptocurrency that operates on the Ethereum blockchain platform. The last known price of Everx is $1.21518197.
BetterTradeOff (BTO)
Recent Funding: Singaporean $3.4 million over 2 funding rounds
Founded in 2015, BetterTradeOff is a FinTech platform that aims to make financial planning possible for everyone. The platform uses artificial intelligence and advanced statistical models to help individuals make intelligent financial decisions.the platform is now available in Asia, Middle East, and Europe.
FundedHere
Recent Funding: $1.29 million
Launched in 2015, FundedHere is a Singaporean lending-based crowdfunding platform that facilitates funding and venture capital for startups. Startups only get an opportunity to raise funds when they're approved by fundedHere the platform charges 3-8% for every successful campaign.
PolicyPal
Recent Funding: $20 million over 3 rounds
As the name suggests, PolicyPal is a mobile app that allows users to search, compare and buy insurance policies. Of the all three funding rounds, the last one was an ICO (Initial Coin Offering) executed in 2018. They named the coin as PAL which was launched to address the key issues with both crypto assets and insurance.
Silent Eight
Recent Funding: $15 million over 2 rounds
Silent Eight is an AI-powered RegTech startup that is backed by renowned venture capitalists from Silicon Valley and Singapore. The startup is focused on helping banking and financial institutions combat terrorism financing and money laundering. Silent Eight makes use of AI, ML, and NLP (Natural Language Processing) to help banking and financial institutions curb frauds.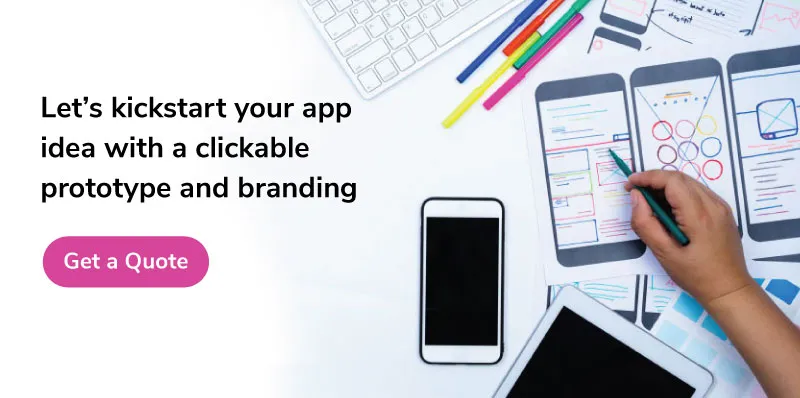 SmartKarma
Recent Funding: $21 million over three funding rounds
SmartKarma is an investment research network that provides investment insights into the global market. The platform acts as an unbiased information source with primary focus on the Asian market. However, the company has also expanded its reach to European and American markets to help the global pool of investors.
InstaReM
Recent Funding: $18.5 million over three funding rounds
Founded in 2014, InstaReM primarily caters to the remittance needs of individuals and businesses. The platform provides fast, secure, and most importantly, cost-effective international remittance transfer services. However, for businesses, the company has a separate platform named MassPay. This platform helps corporates and SMEs to reduce their cross-border money transfer cost by up to 80%.
Conclusion
Indeed, the environment for open-banking in Singapore is flourishing. The market players, investors, and the government are working together to build a safe and secure infrastructure for financial information to flow.
The startups that we've just talked about are only possible with open-banking. Think of a future where open-banking infrastructure is established. There will be a room for more FinTechs that will streamline the banking and financial activities across the nation.
However, there are a few downsides to open-banking. The most crucial is the data security. If you're a FinTech startup and want to leverage the data flow, you should build your applications in the most secure manner. I would recommend you to find a FinTech development company that has expertise in developing mobility solutions for banking and financial institutions.
Read More: Steps To Ensure Cybersecurity In FinTech 2021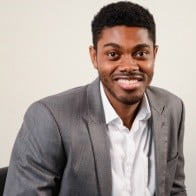 Jermaine Trotman is the co-founder of Nimble AppGenie, a company renowned for its bespoke mobile app development and web development in e-wallet app development and fintech development.