Cardinal Health's study found that 24% of hospital staff agreed that they have either encountered or at least heard about expired equipment being used on patients. Furthermore, more than 50% of the respondents remember when a doctor didn't have access to a product that was vital for a procedure. And even worse is that 18% of the respondents recall instances where there was harm to the patient's health due to a lack of supplies.
Does that scare you? Or have your hospital facility encountered any such issues in the past? If yes, you really need to upgrade your inventory management practices by adopting useful medical inventory management software. But, the real question is, whether you should go for an off-the-shelf software or build your medical inventory software from scratch?
Well, the answer isn't straightforward. First, you should know how medical inventory management software can help hospital facilities, which features it should have, and many other aspects of hospital inventory management software. 
This article will cover everything you should know about medical inventory management software adoption.
Recent developments in the healthcare sector call for more efficient inventory handling 
Patient admissions are at a record high since the recent developments in the healthcare sector. This is due to the pandemic, increase in life expectancy, ageing population, and an improvement in healthcare accessibility. 
For healthcare facilities, the growth has brought new challenges such as catering to the increasing demands while keeping the costs low. As the scale gets higher, it is getting challenging for the medical facilities to optimize workflows, comply with industry regulations, streamline inventory management, and achieve faster ROI (Return on Investment).
Hence, an effective inventory management software is crucial for medical facilities now more than ever. 
Why a Medical Inventory System is Crucial to Your Operations
Most often, nurses spend most of their time managing inventory. Even doctors have to team up with administrative departments to work on long lists of suppliers, equipment, tools, and medicines.
An automated medical inventory management software solution spares medical staff and administrators the non-core spreadsheets and paper trails, enabling them to focus more on the bottom line.
Healthcare providers often deal with emergencies, and it's vital for them to have access to the necessary tools and equipment as soon as they need them. Some supplies have a limited lifespan and need to be routinely cycled out to comply with medical standards. 
Some medical supplies have a limited or short lifespan, and medical facilities need to cycle them out routinely to comply with industry regulations. An optimum medical inventory management software can help healthcare service providers ensure there are on-time supplies replacements. Some advanced solutions can even reorder supplies automatically.
Should You Opt For An Off-The-Shelf Medical Inventory Software?
You might have encountered many off-the-shelf inventory management software providers for medical setups. They promise to instantly streamline your inventory management process with their easy to setup software solutions. Although these software solutions can be quickly implemented, they bring several disadvantages too. The following image illustrates the advantages and disadvantages of implementing off-the-shelf software solutions.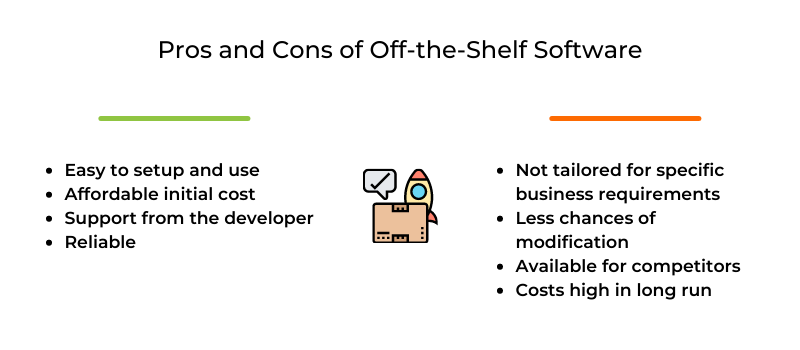 Considering the pros and cons of off-the-shelf solutions, it is an intelligent choice for small scale healthcare setups to go for the ready-made. But, healthcare institutions of mid-large scale would need tailored solutions to meet their expectations from technology.
What is custom medical inventory management software? 
Custom software development is a personalized approach to technology implementation as per the customer's specific needs. The technology, security standards, features, and user interfaces are decided with respect to the target user base, budget, and particular business processes.
Although developing custom inventory management software is time consuming and comparatively more expensive than off-the-shelf software, it is worth the investment in many scenarios. In fact, the cost is high only during the initial investment; after that, the recurring cost is much less, which ultimately results in less overall cost than ready-made software solutions. The custom software will provide you with many specific and useful features.
The following graphics will give you an idea of the pros and cons of custom software development: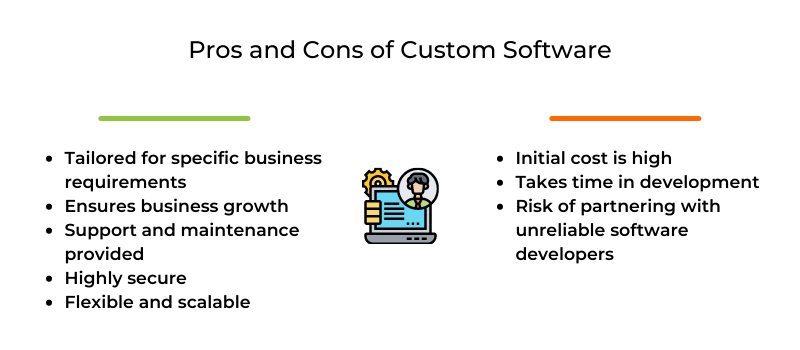 Is it worth updating your current medical inventory solution?
Compared to the past, the profit margins are narrowing, and hence it is necessary for hospitals to reassess the efficiency of all of their operations. Healthcare CFOs no longer solely focus on stretching revenues to improve profits; they are also working on reducing operational and inventory handling costs.
Even most of the prominent hospitals don't have the best numbers when it comes to inventory management. A Cardinal Health Hospital Supply Chain Survey found that 49 percent of the frontline healthcare providers still count and track supplies manually. Nearly 46% believe that this has a very or somewhat negative impact on their efficiency and productivity.
But the landscape is changing. We're witnessing an increase in the number of healthcare CTOs giving the supply chain the attention it merits. A study by Navigant revealed that improved supply chain management could help hospitals cut supply costs by over 17.8%. Utilizing technical advancements like machine learning (ML) can help healthcare organizations augment these savings. 
But the landscape of technology in the healthcare space is changing. More and more healthcare institutions have started paying the required attention to the supply chain digitization. The study by Navigant revealed that more than 2,300 US hospitals could reduce their annual spend on supply chain operations, processes, and produce by $23 billion. This means yearly savings per hospital of up to $9.9 million or a 17.8% reduction in the average supply expenses.
Fortunately, enabling inventory management automation doesn't necessarily entail developing medical inventory management software from scratch. You can integrate new features into your existing asset management system. I recommend you to consult a healthcare software development company to realize the possibilities of integration.
Features You Must Incorporate in Your Medical Inventory Management Software
Before adopting or developing medical inventory management software, you should have a clear picture of the required features for your software solution.
Multi-user access for various devices
It is not only the administrative departments that will use your inventory management software, nurses, doctors, and other medical staff would also require inventory information. Hence, your software solution should be accessible on various types of devices, including computers, smartphones and tablets operating on Android and iOS.
It will help if your medical inventory software is built in a cloud-based environment. The cloud will provide you with agility, availability, and responsiveness, which will help your care and administrative staff to access the inventory information anytime and anywhere.
All of this results in a streamlined process that promotes maximum efficiency. Anyone in your staff who wants to know the real-time supplies availability, can quickly check it on their device – no more unnecessary texts, emails, or calls.
Usage tracking
Ever had trouble knowing who used the inventory? When so many employees have access to various medical equipment and supplies, it is difficult to keep a check on it.
You should make sure that your medical inventory management software allows you to know who checked out certain supplies and where they've been used. Having such transparency (of course with automation) will help you effectively manage not only your supplies but also the employees as well.
Alerts for decreasing stocks
It is disastrous to run out of supplies. Your medical inventory software should also function as a reorder management system to give you automatic alerts about dwindling supplies. This will ensure that you never run out of stock by replenishing them beforehand. Make sure that the software you get developed gives you alerts on app, email, and text.
Real-time inventory tracking across multiple departments
Your inventory management software should allow you to quickly know the numbers and types of supplies that you've got and where they're stored/located. Not only this, but the software should also tell you how you can replenish the diminishing inventory (supplier information and one-click order capability).
The real-time information accessibility will save you time and resources that you would spend checking manually. Especially in a hospital facility, where many cases are of emergency, quick access to inventory could mean the difference between life and death. 
An intelligent medical inventory management software will also prevent you from under or over ordering supplies. On the admin panel, the administrators will know the items that need replenishment. Also, by using AI and Ml technologies, your inventory management software will enlighten you about the items that are being consumed more/less frequently than before, allowing you to make more informed decisions. In simple words, it will make inventory handling, purchasing, and vendor management more efficient.
And most importantly, by having inventory management software, you'll know your supplies' upcoming expiration date. With this information, you can rotate stocks to consume the older products first, enabling optimum use of your inventory.
User-friendly interface
The most crucial feature for almost every software solution. It would help if you kept in mind that not every hospital employee is tech-savvy. Hence your medical inventory management software should have an easy to understand user interface so that everyone can quickly learn using it.
For example, instead of presenting the information only in text, you should use visuals to make comprehension easier. In simple terms, the software should be designed in a way that everyone can use it on their first try without requiring complex manuals.
QR code or barcode scanning
QR code technology is in trend nowadays. Be it Fintech, Edtech, or healthtech, every industry vertical is utilizing the quick responsiveness of this technology. Your medical inventory management software should allow you to quickly capture inventory codes to provide you with the right inventory information.
Hence, having QR code capability is a blessing for medical inventory software. Your system also should allow you to create new QR codes, and allow these new codes to be scanned and identified quickly. This way, your medical staff will be able to check any item type, update its details, add notes, and even change its location.
Control over access and permissions
Although data security is crucial for every industry, it is of paramount importance when it comes to healthcare. Not everyone from your hospital staff needs access to all of the information. An intelligent medical inventory management software will allow you to control the accessibility of your medical supply data.
You can control who can view and edit particular types of information. While the leeway of information for the employees is necessary, scrutiny is equally essential. 
Data import and export capabilities
Your administrative staff creates many reports that they share with investors, clients, and even hospital staff. Your inventory management software should be able to make their job easier by allowing them to export the audit lists, training manuals, order sheets, and other reports. Also, the ability to import .csv or excel files will make your administrator's life easier.
Also Read: In-House vs. Outsourcing Software Development
How To Hire The Best Software Development Partner?
When hundreds of software development companies approach you for your custom medical inventory management software development, it becomes challenging for you to identify the right one. The following are the factors that you should look upon while selecting your software development partner:
Industry Expertise

. Every software development consultancy has expertise in at least one technology, but the thing for you to look upon is, do they have healthcare industry expertise? Make sure that they offer healthcare technology solutions as well as inventory management software solutions. You can also look over their editorial or

blog section

to see what their views are on healthcare technology and how they can help you with your specific use case.

Cost of development.

Of course, the cost of development is a crucial factor. Some development companies offer their services at a shallow rate, while some charge premium. However, you should find a balance between cost and quality to ensure faster ROI from your healthtech investment. You can read the following article to know more about software development costs –

Software development cost

. 

Client reviews.

Happy clients mean quality deliverables. You can check client reviews for a software development company on their website or their clutch profile. I'm honored to tell you that Nimble AppGenie has rated 5 out of 5 on Clutch. You can visit our clutch profile here –

Nimble AppGenie Clutch

.