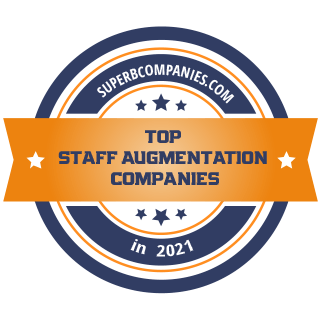 Nimble AppGenie has been ranked among the top Staff Augmentation Companies in 2021 by SuperbCompanies. In February, SuperbCompanies updated its rankings of staff augmentation companies listed in the directory. Nimble AppGenie was considered as one the top staff augmentation companies.
Each year SuperbCompanies selects the companies to make the list of leaders in different categories. We are pleased to announce that Nimble AppGenie has been recognized as one of the best B2B Staff Augmentation Companies by SuperbCompanies.
SuperbCompanies is a research portal that analyzes the global IT market and creates annual rankings of leading companies. The purpose of the resource is to help startups and professionals find their clients and achieve the desired success in the corresponding sphere. The Superbcompanies rankings are also useful for business owners searching for a partner company in any area of B2B business. SuperbCompanies includes only the best in its lists.
This award is very important for us, and we thank our clients. Thanks to their positive feedback on our biggest projects, Nimble AppGenie is gaining popularity and trust.