With the continuous advancement and change in technology, our life has changed in a better direction. Now you don't need to step out to buy anything. With the latest apps, you can get everything you need right at your doorstep, from electronic gadgets to home goods and from apparel to food items. With this new trend, we provide you with Milk Delivery App Development Services. Along with this, now you can also order dairy items like milk, egg, butter, and bread online.
The main advantage of the milk delivery app development is that you don't have to target the audience for your business growth. Since milk is needed every day by everyone, so basically everybody is your customer. in this post we will discuss features, cost, the technology required to develop an app. Read until the end if you are looking for a milk delivery app development company.
Difference Between Doodhwala and an Ecommerce Business
The basic difference between these two businesses is that the Milk delivery app concept is based on micro-delivery and micro-commerce business. You cannot order fewer items from big e-commerce websites. One major plus point of this app is that you will get your order at your doorstep before 7 AM.
The app seems quite similar to Flipkart and Amazon but these websites charge some particular deliver charges and also they do not deliver orders just the next day at your home.
Must-Have Features of an Online Milk Delivery App
Similarly, like every other on-demand delivery app, the milk delivery app also has 3 panels. The function of each panel is different. We will discuss each panel in detail.
User Panel
Edit Profile
After creating an account, the user can add personal details like address, mobile number in their profile.
Login/Sign Up
Users can create an account with an email/mobile number or can log in with social media credentials directly.
Mobile Verification
For account security, the app verifies the mobile number of the user with an OTP.
Search Items
Users can search their desired item in the search bar and add them in the cart for better flexibility.
Multiple Payment Methods
Since there are various types of users, the app must have various integrated payment gateways like debit/credit, e-wallet with COD also.
Track Order Status
Users can track the real-time location and status of the order directly within the app.
Multiple Address
Users can add multiple addresses for delivery, and they can also save them for future use.
Repeat Order
This feature allows the user to set a particular order for once and then it will be delivered at the user's doorstep daily.
Vacation Days
Users can set days on which they don't want to receive the order. This amazing feature will surely make the app flexible for users.
Order Details
Users can view all their past orders with complete information about cost, taxes, and delivery charges.
Referrals and Promotions
Users can earn discounts, bonus points, and various offers by referring the app to friends and family.
Admin Panel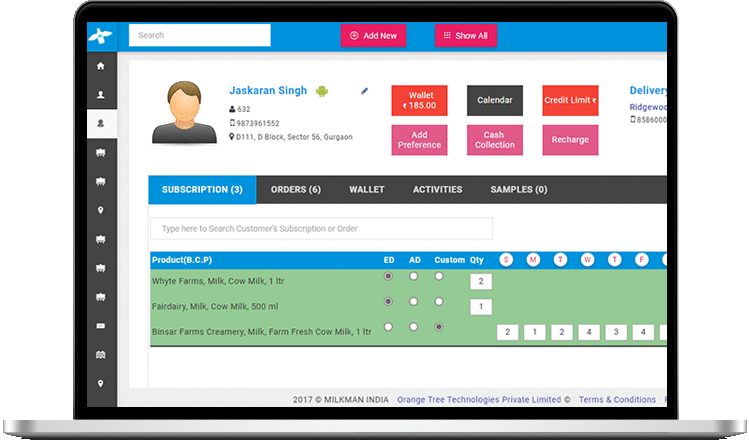 Customized Dashboard
This section helps the admin in managing all the details, orders, users and vendors and other important factors of the app.
Manage Orders
Admin manages the order by receiving, accepting, and assigning the order to the delivery executive from this portal.
Maintaining Users and Retailers
Admin can add or remove users and retailers according to their behavior. This feature allows the admin to manage all the information and details of users and retailers.
Record Deliveries
Similarly, like users, admin can also track the live status and location of order and delivery executive as well.
Real-Time Statistics
This feature allows the admin to manage the real-time analysis of growth, profit, loss, total orders, and various other details of the app.
Content Management System(CMS)
CMS helps the admin to manage all the available content on the website easily and effortlessly.
Customer Relation Management(CRM)
Admin has to keep a loyal and lasting relationship with the users. CRM allows admin to maintain a personal connection with all the registered users.

Retailer App
Registration
The vendor can log in with social media credentials or can use email id for creating a new account.
Managing Customers and Delivery Executive
The retailer can manage and monitor all the activities and information of customers and users within the app.
Manage Items
Admin can add new items or delete items according to the availability and sell ratio of each item.
Manage Payments
The retailer manages the payments and the payment methods of all received orders.
Track Income
Apart from payments received, the retailer also has to manage the total income and profit received from the app.
Driver App
Manage Profile
Drivers can also manage their profiles from the app. They can track pending orders, completed orders, reviews, and feedback also.
Customer Details
This feature helps the delivery executive in delivering the order more easily by viewing the details like name, address, and contact number of the customer.
In-App Navigation
This feature helps the delivery executive in navigating to the destination with the in-app map feature.
In-App Communication
The delivery executive can call or text the customer if he faces any problem while delivering the order.
Order Details
The delivery executive can monitor all the past delivered orders easily with the help of this feature.
Team Needed For Developing an Online Milk Delivery App
To develop a highly responsive app, you need a brilliant idea and a team of experts and skilled developers who can turn your vision into reality. An expert team of developers knows how to implement the required technologies to develop an online milk delivery app. here is a list of some crucial members that you'll need for developing an app.
Project Developer

Backend Developer

Tester
Technology Stack
| | |
| --- | --- |
| Technology | Feature |
| Android, iOS | Mobile Platform |
| IBM, Cisco, Spark, Hadoop | Real-Time Analytics |
| MongoDB, Postgress, HBase | Database |
| e-wallet, Paypal, GooglePay | Payments |
| Twillio, Neximo | Voice and SMS |
| Push.io, Twilia | Notification |
| Azure, Google, AWS | Cloud |
Development Cost of Online Milk Delivery App
Although we have discussed the features of the app but calculating the estimate of developing an online milk delivery app is not an easy task. There are various factors that affect the cost of the development of the app. The major factors are features, functionality, and region of app development.
The hourly cost of development is different in each country due to different economic conditions. Cost is somehow different, but the quality of work is almost similar in each country. Just for an idea, the development cost in the USA is $140-$240 per hour, in Europe the is quite low at around $100-$150. But in Asian countries like Malaysia, the rate is only $50-$90 per hour only.
With these cost estimations, we can calculate a basic estimation of the online milk delivery app. If you are developing an app with basic features in India, then it will cost you around $15,000-$20,000.  But if you are including some advanced features like CRM and CMS then the price will be high.
We can develop an online milk delivery app for your business at a budget price with quality features.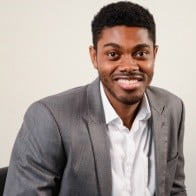 Jermaine Trotman is the co-founder of Nimble AppGenie, a company renowned for its bespoke mobile app development and web development in e-wallet app development and fintech development.