If you are an Insurance Company, You Should Develop and Launch an Insurance App, TODAY!
Why?
Here's why: The insurance industry in terms of revenue is worth $5.7 Trillion in 2022, making it one of the largest industries in the world.
Insurtech, the technical aspect of the industry alone is expected to reach global revenue of  $10.14 billion by 2025, from just $5.48 billion in 2019. In addition to this, the global property insurance space is expected to be worth $395 billion by 2027.
The best part is, people are responding well to the digitalization of the insurance industry thus leading the growth to new heights. In the last 3 years, there has been a 20% rise in digital insurance claims by the insured person. Plus, customer satisfaction is at an all-time high.
Moreover, the mobile average user spends 88% of their screen time on apps, checking their phones 344 times per day.
The increased mobile usage and introduction of insurance apps have led to a never-before-seen surge in insurance. Consequently, increasing app downloads by 461% and monthly active users by 668%. Isn't that amazing?
This is one of the reasons why a lot of businesses and start-ups are looking for mobile app development services to build and launch their own insurance app. And they have been successful to an extent as Global InsurTech investment for VCs reached $10.5 billion within 2021 alone.
If you are someone who wants to learn more about Insurance app development, this blog is for you. Here,  everything related to developing and launching an insurance mobile app shall be discussed in great detail. Therefore, with this being said, let's get right into it:
What is InsurTech? Insurance App Development
InsurTech, what is it?
InsurTech stands for insurance technology. Thus, it refers to anyone or the set of technologies that are used in the insurance world for the purpose of improving efficiency, and revenue, and introducing innovation.
While the insurance field itself is a very wide one engulfing: AI & Ml Technologies, IoT, Blockchain Technology, Big Data Analytics, etc; we shall be focusing on a very specific part of it, i.e. Insurance App Development.
As the name suggests, insurance apps can be of various different forms. But the main goal of the application itself is the digitization of insurance services and expanding the scope to a larger audience.
There are a lot of things that can be done via these apps, but we shall be discussing that later in the blog.
Insurtech is just like Fintech App Development considering the fact that finance and insurance are sister industries. Thus, they share a number of similarities when it comes to technology, features, and working.
Just like Fintech apps, Insurance apps also generate amazing revenue. Something that attracts a lot of new clients.
Coming back, insurance is a large field in every aspect and it goes without saying that there is a range of different niches within it. And this gives rise to the different types of insurance apps.
Types of Insurance Apps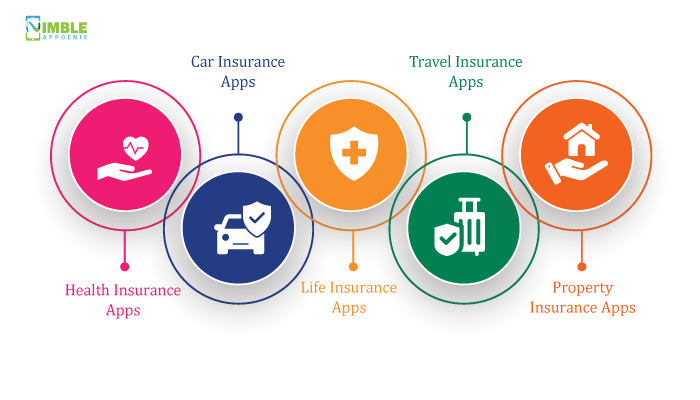 Before you learn how to develop and launch your own insurance app, let's first discuss the different forms of insurance applications.
Some of the major ones are, as mentioned below:
Healthcare insurance is one of the largest fields of the industry. While there are some parts of the world where healthcare is free, there are some where it isn't.
People often prefer subscribing to a health insurance plan instead of going bankrupt in case of emergencies.
Now, this mobile app removes the need for a middleman and digitalizes a lot of documentation. Thus, the user can get insured on the go.
Well, it is no secret that cars don't come cheap. When they get into accidents, there is a lot of financial loss, not forgetting the possible loss of life.
And it can get even worse when the involved parties ask for a claim. Let us tell you, it can be hefty. This is why car insurance is important.
There are a lot of companies that want to hire on demand app developers and build their own car insurance apps. Therefore, this is something that you should be considering.
Life insurance is yet another major part of the industry.
As the name suggests, this is for end-of-life scenarios. Considering the current demographics, most of the family only have 1 breadwinner. God forbids it, no one wants to leave their family in financial ruin in addition to emotional trauma.
Thus, in case of unnatural death, the family of the insured person can claim the amount. This process is made a lot easier with help of mobile apps.
There are some professions which require a person to travel a lot. Even apart from that, while usual travelling or family trip, tragedies can occur.
Travel insurance apps allow users to insure themselves at low prices in case any travel accident might occur. This is what makes them one of the top solutions in industry.
Last but not the least, the property insurance app.
Well, the real estate market is one of the largest in the world. And when you combine it with insurtech, the revenue skyrockets.
So, these are the different types of insurance app solutions that you can consider for your project. Moving on, we shall be going through some of the reasons to build your own insurance app.
Why Insurance Company Needs A Mobile App? Reasons to Build Insurance App
Time for the real question: Why Should Your Company Build Insurance App?
After all, mobile apps aren't all that cheap right? Well, yes, that's true. But, there is plenty of benefits that outweigh the downsides.
In this part of the blog, we shall be going through some of these:
Better communication between the insurance company and the client.
Allows the company to reach a wider audience base
Automates a lot of lengthy and labor-consuming tasks.
Allow agents to focus on other work as they don't have to attend to the client on every occasion.
Deliver more value to the client by enabling them to avail of services through the app.
The mobile app provides opportunities to collect big data
Better customer behavior analytics operations through the app.
Improves revenue generation opportunities for the company as insurance is one of the largest industries in the world.
Enables true 24/7 insurance-related services to the clients.
These are some of the reasons to build and launch an insurance app of your own. Now, let's look at some of the popular examples of insurance apps.
Popular Insurance Apps
If your company wants to develop its own insurance app, it is a good idea to take inspiration from the best insurance apps in the market.
Therefore, we shall be going through the top Insurance apps that currently rule the market.
These are, as mentioned below:
1) LEMONADE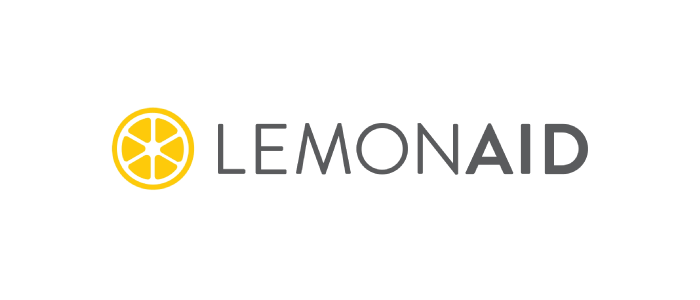 Lemonade is a leading peer-to-peer insurance app that was founded back in the year 2015. It is based in NY, USA, and offers a range of insurance services covering renters, condos, co-op, homeowners, life, and pet health.
In addition to this, something that makes this platform stand out of the rest is the fact that the unused premiums are donated to charities by the company.
Some of the top features of the platform are, as mentioned below:
AI-enabled chatbot
Highly personalized policies
Choose a charity to donate unused premiums
2) METROMILE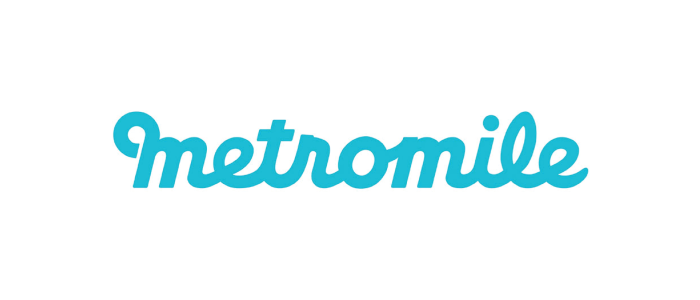 As the name suggests, Metromile is a pay-per-mile car insurance app and one of the best ones at it. It was founded back in the year 2011.
Based in California, this leading app personalizes each specific insurance offering the most affordable prices to the user. This is what makes this platform unique.
Some of the top features of the platform are, as mentioned below:
Customizable coverage
Preview your rate with the Ride-Along feature
Street sweeping alerts to avoid fines
3) OSCAR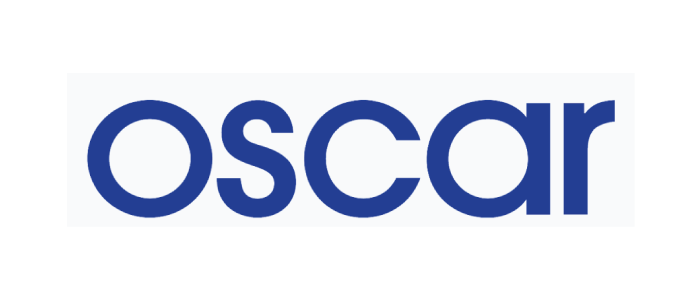 Oscar is an insurance company that specifies health insurance. Founded a decade ago in 2012, it started in NY, USA, and spread across the USA.
Now, why do people love Oscar? Well, one of the main reasons is that it makes the entire process simple by getting rid of copays and coinsurance. Plus, it also doubles as a telehealth app that allows insured users to consult doctors online.
Features of Oscar are, as mentioned below:
Book an appointment
Prescriptions and lab results
Telemedicine
These are some of the top insurtech apps in the market. Now, to make an app stand out from the rest, it needs unique features, as we saw above. So, we shall discuss that in detail in the section below:

Main Feature of Insurance App
Whether you hire android app developers to create your apps or iOS apps, features want to ensure the success of your application.
Now, if you are someone who wants to create the next best insurance app, well, you should consider including some important features in the app like eWallet integration.
Some of the basic features that every insurance app should have been, as mentioned below:
| | | |
| --- | --- | --- |
| User Insurance App | Agent Insurance App | Admin Panel |
| User Sign Up | Agent Sign Up | User and Agent Account Management |
| Document Upload | User Sign Up Walk-Through | Revenue Management |
| KYC | Document Verification | Ad Campaign management |
| eWallet Integration | Contact client via app | Customer support |
| Online Claim | Provide customer support | Remove or add new product |
| Consult An Agent | EMI collection | Provide claim |
| Compare Policies | User Claim Processing | Send push notifications |
How to Develop and Launch An Insurance App? 10 Step Process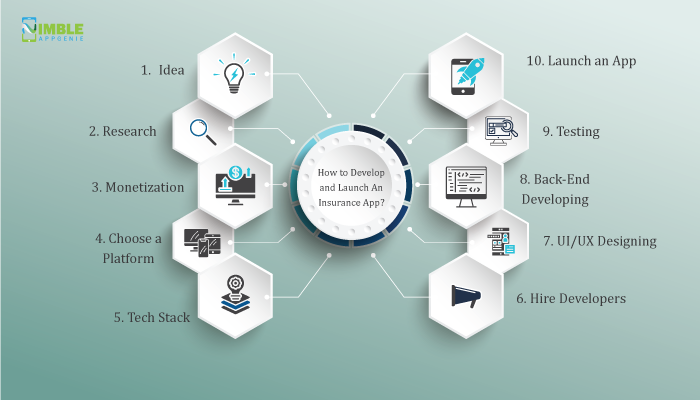 Developing an insurtech app isn't all that easy. However, it isn't exactly rocket science either. it sits somewhere in middle.
So, if you want to create your own app that generates millions of dollars, it is a good idea to understand the development process. Let's go through it, step by step:
1) Idea
The first step is coming up with an idea.
Now, how do you do it? Well, pave your own path. Brainstorm, take inspiration from the market, solve people's problems, or do anything that does it for you.
But try working on more than one idea so that you have the plan to fall back to.
2) Research
With an idea at your hand, it is time to conduct research around it.
Get to know your target audience, who are your competitors, what market opportunities you can grab, is your idea viable, whether can you develop it? and so on.
Research is an important part of app development. And this is something you need to do before you consult an on demand app development company.
3) Monetization
This is the part where you monetize the app.
Some of the popular monetization strategies are, as mentioned below:
App Campaign
Commission
Processing Fees
Big data
Apart from these, you can come up with your own unique methods of generating revenue.
4) Choose A Platform
Since we are talking of mobile app development, choosing the right platform is very important.
Now, there are two major options.
Native app development
Hybrid app development
First, native app development. As the name suggests, native apps only run of the platform they are native to. Thus, giving you two major options in form of android and iPhone App Development services.
Moving on, hybrid apps are compatible with two or more platforms. React Native App Development Services allows you to create hybrid apps.
Now, both native and hybrid are good choices based on your project needs. Moving on, let's discuss tech stack.
5) Tech Stack
Tech stack refers to the set of technologies that are used in mobile app development. This covers everything from programming language to framework.
MEAN Stack is a popular example of tech stack.
6) Hire Developers
Now that you finalize the platform and tech stack, it is time to hire dedicated developers.
You can use the following methods to hire developers:
Assemble in-house team
Outsource to App Development Company
Hire Freelancers
Hire Part Time Developers
With a development partner at your side, it is time to start the development process, which starts with….
7) UI/UX Designing
First comes designing, this is the part where UI/UX Designer creates the front-end design of the platform.
The design plays an important role in attracting and engaging the users to the platform, thus gaining leads. Plus, it also provides an improved user experience to the existing users.
Nevertheless, once this is done, we can start with back-end development.
8) Back-End Development
This is the part where on demand app developers write source code and create the final version of the app.
Being the most important part, it is also very time consuming and resource intensive. Thus, it is recommended that you maintain good communication with the development side.
9) Testing
With the final version of the app created, it is time to test the app.
QA team uses a range of advanced tools and skills to test every part of the app. Once all necessary changes are made, it is time to launch the application.
10) Launch An Insurance App
It's time to launch the insurance app.
The deployment process depends on the platform. Nevertheless, it is usually really quick. Once the platform approves the app
With this, your own instance app is active in the market and ready to take over the competition, earning your business millions ( or even billions!)
Cost To Build Insurance App
So, how much does it cost to build an insurance app?
Well, the cost to build an app insurance or any other depends on a lot of different factors. For instance, it includes platform, tech stack, size of the app, complexity, and so on.
Therefore, if you want to get specific costs, you need to share your project specifications with an insurance app development company which will be able to give you a quote based on the same.

Conclusion
Want to develop and launch an insurance app that can make your business millions?
Contact the best mobile app development company that can help you bring your ideas to reality.