Do you want to develop Shazam app?
Well, who doesn't know Shazam; it is the most popular and the market leader in its niche.
In fact, the technology behind this platform is so amazing that, for more than a decade, Shazam had no competition. There was no other app that could do what this platform did.
Well known for its integration into iOS app development and the platform in general, Shazam is very popular, to say the least.  Today, it has more than 225 million global monthly users as it turns 20 years old.
Don't even get us started on the revenue (we will discuss that later).
Getting to the point, there are a lot of people who want to develop a Shazam-like app and replicate its success. After all, who wouldn't want to do that? Everyone does.
But the real question is not if, you want to develop, but how to develop an app like Shazam.
Mobile app development as we know it can be difficult. Especially when you are developing a state-of-the-art app like Shazam which works on complex technology. Therefore, all of this can be quite confusing for people who are new to this.
But if you are someone who wants to develop a market-leading music identifier application, well, this blog is for you.
Here, we will be discussing everything little and big things about Shazam that you needs to know. This includes features, monetization, development process, technologies, cost, and so on. Therefore, with this being said, let's get started with the basics:
What is Shazam? Music Identification App
Shazam was founded back in the year 2002. Let us you back then, technology wasn't sorcery it is today. And it was then this app changed the market forever.
The success of the platform and its unique functionality attracted a lot of attention. This lead to Apple acquiring the platform for $400 million in 2018. In addition to this, it is generating an average of $39.9 million with revenue peaking at almost 100 million USD.
This is the reason why everyone is looking for Shazam app development to create their own version of it.
It was founded by Chris Barton and Philip Inghelbrecht. For a long time, no one had an idea how this platform works. That was until Avery Li-Chung Wang, one of Shazam's co-founders, published his academic paper explaining how music identification works.
Well, for those who don't know what this platform does, let us tell you:
Shazam is a music identification application. As the name suggests, this app allows people to identify music they know nothing about. The Shazam app actually solves one of our biggest problems for us.
Imagine this, you hear a song and you love it. And you want to add it to your playlist, but you don't know what song it is. While even today with all the technology and internet it isn't easy to find a song, back in the year 2002 it was next to impossible.
Well, all anyone needs is a Shazam. Open Shazam App and let it hear the music via microphone. Wait for a second and boom, the app will give you all the details about the song.
This is the basic function of the Shazam. Let's look at the full working process of the song finder app in next section of the blog.
How Does Song Finder App Like Shazam Works?
There are hundreds of millions of people who are using Shazam song finder app to find well, songs. With over 35 million track on the platform and new ones coming every day, this platform is booming.
So, how does this app actually work? How can you find a song just by using a mobile app?
Moving on, we shall be looking at the entire working process. The steps are, as mentioned below:
The very first step is downloading the app. Since the platform is created using hybrid app development you can find it on Android as well as iOS.
Once the platform is accessible, it is time to register on it. Since this is an Apple product, you can log in using your number, email, Apple ID, and so on. After this is done, it's time to move on.
Now, if there is a song you want to learn more about all you need to do is get close enough to the sound source that your phone's microphone can pick it up. After this, it's time to record it on the app.
Shazam using its amazing technologies makes a spectrogram out of that recorded clip. This is an important part of the process.
The platform will then try to match this spectrogram of the song with its database. With more than 34 million libraries of songs, you can find any song you want.
once the song is matched with a song in the database, the match will be displayed to the user on the app screen.
This is the working process of the Shazam app. Now, if you are someone who is wondering about the technology behind this platform, well, we shall be looking at that as well.
You see, every song is unique in its own right.
In that way, the song has a unique fingerprint. Using AI and ML technologies as well as other technologies create a fingerprint from that image. There are some big technologies that go behind it, but let's leave all that work to developers.
In addition to fingerprint technology, the platform has a strong song library where you can find literally every song.  And it matches that.
This is the working process of the platform. Now, let's look at some of the other platforms like Shazam.
Other Apps Like Shazam: Take Inspiration From The Best
Do you want develop music identifier app and beat the Shazam app well it is a good idea to take inspiration from the best.
Therefore, we shall be looking at other examples of state-of-the-art mobile app development projects. These are, as mentioned below:
| | | | |
| --- | --- | --- | --- |
| Midomi | Musixmatch | Musera | Audiggle |
| MusicID | SoundHound | Genius | Cortana |
These are some of the popular apps like Shazam.
Well, this might make you question, if there are so many apps like Shazam, why should you develop one. Let's answer it in the next section.
Why Develop Shazam App Clone?
Developing a mobile app is actually a big project.
You have to look for a custom mobile application development company, hire them, invest a lot of money, then get an app. It isn't like that these projects aren't successful. But you should be sure about it before you decide to invest.
So, what is the reason to develop Shazam like the app?
Well, there are a lot. Some are mentioned below:
Revenue Generation Opportunity
Strong user base
Business growth
Good ROI
Easy to create
Great Market
Low barrier to entrance
These are some of the reasons why you should invest in Shazam App development.
Apart from the formal stuff, let us tell you something real.
Shazam has been acquired by Apple, which tells us a lot about the platform. In addition, they are doing something unique that you don't see a lot today.
Their peak revenue reached around 100 Million USD with just 200 employees. So, in no way do they have a strong workforce in numbers like Google or Apple. But still, they are making good revenue.
This is a sign enough for you to develop a similar app and conquer the market, generating millions of dollars in the process. And if you want to create a successful music identification app, well, you need to fill it with the right features.
So, let's look at some of the features you should include in this platform in the next section of the blog.
Feature to Include in Shazam App Development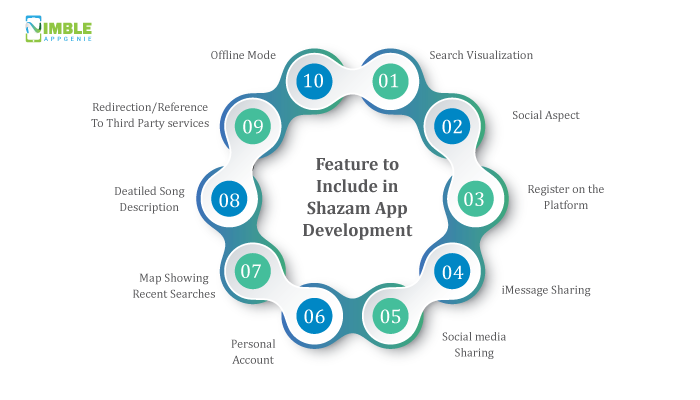 Every form of music streaming app development need amazing features to make it eye-catching ( or shall be ear catching).
Therefore, some of the features that you should include in this platform of yours are, as mentioned below:
Search visualization
Social aspect
Register on the platform
iMessage sharing
Social media sharing
Personal account
Map showing recent searches
Detailed song description
Redirection/reference to third party services
Offline mode
These are some of the basic feature that every app like Shazam should have. You should keep this in mind when you develop Shazam app.
Moving on, we shall be doing looking at the entire development process in next section of the blog.
How to Develop Shazam App? Step-by-Step Development Process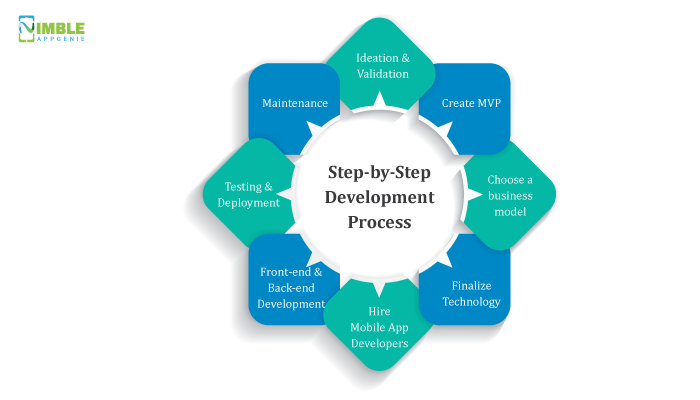 How do you develop an mobile app?
Well, there are a lot of things that goes into it. And in this section of the blog, we shall be going through the entire process in detail.
Therefore, with this being said, let's get right into it:
1) Ideation & Validation
The very first thing you need to do is come up with an idea.
This process can take well… some time, but when you have a strong idea, you have a strong idea. Plus, it is recommended that you always have an back up plan to fall back to.
Once you have an idea, it is time to cross check it or validate it. This is something important to do before we move further.
2) Create MVP
Create MVP if you want to know what you are getting into.
This is a form of prototype with minimal working parts but complete design elements. This is an important process.
Moving on, we can move to the next process.
3) Choose a business model: Monetize The Idea
It's time to choose a platform and make sure, how the platform will make money.
Well, there are different types of monetization. In case of Shazam, it uses two major ones, these are, as mentioned below:
Apart from these, there are several other strategies, some of these are, as mentioned below:
Paid apps
Subscriptions
Ads
Moving on, it's time to choose technologies in next section of the blog.
4) Finalize Technology: App Platform & Tech Stack
Before you hire developers and create the next best music identification part, it is time to finalize technologies.
Let's first talk about platform.
There two major platforms iOS and android app development. Both of them are amazing and when done right, they can lead you to success.
Apart from this, you also have to finalize tech stack. It refers to the technologies used for development like languages, frameworks, and so on.
Once this is done, it is time to hire developers.
5) Hire Mobile App Developers
Hire dedicated developers.
How? There are different ways you can use. These are, as mentioned below:
Hire freelancers
Assemble in-house team
Local development company
Outsource to mobile app development company
Hire part-time developers
These are some different ways you can use them. It's time to start development
6) Front-End & Back-End Development
The first part of development covers UI/UX design.
To create a leading app, make sure the team follows 12 Designing Principles.
Following the front-end, it is back-end time.
Here, the team of on demand app developers will be writing the source code of the application. Thus, the final version of the app is created here. In other words, you develop the Shazam app here.
7) Testing & Deployment
After the finalized version is created, it is time to test it.
QA team will launch it in the live environment to test it. And once it is done, it will be launched in the market.
8) Maintenance
Following deployment, the maintenance services start.
And with this, we have come to the end of our development process. This might leave you wondering, how much will all of it cost. Let's see.
Cost To Develop An Music Identification App Like Shazam
How much does it cost to develop a mobile app?
It depends on a lot of different things. The platform, your preferences, and so on. So, if you want to learn more about the accurate cost, reach out to a music streaming app development company.
Conclusion
This is all you need to know about how to develop the Shazam app and related things.
If you want to learn more about it, it is highly recommended that you consult a mobile app development company.