With the increased demand for online education triggered by Covid-19, EdTech startups are coming up with innovative eLearning development methods, which are ready to revolutionize the education industry. However, not all of the EdTech solutions generate the desired ROI (Return on Investment).
The primary reason behind this is that many EdTech startups aren't developing EdTech solutions that keep the best development practices in mind. For example, I've seen many e-learning apps that are developed with perfection, but in terms of delivering meaningful educational material, they fail.

In this article, we'll discuss the best practices for eLearning development, which generate faster ROI. Let's begin with the market trends and the best educational apps in the market in 2021.
E-Learning Market Trend
During the first thirty days of the Covid-19 outbreak, 10.3 Million people enrolled for Coursera. It was a 644% hike in new enrollments as compared to the same period in 2019.
As per Globe News Wire, the global eLearning market is estimated to grow to 374.3 Billion US Dollars from 144 Billion US Dollars in 2019.
A report by Crunchbase found that the investment in EdTech hiked by around 58% to reach 4.1 Billion US dollars in the first two quarters of 2020.
Although the number of investment deals have gone down in 2020, the size of deals have risen. In 2018, 427 deals raised 4 Billion US dollars whereas in 2020, only 279 deals raised 4.1 Billion US dollars.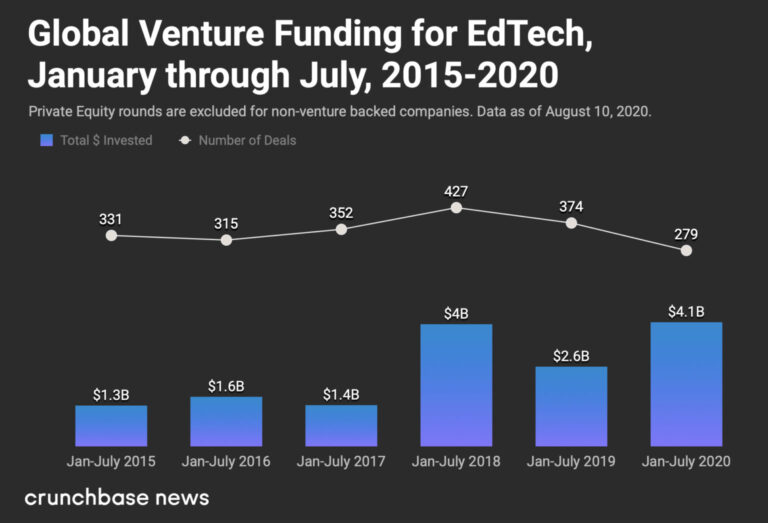 Image Source: Crunchbase
The Top eLearning Apps in 2021
Recently, CNN listed down the best eLearning platform available in 2021. I'll quickly take you through those eLearning platforms, so that you can see what and how your competitors are doing.
1. Babbel
Babbel is a language learning app that allows individuals to learn 14 different languages including Italian, Spanish, English, French, and Portuguese. The app makes use of text-based learning, language recognition, and visual examples of words and phrases to make learning more immersive.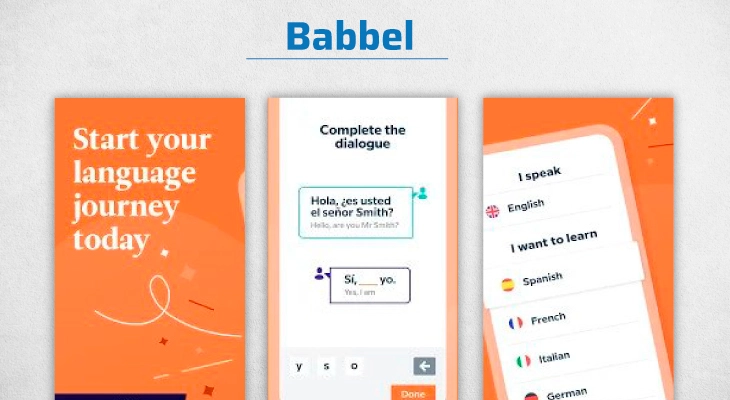 The greatest strength of Babbel is that it allows users to customize their learning experience. With the ability to take practice tests based on the skill level, it becomes very easy for learners to get started. One thing where Babbel lags behind from Duolingo and Rosetta Stone, is that it doesn't allow learners to learn specific vocabulary for, say, an upcoming vacation.
2. Rosetta Stone
Yet another language learning app that excels the eLearning app market. The app offers learning couches for more than 25 languages including Japanese, French, Russian, Hebrew, and many others. Moreover, the live tutoring sessions in private or small group settings are a bliss for learners.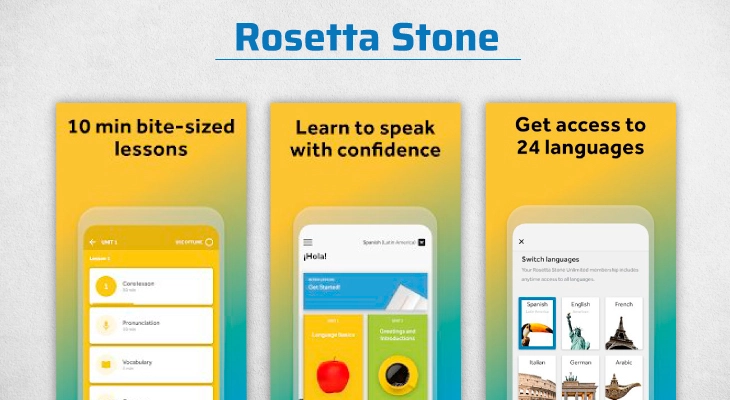 The biggest downside of Rosetta Stone is that it doesn't make it clear to the users what the next lesson or unit will help them in. Also, the app doesn't allow users to pick up from their existing level of proficiency in language. I would recommend that Rosetta Stone learn from Babbel, by providing a better way for users to pinpoint existing skill levels.
3. Coursera
Coursera is the best e-learning application for android, iOS, and web. With courses ranging from a variety of subjects including science to arts and humanities. However, the app doesn't function like Duolingo or Babbel, where the educational content is presented in a self-learning manner.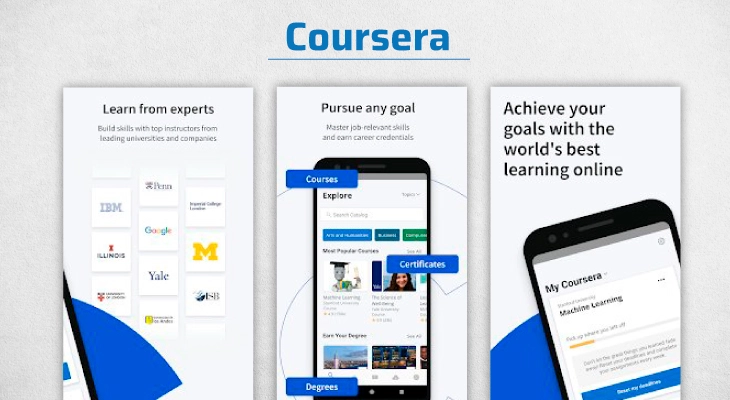 The courses in the app are taught by professionals from recognized institutions like Saint Petersburg State University, IBM, and Stanford. Another advantage is that the students can even earn their bachelor's or master's degrees for several available courses. And yes, all these courses are authentic and accredited by these universities.
The greatest strength of Coursera is it's quality of courses. As the courses are supported by some of the top companies and universities in the world, Coursera is a preferable choice for students worldwide.
4. MasterClass
If you want to broaden your horizons and learn new skills from experts, MasterClass is your way to go. The app is all about techniques, advice, and anecdotal learning for several areas. Although in terms of quantity of content, the app lacks behind Skillshare, the quality of content is the USP of the app. The courses range from astronomy to music composition to cooking.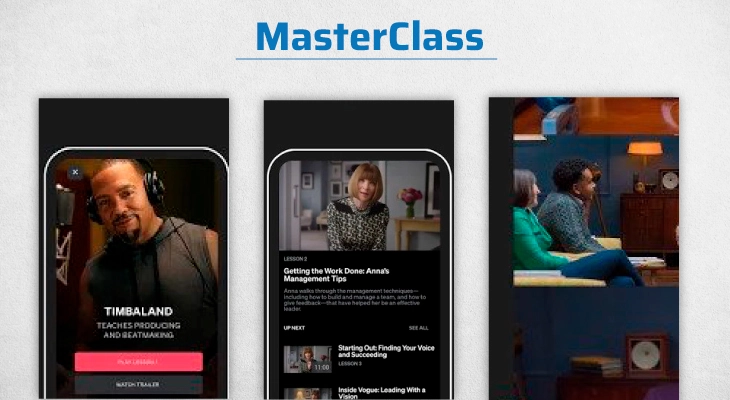 While learning, you'll find some of the recognized names advising you through your learning journey. Some of the featured names in the app are Amy Tan, Gordon Ramsay, Neil deGrasse, and Tony Hawk. While reviewing, it was pleasing and helpful for me to see that physical motion in fitness courses was clearly portrayed.
What Are the Top Design Distractions That Hinder Learner Engagement?
1. Controversial Images
Images and graphics, in general, are a great tool for learning. For online learners, they provide bliss, as they allow them to associate the information with pictorial representations, which is always helpful to remember and recall.
However, it is important be careful whilst applying images. You must be aware of your target audience (learner demographics) and must know how the images may relate to them. The last thing you would want is to put a controversial image that gets learners to talk about the picture connotations instead of the topic.
2. Unreadable Font
Every designer has faced this issue at some point in their career. It seems cool to use script or old-styled fonts to make your educational content more appealing. However, no matter how elegant they look, such font types aren't easy to read. They make learning more tedious for the students and may eventually put them off the track.
Don't forget, your purpose is to provide the learners with a comprehensive learning experience. Hence, I would recommend that you keep the font as simple as possible, so that the learners don't get puzzled whilst progressing through the content. Basic fonts like Times New Roman and Calibri are easy on eyes.
3. Using Too Many Navigation Icons
Navigation icons are a handy guide to new or lost learners. They tell them where to find the required information. However, stuffing your e-learning app with too many navigation icons will possibly create confusion. Since the users see too many icons to choose from, they just can't decide which to click upon for a certain path.
Another similar issue to be reckoned with is unclear navigation icons. If your online learners are busy figuring out what a button is about, they may lose attention. The recommendation is to avoid overcrowding your e-learning app with too many navigation icons.
4. Excessive Use of Graphs and Charts
Although graphs and data charts are a very effective way of representing loads of data, overusing them can be distracting for the users. It is recommended to limit the number of graphs or charts to three to four. Even for some online learners, three to four graphs can cause cognitive overload. Another issue appears when you incorporate vastly complicated graphs and charts that aren't clearly explained to the users.
5. Eye-Catching GIFs
Despite being in trend, GIFs and memes don't belong to learning. Such content will plunge the professionalism of your eLearning course. Another reason is that memes and GIFs will distract the learners from their core purpose of learning. Therefore, it is mindful to limit the use of GIFs and memes to social media and networks only.
How To Incorporate Immersive Learning into Your Educational App Development?
Modern eLearning app development is all about immersive learning. Both teens, as well as adult learners, easily recall something (mostly song lyrics) that they used to be taught in their nursery schools. It is because those methods of learning are more immersive. Below are modern tips to incorporate immersive learning into your eLearning mobile app development.
1. Use Ambient Audio
Of course, Including songs in adult learning courses will seem patronizing and will put off users. However, using subliminal sound is very much favoured for immersive learning experience. Have you ever identified that you don't remember the background sound you hear in movies. It is that the sound was ambient; it was in the background, hence you don't tend to notice it. But, it definitely shaped your mood according to the scene. For your e-learning app development, I would suggest you to use ambient noise and sounds to subconsciously direct the learners.
2. Interactive Videos Powered by VR, 3D
Not every e-learning app for android or iOS will require advanced technologies to be integrated. But here, I'm not just stating that you should use advanced technologies in your educational content. The point is to make the learning content interactive to encourage learners to be frequent. For example, using the perfect lighting will make your educational videos more immersive.
3. Don't Offer Concrete Curriculum
You may be tempted to force 'moral' on your online learners by fixing the learning path for them. However, it isn't practical to do so in the e-learning scenario. It is better to let your online learners decide how they would like to go through the course. Maybe they want to repeat a chapter or just skip one because they're already knowledgeable of it. If you want a reference, Duolingo is doing it far better than anyone else. The app allows users to pick through any chapter or scenario. However, at the same time, the app also controls the learning path with unlockable content.
4. Social Interaction
Although online learners tend to lose themselves to gossip or unnecessary conversations in the group settings, you can still make use of the power of social interaction by improving just the structure. For example, you can provide all of them with a problem, which they're supposed to solve. This will create a sense of competitiveness and collaboration as some of them would group together to solve complex problems.
5. Live eLearning Events
Online learners would appreciate the opportunity to be a part of live learning sessions, where they can interact with the tutor and ask questions in real-time. It has been seen that during live workshops, online learners are more focused and involved. There are many ways through which you can make these live sessions effective. One such is integrating live workshops with social media.
Find The Right Development Partner
In these times when team collaboration is possible, it isn't mindful to develop an eLearning app in-house. When tech giants like Google and Adobe are outsourcing parts of their development work, it certainly is the best practice for your eLearning development.
However, you would encounter a question: how to find the right mobile app development company that has proficiency in developing educational apps? There are certain ways you can make sure that an education app development company is suitable for your project. I would recommend you the following:
Sign an NDA with the mobile app development companies you pick.
Draft a detailed requirement document and it to top 6 education app developers.
Assess their proposals.
Ask them for work samples that are relevant to the education industry.
Plan for a long-term partnership with the development company as you'll be requiring the post-deployment support.
Make sure that the e-learning app development company you pick has worked on a project related to education before. For example, at Nimble AppGenie, we have recently developed a medical education app named Medu4. The several education apps that we've developed have enabled us to learn the most crucial and valuable aspects of EdTech apps.