I was randomly searching for the top education software development companies in Singapore and found the top six educational software developers, who are really very innovative when it comes to bringing education online. It wasn't a surprise for me that Nimble AppGenie ranked second on that list.
Before we get straight to knowing the strengths and weaknesses of their educational software development services, let me give you a brief overview of the EdTech market in Singapore.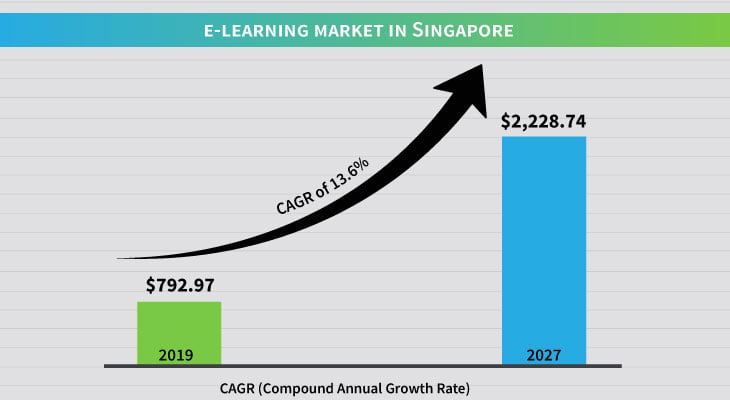 A report by The Insight Partners states that the e-learning market in Singapore was valued at $792.97 million in 2019. With a CAGR (Compound Annual Growth Rate) of 13.6%, the market is estimated to reach $2,228.74 million by 2027. 
Schools and higher education institutions in Singapore are very much interested in adopting education software solutions. The popularity of educational industry softwares in Singapore is primarily increasing due to the need for solutions like LMS (Learning Management Solutions) and self-learning.
Even the Singapore government is heavily involved in digitizing the education system. A few years ago, the government launched a master plan named eGov2015. Their purpose behind the plan is to integrate the economic ecosystem including systems, processes, and service delivery related to educational infrastructure.
Okay, so we've talked a bit about the EdTech market trend in Singapore. Now, without further ado, let's take a look at the top education software development companies catering to the Singapore market.
Disclaimer: The rankings are authenticated and were accessed in April 2021.
Top 6 Education Software Development Companies in Singapore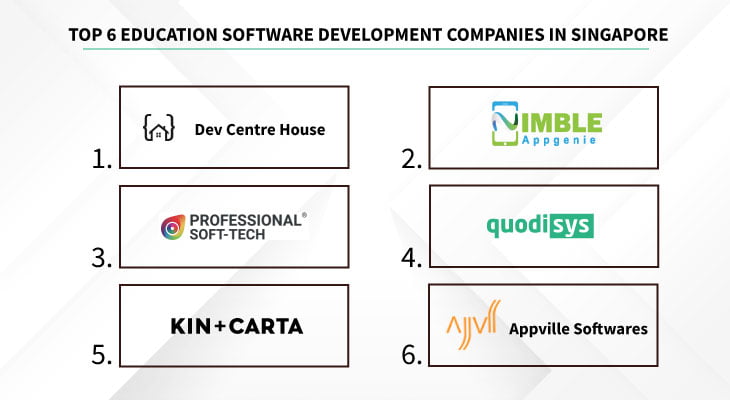 1. Dev Centre House
Enterprise Software Development Company
Rated 4.9 out of 5 on Clutch
Dev Centre House is an Ireland-based software development company which is headquartered in Dublin and has presence in the UK, USA, India, and Israel. The company was founded in 2012 and has more than 50 in-house software engineers. Their Clutch profile states that 35% their service focus is on educational software development.
Their key clients are Ei Electronics, ZAGG International, BMW Ireland, Mophie, and Kurdshopping. Their website states that they're familiar working with technologies like Swift, Kotlin, NativeScript, Java, React Native and Go.
2. Nimble AppGenie
EdTech, FinTech, HealthTech Mobile App Development Company
Rated 5 out of 5 on Clutch
Headquartered in London, Nimble AppGenie is an education software development company that is proficient in developing software solutions focused on ROI. Although the company was founded in 2017, it has successfully deployed more than 50 projects. Currently at Nimble AppGenie, we have 44 top-notch software developers that have hands-on experience in developing education software solutions.
The company has presence in the USA, UK, Singapore, and Malaysia. Our pool of clients include Medu4 (an Medical Education Platform), Student Castle (A Student based app), DafriBank, CUT Wallet, Declutter on Demand, Frontisti, Dynamic Running Therapy, and IviiNights.
We've recently deployed the Medu4 app, which has innovative features like personalized practice sets and smart search. You can learn more about the project by reading the case study we've recently produced.

3. Professional Soft-Tech
Web and Mobile App Development Company
Rated 5 out of 5 on Clutch
Based out of Gujarat, India, Professional Soft-Tech is trusted by many popular brands across the world including Volkswagen, eBay, Toyota, Boost, and Best Buy. The company has presence in the USA and Singapore too. The company was founded in 2010 and employs 10-49 software engineers. 
Although Clutch has ranked Professional Soft-Tech in the list of top education software development companies, the company doesn't primarily focus on EdTech, which is a significant con that every EdTech platform business should consider before they decide to hire them.
4. Quodisys Development Services
Website Development Company
Rated 4.8 out of 5 on Clutch
Also known as QDS, Quodisys Development Services is a Singapore-based software development company that primarily focuses on web development. The company was founded in 2013 and has 10-49 employees that can also be hired by other companies.
Their key clients include Victoria's Secret, UNICEF, Omega, and Citibank Thailand. Their line of services ranges from web & mobile app development and staff augmentation. They've stated on their website that their developers are expert in developing SaaS platforms, iOS and Android apps, company websites, eCommerce platforms, marketing sites, and corporate portals.
5. Kin + Carta
A global transformation business
Rated 4.8 out of 5 on Clutch
Based out of Chicago, Kin + Carta is a mobile app development company, which has their primary focus on FinTech and Manufacturing. The company was founded in 1964 and employs more than a thousand people worldwide. As the company is of a higher scale, most of the clients are enterprise level.
Their clients include enterprises like AstraZeneca, Santander, Expedia, Barclays, Pizza Hut, Gordon Foods, Abbvie, English Football League, Unilever, Toyota, Heathrow, Citi Bank, BainCapital, Trek, and John Deere.
6. Appville Software's
AR/VR Mobile App Development Company
Rated 4.9 out of 5 on Clutch
Based out of Coimbatore, India, Appville Softwares is a technology service provider specialized in Augmented Reality, Virtual Reality, and Extended Reality. The company was founded in 2013 and has a small team of less than ten software engineers.
Their key clients include Germany Indian Railways, India L&T Valves, Italy ITC, and India Indoshell. However, while going through Appville Softwares' website, I found that they focus more on industrial 4.0 and IoT solutions.
Factors You Should Consider Before Selecting Education Software Development Companies
Not every educational software developer will fit your specific EdTech development needs. Maybe your app idea has already been successfully executed and you need a similar app. Or you have an innovative app idea in your mind and want to recruit a EdTech solution development company that has innovation at their core. Every situation requires a specific skill set and on behalf of this, you should pick your EdTech development company.
The following are the things that you need to know about the EdTech development company before you select them as the education technology solution providers for your business idea.
Ask the company about their previous work in the education industry.

Understand their development approach and thought process. (visit their blog section to know their thoughts and opinions)

Ask them about their collaboration methods.
If you are not convinced by your first choice, it is always recommended to reach out to a few development companies and compare their proposals. The Following are the questions you should ask while reaching out to them:
What will be the cost of development?

How long will the different development process take?

What will be their approach to project management?

How will they ensure quality?

What will be their payment structure? Will it be lump-sum or phases wise?
Don't forget to sign an NDA with the development companies. You should share your business/app idea only after the NDA has been signed. You can refer to the following article to find the right software development partner for your business – How to find the Right Mobile App Development Company?