The 21st century has bought a turnaround and drastic change in almost all industries. You must have heard about the e-Learning and digital education system. Classroom teaching has become more advanced and enhanced with the launch of e-Learning apps in the market. Now the learning is not only limited to schools and universities, with the latest technologies you can learn anytime and anywhere with the help of your mobile phones or tablets. All this due to features and functionalities e-Learning mobile apps provide to students and kids.
The Market of E-Learning Mobile Apps
Investing in the e-Learning mobile app is not a bad idea for any business, as the demand for these m-Learning Mobile Apps is increasing day by day. As this demand will never face a downfall in the future, this is the perfect time to invest in these apps to increase your revenues.
Top E-Learning Mobile Apps
Various enterprises are already ruling the market with the e-Learning App. Below are the top 3 e-Learning Mobile apps running in the market.
Amazon Kindle
The go-to app developed by Amazon for all readers and bibliophiles. The app contains millions of books and magazines which users can read directly from the app on their tablet or mobile. the inbuilt dictionary feature of the app allows users to maintain their reading flow by helping them to find out the meaning of though words.
Periodic Table
Developed by the royal society of chemistry, the Periodic Table is an interesting app for learning information about all the periodic table elements. The app contains videos and podcasts to help users in learning the elements easily.
Coursera
One of the most recognized and most-used apps in the e-Learning industry. With more than 1000 courses from various universities, the app suitable for all kinds of age groups. The most interesting feature of the app is that the students get a recognized certificate after completing the course and passing the test.
Advantages of E-Learning App
Now the students don't prefer visiting libraries for searching for any information or data. The world is at the fingertips, and every student prefers using a smartphone to search for any information anytime. e-Learning apps are also emerging day by day and more students are preferring these apps for learning and studying. There are some advantages to choosing these e-Learning apps.
Enhanced Learning Environment
e-Learning apps create a more enhanced and interesting learning environment. This helps students in securing better grades and brushing their skills to execute assessments with a clearer approach.

Time Utilization
The eLearning apps enable kids to utilize their time by exploring beneficial things on the app. Games like Sudoku, number puzzles, quizzes create curiosity in kids to learn more.
Tech-Savvy
Since the technology is emerging at a rapid pace, the number of smartphone users is also increasing day by day. These apps allow kids to learn new things with the latest technologies making them tech-savvy.
Models for E-Learning App
There are various models available in the market from which you can choose to develop your app. Each model has some pros and cons. The following are three types of models that can be used for e-Learning app development.
Subscription-Based Model
The subscription models are of two types, free and premium. The free version contains very basic features like limited online lectures and content. Most students prefer choosing the premium version as it has various advantages. With the premium version, students can access the full course & videos, as well as they, can get their doubts cleared anytime from tutors and mentors.
Adds Integrated Model
Integrating third-party adds in your model can help you earn some more income. You can integrate adds of third-party resources in your model to make extra profit from your app.
E-Commerce
The e-Commerce functionality integration in your will allow users to purchase books and study material. In this way, more revenue can be earned by the app owners.
Key Features of an E-learning Mobile App
Student Panel

Teacher Panel

Easy Registration

Create Account

Browse Subscription Plans

Edit and View Profile

Choose and Pay for Subscription Plans

Browse Student Details

Choose and Pay for Subscription Plans

Track Student Performance

View and Choose Subjects from List

Connecting with Students Through

Students Can Browse and Select Tutor

Answering Questions

Search Tutor

Console Statics

Online Quizzes and Mock Tests

Video and Text Chatting

Connection with Tutor by Chat or Video Call

Detail Professional Profile

Posting Questions

Forgot Password

 
Guardian Panel
Admin Panel

Social Media Login

Manage Users and Students

Connecting with Teacher

Managing Courses and Subject

Monitor Student Performance

Badge Management

Tracking Course Progress

Track Earnings

Managing Course Subscription

Monitoring Student Information

Track Student Record

Managing Subscription Plans

Get Review from Teachers and Admin

Offers and Discount Management

Check Assessments

Managing Leader Board

Access Leaderboard

Online Test Management
Some Advanced Features for Robust E-Learning Mobile App Development
We have discussed the key features that you must include in your e-Learning app. To be at the top in the competitive market, you must develop an app with cutting-edge technologies. You can integrate the below-mentioned feature too make your app more robust and interactive.
Document Sharing
Teachers and tutors can upload documents or test papers online on the app. As the documents, PDFs or spreadsheets are shared with students or users, they can access them from anywhere with the help of a mobile or tablet. Users can directly view the documents within the app, or they can download it in the device memory to access it offline.
Leader Boards
To motivate students, integrating a competition platform is a great concept. Providing a feature of the leaderboard in the app will surely motivate students and learners to study hard.
Quizzes and Tests
Making online quizzes and assessments a part of your app can be a great idea. Creating these quizzes regularly can help in keeping track of the performance of every student. These online tests can also be provided to students as practice or revision tests.
Audio-Video Streaming
This function can easily increase user engagement on your app. Under this feature, users can stream the lecture or live classrooms directly from the app.
Push Notifications
This feature helps to keep your users updated with new study material, new lecture videos, upcoming classes, and a lot more stuff. Push notification feature can make your app more flexible for users.
Content Management System(CMS)
For an e-Learning app, the content posted on the platform is the most crucial part. The CMS or Content Management System can help in easily managing the availability of the app.
Customer Relation Management(CRM)
To keep increased customer engagement on your app, you must maintain a good rapport with the students and learners. As the name suggests a Customer Management System or CRM helps you to maintain a long-lasting relationship with your customers.
Multilingual
The app will be more functional and flexible if it is integrated with a multi-language support feature. In this way, users from every corner of the world can use your app.
Multiple Payment Support
Integrating various payment gateways in your app will help the users to easily pay for the desired subscription. You can integrate Google Pay, PayPal, Braintree or debit/credit card feature in your app.
Education App Development Technology Stack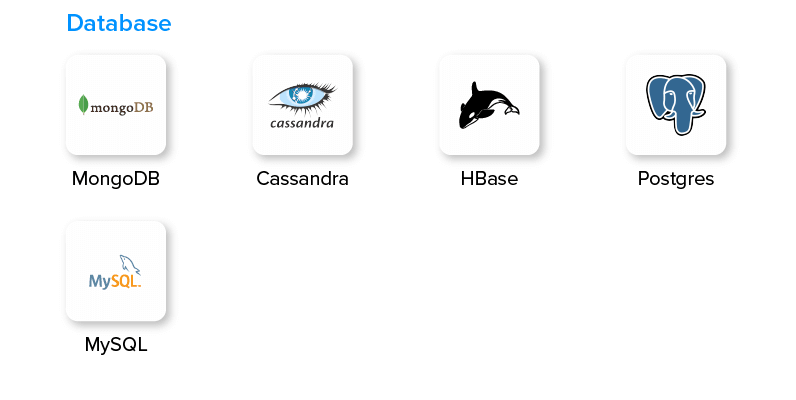 | | |
| --- | --- |
| Technology | Feature |
| Media Streaming | Nimble Streamer, Wowza Streamer |
| Real-Time Analytics | Hadoop, Spark, Cisco IBM |
| Cloud | AWS |
| Database | Postgress, HBase, MongoDB |
| Mobile SDK | iOS and Android |
| Push Notification | Push.io, Twilio |
| SMS and Phone | Nexmo, Twilio |
| Payment | Google Pay, PayPal |
| Data Management | Datastax |
| Emails | Mandrill |
| Universal OS | Debian |
Team Structure for e-Learning App Development
To create a robust e-learning app, you need expert and skilled developers who have immense knowledge in this field. The following professionals are a must for best education app developer.
Project Manager
Backend Developers
UX/UI Designers
Frontend Developers
Android App Developers
iOS App Developers
Testers
QA Professionals
Development Cost of E-Learning Mobile App
There are various factors that affect the cost of development. Mainly, the cost depends on the complexity, platform, and region of development. If you are developing a basic app then the cost of development is slightly less, but if you are integrating the app with some advanced features than the cost is slightly more. Similarly, the cost of developing an app for multiple platforms is higher than the app developed for a single platform. The cost of app development in the USA is $150-$250 per hour, in Europe, it is $100-$150 per hour. But in Malaysia, the development cost is only $50-$70– per hour.
It is clear from the above graph that the cost of education app development is lower as compared to the USA and Europe. So in Malaysia, the average cost of developing an e-Learning app in terms of UI/UX designing, Back-end and Front-end Development with the basic and common feature will be around $10,000- $20,000. But if you are including extra features to make your app robust and interactive then the cost may go up to $32,000.
Choose Right Development Company for App Development
Since the continuous growth of technology, e-Learning or educational apps are on hype, it is important to choose the right e-Learning mobile app development company. Nimble Appgenie has a team of skilled and proficient developers that can help you to develop a robust and secure e-Learning mobile app for your business.