In this post, we will discuss e Wallet app development cost, which may depend upon many factors, including the features required, the platform (Android, iOS or Both) as well as the location of the development company. In a nutshell, the ewallet app development cost may range between $30,000 and $100,000, depending upon above mentioned factors.
The world, where we live in, is powered by technologies. Everything from taxi booking, shopping, to ordering food can be done just with a few taps on the mobile devices. The rise of the E-wallet Mobile App Development have paved the way for easy accessibility of goods and services.
Smartphone technology and innovations have changed the way customers interact with the brands. Mobile applications have brought most of the services in our hand, leading to faster economic growth. Customer convenience and innovative product/service offerings are the primary goals of technological innovation.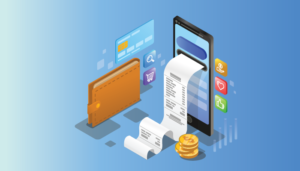 We all have witnessed the growth the eCommerce sector has seen in the last decade. The same goes with the financial sector. Financial technology (Fintech) have seen an increase in the recent past and the investment figure will exceed USD 30 billion by 2020. While many financial institutions will realize the impact of technology, the mobile payment market seems to win the race. 
Digital wallet payments are the major contributor to fintech growth as the global eWallet transactions will reach USD 13,979 billion by 2022. To be noted, the total value of transactions in 2018 was USD 4,296 billion.
E-Wallet App Market – User Analysis
The mighty success stories of M-Pesa, Paytm, Samsung Pay, and others have been sincerely inspirational. Paytm for instance, has 350 million registered customers according to data released in May 2019.
The same may be stated about different cell price apps too. However, if look at the worldwide scenario, then WeChat pay is way ahead with 600 million worldwide users, followed by Alipay having 400 million users on the board. Apart from this, so more related statistics are, as mentioned below:
The global eWallet market is projected to reach $2.1 trillion by 2023. This represents a compound annual growth rate (CAGR) of 15.6% from 2018 to 2023.

Asia Pacific is expected to account for the largest share of the eWallet market in 2023. This can be attributed to the large population and the increasing adoption of smartphones in the region.

By 2023, mobile payments are projected to make up 70% of all eWallet transactions. This is due to the widespread use of smartphones and the convenience of mobile payments.

The number of eWallet users is expected to reach 2.5 billion by 2023. This represents a significant increase from the 1.5 billion reported in 2018.

Blockchain technology is expected to have a significant impact on the eWallet industry in 2023. It has the potential to increase security and transparency, while also reducing transaction costs.

POS Payments Integration in eWallet Application Development.
POS payment integration in e Wallet app development can lead to a much more likeable application. Moreover, it can also add to the wallet app cost. As such, there are four different ways to realize POS mobile wallet payments. And in this section of the blog, we shall be discussing just that. 
1. NFC for Digital Payment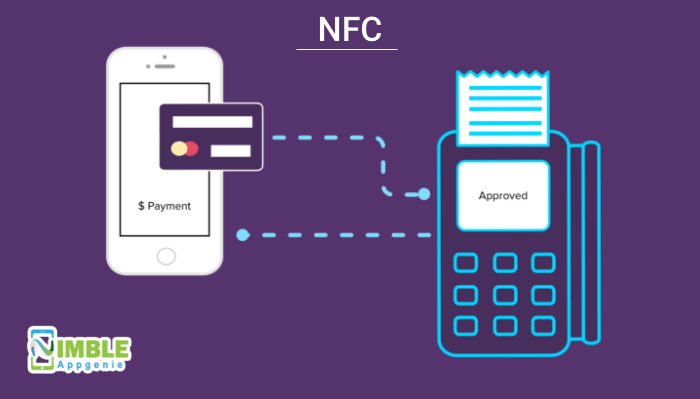 Near Field Communication or NFC is the best ewallet app for convenient information sharing or transferring funds. NFC allows the transfer of funds or sharing of information by just touching the phone with NFC receivers. Nowadays almost every eWallet app is using NFC solutions for contactless payment. One such example is Samsung Pay.
2. QR Codes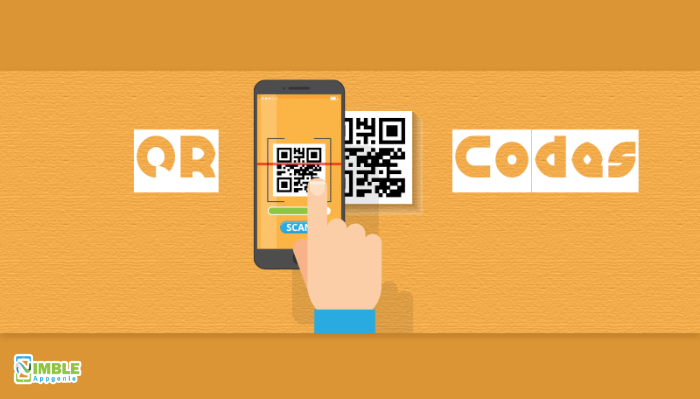 QR codes are used by people to grab the contacts of people they regularly meet. Also, it is used to make payment with contacts which are not saved in the phone. For making payments, users just have to scan the QR code of the other person with whom they want to make a transaction. This is a smooth and simplified way of making transactions.
3. Bluetooth or iBeacon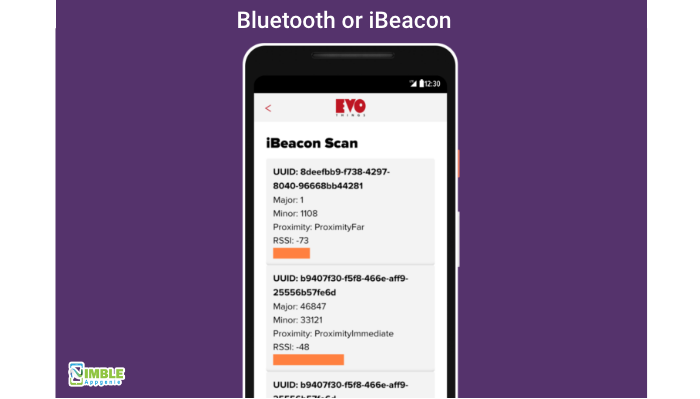 iBeacon is a Bluetooth Low Energy (BLE) technology, which was launched by Apple with iOS 7 for iPhone and other Apple device users. It is a creative and different way to provide user location-based information and services. Beacons are cheap and use small transmitter devices to transmit the signal to the apple devices which are in its range.
Similarly, Bluetooth also identifies nearby devices and makes the transaction fast and secure. These emerging technologies are used by almost every eWallet solution.
 

4. Payment Apps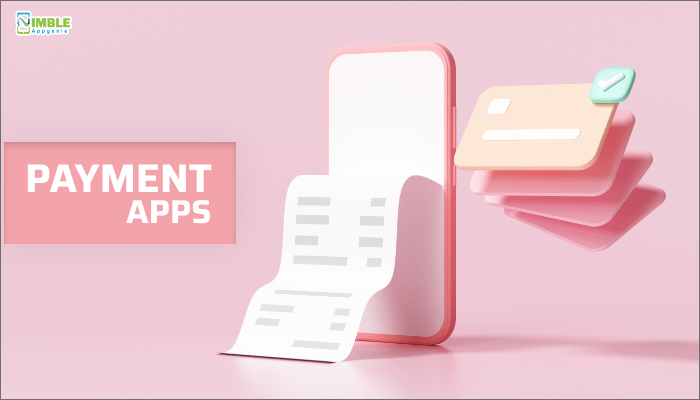 Payment Apps are the best eWallet solution suitable for business. These apps help the business dealer to partner with other dealers, helping them to transfer cash easily and effectively. Users can transfer a huge amount of money with a safe and secure environment without the involvement of any third party.
5. Blockchain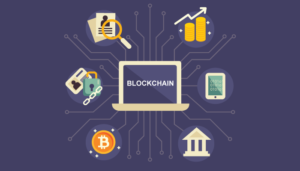 This technology is used in most of the eWallet apps, as they provide a highly secure and immutable environment. The apps carried out by blockchains are mostly used by government organizations, as they often involve the transfer of huge money values.
Describing the Features of a Mobile Wallet App
Since there are two different panels in an eWallet App, the user panel and the admin panel, each panel has its own set of useful features. They incorporate features that enhance the performance of the app for the user as well as helps the admin to manage the app. eWallet app features  plays an importnat role sucess of the app. Therefore, here we shall be discussing 
The User Panel

1. Registration/Customer Onboarding
Digital customer onboarding is so easy in many industries, but the fintech, and especially eWallet industry requires a set of processes to be followed. Customers have to submit and verify their identity for the KYC requirement for the regulatory bodies. An eWallet app shall have document uploading features within the app, and another option is for KYC to be accepted for verification via Kiosks.
2. Connect Bank Account
Users can link their bank account by filling in the details within the digital wallet app. They can even register with a particular bank to make future payments.
3. Add Money
Users can add money from the bank into the app wallet as per their needs. The add money feature can also be automated to eliminate the need of adding money manually.
4. Transfer Funds
Users can transfer a certain amount of money by entering the account details or the mobile no. of the receiver.
5. Accept Payments
Users can also receive payments from other users. By sharing their corresponding wallet details via QR code or mobile number, users can accept payment.
6. Mobile Recharge or Pay Bills
Users can also recharge their mobile phones or pay bills directly from the app in a convenient way. They can directly pay any third-party bill through the app by using their wallet balance as well as using their bank balance.
7. Transaction History
The app keeps track of all the past transactions made by the user. Users can search for a particular transaction with some advanced e-wallet filters.
8. Bill Payments & Recharge
Users can directly pay any bill through the app and in addition to this they can also do recharges of mobile, DTH, etc.
9. Booking Tickets
This feature allows users to reserve their train, bus and flight ticket easily with the help of a eWallet App, just by entering the trip details like date, time and destination.
Users can enjoy hassle-free booking experience by avoiding long waiting time in the queue while booking movie tickets, or other events directly within the app.
10. Bank to Bank Transfer
eWallets allows users to transfer or send money directly to the bank. Just by entering the account number details of the receiver, money can be directly transferred to their bank with just a few taps.
11. Paying for Taxes or Insurance Fund
Such features allow users to easily pay your insurance premium as well as income tax and sales tax via eWallet Apps.
12. Online Shopping for Grocery & Other Products
eWallet Apps are making the lives of humans more flexible and reliable by allowing them to shop for grocery and other products like electronic devices, apparel, household items, cars and bikes without having to leave your home.
13. Exciting Offers
Since the competition is higher, you may have to provide discounts and offers from time to time if you want to attract more customers. Displaying discounts and offers under a separate category will attract more customers.
14. Multi-Language Support
Users can choose their preferred language according to their familiarity. Providing support in languages such as English, Chinese and Arabic will help the user to use the app more easily and flexibly.
15. Invite Friends
Users can earn special gift cards, promotions and huge discounts on every transaction by referring the app to friends. Users can also invite their friends to send and receive funds. This helps the user to transfer funds easily instead of having to ask for their bank details every time.
The Admin Panel

Dashboard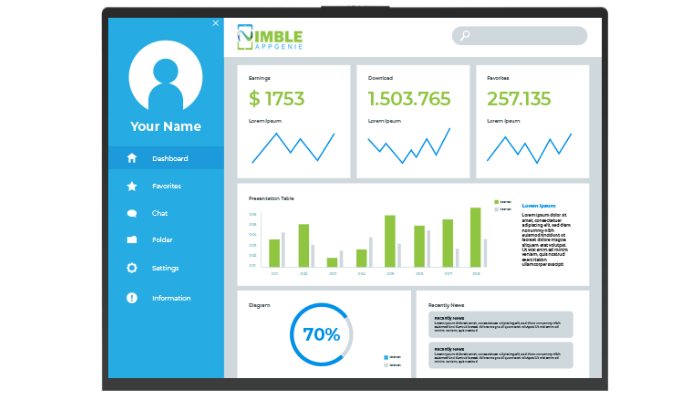 Admin can keep track of all the details and information of users registered with the app. The dashboards should be configurable so that the Admin can personalize them accordingly.
Offers and Discount
Admin provides the latest offers and discounts to users. He also provides offers related to referrals, rewards, etc.
Manage Users and Contacts
All the users and contacts that are associated with the app are tracked and monitored by the admin.
Real-Time Analytics
Admin keeps a track of the profits, transactions made, offers availed, app usability, and other details directly from the admin panel.
Block Users
According to the behaviour of the user, the admin can block or dismiss the account of a user from the app. Similarly, they can also add new users to the app.
Some Additional Features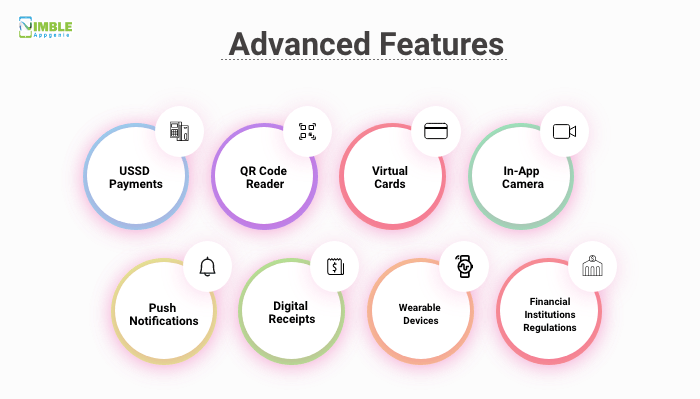 Apart from these basic features, there are some additional features that will make your app more reliable and flexible to the user.
1. USSD Payments
While not every eWallet app would require this feature of making payments, some eWallet apps which are targeted to the markets like the Africa region will require USSD payments options as well. The reason being, these markets don't have many smartphone users, in fact, their majority of the population have feature phones. Therefore it becomes very useful to have a USSD payment option with your mobile wallet app development.
2. QR Code Reader
Users can scan the QR code of the receiver to make the transaction fast and easy. This technology is very convenient and most used among the users.

3. Virtual Cards
Users can easily create a virtual card like their usual credit/debit card. These virtual cards allow users to carry out transactions easily without entering the details every time.
4. In-App Camera
This built-in feature will allow users to scan the QR code easily. Also, users can upload their KYC documents and selfie using the in-app camera.
5. Digital Receipts
Generating digital receipts of all the transactions and allowing users to share these receipts with an app, by email, or SMS.
6. Chatbot Integration 
AI Chatbot in ewallet are a growing concept. And as the statistics have proven, the chatbot integration can help your business boost customer retention and create more loyal customers. 
7. Push Notifications
This helps in keeping more user engagement on your app. They can be kept updated with new features, discounts, and offers via SMS or emails.
8. Integration with Wearable Devices
Integrating your app with wearables will help the users to monitor the payments by just looking at their wrist. It will make the app more convenient to use, and will define a new approach for making payments an easy process.
9. Financial Institutions Regulations
Before developing an eWallet App you should have some knowledge of banking rules and regulations in relation to online transactions. Since you are developing an eWallet app, you are among the financial institutions. You must read all the terms and conditions according to the rules of the government. You may also have to provide some security documents to the government as per their guidelines. The most important thing is that your app must not contain any illegal functionality.
Tech Stack Requirement for eWallet App Development
Tech Stack plays an important role in performance, development, as well as Wallet app development cost. So, if you are planning to create the next best payment solution, choosing the right tech stack is important. 
Here, we shall be discussing tech stack requirement for e Wallet app development. 

The Cost of Developing an eWallet App
The e wallet app development cost depends on various factors. In any case, average cost of developing an app range from $15,000 to $350,000. 
Moreover, you can contact an app development company for mobile app development cost estimate. 
Some of the main factors which affect the digital wallet app development cost are mentioned below. (The exact estimates are stated after the features) And if you want to know the cost and features of mobile wallet, we shall be discussing the same in section below. 

eWallet App Features
These are the primary factors that affect the digital wallet development cost. If you are developing an app with basic features, then the payment app development cost will be less. But if you want to include some advanced features, then the cost will surely rise.
Platforms
Before developing the app, you must make it clear whether the app is for a single platform or multiple platforms. The e wallet app development cost of the iOS app is comparatively lower than the Android app. However  e–wallet apps developed are usually for both Android and iOS.
Region of the eWallet Developer
The e Wallet app development cost also depends on the region from which you are hiring a developer. In some regions the payment app development cost is high, but in other regions it is more affordable. According to some reports, the UK is the most affordable for hiring mobile app developers.
Ewallet App Technology Stack
The digital wallet development cost also varies depending on the technologies used to build the eWallet application. Every technology and platform has their own advantages and disadvantages. It is suggested to consult with the eWallet development company to build the best architecture for the application.
| | |
| --- | --- |
| Location  | Cost  |
| e Wallet App Development Cost USA | $40,000 – $350,000 |
| e Wallet App Development Cost Europe  | $35,000 – $320,000 |
| e Wallet App Development Cost Australia  | $20,000 – $280,000 |
| e Wallet App Development Cost Asia  | $10,000 – $220,000 |
Database
Data base is yet another big factor which affect payment app development cost. 

Average Cost of Developing an eWallet App and Website
Since apps and websites are two different things, the cost of developing a website is much less than application development. The functionality of an app is exactly not the same as a website. The features of the app are much richer when compared to a website. Moving on, let's look at the cost to build an eWallet app from different perspectives. 
E wallet App Development Cost
The development of the app basically depends on the number of man-hours required. The cost or resources per hour differs according to the ewallet app development company region. Companies in Australia charge approx. $190 per hour, in Europe it is $130 per hour and the price in North America is approx. $150 per hour.
Furthermore, developing a basic wallet app will cost around $25,000 to $50,000 and apps with advanced features such as online services and bill payment integration (like Paytm and M-Pesa) will cost approximately $75,000 to $100,000.
We at Nimble AppGenie have a team of experienced eWallet developers, with the digital wallet app development cost of approx $15-$25 per hour. At this hourly rate, we deliver best in class eWallet apps that are loaded with future-proof features.
e-Wallet Software Development Cost
There are a number of factors that affect the cost of e-Wallet software development. Some of the common factors are features, complexity, and platform of development. Apart from this, the development firm and their pricing model are also some crucial aspects that affect the development cost. The average digital wallet development cost will lie around $30,000 to $50,000.

E-Wallet Website Development Cost
Since the features of a website are not as rich as the app, the development of an eWallet website requires less time and fewer employee involvement. Therefore the cost is also significantly less when compared to the e wallet app development cost.
In addition to this, we can provide you with a pre-built website like Paytm with all the basic and required features within cost around $30,000 to $40,000.

Conclusion
In the modern era, mobile payment applications have completely changed the behaviour of people while paying for goods and making cash transfers. At this time, developing mobile wallet apps is a splendid concept for a startup and enterprise.
Moreover, with a prototype to change the scenario into a world where no cash is required in-hand, eWallets have enhanced the economic and financial sectors of many countries. Paytm, Monese, Google Pay, manchester city e wallet, PayPal and M-Pesa are some of the examples of how eWallet apps are successfully ruling the market.
So, if you want to develop the next best eWallet application or want to learn more about the cost, it's highly recommended that you consult eWallet app development company or IT Firm who will help you with the same.