If your answer is not then your business actually doesn't exist for the online community and you are missing an opportunity to expand your business nationally or internationally. Not having a good website will keep you away from a large number of potential customers. A business website is a smart way to introduce your business to the world, as it helps people to see your presence even if they do not live in your area.
In comparison to promoting your business via an advertisement, newspapers and other traditional marketing strategies, having a website to represent your business is a convenient and cheaper method to tell your potential customers what you do. By using traditional marketing strategies, you can only promote your business in your own location but with a website, you can promote it worldwide. You can directly offer your services to any location of the world even though technically it would be easier and more convenient for your local customers to identify your business location, your business details and to avail from your services.
You can only work limited hours in a day at your physical business place, and at some point in the day, you then have to close the doors of your business. With a website, you can receive offers or sell your services even if you are sleeping. Therefore the doors of your business wouldn't be closed at any time. You can promote your website in your target area using digital marketing techniques like SEO or SMO. These techniques would increase the visibility of your business in Google and Bing search results, which drives more traffic to your site which directly results in more sales and leads.
A website brings you a step closer to your customers. It can help you to capture a customer's footprint and to keep the record of their details. It looks more professional to have a website for your business, and it also allows you to message or email your client directly if you own a smart website. Most of internet users go online searching for local businesses so this is also a need for your business.
At Nimble AppGenie, we develop various types of website for your business. We help our client's to decide the right type of website which suits their business. We have a great team that develops user-centric and attractive layout website with awesome functionality using the latest technologies like HTML, CSS3, Bootstrap, Ajax, PHP, and Java, we provide a top-notch solution for website design, website development, and web app development. We not only develop the smart website for our clients but also helps them to promote and generate revenue through their website.
More Info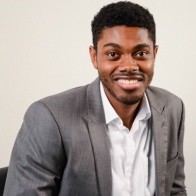 Jermaine Trotman
Jermaine Trotman is the co-founder of Nimble AppGenie, a company renowned for its bespoke mobile app development and web development in e-wallet app development and fintech development.