After working with clients of all different sizes, we can tell you they all want us to do the same thing: develop products with their end-user in mind. Whether we're building a mobile app, a website, or a custom software solution, we know that if the end-user finds the final product to have great functionality and great design, it will leave both them and the client happy. We strive to achieve this on every project which is why Clutch has us listed as one of the top iOS app developers in London.
Clutch is a B2B ratings and reviews website based out of Washington, D.C. Their platform also makes it easy for clients to find and connect with the service providers that they think will provide the best partnership on their project. The site also ranks the vendors according to their focus and ability to deliver. The focus score depends on the services they offer while the ability to deliver is determined by a few different factors such as client reviews, work experience, market presence, and awards. Clutch analysts interview previous clients about past projects to verify client reviews. They are conducted either on the phone or online with an in-depth questionnaire to get all of the details regarding the project. Currently, we have an overall rating of 5 stars on the site.
One of our reviews covers a project in which we designed and developed a web application for a law firm that would deliver their key business messages. The client was impressed by the final product and its effectiveness. Here's what they had to say:
"We were and still are very satisfied with their overall performance and delivery. Our users have been impressed with the app as well, driving a significant revenue increase." – Managing Director, Law Firm
In addition to their main site, Clutch runs two more platforms that help connect businesses together. The first site is called The Manifest and publishes business news, insights, and best practices to help companies achieve their goals. We are also found on their list of the top app developers in London. The other site is Visual Objects. It hosts business portfolios so that mobile app development companies like ourselves and other creative firms can show off their past work.
We look forward to growing our presence on Clutch throughout the rest of 2019. If your business is interested in creating an app, contact us. We can't wait to hear from you!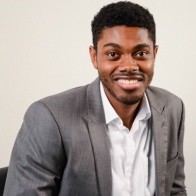 Jermaine Trotman
Jermaine Trotman is the co-founder of Nimble AppGenie, a company renowned for its bespoke mobile app development and web development in e-wallet app development and fintech development.