Let's come straight to the point; the fitness app development cost depends on a variety of variables. I won't bother you by telling why people need fitness apps and blah! Blah!, I'll take you through all the variables that will help you calculate the cost of developing a fitness app. So, if you are seeking an answer to the question "how much does it cost to develop a fitness app", read through the entire article.
Fitness App Development Cost Breakdown
First thing first, the cost to develop a fitness app heavily depends on the type of app you're planning to launch. The other variables, such as features, technology stack and monetization methods depend on the type of fitness app that you are developing. 
Here is the breakdown of the fitness app development cost:
App Platform
As fitness apps require sensor data to calculate workout info, the majority of users use them in smartphones, commonly on popular smartphone platforms such as iOS and Android. The cost of development for both of these platforms are different from each other. And if you're developing your app for both the platforms, the cost to develop a fitness app will be higher.
As most of the apps like Fitbit, Huawei health, and Nike are built native for each of the smartphone platforms, it is recommended to create your fitness mobile app native. The cost to build native apps will, however, be higher than hybrid development. If you are confused about native vs hybrid, read my recently created comparison article: Native vs Hybrid App Development – How Hybrid Wins the Game? 
Lastly, the platform you should build your fitness app upon totally depends on where your target user base is.
 App Complexity
The more complex your app, the more your fitness app development cost will be. Often, mobile apps are categorized based on the complexity levels of simple, moderate, and high-end.
To give you a general idea of app complexity, a complex app may involve the following:
Help users navigate and manage large sets of data and provide a variety of data analytics.

Support goal achievements and problem-solving features.

Require collaboration among different user roles, tools, or platforms.

Reliable in high-stake situations such as competition practice or being used to make critical business decisions

However, some of the criteria of a complex app doesn't apply to fitness tracking apps. But still, there are some features such as data analytics and sensor integration that are recommended to include in a complex app. All of that adds to the cost.
Hence, be thoughtful and ROI centric when deciding the features that you would like to incorporate into your fitness tracking app. It is not worth including unnecessary features in the first version or MVP (Minimal Viable Product) of your fitness app.
App Development team
Among all of the factors that define a fitness app development cost, the development team is the most crucial factor to ensure the success of your fitness app.
The roles in a fitness app development team:
Project manager

Android or iOS developers

Quality analysts
However, if you're not a technology company that already has a bunch of developers on-board, it is better to consult a healthcare app development company. Before you reach out to them, it is recommended that you have a product requirement document in place. If you don't know how to create one, read my guide here: create your product requirement document.
Developers Team Location
The cost to hire a development company also depends on the location of the company. The hourly rate differs by country and even region.
Despite the cost of development being one of the major influencers to the app ROI, it is also necessary to ensure the quality of your fitness app. Often, the development company calculates the cost by multiplying total development hours to an hourly rate.
Thus, What is the Fitness App Development Cost?
So, considering all of it, the cost to develop your fitness app will lie around $20,000 to $30,000 for a single mobile platform. However, developing the fitness app for two platforms won't simply double your cost. You can reuse many things, such as the fitness app UI/UX  while developing the app for another platform, which will reduce the cost of development on various platforms. 
Type of Fitness Apps
# 1. Workout Applications
Workout apps are mostly for strength exercises or sports training. These apps are top-rated nowadays and come in a variety of formats:
Workout scheduler apps. These apps are explicitly aimed at gym fanatics. Workout scheduler apps enable users to plan their sport/gym activities and track their progress.
Personal workout apps. These apps are focused on fitness lovers that prefer doing physical activities at home. Personal workout apps can contain content in the form of videos, GIFs, 3D models, audio tracks and tips, text descriptions, and much more. It depends on your market niche and user expectations which format of information you will choose. It is necessary to note that the content needs to be easily comprehensible. 
Fitness tracking apps. You might have bought a Fitbit, and there is an app which you have to install in your smartphone to access all of the Fitbit fitness tracker's data. The app in your smartphone is the fitness tracking app. These apps ingest the sensor's data (GPS, heart rate monitor) data to derive meaningful insights. The heart of fitness tracking apps lies in data analytics. These apps hold tons of meaningful data and provide users with fitness information through data visualisation.
# 2. Diet and Nutrition Tracking Apps
These apps are less expensive than workout apps. The content format is usually simple, unless you want to include video recipes or lectures. These apps are focused on helping users with their diet and nutrition tracking. Diet and nutrition tracking apps can also co-exist with workout apps. Some typical highlights of these apps are reminding users of their water schedule, nutrition counts, and even calories consumed.
Although these apps are expected to come with standard features, some diet and nutrition apps are experimenting with AI object-detection to be implemented with their diet and nutrition apps. This AI-engine is supposed to help users know the type of food and its nutritional value by just pointing their camera at their food. Nimble AppGenie has experience in this field of object-detection, which can be seen further in the article 7 Real Life Use Cases of Object Detection Using Machine Learning.
A less-expensive way to provide users with food nutrition value information and other facts is through scanning the barcode printed on the product. These type of features are more likely to add convenience to the lives of users, and therefore they will be attractive to your target audience.
# 3. Activity Tracking Apps
These mobile apps differ from conventional workout apps, as they track any physical activity of a user; activities include sleep quality analysis, steps, calories burned, and many others. These apps are handy for the users that are looking after their physical and mental health.
#4 Yoga and Meditation apps
These apps are focused on both mental and physical health. They incorporate information and tutorials regarding how to perform different yoga postures. Meditation apps like 'Headspace' help users to find their peace of mind and achieve relaxation.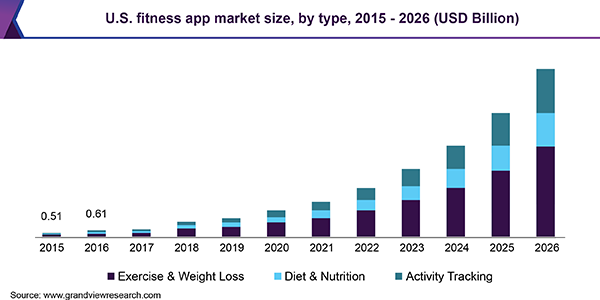 Source: Grandviewsearch
Features required for Fitness App Development
Seamless Onboarding with Personalisation
The user registration process is a deal-breaker for most mobile applications. Several surveys have proved that more than half of your customers are likely to abandon your mobile app if they experience a challenging and time-consuming onboarding process.
For fitness app development, the onboarding process becomes more crucial yet complex, as the app will require the user's personal and health information. This is likely to include weight, height, BMI, age and gender to personalise the workout or diet plan.
Track Multiple health indicators
Apple has leaped ahead of its competition by introducing ECG measurement with its new segment of smart watches. Heart rate monitoring, steps, sleep monitoring, pulse, and even arterial tension are among the common things that most fitness apps can measure.
Social Media Integration
Integrating social media or emails within the app will not only help in making the onboarding process seamless, but it will also allow users to share their fitness goals and achievements with their friends and family. It brings a sense of commitment and completion, which improves user satisfaction and strengthens loyalty. 
Also, you get the benefit of free branding when your users share their goals and achievements on social platforms.
Workout and Meal-Plan
Your fitness app should be able to create workout and diet plans for the users automatically. This improves app experience, and the user also gets a sense of personalisation with the workout plans created based on their input during onboarding. Also, frequent reminders help users to stay on top of their workout schedule. 
Activity log
Users require their previous health data to compare with the latest one. However, make sure that you store the data on the cloud, as users tend to prefer apps that don't take up much of their mobile storage space. For providing quick access to the users, you can allow your app to store only either last week's or last month's data in the mobile phone storage space. 
Payment option
Payment integration is very crucial for allowing users to make in-app purchases and shop for fitness-related products. Also, some apps make money by asking for a premium subscription to exclusive content. You can integrate a variety of payment methods, such as credit/debit cards, net banking, and many others. 
Push notifications
Your fitness app has to have a notification feature that allows you to remind users about their fitness goals and achievements. Users can lose confidence and motivation. Notifications will help you get them back on their fitness routine.
Video downloads and bookmarking
Your fitness app will probably have much fitness-related content. The user should have the option to save or bookmark their favourite content. Also, allowing users to download media is another feature that will improve the user experience. However, the download feature can be made available for premium subscription users only. 
Technology Stack for Fitness App Development
You can use Java, C, HTML5, for programming.
Microsoft Azure, IBM Softlayer, or Amazon AWS, or Google Cloud for cloud services and data analytics.
For content delivery, you can use Fastly.
For testing and debugging APIs, you can use Runscope.
For project management and bugs tracking, our developers prefer using JIRA.
Use Apple push, Twillo, or Nexmo for notifications.
Postgress, MongoDB, Mail Chimp, Altas-DB, MySQL, HBase, Cassandra, and PostgreSQL for database management.
Payment gateways that can be integrated with your fitness app are PayPal, eWallets, Braintree, and Stripe.
Monetize your App for better ROI
There has to be a purpose behind fitness app development. Either it can be to support a hardware tracking device (Fitbit), to promote or position a brand (Nike App), or to sell premium content; these are elements to calculate ROI based on a fitness app development cost.
Some other monetization methods include selling fitness products online (e-Commerce), freemium model, or showing advertisements within the app to generate revenue. Marketing plays a very crucial role in the success of a mobile app. Thus, before you move forward with your fitness app development, make sure you know how you will reach and your audience and make money out of your concept.
Why hire a Technology service provider for your Fitness App Development?
Although it is possible to hire a qualified in-house team of developers and designers to develop your fitness app, it is always recommended to avoid the hassle of in-house talent procurement, especially when you have a variety of options to hire an entire setup. 
There are specialist development companies like Nimble AppGenie that already have worked on fitness app development and healthcare technology in the past. They already have overcome the challenges that new developers face while developing fitness apps.
Having experienced software engineers on your side will enable you to roll out a game-changing fitness app that will rule the market. At Nimble AppGenie, we have worked on several healthcare technology projects which help us build high quality fitness apps in less time and cost than any other top-notch technology service provider. Find our work here: Nimble AppGenie Portfolio.