Whenever an entrepreneur ponders over a start-up, quite a few thoughts rush through his mind. The first of many is likely to be the wish that this sparkling best app ideas, is the idea that will change various lives for the better. However, these best app ideas are very hard to come by. Furthermore, rather than a random concept that pops into an individual's mind, ground-breaking concepts are usually via a bumpy experience. However, on the way to identifying a solution that is something wonderful, you are likely to have to triumph over many obstacles.
So as 2020 approaches, what can you plan to surprise your target market with? There will definitely be new big opportunities in the next decade. We are going to mention a few suggestions of services that we think will be huge in 2020 and beyond.
App for Parking Slot
With the number of drivers around the globe continuously growing, finding a spot to park your vehicle in busy hours is an increasingly tedious task. The idea of developing a web app that can reserve a parking slot for you is a big opportunity for a start-up that executes this correctly. The car parking app will scan all the nearby parking areas to find available parking slots for your car.
Restaurant Reservation App
Everyone wants to celebrate the days that hold a special meaning. Whether it is a birthday or an anniversary, often the location that is chosen for the occasion is a favorite restaurant with their closest ones. However, finding a table every time you visit a restaurant is not always possible. With the help of this app, you can reserve or pre-book a table nearby or your favorite restaurant with just a few taps. The app can be useful for you when you have a sudden plan for going out with friends or family and need to secure a table. This app will surely save people a lot of time and hassle.
Online Recruiting Automation App based on AI
Artificial Intelligence can be adequately useful in recruitment processes like job matching, screening, and candidate sourcing. An online recruitment app based on AI reduces the required human effort and also helps in searching for the right candidate online. Developing an online recruitment automation app with AI is a very strong app idea if you are looking to generate profit and increase revenue.
Blockchain Invoicing App
Developing a Blockchain Invoice App can be one of the best app ideas in 2020 for business. With this app, you can save a lot of time and potential errors by using an app for tax payments. The Blockchain invoicing app will automatically calculate the amount of tax that a user needs to pay according to their income. Moreover, the app can also generate invoices to customers, so that your business becomes easier to handle.
Health and Fitness App
Health is one of the most important things that everyone needs to looks after to stay fit and improve their quality of life. Due to the busy and hectic schedule at the office workplaces, it is difficult for some people to manage their health in the correct manner. A health inspector app will help individuals to look after all their health issues. An app like this can take care of all the important health requirements, such as booking an appointment with the doctor and reminding the patient of the appointment.
Market Prediction Apps Based on AI
Traders need to be constantly updated with all the latest news and trends about the market. Market shares keep on rising and falling throughout the day. Therefore a market prediction app integrated with Artificial Intelligence and Machine Learning can help traders to check the real-time market value of stocks, understanding stock charts, and identify every market trend from just their mobile phone.
Truck Loader with Geo Tracking
Sometimes in case of emergencies, people want to shift their goods and equipment from one place to another very quickly, but services are not available to them to achieve this. There is also an issue where vehicles return empty after unloading delivered goods. This creates inefficiencies as trucker time and fuel is being used on empty vessels. The app will help the user by providing information about the trucks available to carry or transfer goods. An app like this can also help truck drivers by providing them with the location of pick up and drop.
App to Exchange Goods
Have you ever thought about providing a barter system to the public? Developing an app to exchange goods could be the future. This type of app will be beneficial for users whenever they need something, and if they already obtain an item of value that they no longer require. As people can exchange goods according to their needs without the involvement of money, this makes it a great mobile application idea that can thrive no matter the state of the economy.
Food Donation App
Ensuring the longevity of our environment is increasingly becoming central to our society and the decisions our society makes. Food wastage is part of this debate, and in order to make sure as little food as possible is being wasted, food donation and food sharing apps are being launched in the market. To easily donate leftover food to people in need, you just have to enter details such as time and location for the food pickup. It will then be picked up by professional and experienced personnel. For example, all the leftovers from a party or function could be picked and transferred to homeless people, charities and camps. However, there may be a part of this process that is not being delivered in an efficient manner, which may propose an opportunity for you to capitalize on it.
Accounting and Financial Apps Integrated with AI
Many industries are affected by Machine Learning (ML) and Artificial Intelligence (AI). FinTech and accounting fall under this umbrella of industries that are and will be affected. For various services like reporting and quick data entry, accounting and financial professionals are using ML and AI.
Virtual Cook
An intelligent cooking app that helps amateur people to cook is also a great app development idea. When there are only a few ingredients available, and you have no idea what to cook, this kind of app can be useful to provide the best app ideas and guidance. The app could first ask the user about the ingredients available, and then tell the recipe of the dish that can be prepared with the ingredients stated. This idea of a virtual cook can also help in awareness if you already own a food business.
Cybersecurity Apps with AI
In the fields of cybersecurity, integration of Artificial Intelligence also has some benefits. With emerging technologies, many new effective and intelligent protection against cybers attacks have been introduced. Due to AI-based open-source framework slike Torch, TensorFlow, and Caf, data is secured at a large scale.
On-Demand Apps
The on-demand industry is one of the most talked topics in the field of mobile app development. Many new technologies have been introduced in 2019 for on-demand services. The on-demand industry is expected to rise further in 2020. So if you are planning to develop an on-demand app for your business, then this is definitely the right time. Below is some type of on-demand apps that are already doing well in the market.
Beauty Service App

Taxi Service App

Food Delivery App

Home Services App
Virtual Interior Design
  As an example, you can expand a design utility, allowing you to add an image of your room and then attempt to furnish it with distinctive interior layout factors. This may consist of trade wall colors, lighting, upload and dispose of curtains, furnishings gadgets, etc. This is a top-notch concept for a mobile startup. You could monetize it by means of partnering with fixtures stores, or repair or design offerings.
AI integrated Story Telling App
There are many people who like to listen to stories or read books. But sometimes they do not have time to listen or read their favorite stories, due to busy and hectic schedules. A storytelling app will help them to listen to their favorite stories in a proper storytelling format. The user just has to upload the word file or pdf file, or the link of the story, and the app will read the story in the form of proper storytelling.
CryptoCurrency App
Whether the reports about cryptocurrency are positive or negative, there is no doubt that the popularity of crypto is huge, with many different industries already generating profits from cryptocurrency. Statistics also indicate that investing in cryptocurrency is a good option for building a business for the future. Although there are already many apps in the market for cryptocurrency exchange and other payment transactions.  
Security Control with IoT and Blockchain
With the continuous advancement in technology, security measures have also needed to advance with technology. There are various security devices that are used by people to secure their houses or their offices. Developing an app that allows users to control and keep a 24×7 eye on their houses is an best app ideas with a lot of potentials. An app like this would control all the security systems with the help of a Wi-Fi connection. It would also allow users to view the camera footage, sense unusual activities near a safe, or verifying visitors before opening your front door directly through the smartphone. This app concept can be materialized by integrating IoT and Blockchain development technology.
Smart Conversational Interfaces Enabled with AI
In this modern digital era, interactive interfaces that concentrate on how people will interact with the system are dominating various markets. Famous brands like Facebook, Amazon, and Google are actively concentrated on developing interactive interfaces for their apps. The Starbuck mobile app for iPhone is one of the best examples of an interactive interface that earns you rewards. It can search nearby stores for you, and also allows you to interact with the chatbots in case if you need any help. 
The Perfect Dating App
Gone were the days when waiting for the right time to meet partners relied on going to bars and meeting friends of friends. With the growth of dating apps this last decade, the whole scenario of dating flipped on its head. This has resulted in a dating app market that is huge. With the help of dating apps, users can easily find the right date for them. The app uses GPS location to find all nearby users and the best-suited dates for you. Adaptability and safety are the two important aspects that enable dating app development to provide great value to the end-users.
Buy and Sell App
The most important feature of this app is that it allows users to buy and sell stuff online. Whenever you open the app, the app uses GPS to show nearby items available for sale. According to your preferences, you can view all items at once, or you can choose a category to view items of a particular category. The items can also be viewed by adjusting various other filters like price, distance, or how old the item is. Similarly, if you want to sell an item, you can upload the pic of the item you want to sell. You can also set the price of the items according to their condition. 
E-learning App
Coaching institutes have become the most important need for students. Whether you are in a primary school, or you are preparing for a degree, with e-Learning apps, now students can easily study from their home. The app provides online lectures, worksheets, as well as online tutors to the students. Students can study from these apps at any time that is convenient for them. These unique features of e-Learning apps make this a great path to follow.
Human Online Library App
There are some people who love debating. Some people enjoy sharing the best app ideas with other people who have opposing views. In this case, a debatingbest app ideascan be really helpful. The app replaces books with humans and allows individuals to share their views and connect with other people who have different opinions.  
Local Transportation App
Being a stranger in a new city can be stressful. You may not have much of an idea about the culture places to go. The best routes for sightseeing or how local transportation is best used to access markets and nearby famous spots. An app that solves this problem is likely to be loved by users, as holidaymakers would be able to enjoy their getaways even more. An app like this could also show the routes of public transport, with fare and time information.
Tracking App to Remember Subscription Payments
There are various platforms like music apps to app stores, where a user has a subscription. It could be a huge opportunity to launch an app that monitors and tracks all of an individual's subscriptions. The app would remind the user about the pending and upcoming subscription renewal dates and payment dates, as well as the total amount due in the month.
Mall Navigation App for Better Shopping Experience
Sometimes we bump into a new mall and don't have any idea where we have to go. With some of the famous malls like Walmart, IKEA, and Dollar Tree, it is difficult to remember details about each section. In this situation, a mall navigation app can be useful. The app displays the map of the mall on your mobile device. Users can easily navigate in the mall by using the app without wasting their time.
Cloud Presentation
Sometimes preparing a team presentation is a hectic task. The cloud presentation app eliminates the traditional preparing presentations. Using a cloud API, users can easily make the presentation online with their team members, and can also give suggestions to improve the quality of the presentation.
Urgent Invitation
Sending invitation cards to relatives or friends to invite them for a party or function is a common need. But in the case of short-notice parties, there may not be time to send invitation cards. The immediate invitation best app ideas would help in this situation. The app would send an invitation with graphics in the form of a text message to all the relatives and friends.
Calendar Scheduler Integrated with AI
This software will also have the ability to investigate the semantics in the emails you've got together with your colleagues. Formulate suggestions for the date and time of the meeting, assembly and notify attendees of the meeting time, location and duration.
Shared Shopping App
It often costs you extra when you buy any product individually. But when you purchase objects in bulk. You are more likely to get offers like free transport, discounts, offers, and so forth. To let individuals gain form these benefits. You can create an app that groups customers in a certain region within a prescribed living range. Consequently, in the event that they buy in bulk. They could attain good-sized savings on orders and then split the quantities between each other.
Eat Together App
This type of app will assist you in inviting new people to eat together to avoid eating on your own again. You would be able to inform nearby users of your whereabouts and timetable. And what kind of person you would like to eat with. Each day the utility would pair people together who like similar foods, to then find a close-by eating place.  
How to Develop Apps with Your Own Unique

best app ideas

?
You can use the best app ideas mentioned above if you are looking to start a profitable business in 2020. The ideas mentioned may instead have sparked a different idea for you. To now move to the next step of developing your unique ideas, we will now discuss how to implement unique concepts.
Look for Problems and Solutions
One of the best ways to start best app ideas development is by finding a solution to a particularly big problem. Once you are able to identify the issues faced by the public. You can start working on building an app with your solutions to those problems. So, the first step is finding the issues or problems your users are facing. Research what solutions or partial solutions already exist. If a sufficient solution doesn't already exist, then you should work on developing an app that can solve the issues identified. This is the approach taken by top companies around the world, and it also the approach Nimble AppGenie takes on the projects we work on.
Identify the Latest Trends
Before beginning with app development, you should have an idea about the latest trends in your industry, and where the trend is likely to be in the future. These trends will help you to gain knowledge in the relevant areas, and make educated predictions about the future of the app development industry. With this knowledge, some companies and developers are already building apps that can directly replace the traditional methods of doing particular tasks.
Collect More Information
One of the oldest quotes says "the more you work, the more knowledge you gain". The simple meaning of this quote is that the more knowledge you have. The more you are able to generate unique best app ideas and solutions for the problems that society is facing. So before developing an app, collect a lot of information about the issues that currently exist. And then start developing apps that can provide solutions to those problems.
Accurately Conduct a Market Research
Before initiating the development process, you must study and research the app market carefully. This will help you to gain an understanding of what your target needs. Where your target market is, and what appeals to them. In researching how to gain potential customers, exploring the depths of the latest trends and examining the principles of the mobile app market, your R&D will enable you to easily come up with more innovative and unique best app ideas for app development.
Summing Up
Once you have finalized your winning app concept, the next thing is to hire an app developer who can get your best app ideas implemented. But remember not to overlook paying attention to marketing. Effective marketing can make the difference between a viral app, and an app that hardly anyone has ever heard of.
Rather than attempting to develop the app yourself, it is much better to hire an app development company. As a company that is focused on innovation and disruption, we are the best in the business to work with. If you have an app idea you want to get started in 2020. Get in contact with us now to discuss the next steps.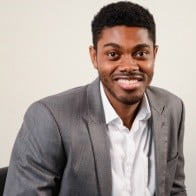 Jermaine Trotman is the co-founder of Nimble AppGenie, a company renowned for its bespoke mobile app development and web development in e-wallet app development and fintech development.