Everyone wants to know the Artificial Intelligence cost. But why?
Well, AI and ML technologies are two of the most popular terms in the world technological world in past few years.
A concept that has been fanaticized over for more than half a century. And in recent decade, it has been finally brought to reality. And it is safe to say, AI is the new cool. The best part is, people have responded well to it, just like the market.
Consequently, it is applied everywhere and the global AI market is currently worth $136.6 billion. And by 2030. The global AI market is expected to grow to $1.81 trillion, as per reports from GrandViewResearch.
If you think, this is mind blowing, wait till you learn about the global revenue, The AI software market's global annual revenue is currently over $50 billion. In addition to this, in the year 2021, Global AI spending reached over $55 billion in 2021.
In fact, the AI development trend is so huge that every 9 in 10 organizations back AI to give them a competitive edge over rivals. And as per Forbes 4 in 5 companies deem AI to be a top priority in their business strategy.
This is one of the reason why every company wants to develop their own Artificial intelligence based solution. And this is where the big question comes in, how much does artificial intelligence cost in 2022?
Well, this is a difficult question to answer. And in this blog, we shall be answering just that. Therefore, if you want to find out the how much you have to pay for AI development, read this blog till the end.
Artificial Intelligence Development: Everything You Need to Know About IT
The very first question people ask is, what Artificial Intelligence is. While this is a concept that has been imbedded in veins of every Sci-Fi fan, the reality can be a little bit different.
In strict definition, AI refers to "systems or machines that mimic human intelligence to perform tasks and can iteratively improve themselves based on the information they collect."
In other words, AI is a technological approach to replicating human's intelligence in a machine. There are a number of different applications of AI and how it can be used. But it is safe to say that today, AI is being used in almost every aspect of life and tech.
We shall be discussing full scope of AI application later down the life.
Nevertheless, AI has been a major booster to businesses across the world. As this technology helps them improve their operations while also improving productivity and increasing revenue generation, everything a business can ask for.
This is one of the reason behind the growing popularity of Artificial Intelligence Development Services.
Moving on, due to the diversity of services and other major factors the total AI development cost can largely differ. Since this is the main focus of this blog, we shall be discussing what you should expect in terms of Artificial Intelligence cost in next section of the blog.
How Much Does It Cost to Develop AI? Average Artificial Intelligence Cost
In the final analysis of how much, let us consider the most crucial question first. What makes all the Artificial Intelligence expenses so difficult to forecast?
The reason behind this is quite simple. Many factors in the process can impact the overall cost in various ways. Various elements play into this regard, including the platform, the tech stack and the number of developers, the location they work at, the duration of development, the technologies employed and so on.
However, the critical point is that to estimate the cost of a venture such as AI development, you have to be aware of all specifications for the project. Without this, estimating the app's on-demand laundry development costs is impossible.
Therefore, the expense to implement an Artificial Intelligence model in your mobile app could be between $9,000 and $15,000.
If you look at other aspects like technology stack, features applications, platforms for apps and more, the total development of apps can differ.
Therefore, the final Artificial Intelligence cost of Artificial Intelligence Development ground up is between $20,000 and $150,000.
This is, in fact, the typical cost. However, the complexity and size of the AI Solution can cause the price to be higher than the average cost range.
If you're searching for more details on this subject, it is strongly recommended to consult an industry-leading AI development company that can provide more information regarding the same.
Moving on, we will be having a detailed look at the various major factors which affect the total cost of AI development in the blog. Therefore, let's get right into it:
Different Complex of Artificial Intelligence Development & Associated Cost
Complexity is one such factor that can affect any form for SaaS app Development including AI solutions. Now, there are various different factors that adds to the complexity of a solution. And consequently, the overall cost of Artificial Intelligence development is also highly affected.
Look at it like this, the more complex AI you are working on, the more work is requires. For instance, it will require more data to be feed on, larger team of developers, higher configuration of hardware, and more effort from team, longer time and so on.
On the other hand, when the solution is simpler, it is going to be much easier to develop. Hence the cost on the former one is a lot higher than the latter one.
Therefore, when calculating the total development cost, this is one of the factors that you should keep in mind. Moving on, in next section of the blog, we shall be discussing the various different forms of AI solutions and the cost associated with the same.
Different of Artificial Intelligence Solutions & Their Cost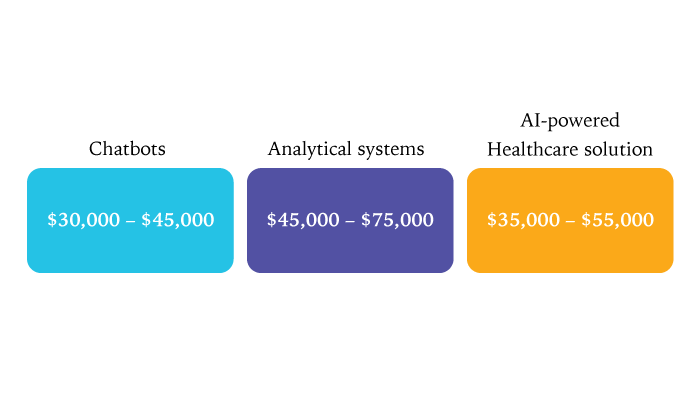 Artificial Intelligence being one of the top most technology of our time has several different application.
Every business use AI to their own benefit in their own way. And before you hire dedicated developers for your own AI solution development, it is a good idea to go through the same.
For that reason, in this blog, we will be going through various some of the top Artificial Intelligence solutions. These are, as mentioned below:
Chatbots | $30,000 – $45,000
Chatbots are among companies' most commonly used AI solutions, particularly e-commerce stores. Chatbot helps businesses automatize customer support processes to improve brand and customer loyalty.
AI chatbots can be integrated into websites as well as social networks. A broad selection of chatbots are pre-built on the market, and most are sold at competitive prices. These AI-powered Chatbots can be used for various purposes besides customer support, like product suggestions, order updates, and many more.
Analytical systems | $45,000 – $75,000
Systems for analysis allow companies to manage and store large amounts of data faster and make intelligent business decisions.
These systems allow companies to use customer data to create successful marketing and sales strategies such as (SEO and email marketing, paid marketing and more.). Analytical tools not only aid in improving marketing strategies but also reduce marketing expenses, thus improving the ROI of businesses.
Siri, Alexa, Cortana or Google Assistant are some of the most influential and well-known virtual assistants that allow companies to carry out their daily business tasks more efficiently. In addition to these standard virtual assistants, businesses may also request customized virtual assistants to assist them in efficiently using information about their business and engaging customers or even employees with management.
AI-powered Healthcare solution | $35,000 – $55,000
Businesses often reach out to a healthcare app development company to upgrade their existing Telehealth system with the capability of AI.
For instance with the upgrade, the  latest software version will allow healthcare professionals to apply face recognition and natural language processing techniques to analyze video recordings made during consultations and enhance doctor-patient interactions.
The software analyzes the linguistics of video recordings to identify potential communication changes that may provide insight into patients' health and well-being and assist doctors in developing more effective treatment strategies.
This is just one application of AI in Healthcare app development and software development.
Big Data's Effect on AI Cost
Big data is a big name on itself. And there are various ways how it can affect the cost of software development services for AI Development. Let's discuss how that does that.
Artificial Intelligence is as practical as the data it's educated on. The more data algorithms use, the more, the better they become.
AI can process both structured data, stored and organized inside relational database management systems (RDBMS) and non-structured data like images, emails and videos, which are usually bulk-uploaded into data lakes. When AI costs are relevant, it's more cost-effective to use structured data, mainly if there are significant amounts of data to improve your algorithm's precision.
In the case of unstructured data, AI experts must go beyond the call of duty to categorize and label it. Software engineers must create the entire infrastructure to ensure that data flows continuously between all the parts of your systems.
In certain situations, for instance, the training of artificial intelligence-powered imaging applications, data can be hard to access due to security or privacy motives.
To get around this issue, AI engineers may artificially increase the size of a restricted dataset or reuse current classification methods. These kinds of operations are likely to eventually raise the cost of creating the AI program.

Modes & Cost to Hire AI Developers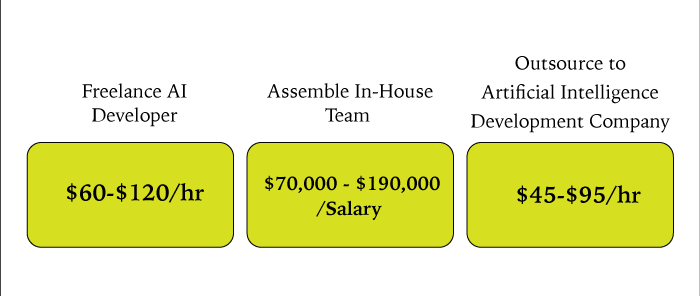 It goes without saying that if you want to build AI solution for your own business, you need to hire a team of software developers. Now, there are various ways to do just that. In this blog, we will be exploring that as well as cost associated with the same.
Therefore, let's get right into it:
Freelance AI Developer, $60-$120/hr
One of the first things that pop into the mind when thinking about looking for software developers for hire is freelancers. It is for a good reason.
There is a reason because, in the freelance market, the most skilled AI developers offer their services for hire at hourly prices. To find freelancers to hire, utilize Fiverr or other social media platforms such as Linkedin, Upwork, Freelancers and more.
Today, there are great projects that were developed entirely by freelancers. However, it can be pretty expensive over the long term. However, it is a widespread choice is worth considering.
Assemble In-House Team $70,000 – $190,000/Salary
We must admit that this isn't the most sought-after alternative, but it's at the top of the list. The way that larger companies with many ongoing projects create an internal team.
As you can imagine, the aim isn't just to develop apps but also maintenance for mobile app services. One of the most significant advantages is knowing that the entire team will work for you.
Also, if you overlook that this is the most costly method to hire AI developers, it is a viable option. If there's enough work for a staff of AI or app development, we suggest using this method.
Outsource to Artificial Intelligence Development Company $45-$95/hr
The last option is outsourcing. This is the method many large corporations employ, including some of the most prestigious Fortune 500 companies.
If you hire software developers through this approach, you'll get an experienced team with all the tools and knowledge required to provide a leading AI solution.
The most appealing aspect is that this is the most affordable method in AI application development. This is the reason why you should think about leaving this.
Conclusion
Artificial Intelligence is one of the most popular technologies our time. And it is safe to say that, there are various different applications of the same that has showed themselves as the time progressed. Now, if you are someone who wants to develop and know the Artificial Intelligence Cost, this blog gave you all required information.
Nevertheless, if you are looking for a closer cost estimation, it is highly recommended that you consult a Artificial Intelligence Development Company in USA.