Are you looking for the best medical education apps? Well, you aren't the only one. Getting through medical college is often one of the most challenging ordeals that many students face in their lifetime. This is due to the massive stack of course work, a mountain load of research with strict deadlines, the cutthroat competition, and the Latin terminologies. All of these make it challenging for medical students to pass through the course.
If you're pursuing or plan to pursue medical studies, you might be seeking some tech-enabled resources that can help you through your curriculum. You will be happy to hear that the medical education sector has started to take advantage of mobile technologies, to help medical students learn with ease.
Many people claim that the trend of high-tech mobile best medical learning apps in the education sector is due to the increasing use of smartphones and tablets. But actually, it is the high-speed mobile networks that has made it possible for EdTech companies to deliver high-quality content in many forms. Emerging technologies such as AI, ML, and 5G have had a significant impact on medical education.
How are Medical Education Apps helping students?
In conventional methods of medical education, medical professors only relied on offline sessions. However the traditional way comes with a set of challenges:
It requires the medical professionals to spend a lot of time in education, which isn't beneficial for medical infrastructure.
It is repetitive. It is difficult for medical professionals to spend hours teaching/training almost the same thing every year.
Resource consumption.The conventional method of medical education requires significant operational costs incurred due to high-quality infrastructure requirements.
It is even impossible to keep these conventional methods running during some situations, such as the Covid-19 pandemic.
However, the use of medical education apps will make educational processes more efficient. But do not make the mistake of thinking that medical education apps will eliminate the need for classroom education and training.
These health education apps will only complement the conventional medical education system. Moving on, let's look at the advantages of free study apps for medical students.
Advantages of Best Medical Education apps
The use of health education apps in the healthcare industry is already in place. Research indicates that 4 out of 5 medical professionals use mobile devices to assist them for their regular work. Using mobile apps in the conventional method of medical learning and training has specific advantages:
Enhanced convenience.Medical education apps allow students to access educational content anytime and anywhere. Carrying mobile devices along is a habit for modern generations, thus, accessing podcasts, videos lectures, and other forms of educational content is convenient for the students. This year, many medical students across the world had to serve at hospitals due to pandemics, so they had to continue learning. These students benefited considerably from medical education apps.
Greater flexibility.The healthcare sector keeps evolving, and so does medical education. The healthcare industry keeps facing new treatments and compliances, and thus, it requires flexibility in the infrastructure, and what can be better than the digitization of medical education? With e-learning medical platforms, it is much easier to update the curriculums.
Feasible. Apart from not being available all the time, medical education is expensive. Learning via medical education apps is far less expensive than conventional methods. The medical professionals can create educational content, which will be available to all their students all the time. Hence, the professionals will be spending very little time lecturing in comparison to the time spent on conventional teaching.
Easy communication and instant feedback.Electronic devices for education make it much easier for medical students to communicate and interact with the tutors. The incredible speed of interaction among tutors and students via mobile learning, makes the learning process more optimized.
Now you know why it is essential to incorporate education apps in conventional medical education. Let's go through the best performing medical education apps in current times.
Best Medical Education Apps That You Should Have A Look At
Unlike the rest of the article available on the internet, I won't flood your brain with senseless health education apps that are focused more on clinical practice rather than best apps for learning medicine.
Here is the list of best medical education apps that will surely help you speed up and optimize your medical learning. Let's look at the best apps for medical students 2022.
Lecturio Medical Education
With downloads over a hundred thousand, the Lecturio Medical Education app serves as a supplement for medical classes. It offers video lectures that are integrated into a powerful question bank. Here are some highlights: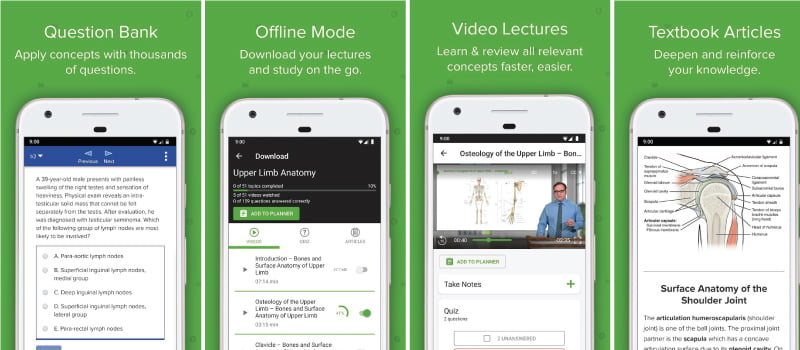 Making learning easy with video lectures
Video lectures are briefly described and are easy-to-follow. Award-winning professors give lectures from the world's top universities (Harvard Medical School, Alpert Medical School of Brown University, Yale School of Medicine, UCL Medical School and others).
Covers fundamental concepts in depth, with emphasis on high-yield information.
Integration with quiz questions to promote participation.
Question bank
The Lecturio app contains the United States Medical Licensing Examination (USMLE) question bank, that is compliant to the latest National Board of Medical Examiners (NBME) standards. It helps students apply whatever they've learned.
Mock tests offer an exam-stimulating interface that helps students become familiar with real exam scenarios.
Moreover, the best learning apps for medical Students supports illustrations and explanations that allow students to practice multi-step critical thinking. Lecturio takes students through a step-by-step learning process that helps them learn and remember faster. The students also have access to the strategies and techniques used by experienced upperclassmen.
Additionally, the app utilizes many of the technology trends in higher education to enable features like Bookmatcher. Also, students can download video lectures to access them offline.
The app is accessible both via free as well as paid subscriptions. Free accounts get 250+ video lectures, 1,000+ recall questions, and 1,300+ textbook articles. Whereas the paid subscriptions have access to 5,500+ video lectures, 18,000+ recall questions, 7,100+ Qbank questions, and 1,300+ textbook articles.
MedSchool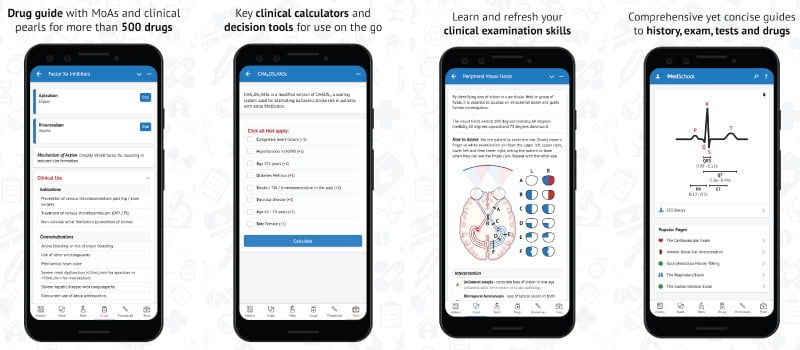 The MedSchool is one of the best apps to learn medicine concept is drawn from conventional clinical teaching and an up-to-date evidence-based practice of teaching. The app provides students with high-quality, updated clinical information presented in an easy-to-comprehend and portable format. This is one of the best learning app for medical students.
Though the education app developer call the app an easy to read clinical medicine handbook, MedSchool offers much more than this. Here are some highlighted features of this top Healthcare IT Solutions:
The app has a concise approach to the examination of each area of medical practice.
MedSchool takes students through the procedure to interpret blood tests, chest x-rays, ECGs, orthopaedic x-rays, CSF tests, ABGs, etc.
The app gives the overview of major drug classes and their mechanism of action.
The app illustrates procedures such as how to perform cannulas, NG tubes, injections, LPs, ABGs, urinary catheters, etc.
The app incorporates a comprehensive range of generally used clinical tools for health assessment and decision making.
Global Medical Education
Global Medical Education app offers free online medical education resources that provide students with unbiased, timely, and evidence-based medical education material from the world's leading medical experts. The app provides answers to medical questions that range from standard to most critical.
Also, users can access three to four minutes of medical education videos that are available on-demand. As such, this is yet again one of the best app for medical students.
Currently, the app is mainly focused on psychiatry and offers 700+ medical education videos that feature some of the world's most renowned researchers, clinicians, and medical experts. This is what makes this application an inspiration for many other Medical App Development projects.
Anatomy Learning – 3D Anatomy Atlas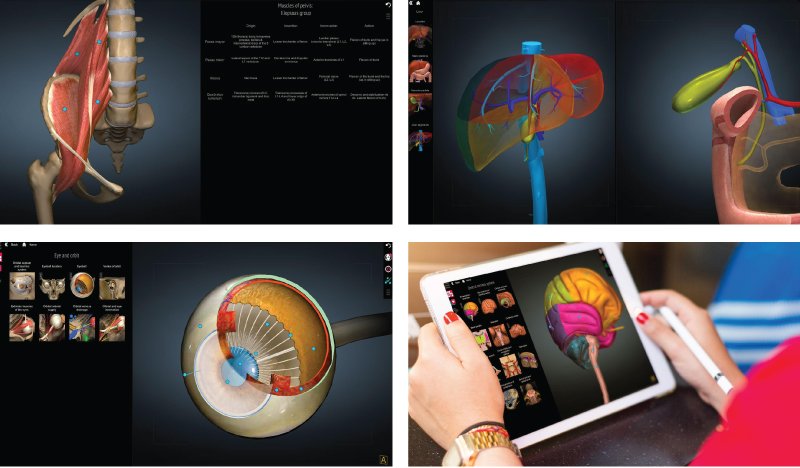 As the name suggests, the Anatomy Learning app is a 3d Anatomy Atlas for medical students. The app covers almost all the body parts of a human being. The app contains interactive 3D models of bones, ligaments, joints, muscles, circulation (arteries, vein, and heart), central nervous system, peripheral nervous system, sense organs, respiratory, digestive, urinary, and the reproductive system (both male and female). Some of the highlighted features of the free medical learning app are:
The app allows users to rotate the 3D models to any angles with zoom in and out functionality.
The users can also remove structures to reveal the anatomical structures hidden below them.
The app has 3D location quizzes by whom the students can test their knowledge.
The students have the ability to turn on and off different anatomical systems.

The app supports several languages, including Spanish, German, Portuguese, English, French, Chinese, and Japanese.
Osmosis Med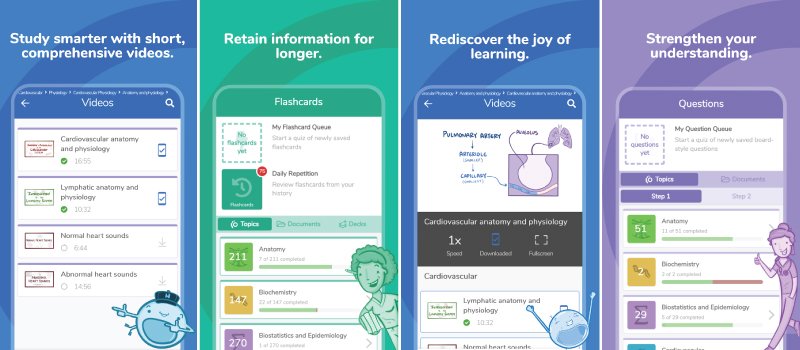 Osmosis is an app designed for medical students by medical students. The app provides students with practice questions and resources that help other students to learn faster and better. App has been covered in Forbes, Fast Company, Medscape, TEDMED, and many other renowned magazines. The app has also won awards from the PhD Innovation Initiative, Institute for Excellence in Education, and Dremlt Ventures.
Osmosis utilizes proven science learning techniques, like testing effects and spaced repetition, to rescue students from cram-and-forget learning cycles, which are very common in medical schools. And that makes it one of the top medical apps for medical students.
The app covers several areas of medical studies, including physiology, anatomy, pathology, pharmacology, etc., it also helps students sharpen their clinical reasoning skills. The app is designed to help students with a lot of medical knowledge. Moreover, the app supports one of the crucial features of education app development – collaborative learning.
Medical PG, FMGE Preparation – PrepLadder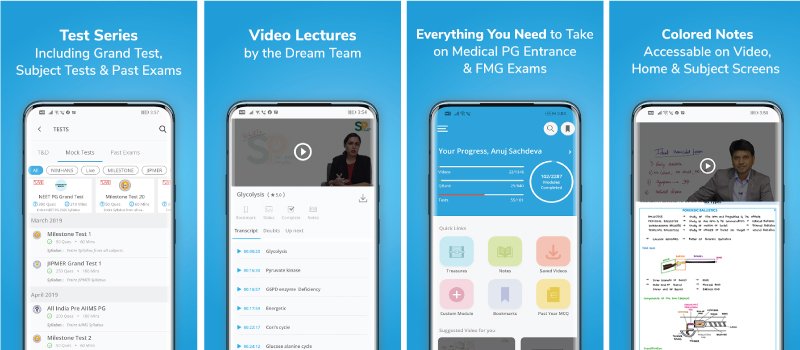 PrepLadder App focuses on helping medical students utilize their time to prepare for examinations. Not only the ones who pay premium membership but also the free subscribers that can benefit from the app. The app allows students to access an array of educational and preparation materials, which are curated specifically for medical students.
It is mostly Indian students that use this app to prepare for examinations like NEET-PG, NEET-SS, AIIMS-PG, and FMGE. As per the reviews on Google play store, the users love that they can prepare for tests anytime and anywhere, which helps them use every spare moment that they can get.
The app provides users with access to free blogs and news stories that are related to the current medical education scenario. It has helped students keep themselves updated with the latest counselling, books, and examination details.
Before you go to a mobile app development company, let's look at some of the feature of this application. Here are some of the highlighted features of the app:
Order books online from a wide variety of readers.
Book classes with India's best medical faculty.
Connect with concerned faculty or mentors for doubt clarification.
Access notes and past year MCQs (Multiple Choice Questions).
Watch video lectures with transcription.
On-video notes available during video lectures.
CAPSULE — for Medical Students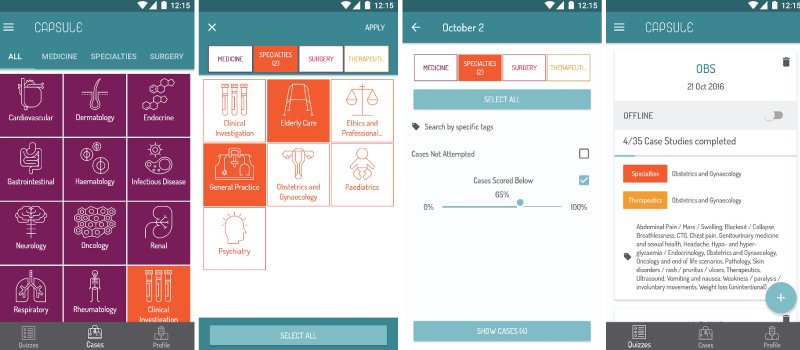 CAPSULE is a quiz-based medical education app that is designed to support UK undergraduate medical students, and evaluate their knowledge of clinical practice. The app contains 650+ realistic clinical scenarios, which consist of over 3,500 questions. All of this is enough to cover the entire curriculum of a medical student.
Each case of these 650+ scenarios include high-quality feedback and progress tracking opportunities for students. The in-app content is developed by a large number of clinical experts from Brighton and Sussex Medical Schools. To ensure the content quality, the editorial board regulatory review of the content.
This app is good example of what a healthcare app development company can deliver if give the right concept and room for innovation.
Medical FlashNotes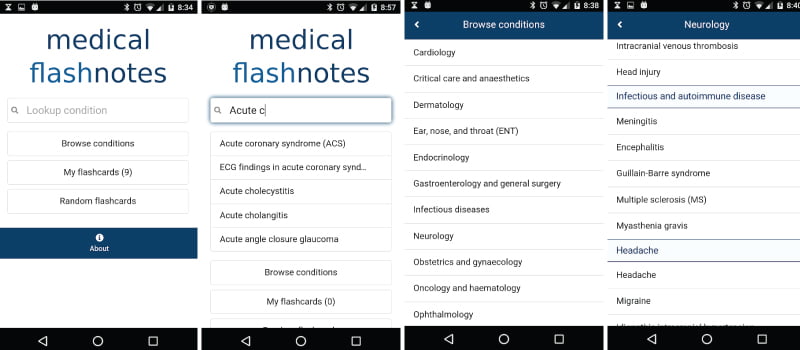 Medical FlashNotes is a clinical medicine studying and reference tool for medical students and individuals from non-medical backgrounds. The app covers medicine, surgery, paediatrics, obs & gynae, and psychiatry. The app contains a wide variety of notes that are related to clinical medicine.
The users can browse through the categorized sections or use the quick autocomplete search option to access thousands of medical conditions, drug recommendations, and presentations. What helps the students more is that they can turn any sort of information into flashcards with just a swipe. The user's flashcards are stored in the custom flashcards stack, which they can review later. The flashcards feature is further utilized to provide personalized quizzes to the users.
Conclusion
So, we've gone through the best medical education apps that are available on the app stores. These eight apps will surely help medical students with their education. If you know more best medical study apps, please leave a comment with their link in the comment box. I would love to update this article with more useful study apps for medical students.
The education mobile app market is sailing with the flow of digital economies, and the medical sector is in the same boat. More and more medical educational institutes are developing apps to help students with learning. We, at Nimble AppGenie, recently developed a medical education app for Japanese students.
If you have an education app idea and are looking for a medical education app development company, feel free to reach us at contact@nimbleappgenie.com or you can simply fill out a form for your inquiry by clicking here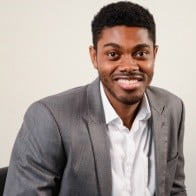 Jermaine Trotman is the co-founder of Nimble AppGenie, a company renowned for its bespoke mobile app development and web development in e-wallet app development and fintech development.