Peer to Peer (P2P) lending is an alternative method for getting a loan from the bank or credit union. If a person goes to the bank, for getting a loan, the bank will grant the loan, by using some of its assets deposited by other customers.
The peer to peer lending apps provide both the borrower and lender with the ability to select the loan/investment they want to opt for. As compared to conventional means of loan lending, P2P lending apps make the lending and borrowing process more convenient.
It is a win-win deal for both the borrowers and investors. However, it has its pros and cons. Here you can find out what these are:
The advantages for borrowers:
P2P lending apps make loan generation faster.

The loans are provided at a lower rate of interest.

It assures the borrowers of monthly payments.

The credit requirements are less strict with P2P lending apps.

Provides additional flexibility on how to gain and use funds.
The investors also get hugely benefited with P2P lending apps as the leading platforms:
Provide higher yields than conventional methods of lending.

Give an additional investing option to shares and bonds.

Are flexible in terms of the amount that can be invested in any portfolio.
These benefits are for real, as recent research by Allied Market Research found that the P2P lending market was valued at $67.93 billion in 2019. It is estimated to grow even further with a CAGR of 29.7%, reaching $555.91 billion by 2027. 
Given the popularity of peer to peer lending apps, it is recommended that the app you build have all the necessary features and most importantly, is built by Loan Lending Development Experts. At Nimble AppGenie, we are the experts in developing FinTech apps in multiple niches, including e-wallets, banking apps, and peer to peer lending app development.
Typical Process of Getting Loan from P2P Lending Apps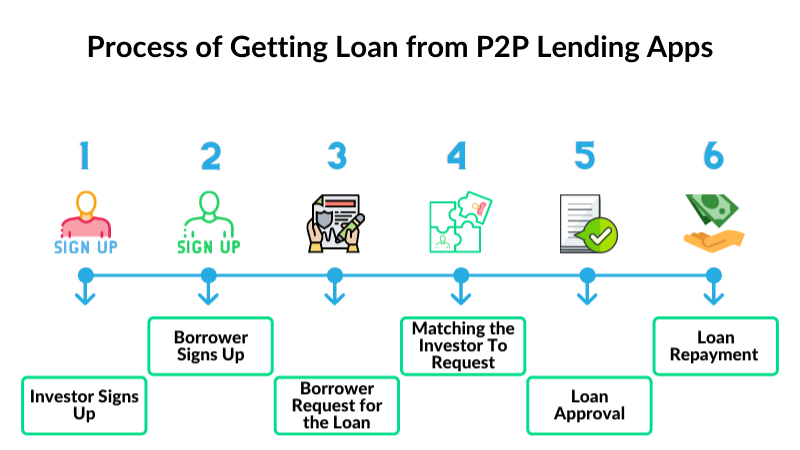 Step-1: Investor Signs Up
The main USP of a peer to peer lending app are the investors themselves, as borrowers would not usually have easy direct access to individuals that are ready to provide finance. At the first step of the app process, the investor or lender will create their account with the P2P lending app. The investor then feeds in the amount that he/she is ready to lend to the potential borrowers. The details that he/she provides often includes the following:
Personal information (Name, Identity Proof, Address, etc.)

Bank account information

Investment type that the investor is interested in

The borrower preferences
Step-2: Borrower Sign Up
The borrower is another crucial user that needs to register into the peer to peer lending app. The borrower will input the following details:
Personal details

Financial and tax details to obtain credit score

Nominee or guarantor

Collaterals
Step-3: Borrower Request for the Loan
After the registration, the borrower can request a loan on the lending platform. The request may have several parameters, such as location, interest rate, tenure, etc. Through the use of app filters, borrowers will be matched with appropriate investors.
Step-4: Matching the Investor to Request
After the borrower has requested the loan, the app will find a suitable investor based on the preferences provided with the finance request.
Step-5: Loan Approval
When the lending platform has matched the loan request with an investor, the next step is the investor and borrower approval. The loan is disbursed after the approval.
Step-6: Repayment of Loan:
After the loan disbursement, the borrower will repay the loan as per the terms mentioned in the request. If the borrower fails to repay, the lending platform will sell the collateral in the market, with financial penalties placed on the borrower.
P2P Lending Software Development – Things to Know
Be it any FinTech app; the development process always comes with unique challenges every time. Hence, developing a peer to peer lending apps isn't very straightforward. There are a series of procedures and techniques that should be considered during development. Therefore, we always recommend that people should find experts to work with for their peer to peer lending app development.
Every lending platform should have some unique features that distinguish it from its competitors. For example, you can have an AI-powered engine to inform investors about the popular loan demands. Or you can integrate several investment publications to keep your investors informed. 
Hence, it would be best to find a development partner with extensive experience in developing FinTech apps. If your developers aren't aware of the financial market, the way people use these apps, or the necessary compliances, they won't be able to build you an p2p lending app that can drive you faster ROI.
At Nimble AppGenie, we've been building FinTech apps for the past five years. There are dozens of FinTech solutions developed by us, which help banking and financial institutions leverage digital transformation.
Our typical peer to peer lending app development process includes the following crucial steps:
Designing UI/UX
Yes, designing a FinTech app is quite challenging. It requires years of experience in creating user experiences, which astonish users by making their access to financial services seamless. We at Nimble AppGenie live by the following principles for FinTech app design:
Focus on the customer journey

Don't overload the design with information

Simplify complex data to make it understandable

Stay Consistent with the design

Make the users aware of data protection and usage
Some FinTech apps with an astonishing design include Kickstarter and Robinhood.
Integrating Data Science and Analytics
The cliche, Data is the New Oil is still relevant. Industries across the world are leveraging data to identify new issues and find their solutions. For P2P lending apps, the data can help in understanding user behaviour.
The apps can use user data such as economic condition and purchasing habits and power, to draw extremely accurate conclusions. Hence, integrating data science and advanced technologies such as AI & ML willhelp lending platforms introduce innovative solutions for their users.
How Much Does it Cost to Develop P2P Lending Software?
'n' number of factors contribute to sum the cost of p2p lending software development. The platform you want your presence to be in, the features you want to incorporate, the tech stack you wish to choose, and even your geotargeting, are among the prime factors that will affect the cost of p2p lending software development.
In terms of technology implementation, the peer to peer loan app development sector still has a long way to go. Technologies like artificial intelligence and machine learning are among the ones that haven't yet been explored thoroughly. Hence, the opportunity to introduce new solutions will grow for the P2P lending service providers.
At Nimble AppGenie, we frequently indulge in developing innovative FinTech solutions that want to achieve new possibilities within the industry. We always recommend our potential clients to send us their core requirements to receive a concrete range of cost for development from us. Or if you have a requirement document with you, we can provide you with the exact cost.
But to give you a ball-park number for P2P lending app development cost, the range is between $40k-$60k.
Most Crucial Features for Your P2P Lending App
Loan Origination
The core feature for every peer to peer lending app and loan origination is a well-structured process, where the borrower will apply for a loan, and the lender reverts on the application. You are required to offer the most comfortable loan application. However, it is challenging to create and design such processes, considering the high number of necessary information required from the borrower.
Loan Calculator
The borrowers calculate the loan instalments and interest based on the term period and interest rate. While there are various methods of manually calculating these components, it would be quite difficult to do for most borrowers. To simplify the process, you can implement a loan calculator within your P2P lending app. 
Pro Tip: Even if you add the calculator on the home screen, you need to offer a separate page where users have multiple calculation options to choose from.
Credit Score
Credit scores are numerical figures representing the creditworthiness of an individual based on their credit files. The credit score is what decides in the first place whether the individual is eligible for the loan or not. The user would either enter their credit score during the onboarding process, or do it while applying for the loan, depending on your user experience strategy. The investor would assess the credit score and decide if they want to grant the loan.
Loan Application Matching
Your P2P lending app should also have an automatic loan application matching ability, so that the borrowers' applications can be automatically matched with the investors' preferences. It would make your app more effective in terms of quickly finding the perfect borrower-investor matches.
Auto Investment
This is the most advanced feature for P2P lending apps. The AI-powered algorithms would allow investors to diversify their portfolios based on some predefined parameters. It will enable the investors to invest in the areas where there is high yield or where there was a risk level which matched the investor's defined risk appetite. Investors are very likely to be fascinated by this useful feature.
Document Scanner
The borrowers will have to upload many documents and files to be eligible for a loan and to obtain the loan. Hence it's convenient for them if you add a document scanner feature into your P2P lending app.
Things to Know while Developing a Loan Lending Platform
Keep Industry Norms in Consideration
Several compliances affect the design and wireframing of a P2P lending app. Therefore you should make sure that the p2p lending software development company or the team that you partner with, properly understands FinTech norms. 
Find a Banking Partner
Find a suitable banking partner that can take care of your banking needs. Through open-banking, the banks provide APIs that you can ask your development partner to integrate within your peer to peer lending app.
Customer Verification Process
Many FinTech app developers disagree about the optimum customer verification process. Some say it should be executed in two parts. One during onboarding, and second before the customer applies for the loan. Whatever the case is, it depends on your user experience strategy. A typical borrower verification process includes:
Identification proof issued by the respective government

Income verification and tax return details

Personal bank account details

Phone number verification
Risk Assessment and Interest Rate
There will be a requirement for advanced software algorithms to undertake risk assessment and interest rate calculation. Most borrowers would have to fulfil the following criteria:
FICO score of a minimum of 600

A debt-to-income ratio below 40%

Clean credit profile

At least one account at a bank
GDPR Compliance
The General Data Protection Regulation (GDPR) compliances ensure Data privacy rights for a user. Data privacy rights such as Rights to be informed, to access, to object, to ratification, to erasure, to data portability, to restrict processing, are essential for protecting customer data.
Interactive UX & UI
Among every other aspect of p2p lending software development, a high quality interactive user interface and experience is often the most important feature to customers. It is the closest user touchpoint for a peer to peer lending app. 
Conclusion
The peer to peer lending apps are a boon for small to mid-scale investors and borrowers. These platforms make it possible to lend or borrow at a very nominal mediator fee. Online lending platforms operate through the internet, making their operational cost lower in comparison to the conventional infrastructure.
Make sure that you find the right development partner for your p2p lending software  development. The p2p lending software development company should provide you with the best FinTech technology development services, while keeping the cost of the project at an optimum level.
If you're at the stage of 'looking for a perfect development partner', feel free to reach out to us with your query, and we'll revert to you with the estimated cost and tips for implementation. Or if you have a well-defined requirements document, we can give you an accurate cost estimate to make your concept a reality.
Read here: How to Write The Product Requirement Document For Your Mobile App? – nimbleappgenie
Madhukar is marketing communication specialist at Nimble AppGenie. A writer by day and reader by night, he specializes in technical blogging. Throughout the time, he has been helping businesses by writing valuable business guides and articles. Nimble AppGenie is a renounced fintech and healthtech development service provider that is helping small-large scale enterprises.