Nowadays, finding a suitable job is an exhausting task. If you plan on finding your next job with the old-school method of visiting each and every company to hand in your resume, this is not a very efficient plan! Some of the job search websites and apps like Reed.com or Monster.com help users to search for finding suitable jobs in the market. However, the recruitment industry is into its best transformation by using an amazing mobile recruitment platform such as LinkedIn.
From the era of recruitment websites, now is the era of recruitment apps. These applications are hitting the market and making great profits due to the growth of the mobile sector. Businesses that are planning to develop a recruitment app to grow their business to new heights are onto a good strategy. Job search app development is however a difficult task. So to make your app stand out from the crowd, you must focus on the latest trends and features that the user wants.
Recruitment App Market Revenue and Popular Segment By Statista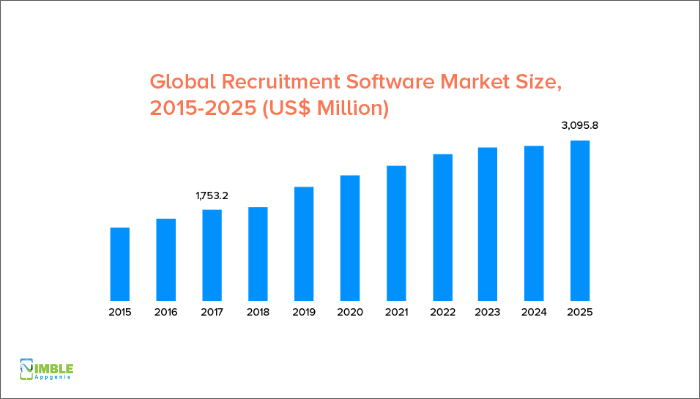 Before developing a job searching app, you must have complete knowledge about the architecture, tech stack, and recruitment app development cost. This article will discuss all the important factors required for developing a job finding application, like How expensive is the recruiting app?

Essential Features of Recruitment Mobile App
One question comes to mind: What is the features of recruitment apps that can provide you business growth?
Integrating your app with the latest features that your users love and find intuitive to use is one of the most important steps in the recruitment app development process. Since there are numerous features, you can add to your app, integrating many features will make your app costly.
Here is a list of some of the most important Recruitment app features, which you can integrate into your app to make it more valuable and robust. The list below will help you decide which features to include in your concept.
User panel

1. Sign Up/Login
The very first screen that pop-ups when users open the app. Users can register using an email address, or they can use social media credentials.
2. Edit Profile
Here users can add preferences and areas of expertise so their searching can identify the most relevant jobs.
3. Upload Resume
Users can create their resumes directly from the app, or they can upload a soft copy of the resume on the app.
4. Filtering Job
Users can filter by job types according to their preferences, like their areas of expertise, location, and years of experience.

5. Mail Resume
Users can also send the resume to various companies that suit their preferences to make the most of available job opportunities.
6. Job Alerts
This section alerts users of the latest job updates in the market or notifies when a recruiter contacts them.
7. Save Jobs
This is one of the most important features of a job finder app. This feature helps the user to bookmark or save jobs for future purposes, which saves your users much time.
Essential Features For the Recruiter Panel

1. Registration
Recruiters can use email or a mobile number for registration. Users can even directly login with their social media credentials.
2. Uploading Jobs
This feature allows the recruiters to upload jobs according to available vacancies. Admin can post jobs on the job portal, adding experience and expertise requirements for specific job postings.

3. Job Invitation
Recruiters can also send job applications and invitations to eligible candidates. Later, they can also schedule an interview with the candidates to get more understanding on the candidate's suitability for the role.
4. E-mailing Offers
Recruiters can also send job offers to eligible candidates according to the availability of vacant positions.
5. Filtering Resumes
This is one of the most important features of a job finder app. From thousands of resumes, recruiters can select or filter to find the appropriate resume.
6. Payment Options
Recruiters can manage or edit payment options and plans. Services can be added or deleted from the membership plans by the recruiter.
7. Resume Download
Apart from searching or filtering the appropriate resume, recruiters should also be able to download the resume of eligible candidates to enable interview scheduling.
Essential Features for Recruitment Admin Panel

1. Dashboard


One of the most important and must-have features of the admin panel is the dashboard. From here, the admin can manage all the users, the recruiters, as well as data of all customers directly from the dashboard.
2. CMS
Another important feature of the admin panel is the CMS or Content Management System. Admins can easily manage and edit all the content on the app with the help of a CMS.
3. Job Ad Management
All the job advertisements displayed or running on third-party websites or apps are ultimately managed by admin.
4. Real-Time Analytics
This contains all the reports related to jobs assigned, the total number of recruiters linked, jobs offered to users. Job search strategies and patterns can be analyzed and by the admin, so suitable improvements to the recruitment service can be made over time.
5. User Profile
All the information entered by the user is managed and verified by the admin. Jobs are sent to the user according to the preferences, and filters selected by the user.
6. Recruiter Profile
All the details related to the company's core idea, address, license, and profile of the recruiter is managed by the admin, to eliminate chances of a fake job listing.
7. Review and Feedback
The Admin receives feedback and reviews from users and recruiters. This is necessary for a business to improve the service that it provides its customers, and to make the application more flexible and robust.

Recruitment Mobile App Additional Features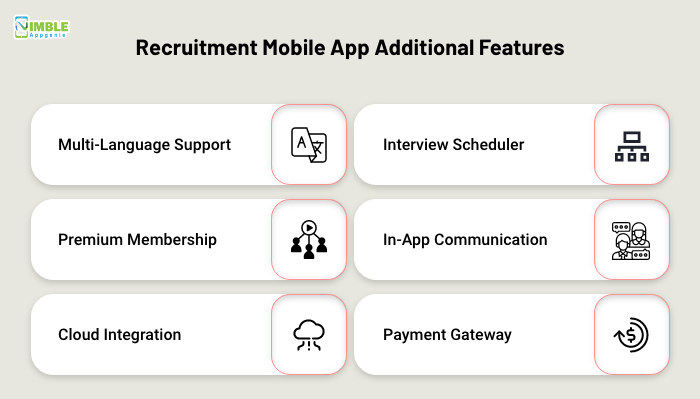 Apart from the basic features discussed above, there are some other features also which can make your app more desired by your target users. Integrating these features into your app is likely to make your app stand out in the market.
1. Multi-Language Support
Around 65% of today's population is searching for a job. Since job seekers are from every corner of the globe, integrating multi-language support in your app gives your business a much wider reach. This will help to attract many more users to your app.
2. Interview Scheduler
An extremely useful feature of job finder apps, is where recruiters can schedule the interview of job seekers according to the date and time they are available, all directly from the app. This will help to build a positive impression of your app on your users.
This feature focuses on the main concept of every job finder app, which is to allow users to find a suitable job according to their skills and experience. The recruiter through the app will then be able to schedule an interview with the company and the candidate.
3. Premium Membership
You cannot miss the opportunity to monetize while developing a job finder app. If you wish to make profits directly from the application, then premium membership enables users to get access to extra features, advanced services, early job application access, and even the ability to request new features for the app. These users may also be provided with more targeted and convenient job opportunities for their skillset and personal situation.
4. In-App Communication
Staying connected with your customers is very important. SMS, push notifications, or emails are several ways through which you can stay connected with users. You can update them with the latest emerging jobs, market trends and companies that they should be paying special attention to. This feature also allows you to directly communicate with the recruiter or the admin in case there are any queries or problems related to the app.
5. Cloud Integration
Integrating cloud technology in your app is the most convenient way of managing data in a secure manner. All the data of users, companies, recruiters, resumes, etc. is stored in the cloud for better and seamless workflow management.
A recruitment app integrated with a cloud management system makes the app scalable and robust. In addition to this, it also helps in monitoring and securing all the information and data that is stored on the server, thus making the business overall more safe.
6. Payment Gateway
Integrating multiple payment gateways into your job finder app is very beneficial to your users. Users can use various payment methods such as credit/debit cards, net banking, and wallets to work with some of the premium services of the app.
Tech Stack for Recruitment Mobile App Development

Choosing the right technology for your app can be a confusing and tedious task. Since there are numerous technologies that are available in the market, you may get confused while picking up the correct one. We have come up with a list of some of the best technologies that you can use for Recruitment App Development.

Team Structure for Recruitment App Development
Finding the best mobile app development company is not about finding someone to achieve only one single task in the development process. There are several important aspects of the app development process within a recruitment app that will require several skilled individuals, like expert developers, creative designers, attentive testers and quality project managers.
Read More – How Tech is Changing Recruitment for the Better
The functionality and flexibility of your recruitment app depend on the method used for the development process. You must find a company that uses an agile methodology for development. Here is a list of major team members that are required for building a robust recruitment app.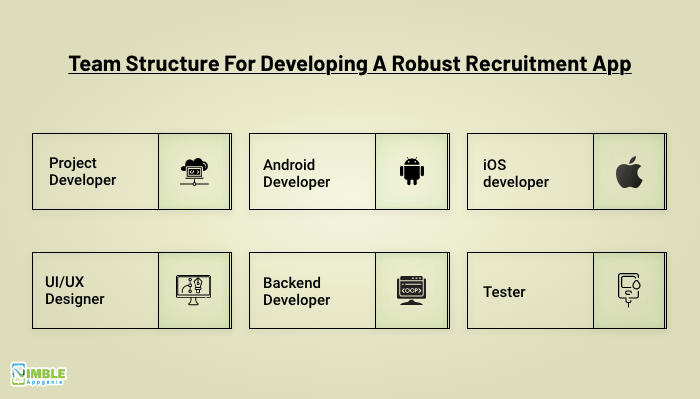 Recruitment Mobile App Development Cost
Calculating or estimating the basic cost of app development can be an exhausting task. Since the cost varies as per the features that you desire for the app, it is difficult to calculate the exact cost. The more complex your app concept is, the more likely it is that the app development process will be lengthy and time-consuming.
There are various factors that affect the cost of development. Some of the common factors which affect the development cost are the specific features, the platform that the app is developed for, and the skillset of the team. If you are planning to develop a job finder app for just one of the native platforms, then it will definitely cost you less. On the other hand, if you are thinking of developing the same application for cross-platform, then this will increase the cost.
If you wanted the application to be available on both iOS and Android platforms, having the app developed in a hybrid cross-platform, can often be cheaper than having the app developed in two separate native technologies. However, native apps do offer many usability benefits over hybrid cross-platform apps. You can read a guide where I've explained why hybrid is sometimes better than native.
The cost of developing recruitment or job finding an app for native platforms with the most basic features will cost around $15,000. On the other hand, an app for the most advanced and up-to-date features could cost anywhere from $30,000-$100,000.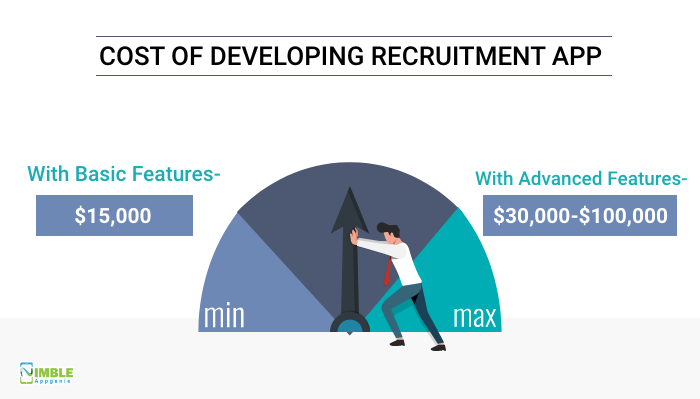 Would you like to get a fully-featured and robust recruitment app developed by highly experienced skilled and proficient developers, who pay attention to detail and offer expert development and great costs? If so, get in touch with us now to discuss your idea, receive feedback on your concept, and to get a free quote.